When our friend Hannah, the Marketing Manager for The Briar Group, emailed us and asked if we wanted tickets to the 2nd Annual Chili Cup there was zero hesitation on our part. You'd have to be quite silly to skip out on a chili competition for charity. And especially considering this has been one of Boston's worst winters in a while, lots of chili to warm the soul was an absolute must.
When I found out the event was being held at Ned Devine's I felt a bit nostalgic. I, quite honestly, immediately thought about our days fresh out of college when we dang near went to Ned's (as we affectionately called it) and Faneuil Hall almost every weekend. It's definitely our old stomping grounds. These days, I rarely go to Faneuil Hall, but when I do I instantly get flashbacks of all of our fun times.
Ned's was the place we went to have a guaranteed good time. A lot of bars in Boston can be hit or miss. Bad music, sticky floors, too crowded, cheap drinks, etc. But at Ned's, everyone had a good time. It was the place we brought out-of-town guests, the place we celebrated birthdays, and the place we went just because. They played current music but there was always a live band and lots of dancing in another room, so it was easy to please everyone in the group. We'd all gather at Sues' old apartment, order food, pile into cabs, and head over to the other side of the city. We'd even wait forever in line just to get into the place. But when we started becoming "regulars" we befriended a bouncer who let us skip the line and go in for free. I still don't know if that's a good thing or if we were just pathetic 22 year olds 😉
As I was just looking at all of my old photos for this post, all I could think was "How in the heck did we all afford to go out as much as we did at that age?!".
Apparently, we didn't have a care in the world…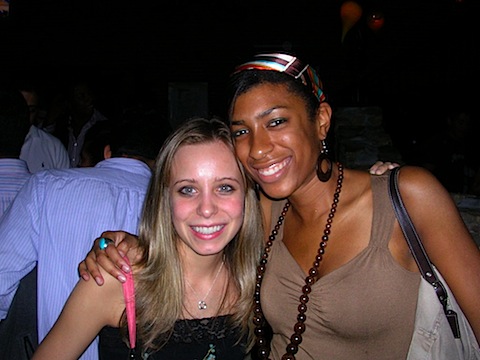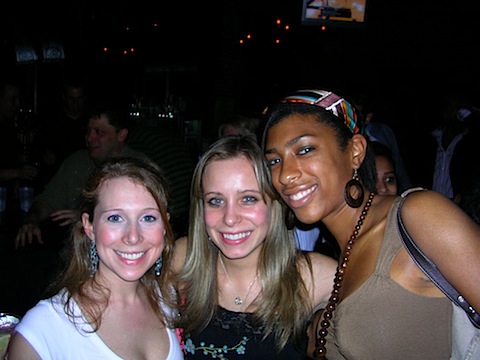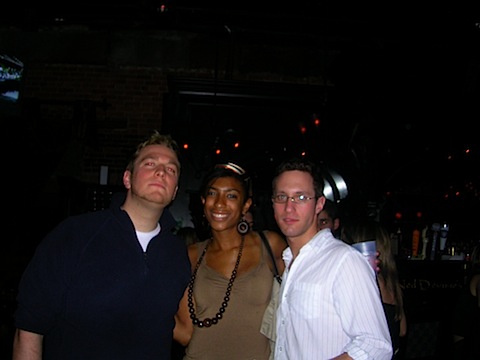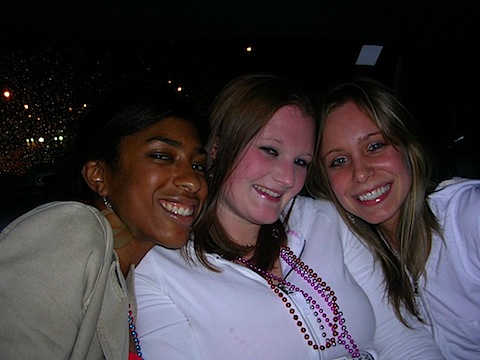 I think every time we went out we took "cab pics"… Woah. Times have changed! haha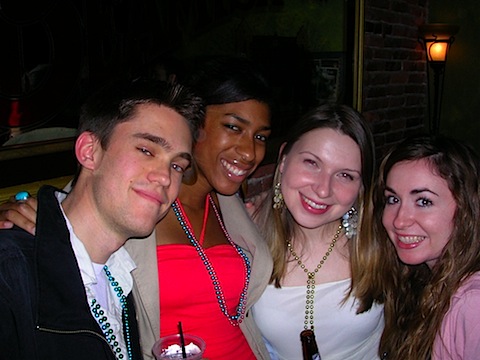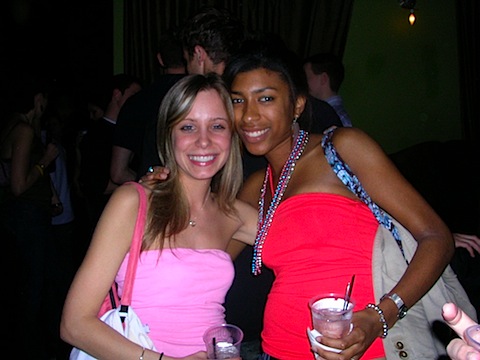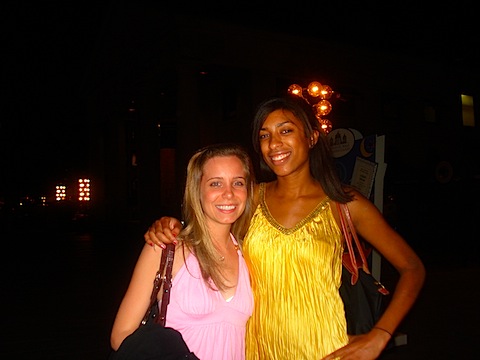 So that was 2006.
Fast forward 5 years to 2011. The 2nd Annual Chili Cup, which was sponsored by Jose Cuervo and Corona, was held last Thursday. It's an extremely fun charitable competition between Boston restaurants in search of the city's best chili. Sounds like a sweet deal, huh? I'm definitely a chili kinda gal, so it was a blast getting to sample so many varieties, critiquing them amongst friends, and voting! In the running was The Harp, Ned Devine's (one of my favorites!), Game On!, Clerys, Cask n Flagon, Zuma, Anthem Kitchen and Bar, Community Work Services (who the proceeds benefited!), Battery Park, and the Baseball Tavern.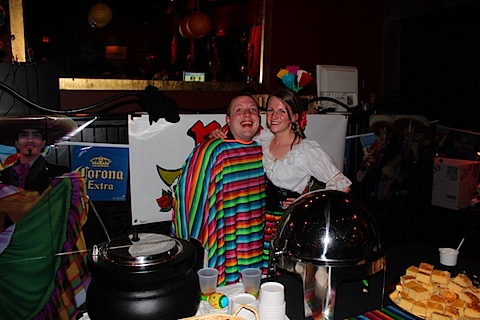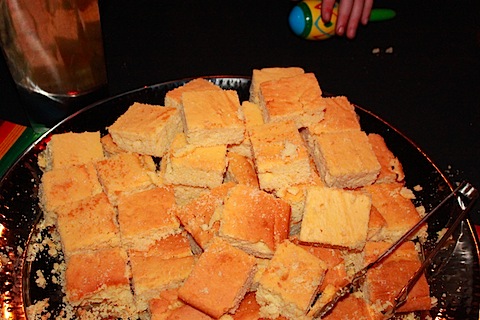 Ned's scored extra points with me because not only did they serve a side of cornbread but on top of their chili they included these delicious little balls of fried cheese. Couldn't handle the deliciousness!.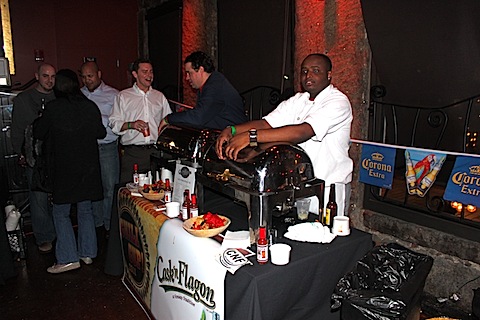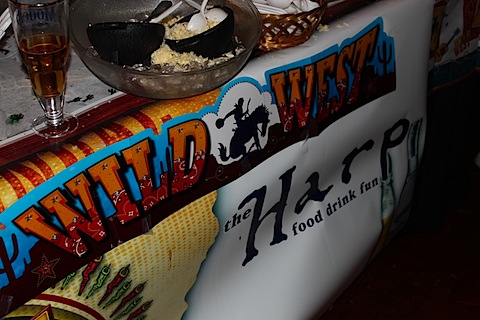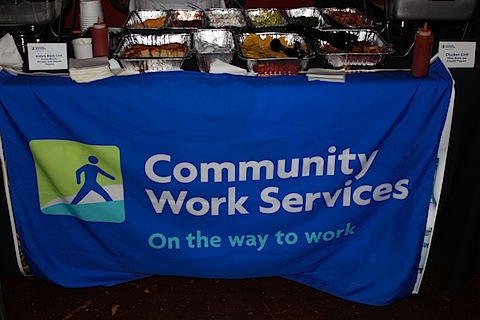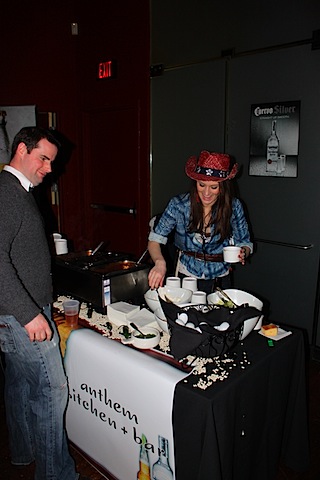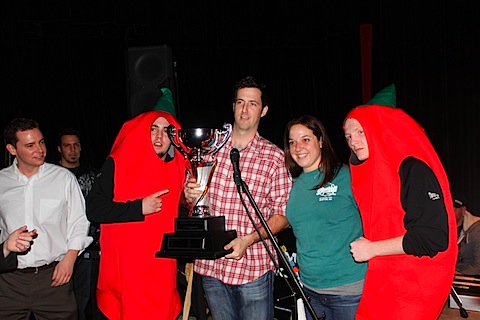 The big winner of the night was The Baseball Tavern, located right by Fenway Park. Their chili was one of the last ones we sampled and by that point we were so stuffed but made room for it because it was just plain good! Sues was beyond full by the end and Chris and I teamed up and actually force-fed The Baseball Tavern's chili to her because we felt it was necessary that she try it 😉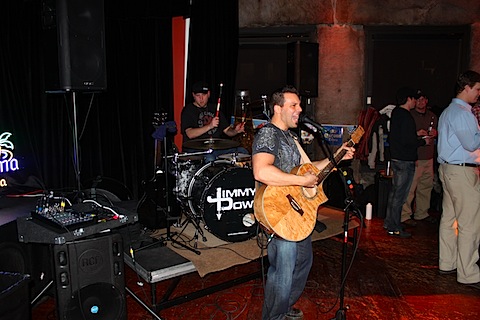 The live bands at Ned's are always so much fun!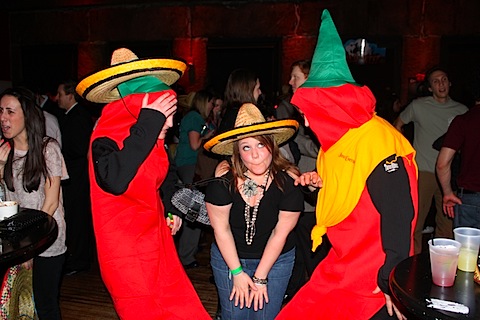 And Liza proves that dancing with chili peppers is quite fun, too 😉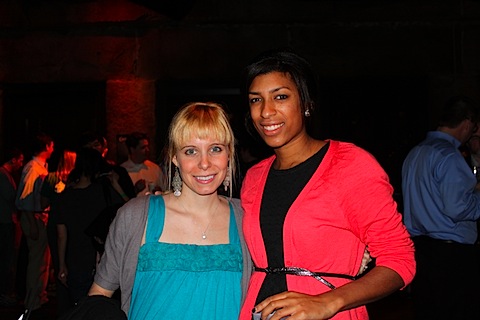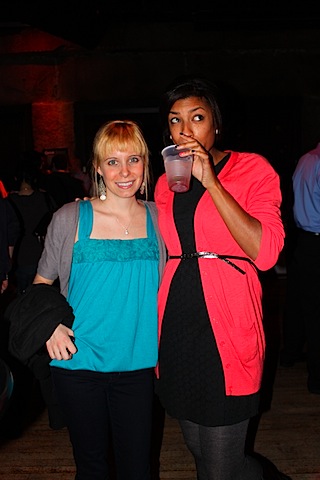 And here, I prove that sipping Jose Cuervo Raspberry Margaritas is quite a hoot. 😉 Although drinking it made me just want summer that much more!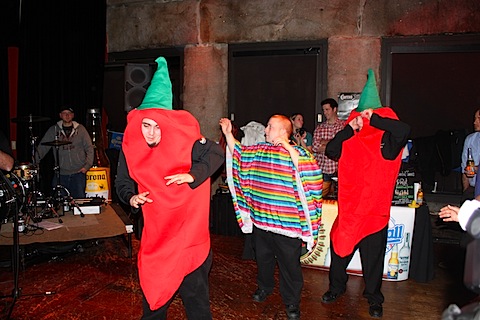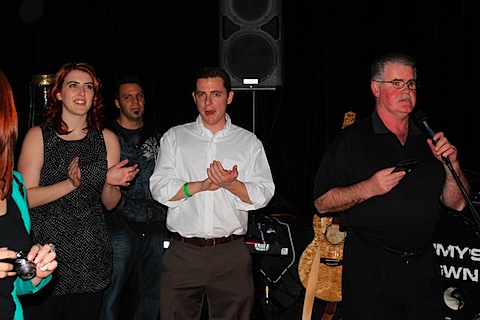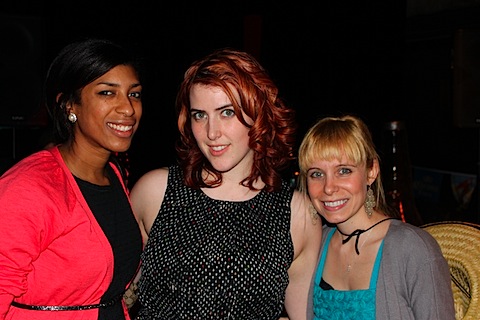 Hannah, along with the rest of The Briar Group, did such a wonderful job with the event. Everyone was dancing and mingling the whole night and there were tons of chili and Mexican inspired touches all around the room.
Including sombreros. Ole!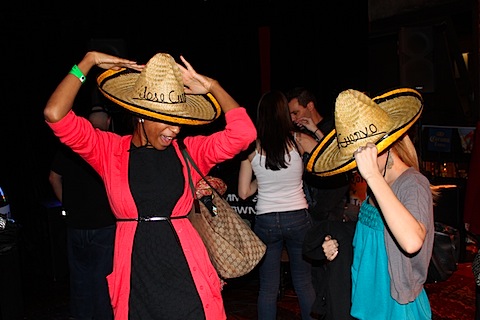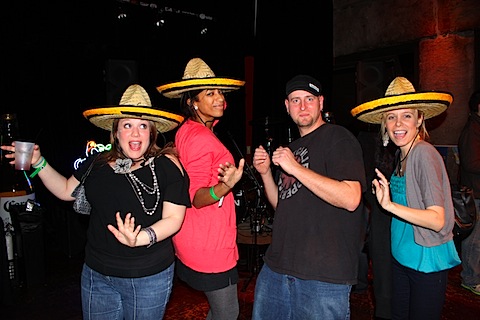 As Sues and I entered Ned Devine's last week, the first thing we said was "Sheesh, when was the last time we were here?!". It's been so long that we never ended up figuring that date out. But I think the neatest thing is, though times have changed… the meaning of our friendship hasn't changed at all. Still surrounded by the same great girls (and new friends, too!) but instead of going to our "regular" bar, we'd rather go to dinner or sip wine at someone's apartment. I think it's obvious we grew up, mostly because we refuse to wait in line at bars now. And that's mostly because we want to go home and be in bed. But it's refreshing to know, that even though we might not be the youngest at the bar anymore, that we can still count on Ned's for a good time.
And enticing us with chili is a great way to get us to go anywhere.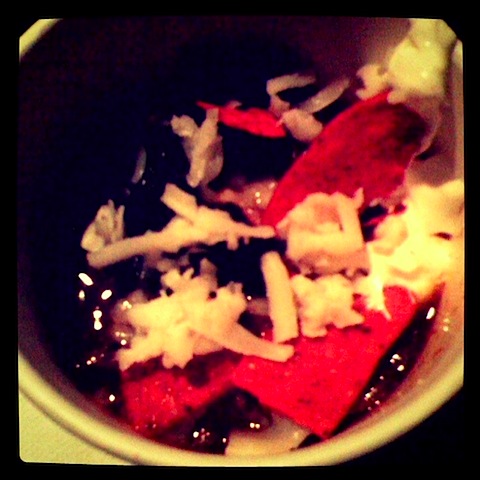 Do you ever go back to your old stomping grounds just for old time's sake? I highly recommend it 🙂
[Chels]