Last week was a bit rough for me between battling a horribly nasty cold and cough and just general "life" stuff, so when one of my very best friends, Melis, invited me to her parent's Cape house for the weekend I definitely considered it hardcore. I was originally supposed to go to the Chowderfest with Sues on Sunday but I really felt like I needed to get out of Boston and just clear my head by spending time with one of my very favorite families!
On Saturday afternoon I drove down to Mattapoisett, MA, which technically isn't on the Cape, but it's a) close enough and b) the same idea so people just say "The Cape". 😉 Melis' family lives in a private community with it's own beach so we didn't have to deal with crowds, traffic, or any of the other things that come along with a long weekend in New England!
Naturally, my weekend had to start with fried clams. It's not summer until I have them! We went to The Village Scoop, a cute new restaurant in Mattapoisett right when I got into town. They did not disappoint and in fact, I'm still craving them three days later.
Whenever I visit Melis' family we always take strolls around "The Point". No matter how many times a day we walk around the neighborhood, I always bring my camera with me because I just never know what I'll find. This is Melis' grandmother's backyard… which I adore and swear I take pictures of every time I visit.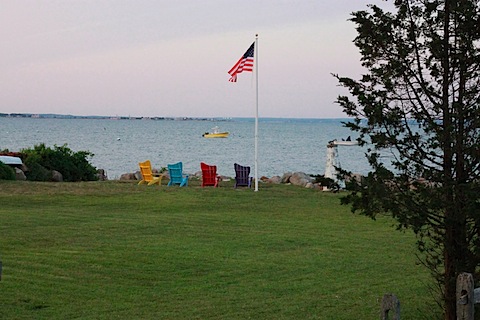 And this is a neighbor's shed door. So pretty, so New England. I think this one's a framer!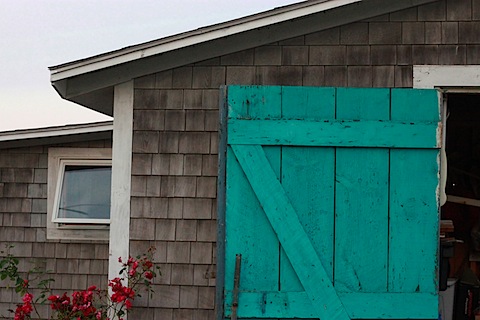 Sunday afternoon, Vickie and Paul, Melis' parents, treated us all to a BBQ lunch of bacon cheeseburgers, sausages, potato salad, and a beautiful and tasty caprese salad.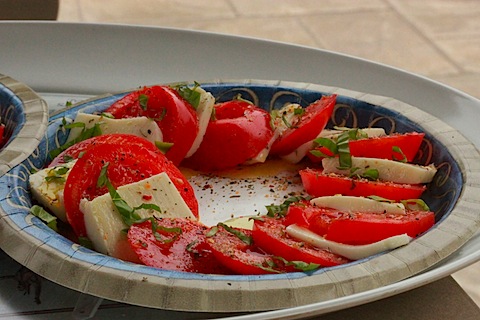 This balsamic was out of this world, too!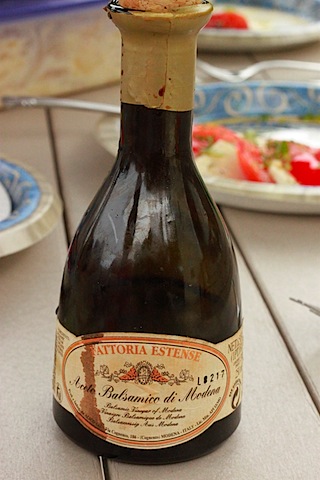 After lunch, we all went clamming (with a permit, of course!). This was my first time and, minus gashing my finger on a rock, it was so much fun! I was mostly excited to be able to almost immediately eat our fresh catch! We started by throwing a rock at another rock and waiting to see if a spout of water came up from the ground. The pressure from throwing the rock forces the clams to produce this spout of water which signals that they're below. It was pretty neat 😉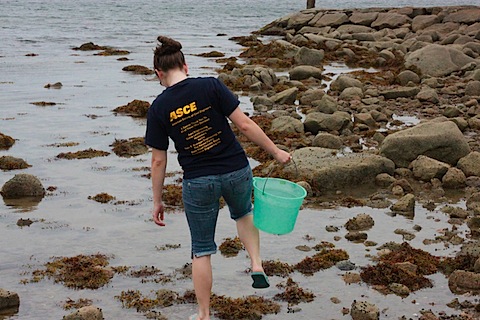 Once we spotted the spouts of water, we dug below, using a pitch fork and our bare hands to search for the clams.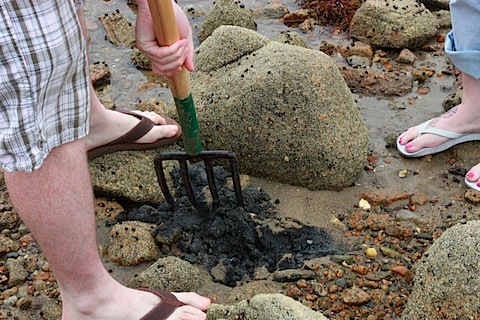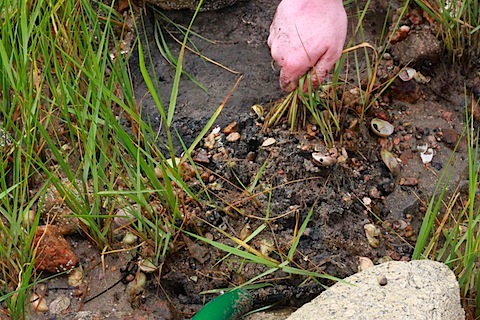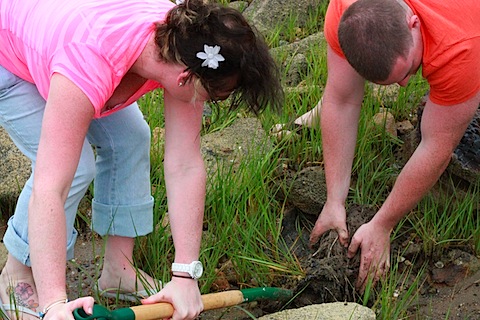 And paused for photo opps.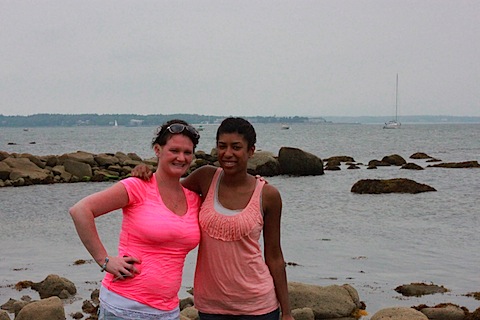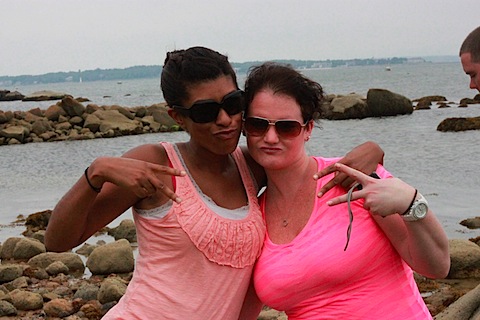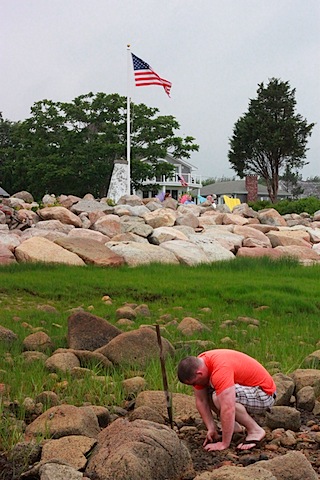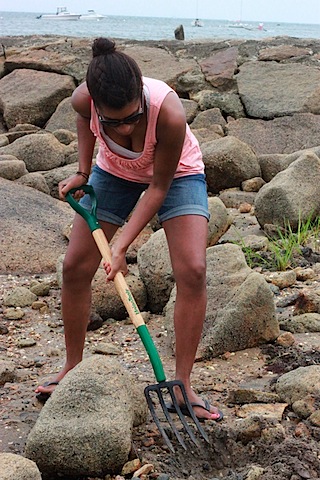 Caught my first one!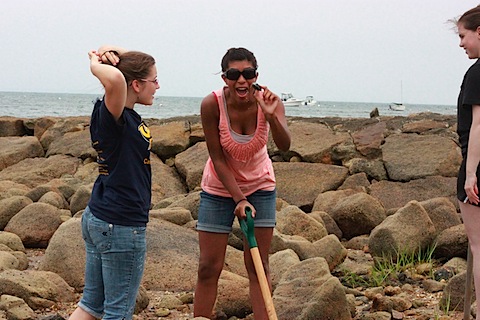 And Will got down and dirty!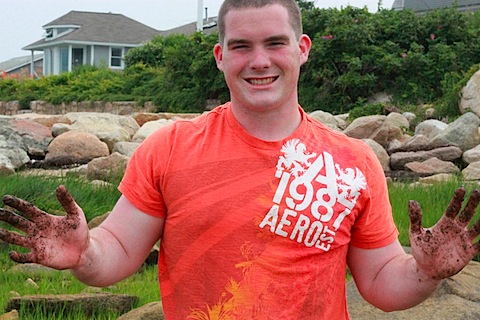 We brought a bucket and filled it with ocean water while we were actually searching for the clams.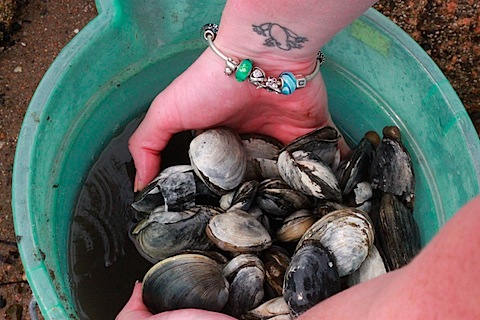 When we got back to the house we dumped the dirty water out and filled the bucket with some fresh water.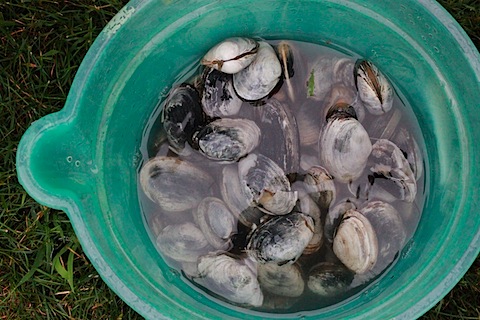 And when we got back into the house, we dumped the clams out in the sink,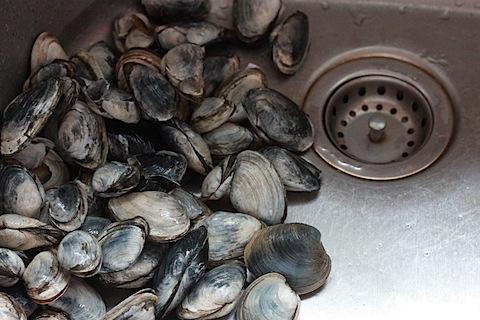 And filled the sink up with water to allow all of the sand to wash out.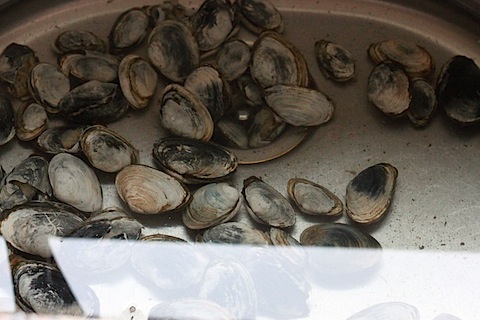 Vickie then steamed them, only for a couple of minutes, until they opened up.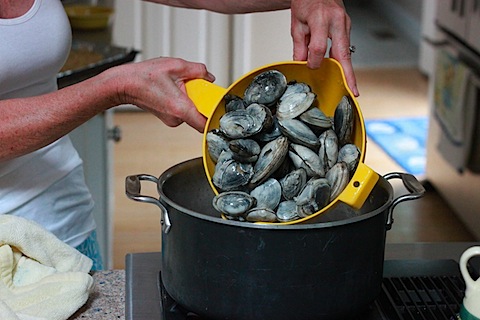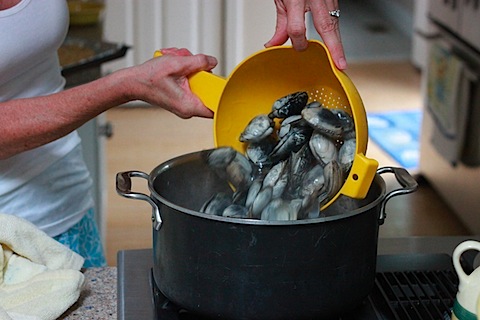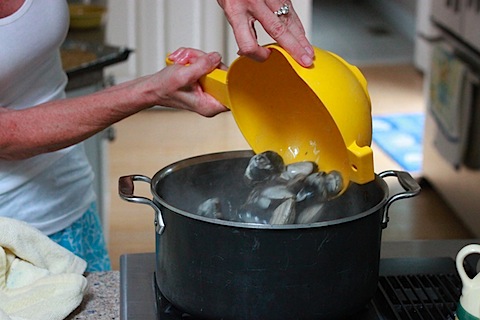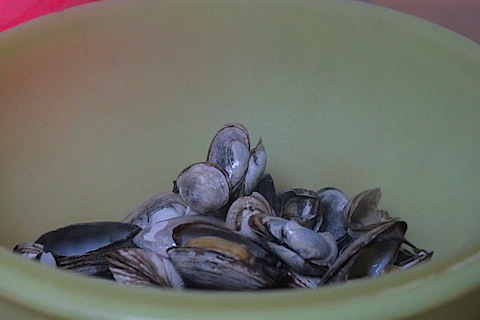 We gently ladled out the broth and put it in a small bowl so we could dip the steamed clams into it. We also melted some butter in small ramekins for dipping.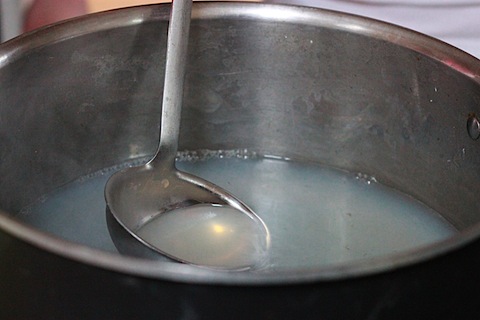 SO GOOD.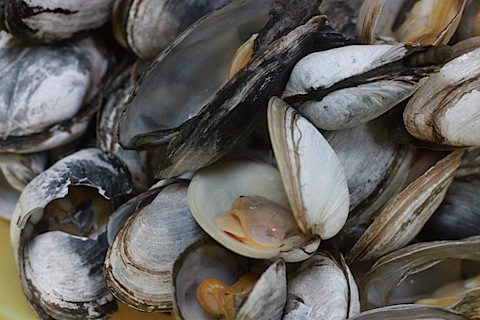 We also enjoyed a glass of Malbec from Bota Box. Apparently these boxes house 4 bottles of wine and Vickie said she bought hers for only $14.99. Deal! And it was quite tasty, too!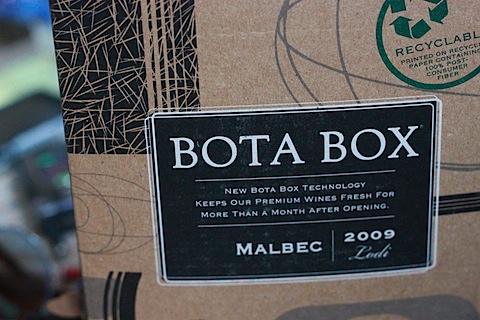 Just eating clams, you know 😉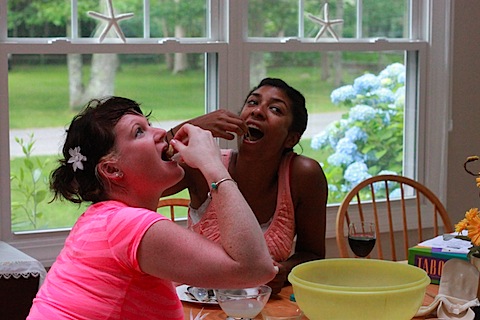 Later that night, we played an intense game of Taboo with Melis' brothers, Sam and Will, and their girlfriends. Melis and I dominated, most likely because we've known each other since we were 14 and could incorporate a personal joke into almost every card! One of the clues Melis gave me that I ha to guess the word to was "Something you hate seeing on the side of the road!" and I immediately yelled out "mattresses!". Everyone made us briefly pause the game so I could explain my phobia of upholstered furniture and mattresses outdoors. It, for some reason, seriously makes me gag when I see these things outside. I'm weird.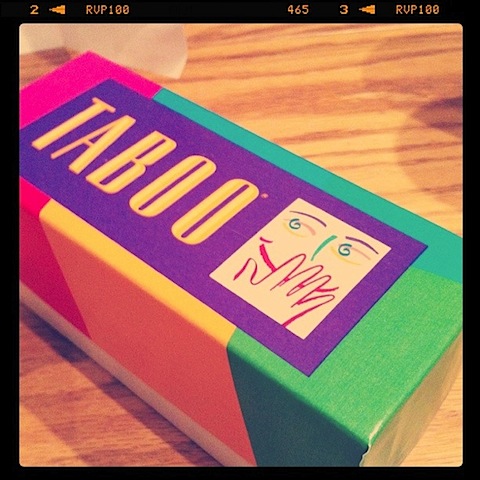 Sunday was filled with, you guessed it, the beach again!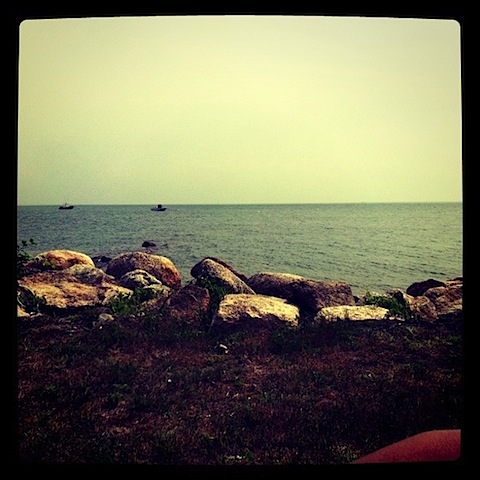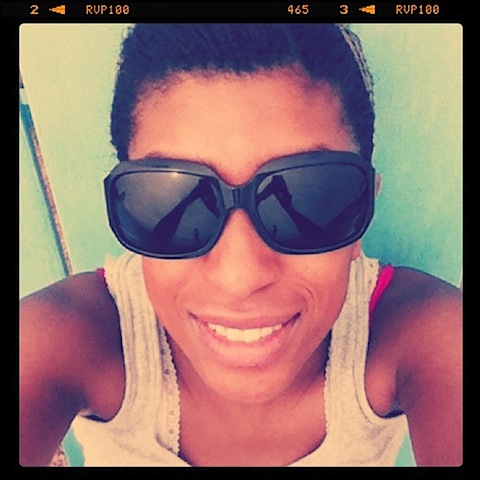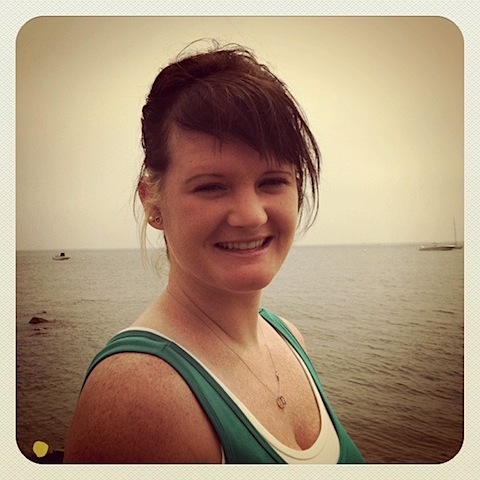 And yes, more seafood! This time we went to The Oxford Creamery, an absolute must for anyone visiting this neck of the woods. The Creamery is a small restaurant that serves some of the best casual seafood. It's one of those tiny beach-side spots that has lines out the door. We decided to call our order ahead so we didn't have to wait long. The key to summer seaside dining in New England 😉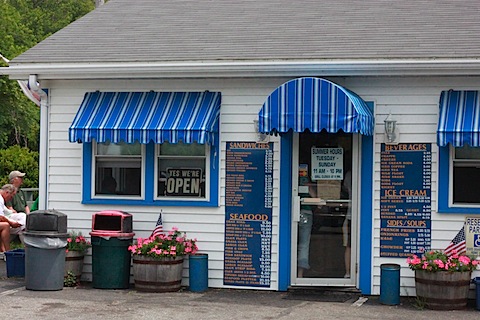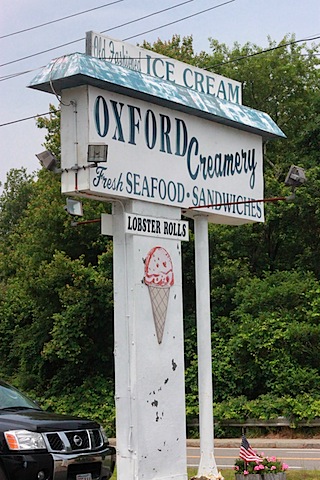 Now, call me a dummy, but I ordered a lobster roll even though I know I have a slight allergy. I was craving one and I can tell when I eat shellfish exactly when my limit is, so I ended up eating most of it and giving Melis the rest. I've just convinced myself that the more I expose myself to these things I'll end up getting over them because I got through a good amount of the roll before even feeling anything at all, when years ago I couldn't even have a bite. Progress!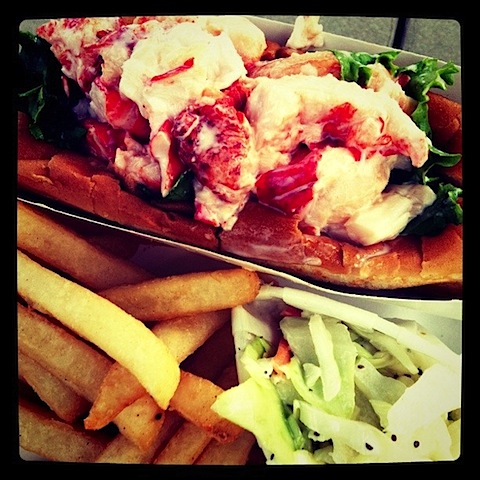 After lunch we took a walk around the neighborhood again and stumbled upon a barn with goats and a horse. Of course we stopped to take photos and feed them some carrots 🙂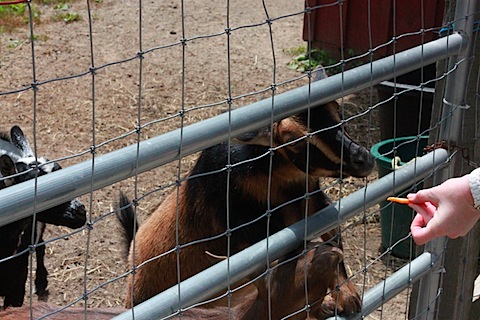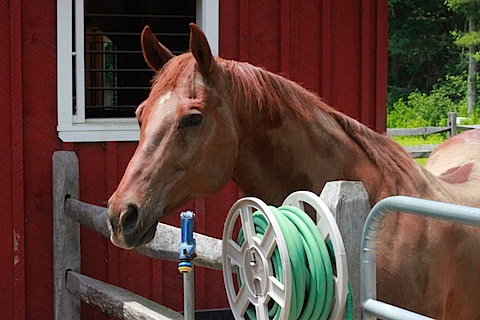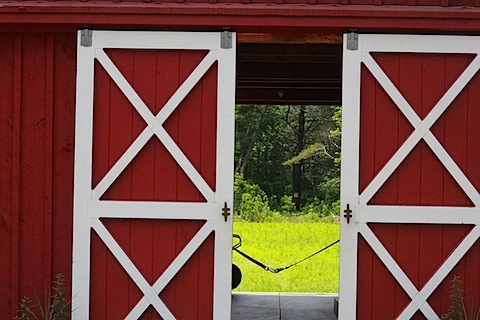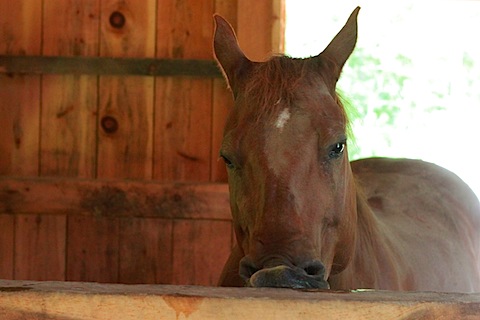 We also stopped by this huuuuge bird cage/sanctuary in the woods. There were all kinds of exotic birds and ducks living in this thing… kind of random but also pretty neat! No idea what kind of bird this was, but I decided that I want a dress in these colors. It would be stunning!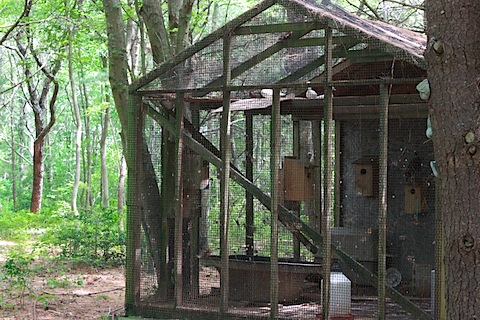 Overall, this weekend was just what I needed. Before I left for Mattapoisett on Saturday, I was on the phone venting to my grandmother and she told me to get in my car, open the windows, and just drive. She always says there's nothing some fresh air and a long walk can't cure, and boy was she right. I feel like my head was cleared this weekend and although I kept busy it's always nice to escape reality if only for a few days and hang out with people who take such good care of you 🙂
How did you spend your 4th of July weekend?
[Chels]