Over the past 3+ years of blogging at We are not Martha, we've realized that we're quite lucky. We're often invited to events that we, otherwise, wouldn't be exposed to, people we normally wouldn't have the opportunity to mingle with, and experiences that we'll definitely always remember.
We were recently asked, by Bishoff Communications, to attend and cover the 7th Annual A Spoonful of Ginger event at Boston's Museum of Fine Arts (MFA) which took place this evening. We originally couldn't attend because we had a prior obligation the same night and were so bummed about it, since we know it's always an exquisite event. But when a change of plans occurred last-minute, we were secretly thrilled knowing we'd be able to dress up and spend the night with some of the area's top chefs, all for a good cause!
The event, which benefits the Joslin Diabetes Center's Asian American Diabetes Initiative (AADI), was held in the New Art of the Americas Wing at the MFA. This new wing has been years in the making and it was recently completed and introduced to the public. It's absolutely stunning and it's such a perfect addition to one of my favorite buildings in Boston!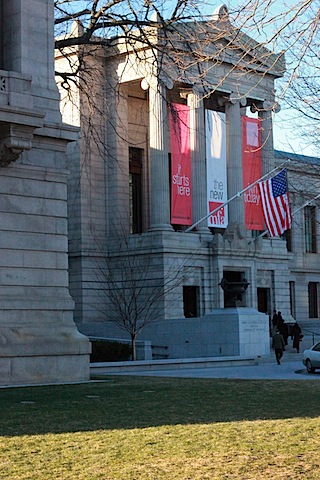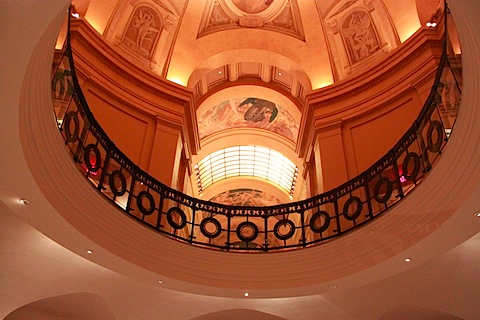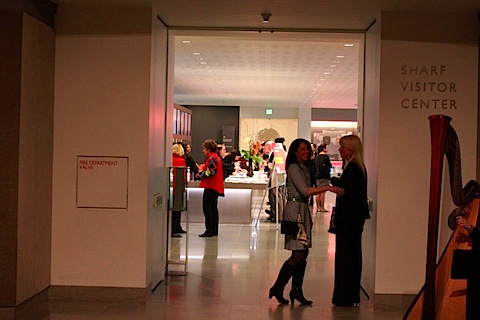 After we checked in and got our Media passes, we entered the event space which was filled with natural light, the aromas of delicious food cooking, and beautiful artwork. So really, nothing at all to complain about 😉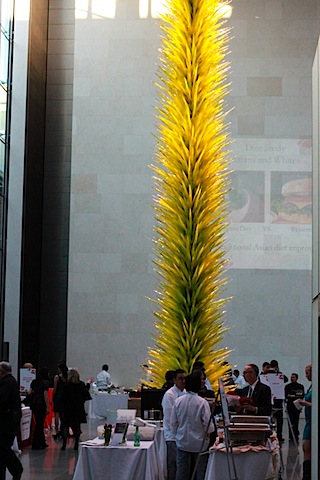 As we entered the space, we immediately noticed the images and text that were projected on the walls with facts and statistics about diabetes in Asian Americans.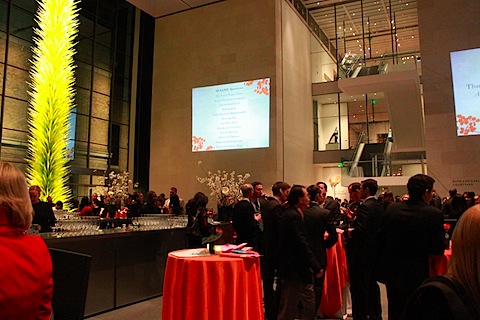 Some of the facts were astounding, such as 1 out of 6 Asian Americans in NYC has diabetes! Something I definitely did not know.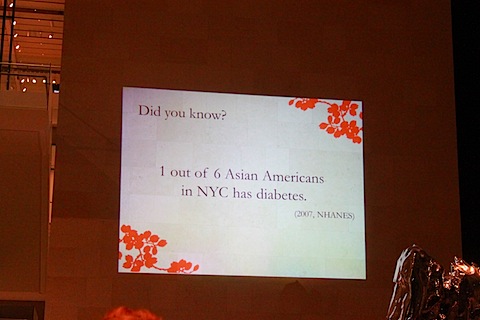 In the welcome letter in the evening's program, Dr. George L. King, Chief Scientific Officer, states:
" Diabetes remains an increasingly severe health crisis across the US and specifically within the Asian American population. According to a 2007 NHANES study in New York City, nearly 50% of all Asian New Yorkers have either diabetes or pre-diabetes. Access to culturally linguistic and relevant resources and care continue to play a critical role in improving health outcomes for this diverse population.
This coming year, AADI is focused on developing better treatments and multilingual educational materials to promote health equity at the local, national, and international levels. We are excited to move the initiative into a new phase and direct our energies to bringing ample and appropriate programs to our neighborhood health centers, schools, community centers, universities and beyond."
As the night went on, we saw fellow bloggers, enjoyed delicious food, and had a blast, but in the corner of our eyes, we could always see the statistics, ever-so-subtly, on the walls. It was a constant reminder on just why were there. It was definitely an eye-opener!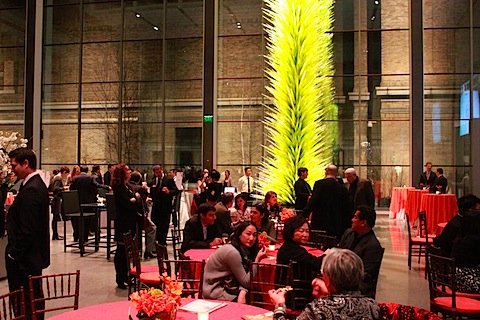 Random side-note time. How gorgeoussssss is this new addition? Between the floor-to-ceiling glass windows, the exposed former exterior, and the Dale Chihuly installation, I could have twirled around in that space for 24-hours and been perfectly content.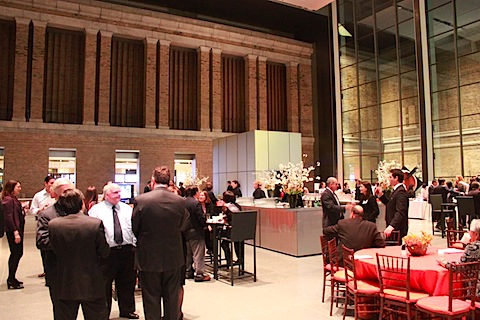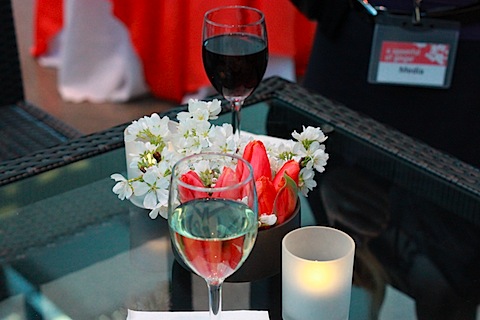 Whenever we attend events like this, we usually like to have some sort of game-plan. We decided to have a seat first, sip our wine, and figure out our plan of "attack" to make sure we covered the event to the best of our ability 😉 There was so much food and so many stations (and chefs!) we wanted to visit, but we had to have some sort of organization. We decided to do more appetizer and entree style dishes first, then go back for dessert and tea. The stations were all sort of mixed in together, so having a plan definitely helped!
Our first stop was the Cambridge School of Culinary Arts. And thankfully, we had a table to sit at because otherwise we would have had to eat a spare rib while balancing a glass of wine. We all know how that story ends.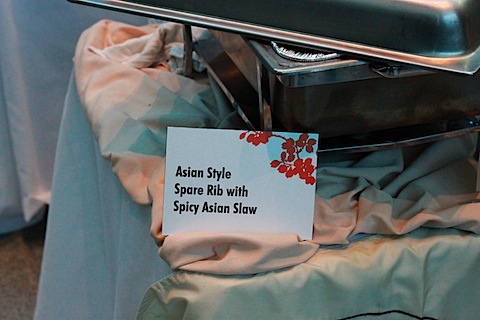 They also had sugar-free ginger, lime, and champagne lollipops, which I will be enjoying tomorrow.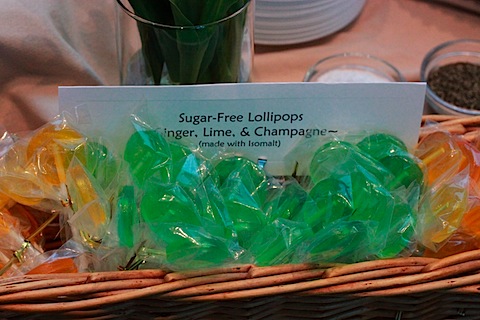 Next up was Chef Ming Tsai's Blue Ginger. He was serving one of my favorite dishes of the night, Gingered Sweet Potato Soup with Mushroom Duxelle on a Sesame Cracker. The recipe was actually in the program we received so I'm pretty sure we'll be recreating it in our own kitchens!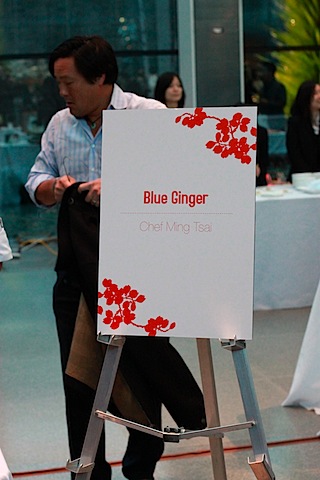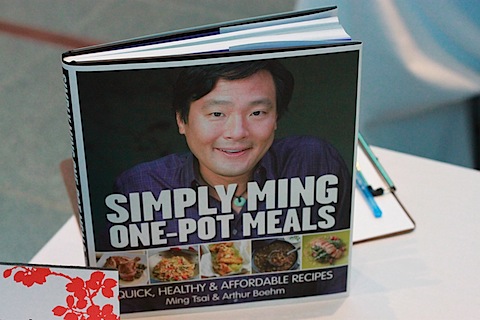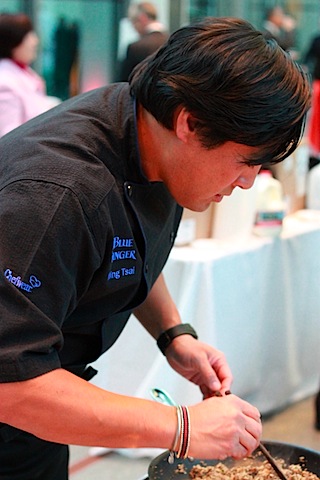 Such a great head of man-hair, huh??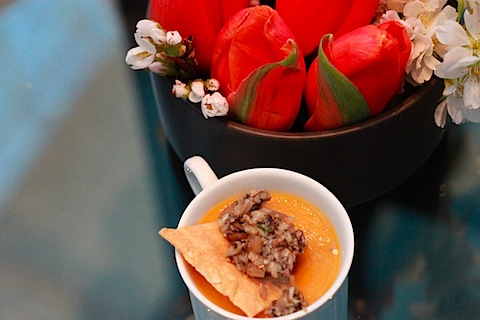 We ended up chatting with Ming for far longer than we anticipated after we snapped this photo. Lots of conversations about social media, restaurants, and our blog 🙂
Some other enjoyable bites: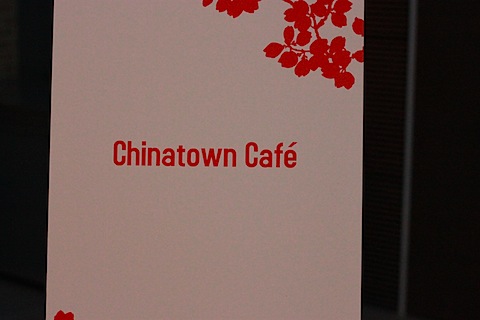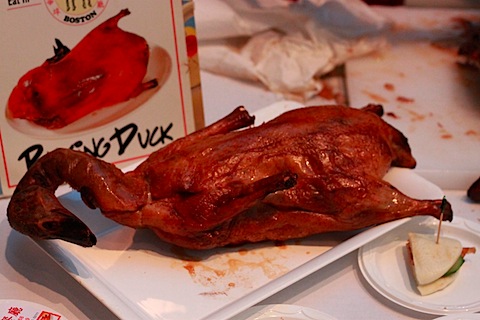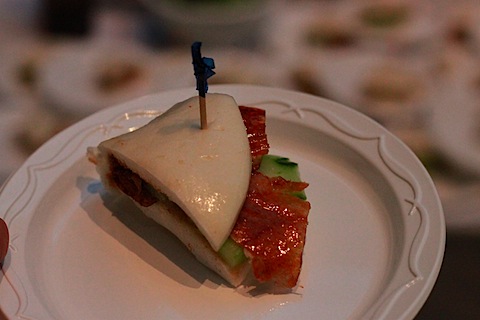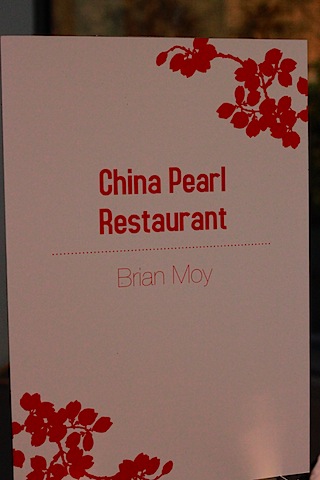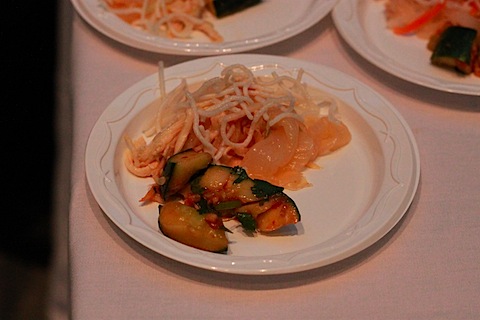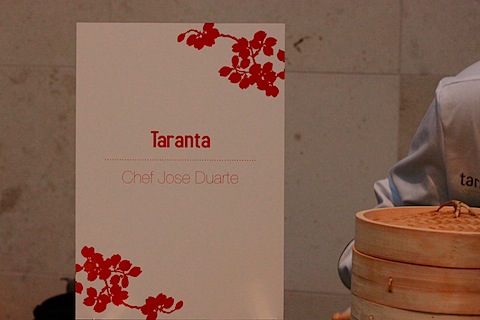 The Lamb Tamalito from Taranta was also a favorite.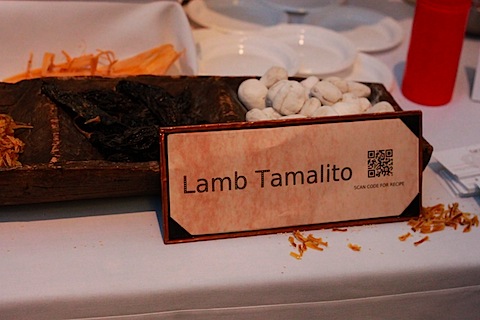 The presentation was so simple and pretty.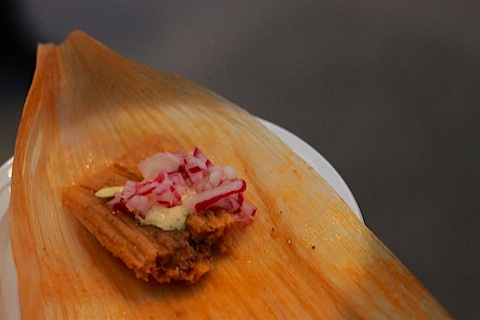 We made a stop at Myers + Chang, where Chef Chang was serving a Thai Ginger Chicken Salad. The takeout boxes were the perfect touch.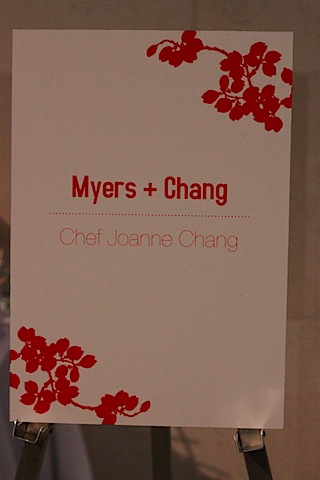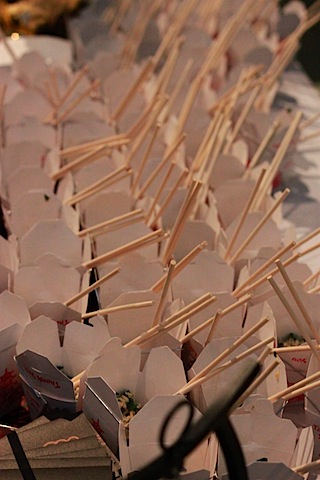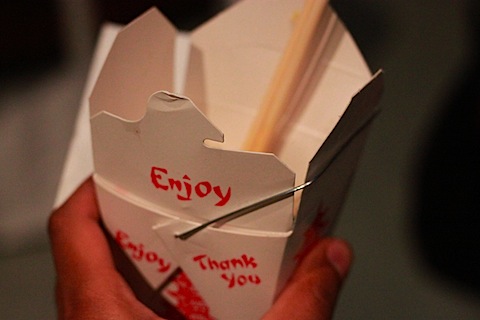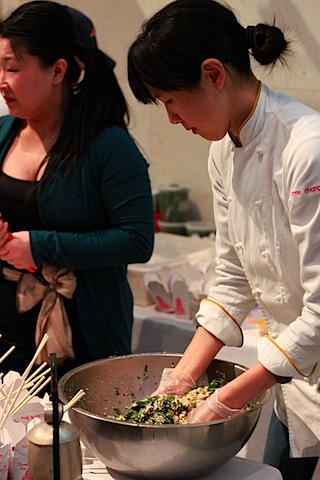 Darryl's Corner Bar and Kitchen was also one of the restaurants in attendance!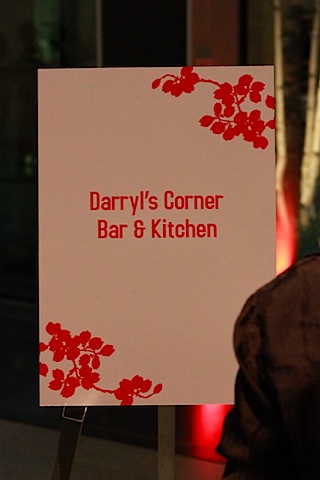 They were serving Catfish Strips with a "special sauce". Just yum.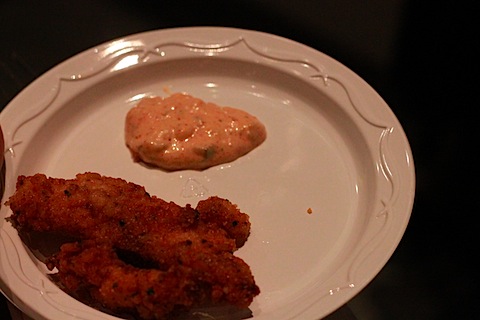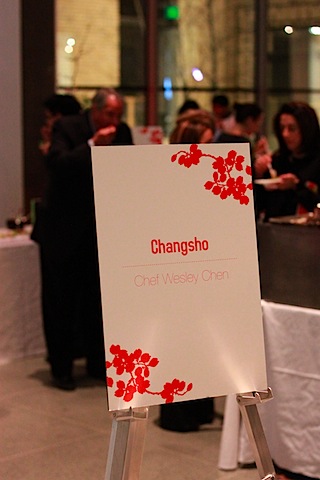 One of the more unique dishes of the evening was the Green Tea Infused Deviled Egg from Changsho.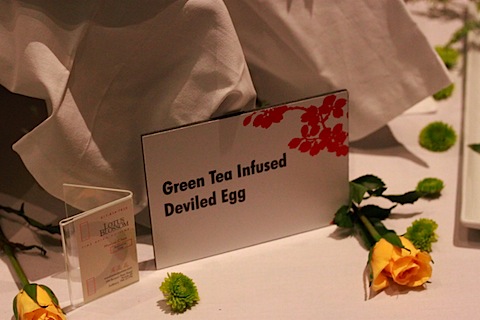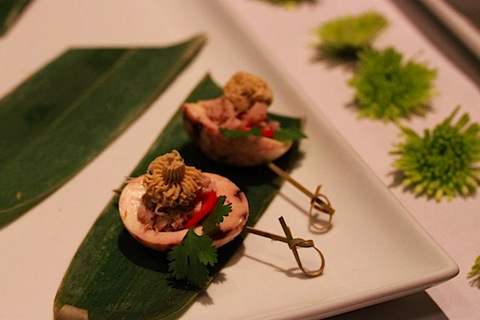 And Chef Nina Simonds' Grilled Chicken Sate Salad looked so simply prepared but had such a fresh taste and lightness to it. I could have eaten a huge bowl of this!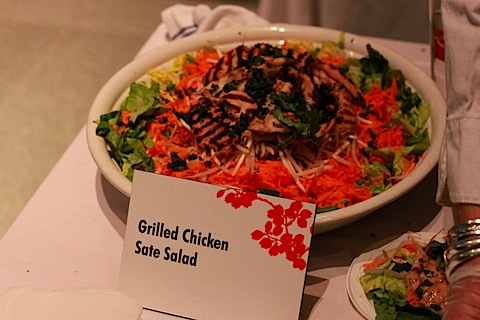 After we made our rounds, and nearly stuffed our bellies, we decided to head to Flour's table to try the Pavlova with Lemon Ginger Mousse and Blueberries. Woah, Nelly! These were perfect. The recipe for this is in the program as well, so I'm confident I will definitely recreate these. This is the dessert at a party that vanishes the second it's placed on a table.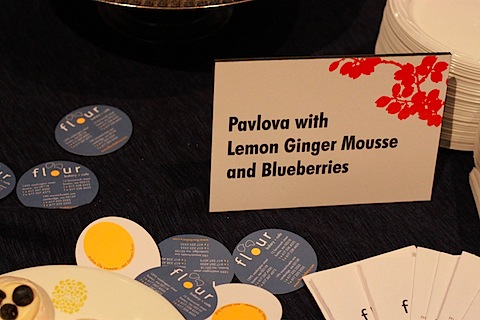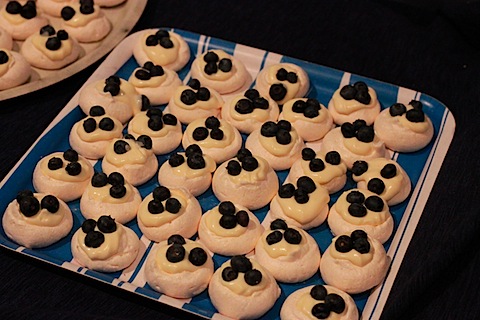 With the Pavlova, we sipped some seriously hot Oolong tea. Perfect way to prepare ourselves to head back outside in the freezing cold weather. Boo, New England.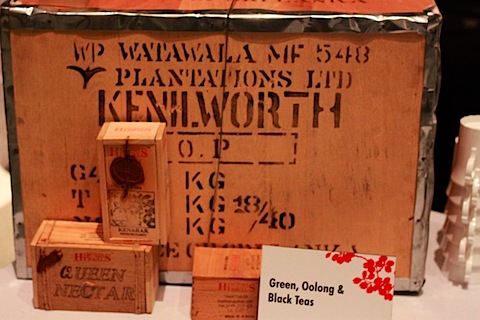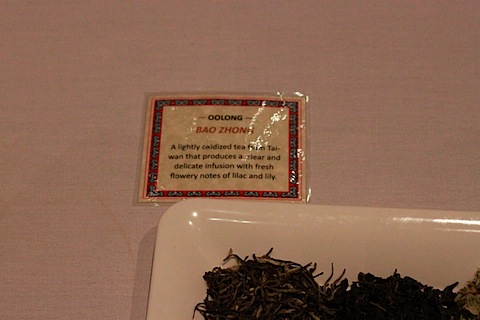 As we were getting ready to leave, there was a buzz about the Ginger Sparkler Shooter at Upstairs on the Square's table, so we, of course, headed in the opposite direction to try that out before we left. It was well worth the detour, if you're wondering. (Also, I think that's bbq sauce on my cup. Weird?)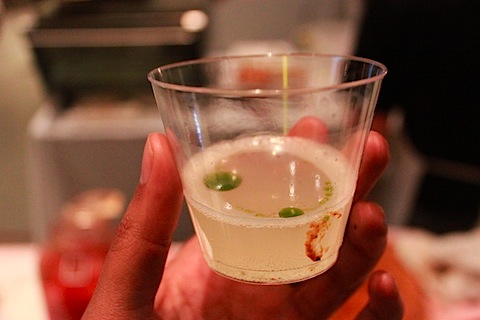 We tend to act quite normal when we're around others…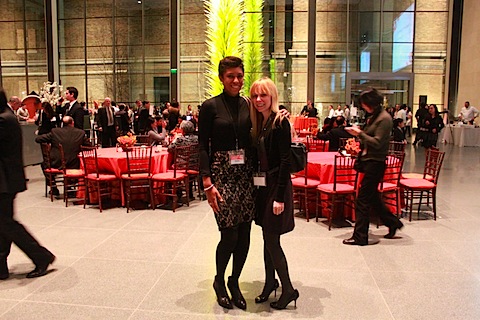 But when we're let lose, well, we're complete goofballs.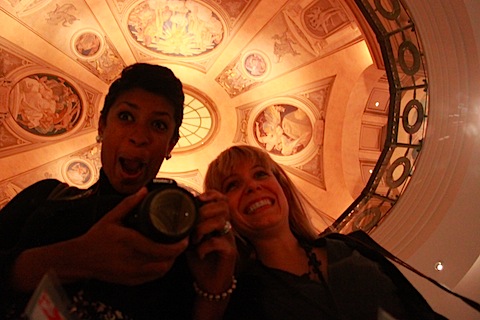 But that's a different story for another post 😛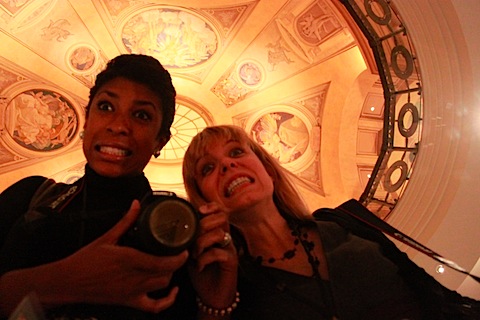 Thank you so much to Sarah, of Bishoff Communications, for not only inviting us to tonight's event, but for further exposing us to a great organization and also for reading our blog 🙂 We had a fabulous time!
[Chels]