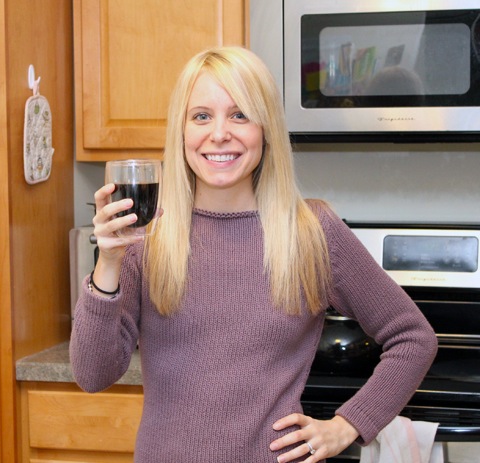 Have you heard of the AeroPress coffee maker? I hadn't. But when I got an email from Aerobie asking if I wanted to try it out, I happened to be reading it out loud in my living room. Chris was in the room and literally jumped up off the couch. "THEY WANT TO SEND YOU AN AEROPRESS!! OMG OMG CAN I HAVE IT?!" Woah. I wrote right back telling them I'd love to try it out. Chris was still asking if he could have it. "Could you let me try it first, please?!" I finally responded. Clearly, he was a tad bit excited.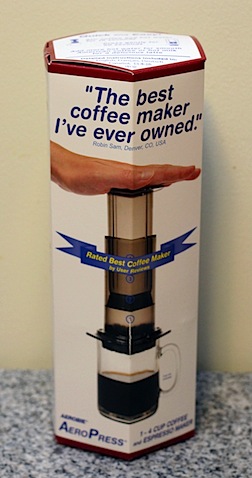 And how could I not be excited to try it out after hearing his reaction? So, I received the product and opened up the box. My first reaction was that it was a bit complicated. But no, Chris assured me it would be a breeze to use and agreed to help demonstrate it.
Here are all the pieces of the AeroPress set out, along with our coffee of choice, water, and our favorite Bodum double-wall glasses. We can talk more about those later. Swoon.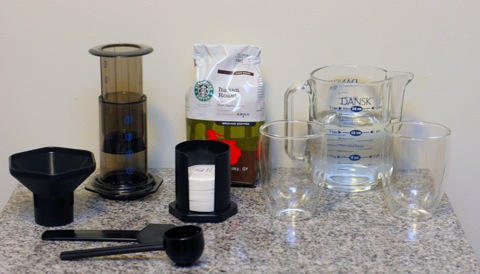 We decided to use one of my favorite coffees from Starbucks fall line; their Italian Roast (which Starbucks lovingly sent me!). Everyone knows you need to start the coffee-making process with a good high-quality coffee…
But not everyone knows that the method in which you make the coffee is also extremely important. But after they use the AeroPress, they will!
Chris kindly demonstrated the various parts. Including the cute little microfilters that keep your coffee particle-free.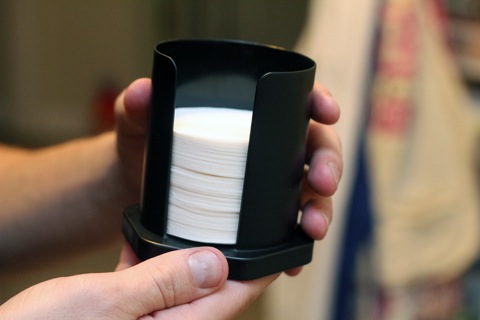 You simply place your microfilter in the bottom cap and twist it closed.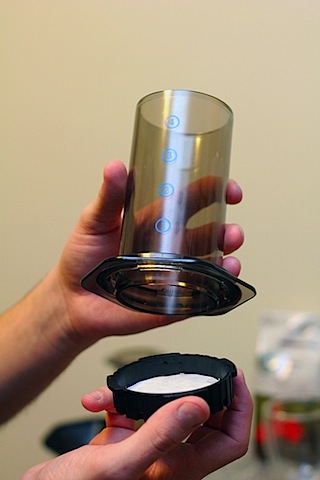 Place two scoops of coffee (with the lovely Aeropress scoop) into the chamber.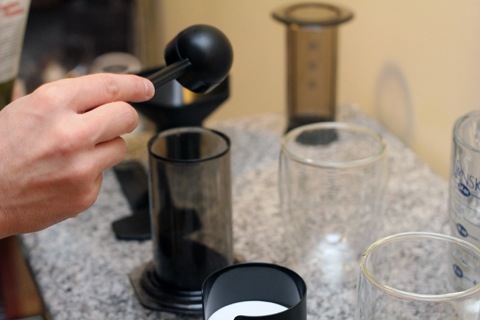 And then stand the chamber on your mug and and pour hot (175 degree-ish) water into the chamber.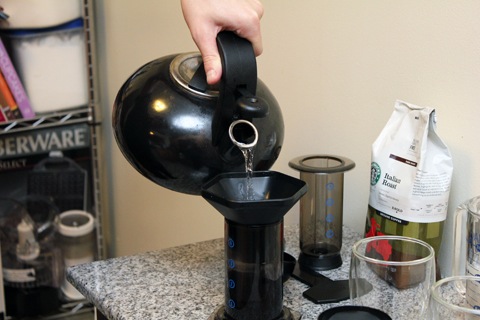 This takes a lot of concentration.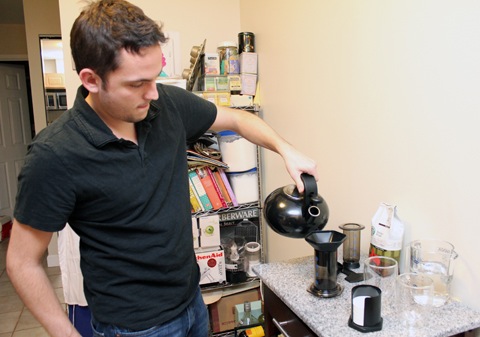 Now, stir the water for about 10 seconds. And insert the plunger into the chamber.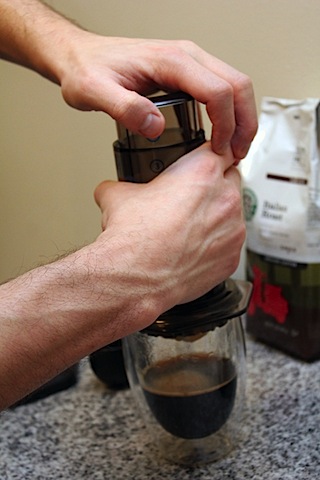 Gently press down about a quarter of an inch for about 20 to 30 seconds, maintaining the same amount of pressure.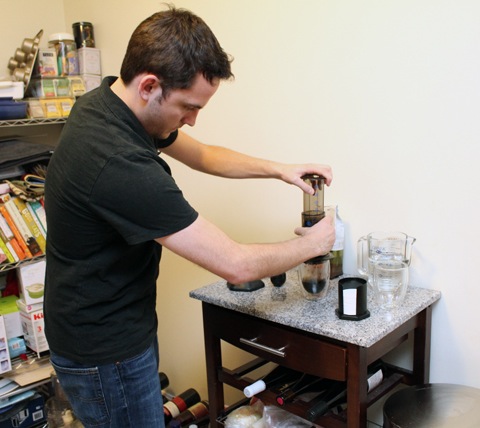 And watch in wonder as your coffee slowly drips into your glass or mug.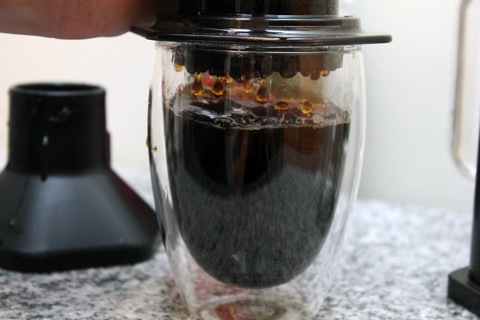 And then sip away and enjoy some of the cleanest-tasting coffee you've ever had. This coffee was seriously strong and awesome. I was literally stunned by how much better this tasted than the coffee we make in our drip coffee maker (and we have a really nice coffee maker!). Oh, and you can also make a pretty fantastic espresso with this, too.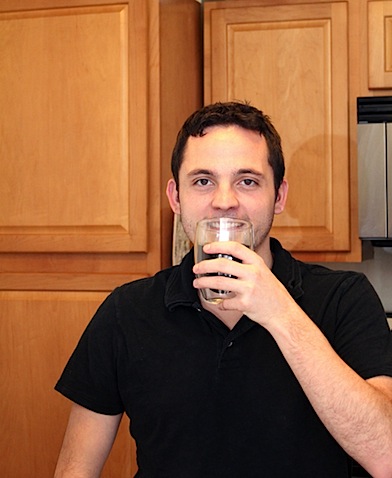 So, why is the AeropPess better than other coffee makers? For lots of reasons! Here are a few: All of the coffee grounds contact the same water temperature and the brewing process is short and sweet. This means no bitterness is extracted from the coffee grounds.
Also, I always notice if I'm making coffee in my drip maker and I want a cup quickly and pour it before it's done brewing, the coffee is SO strong. But the coffee that brews at the end of the process is incredibly weak. The AeroPress uses total immersion, which means all of the grounds come into contact with the same water temperature and the brewing process is super short. AND furthermore, the pressure from the AeroPress extracts extra flavor from the coffee grounds. Perfection!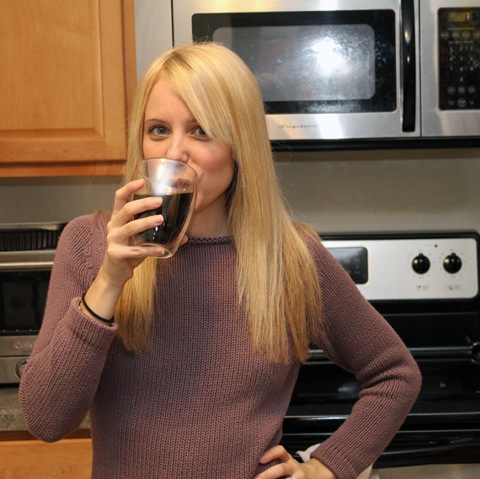 Clearly, I am a fan. The other amazing thing? The AeroPress is SUPER easy to clean, unlike a typical French press. To see more about the wonders of the AeroPress, check out their Amazon page.  And their rave reviews! Many claim it's the best cup of coffee they've EVER had! In the meantime, I should tell you I'm also obsessed with our Bodum Double Wall Glasses. They keep coffee hot (and cold drinks cold!), but because they're double walled, they don't burn your hand at all. Even better, they don't sweat! Which means Chris can stop anxiously following me around our apartment with a coaster. Also, they're pretty. And I'm pretty sure I now need them in every shape and size.
After we made our coffee, Chris asked me about a thousand times if he could bring the AeroPress to work. But, you know, I want to be able to make good coffee in our home, too. So I purchased a 2nd AeroPress right away and included it in his already coffee-oriented birthday present (his birthday was yesterday!). And today at work? He took this photo: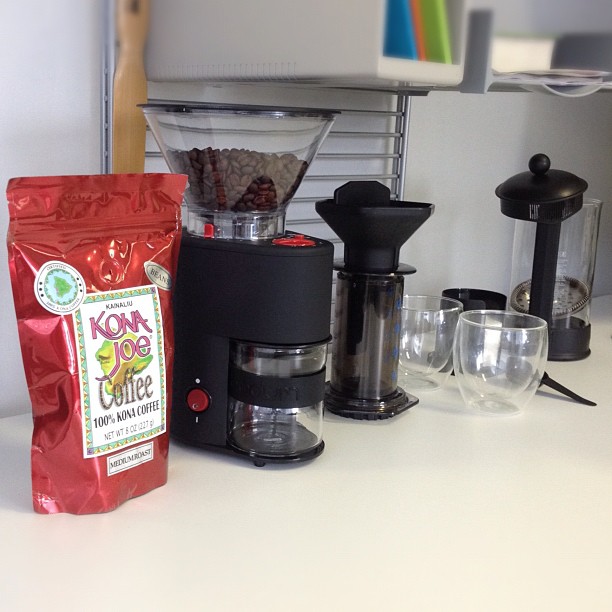 Yes, that is his desk at work. And no, he does not work at a coffee shop. Clearly, I'm marrying someone who loves a good cup of coffee as much as I do. Life is good.
AeroPress Giveaway!
So, now that you've heard me rave and have seen how amazing the AeroPress is, you probably want one for yourself, right? I mean, think about how much brighter your mornings could be! You could even have a desk set-up like Chris's if you're really obsessed. I'll be picking one lucky winner to receive an AeroPress of their own! All you have to do is leave a comment on this email letting me know your idea of the perfect cup of coffee by Tuesday November 22 at 11:59 p.m.
For an extra entry, follow us on Twitter. And for another one, tweet about this giveaway! Make sure you come back to leave another comment letting us know.
Good luck!! And if you don't win? The AeroPress is only $25.95 on Amazon, which is a small price to pay for the best coffee maker ever (think about how much a good drip maker costs!). And I speak from experience when I say the AeroPress makes a very good gift. And the holidays are coming up! 🙂
[Sues]