You know what I never seem to have enough of? Cute clothing to work out in and lounge around in. Because really, you can admit it- they're one in the same. You want your workout clothes to be completely comfortable. Comfortable enough that you could take a nap in them. It's kind of weird how that works, isn't it? But most comfy clothes? Look majorly frumpy on me. I'm not one of those people who can just effortlessly throw on a sweatshirt and pair of sweatpants and go about my day looking all glamorous. Nope, I generally look a hot mess in sweats. It's been basically a lifelong process to find a sweatshirt that's both comfortable and semi-decent looking on me. Which is why I'm ridiculously excited about this post and giveaway. And I hope you are, too!
Albion Fit offers beautiful, comfortable, and high-performance fitness and swimwear for the fashion and health-conscious female. When they reached out to me, they stressed that they recognize the importance of balancing an active lifestyle with a passion for delicious cooking and a delight in creativity. Love it! But really, I loved every single product I saw on their website. They kindly offered to let me pick a few things out for myself and hold a giveaway for WANM readers… hooray!
I was immediately attracted to the Signature Hoodie because it looked fitted and like the most comfortable sweatshirt on Earth. Guess what? It is! I'm legitimately planning on eventually owning one in every color because I know I'll be getting plenty of use out of this one!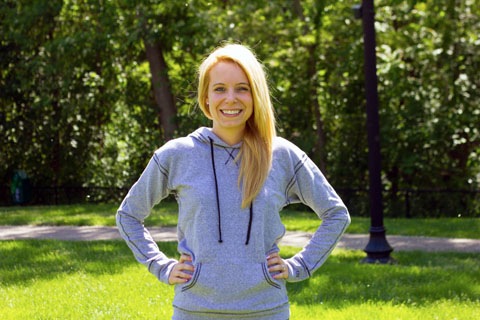 Normally, I'm not a fan of big branding on clothing, but I actually don't mind the branding on Albion Fit's sweatshirt. It's classy and though large, it's discrete enough and doesn't scream out a brand name. Plus, the hood (and my hair) mostly cover it.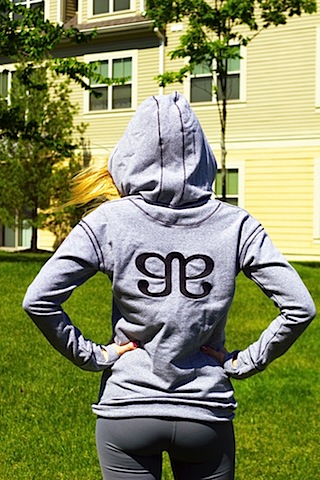 I love the little detailed branding, too. And do you see what I see??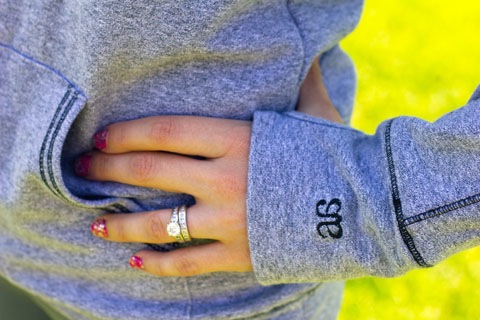 Thumb-holes! There's nothing better in life.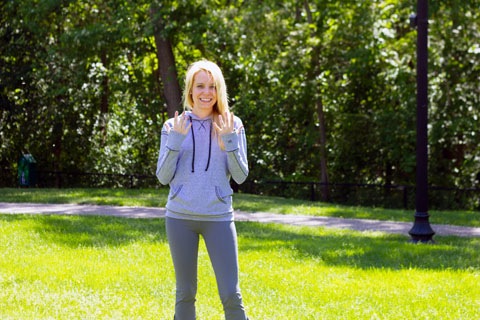 Also, those capris. They're the Optimum Capris in graphite. Compression capris make the best workout pants, but they're also my favorite item to wear while hanging out on the weekends. I love the wide comfortable waistband on these.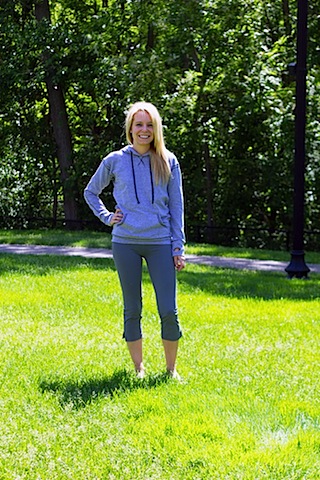 Albion Fit also let me pick out a bathing suit (which I will not be modeling here!) - I chose this Chevron Bandeau set. One of my least favorite things about bathing suits is that it's so tough to find bottoms offer enough coverage. The bottoms to this suit are PERFECT and again, the most comfortable ever.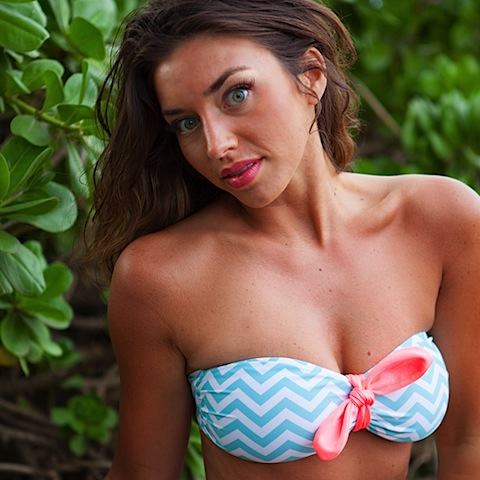 I have a feeling their other bathing suits fit similarly… and they're all so pretty and feminine! I love this ruffly suit.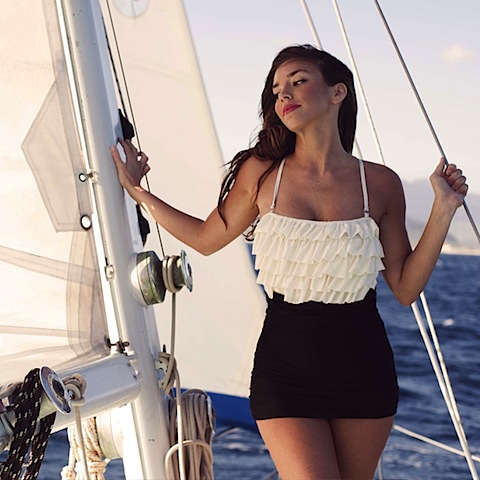 And the "Show Stopper" is perfect for a day on the boat!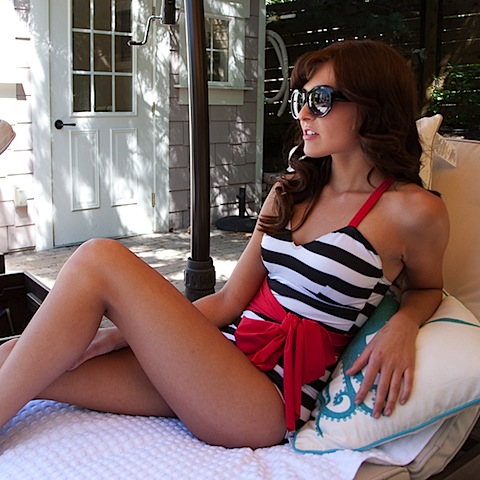 I would probably wear this Blousy Suit Top as a regular top because it's so adorable!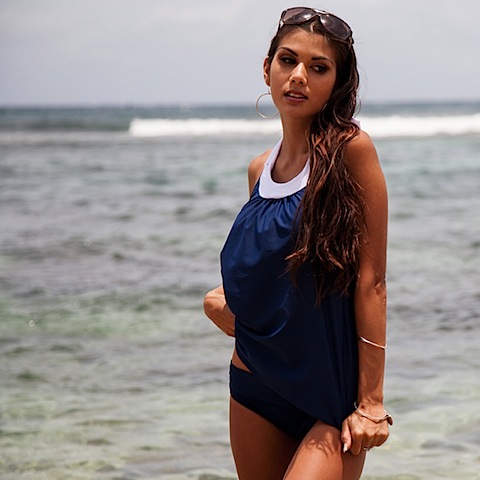 My next Signature Hoodie must be the Belize Blue one!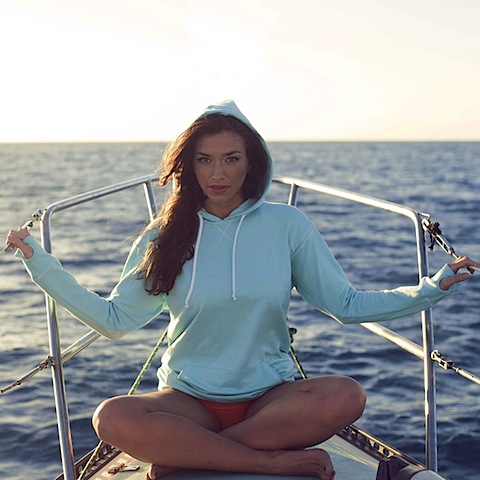 And I'm also determined to try Albion Fit's Love Racer, which comes in a large variety of colors.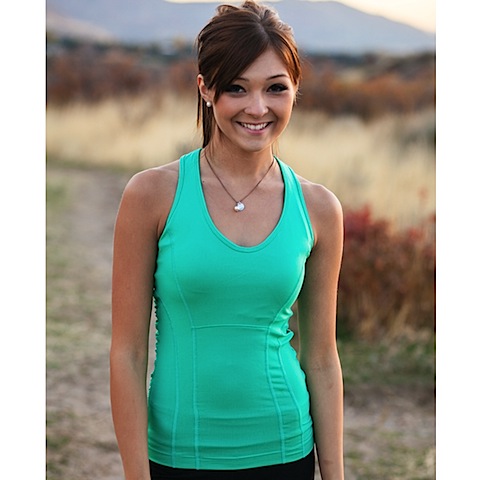 So, those are a few of my favorite things currently at Albion Fit. I could browse their Pinterest boards forever. And now I want to give you a chance to win a few things of your own! I'm going to pick one reader to win a $175 gift card! There are lots of ways to enter, so get ready!
OK, I'll never be a fitness model. Or a watch television on the couch model. Maybe I can be a hands on the hips model. Because clearly I like doing that. Weird.
To enter: Comment on this post letting me know which item from Albion Fit you'd love to own
Make sure you leave a separate comment for each entry option you complete. Enter by Sunday, June 9 at 11:59 p.m. for a chance to win! Ahh, you're going to be SO comfortable. Er, I mean, so productive at the gym.
Albion Fit was also kind enough to provide a little discount code to everyone, in case you absolutely need to wear that sweatshirt right this second. And I cannot blame you. With code notmartha15, you can save $15 on any order of $50 or more. The code is only good until Sunday the 9th, so shop now!
Side note: Is anyone going to BlogHer Food?? I'll be heading there for the event and can't wait! I'm actually going with work as one of my clients is a sponsor, but I'm super excited to see some blog friends, meet some new ones, and just be in my own little bloggy paradise. Plus, it's in Austin, Texas! LOVE it there 🙂
[Sues]
Disclaimer: Albion Fit sent me the sweatshirt, capris, and bathing suit free of charge. However, as always, all opinions are my own!