Once upon a time, the Roadhouse opened in Washington Square, Brookline. It was smokehouse BBQ and a relative to the Publick House. And along with it, came a lovely little provisions shop filled with all the craft beer and gourmet cheese you could dream of. In other words, heaven came to Washington Square. But the neighbors weren't happy. Allegedly, the Roadhouse was making the neighborhood smelly. And they complained about it. And the dream was over. Enter a couple months of a mediocre menu from the Roadhouse without BBQ. Then the Roadhouse suddenly closed one day, and just a week later, American Craft was open.
First of all, I'm not sure who on Earth would complain because their neighborhood smells like BBQ. When I think of all the things city neighborhoods can smell like, BBQ sounds like a much welcome departure. But that's neither here not there. The fact is, the Roadhouse was just blah for a while. Which was a shame because it's a pretty big restaurant with an absolutely amazing beer menu. So, I just want to say I'm incredibly excited American Craft is now in the neighborhood.
Chris and I trekked out in the rain last night to try American Craft on its opening night and overall we were pretty happy. Definitely a couple of steps up from the Roadhouse, plus most of the beer is still there.
I had the Green Flash Hop Head Red Ale and it was perfectly hoppy and delicious.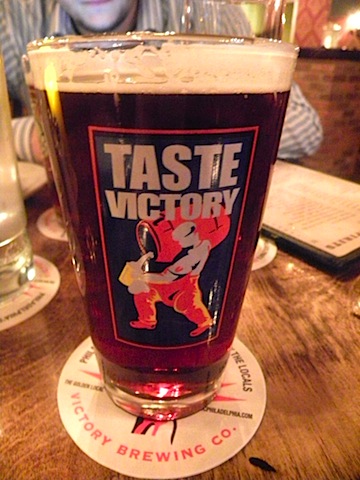 You may think it's a bit strange I opted for the grilled cheese sandwich and tomato soup. But first of all, it was no ordinary grilled cheese. It was grilled cheese with gruyere cheese, black forest ham, and basil. I honestly don't think I'll ever eat a grilled cheese without basil in it ever again. Genius idea! I loved the Hi-Rise bakery bread too and it was perfectly crispy. Second of all, it was pouring rain and cold, and this was the ideal meal choice.
The tomato soup I was torn on. Don't get me wrong, it tasted wonderful. But the consistency? Was like marinara sauce. It just wasn't soup! Not that I'm complaining it wasn't a watered-down mess, but I just couldn't get the thought out of my head that I was downing a jar of marinara sauce. However, it did make for excellent dipping and I used it more as a kind of ketchup.
I am super picky when it comes to french fries, but these hand-cut fries were almost perfect. Some were crispy, none soggy and they had lots of sea salt sprinkled on top. I'm a fan.
Chris got the rueben and it was absolutely packed full. That thing is huge! He enjoyed it and ate almost the whole thing, but I think he was feeling a little bit of jealousy toward me and my grilled cheese. Can't blame him.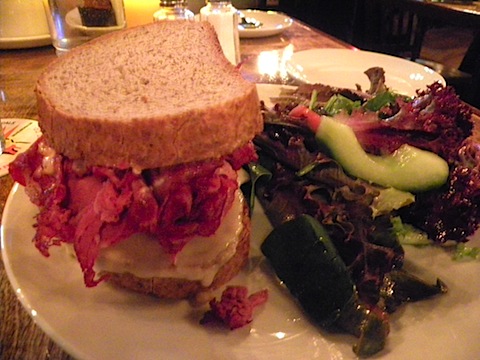 American Craft is a lot prettier than the Roadhouse was. I love love love the wallpaper and decor and the exposed brick is just perfect. They definitely classed the place up a few notches, which I both love and hate at the same time. On the one hand, yay for having a clean bar with a pretty environment and lots of beer. On the other, some might see it as being a bit too stuffy for a casual night and the food menu may be seen as a bit too pricey. Even most of the sandwiches are $11. But I'm arguing on the side of, welcome to the neighborhood, I'm glad to see you here!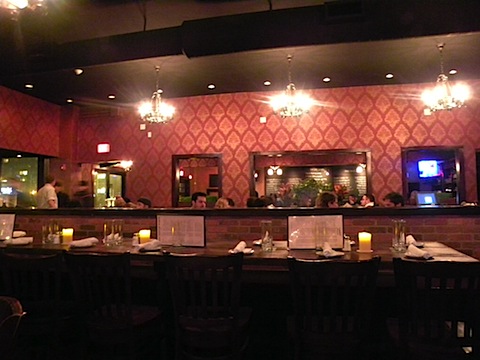 There's still two bars just like at the Roadhouse, which I think will make it a nice place for just hanging out. It was surprisingly pretty empty for opening night, but it was also rainy and gross out and unless you're on Twitter non-stop (like me), you may not have even realized the Roadhouse disappeared and American Craft opened. But I think the bar areas will get quite crowded and I love how roomy they are.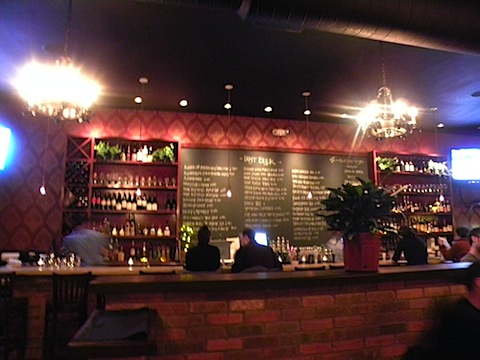 I might get in trouble for saying this, but American Craft seems like it wants to be a much larger version of Washington Square Tavern with more beer. And I'm not complaining at all because I love the Tavern and I wish it was bigger (I never quite feel comfortable eating there). I really think American Craft is needed in Washington Square. Go to Publick House for a more casual environment or American Craft for a bit of a nicer night out. Oh, but I totally think they need to change the music. I enjoyed the jazzy music while I was dining, but think most bar patrons will want a different sound- maybe something indie? Still unobtrusive and low-key, but a bit more fun. It made me feel like they were trying too hard.
I'll definitely be back to American Craft, probably quite often for beer. And also to try some of the other items on the menu- like the stout braise short ribs and fried cornmeal oysters. Oh, and probably the fried buffalo mozzarella too. And you know I'll be back to try Thursday night's Blue Plate special of chicken pot pie (still on the search to find the best in the city)!
They also have a pretty extensive wine and spirits menu, so even if you're not a beer fan, you'll find something (or probably lots of somethings) to enjoy.
I love that Brookline is becoming such a craft beer hot spot and am so glad the Publick House owners held on to this venue; I really hope it sticks around!
American Craft
1700 Beacon St.
Brookline, MA
617.487.4289
Twitter- @AmCraftBar
[Sues]