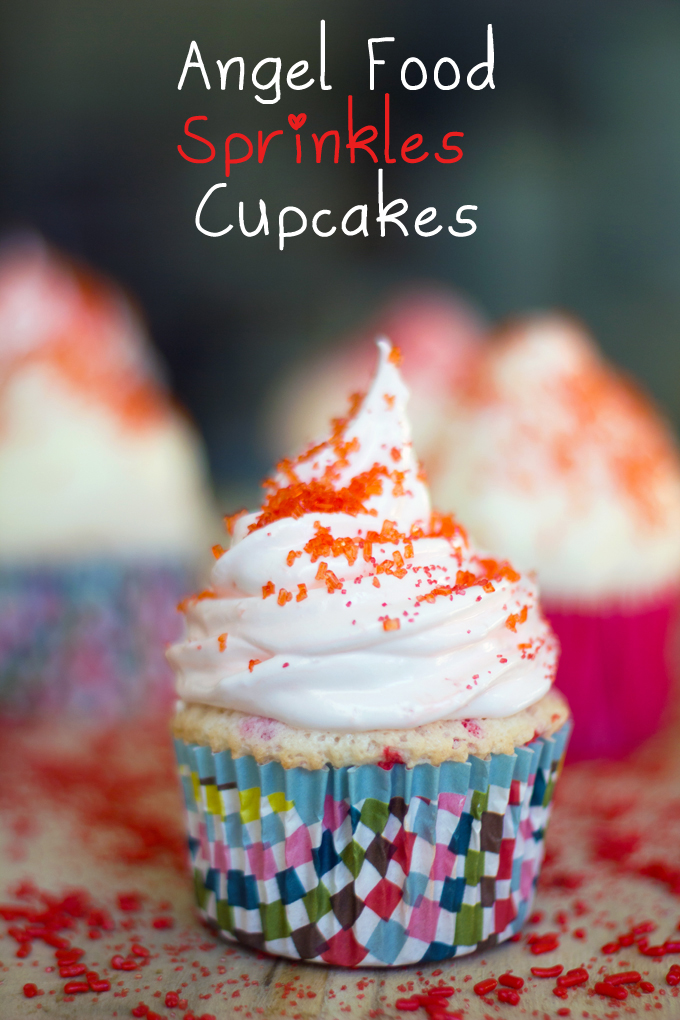 Happy Sprinkles! Day! Really. I think it's pretty safe to say that sprinkles are one of the happiest things in all the world. They're on the same level as glitter… except they're edible. So, they automatically win. I'm always up for the addition of sprinkles and fully believe that they can make even the worst of days just a little bit better. Which is why I'd imagine an entire book about sprinkles and the amazing things you can do with them would easily be a best seller. And I hope it is. Because Jackie Alper's new book, Sprinkles!: Recipes and Ideas for Rainbowlicious Desserts, is out today. My fabulous friends at Quirk not only sent me the book, but they invited me to be a part of the Rainbow Sprinkles Blog Tour. An offer that I giddily accept. The book goes on sale today and I'm kicking things off with RED.
Before I tell you about my recipe, I have to show you Jackie's book. Doesn't just the cover make you swoon? Hello.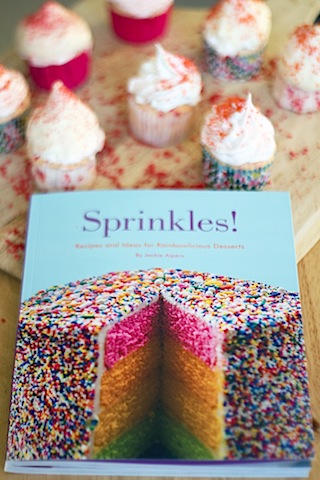 Basically, I want to make everything in it. I got a major dose of inspiration and went a little crazy every time I saw any type of red sprinkles anywhere: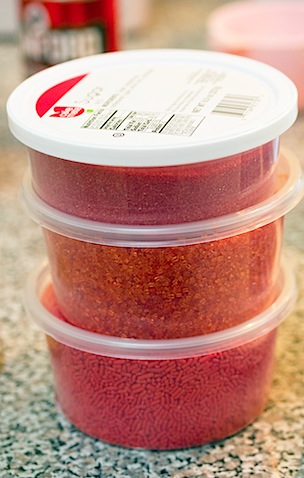 And I ended up using them all in this recipe. I decided to make a red sprinkles crazy cupcake. And since sprinkles are so sweet and fun, I thought an angel food would be perfect as the cake. And a super light marshmallow meringue frosting. I was torn on whether or not to apply Martha Stewart's hi-hat shell method to the cupcakes and, so, decided to do it to half of them. But I liked the way the simply frosted ones looked best. Really, though, the cake was so awesome, it didn't even need frosting. What am I talking about though… everything needs frosting. And sprinkles.
Angel Foods Sprinkles Cupcakes (makes 30-36 cupcakes):Print this recipe!
1 C sifted cake flour
1 ½ C sifted confectioners sugar
¼ t salt
12 large egg whites, room temperature
1 ½ t cream of tartar
1 C granulated sugar
2 t vanilla
½ C red sprinkles (I used "jimmy style)
Pre-heat oven to 350 degrees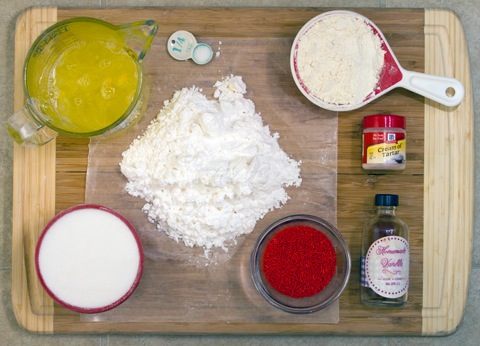 Sift flour, confectioner sugar, and salt together on a piece of wax or parchment paper. Make sure you sift as this will help your cake become nice and light and fluffy!

In a stand mixer with whisk attachment (or large bowl with hand mixer), whisk egg whites until they're nice and frothy.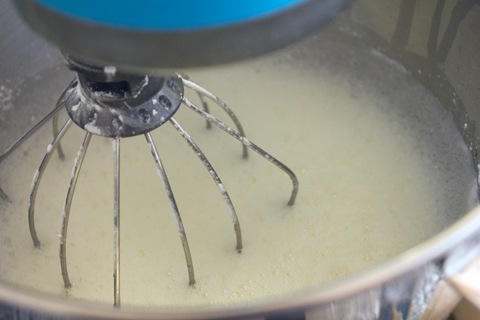 Then add the cream of tartar and continue beating at medium speed until soft peaks form.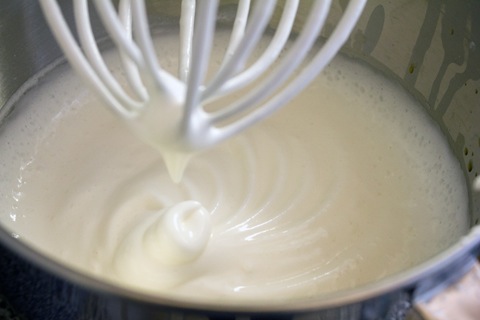 At this point, you'll want to slowly beat in the granulated sugar and continue to beat until the mixture is thickened and soft peaks form again. the vanilla.
And then gently fold in the flour/confectioner sugar mixture into the egg whites in 3 different batches. Be sure to incorporate fully, but without over-mixing. Stir in sprinkles, too.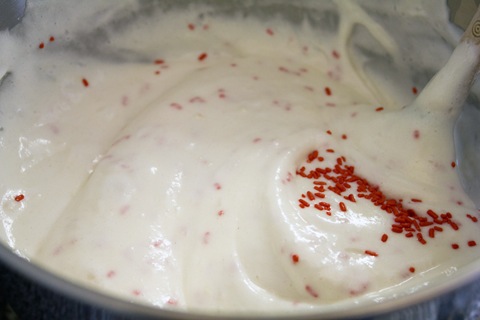 Line cupcake tins with papers. And fill with batter almost all the way to the top.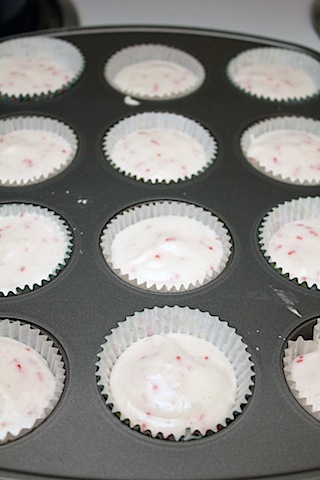 And bake at 350 degrees for about 17-19 minutes, until the cupcakes are just beginning to turn golden.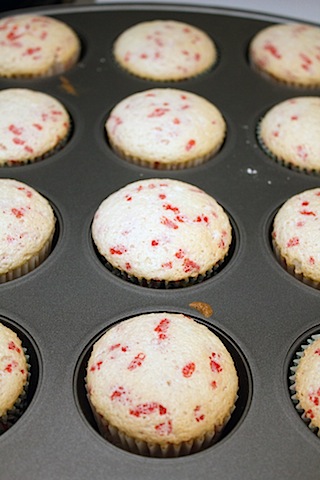 Let cool in the pan for a few minutes before moving to a rack to cool completely.
You can start on the frosting while the cupcakes are cooling.
Marshmallow Meringue Frosting (makes enough to frost 36 cupcakes):
Adapted from Martha Stewart
Print this recipe!
2 ½ C granulated sugar
6 large egg whites, room temperature
½ C water
½ t cream of tartar
1 ½ T vanilla extract
Red sprinkles (I used both a crystal sugar and a sanding sugar)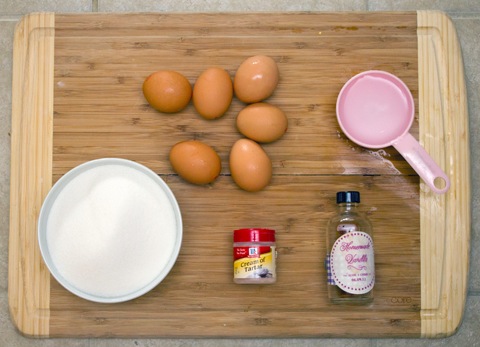 In a large bowl with a hand mixer, combine egg whites, sugar, water, and cream of tartar and whisk until frothy (alternately, you could do this in your stand mixer, just note the next step is to place the bowl of egg whites over a pan of simmering water).
Place bowl or a pan of simmering water (told you) and continue to whisk until the sugar is dissolved. If you want to make sure your eggs are cooked fully, be certain to whisk until mixture reaches 160 degrees. If you're less concerned, just be sure the mixture is warm to the touch.
Now, in a stand mixer with whisk attachment, beat the frosting on high speed until stiff peaks are formed. This will likely take about 10-15 minutes. Add vanilla and beat to combine.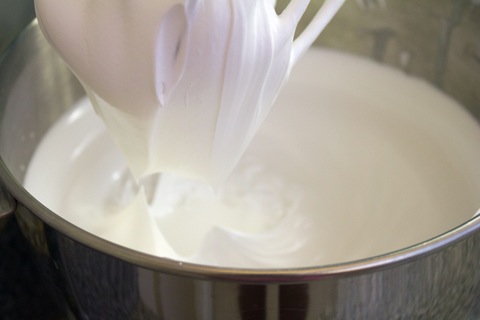 I decided to mix my sprinkles in to the frosting, but quickly realized they were just turning the frosting red instead of nicely mixing in. So, I stopped and figured I'd just sprinkle them on after frosting the cupcakes.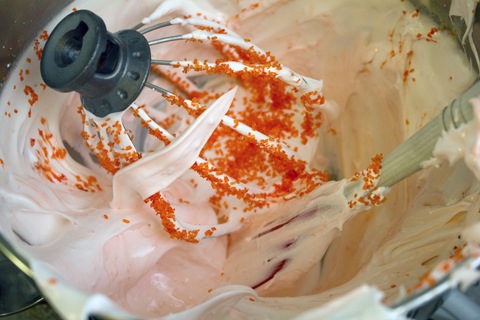 So, I did. I piped the frosting on to the cupcakes in a nice swirled manner… it reminded me of soft serve ice cream. With red sprinkles on top.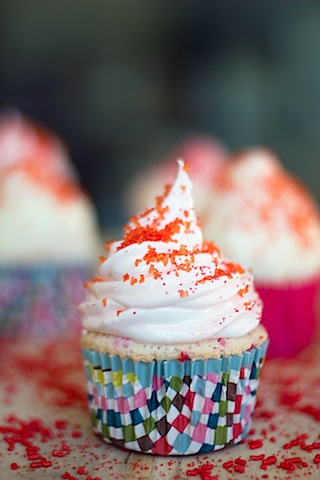 I mentioned earlier that I put a candy coating on some of the cupcakes, a la Martha Stewart's hi-hat method. However, I don't think my frosting was quite stiff enough and I didn't love the way the coating looked.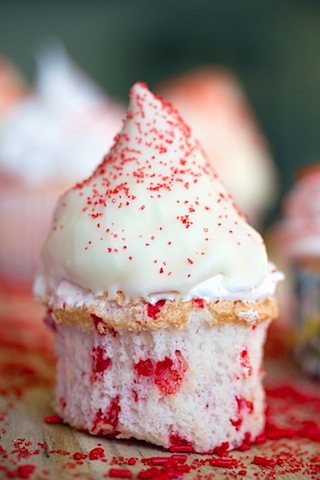 Especially next to the simply frosted ones.
But I do love the way they look when you slice into the cupcake. And, I mean, they taste pretty fabulous, too (for the instructions, look on Martha's website).
It's a red sprinkles heaven! See? I used all three types of red sprinkles in and on these cupcakes because the more, the better. Also, I don't think I've ever made a cupcake recipe without an ounce of butter in it. Huh. Do sprinkles trump butter? I think maybe.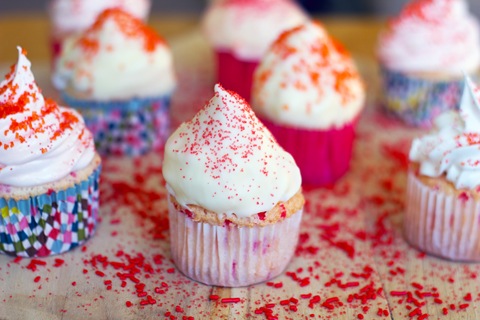 This, my friends, is my philosophy on life.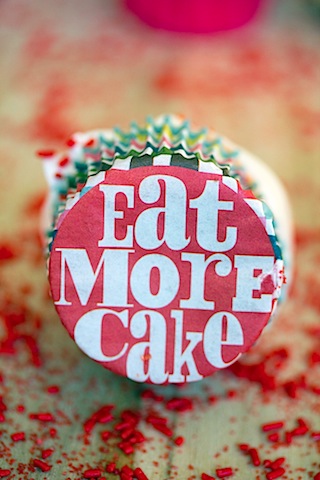 I really did love the angel food cupcake base. It was light and fluffy and pretty much just melt in your mouth. That combined with the lighter frosting made me feel like these cupcakes weren't oh so bad for me.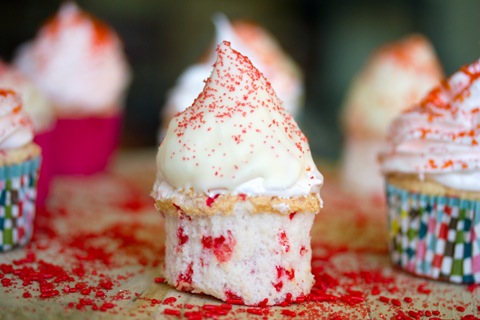 So, I ate 10. Maybe not. But maybe. I'm not telling… It was a long weekend, after all.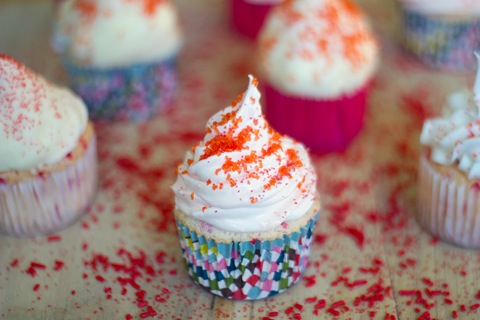 Can we talk about some of the fun stuff in Sprinkles! for a minute? Besides the cover, which you already know is the most amazing thing ever.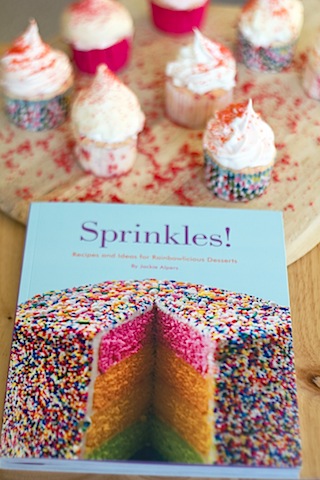 To start, I Heart Sprinkles Butter. Yes. Butter. Why have I never thought to put sprinkles in butter? And since I didn't use any butter in my cupcakes, I think I so deserve a batch of this. Yes? I kind of just want to make it so I can display it out on my counter.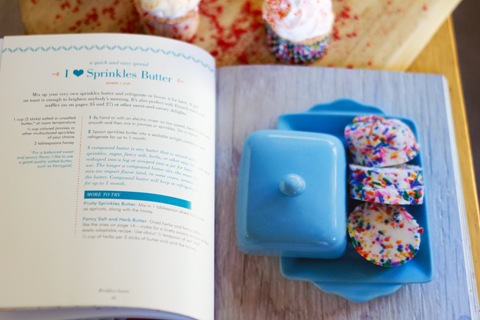 You all know how I feel about my cocktails and this is one of the prettiest sprinkles rims I've ever seen.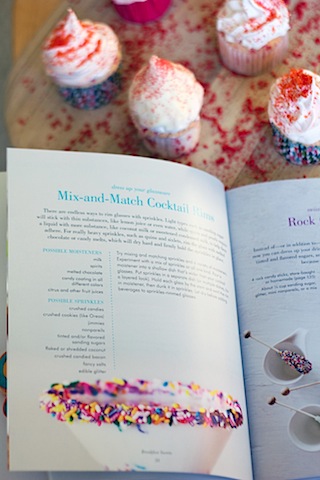 You also may remember my experimentation with rock candy. I pretty much said I'd never make it again. But rock candy with sprinkles? I'm starting to re-think everything. I can give it one more go, right?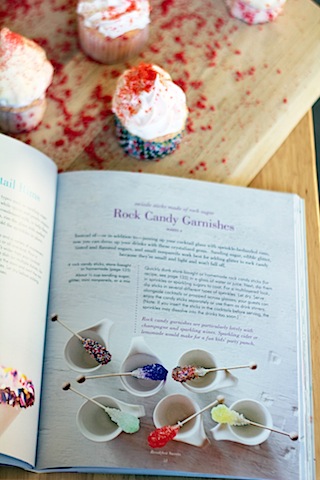 What else? There's a Confetti Popcorn Cake, Hot Chocolate Stir Sticks, Gingersnap Cookie Butter, Happy Day Pancakes, and so much more!
And now it's your turn! I figured you might want to experience the joy of Sprinkles!, too, so I thought it would be fun to give away a copy of the book.
If you win, you have to promise me you'll make the sprinkles butter. Please??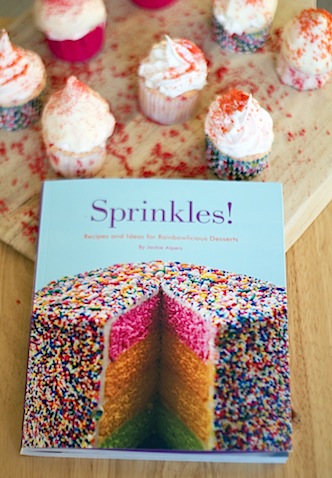 All you have to do to enter, is promise. I'm just kidding. To enter, just leave a comment on this post letting me know what your favorite dessert is to add sprinkles to. Or cocktail. Or heck, even savory food. Leave a comment by 11:59 p.m. on Friday, October 18. Oh, and if you want a couple extra entries, follow WANM on Twitter and "like" WANM on Facebook. Just be sure you comment letting me know!
If you want to follow along on the Rainbow Sprinkles Blog Tour, be sure to check out the other bloggers participating each Tuesday! They are:
Baked Bree- 10/22
KitchenKonfidence- 10/29
Bake or Break-11/5
Girl Meets Kitchen- 11/12
Cherry Tea Cakes- 11/19
Roundup on QuirkBooks.com and Jackie Alper's website- 11/26
Have a happy Sprinkles-filled day!
[Sues]
Disclaimer: Quirk Books provided me with a copy of Sprinkles!
for review, but as usual, all opinions are my own!