This past Friday, our friends Steven and Dustin had an Asian-inspired potluck dinner party. It had been on the calendar for about a month so I'd been on the look-out for a good recipe for a while. When I found one for Asian Meatballs with Sesame Lime Dipping Sauce I thought it sounded perfect... it could be a nice appetizer or it could be served as an entree with heaps of rice. Not to mention it hardly took much time at all to make. I headed down the street to Whole Foods on Friday afternoon to stock up on all the ingredients and thankfully found everything all in one place.
Here's what you need: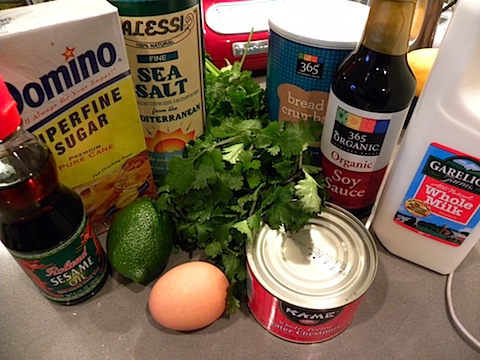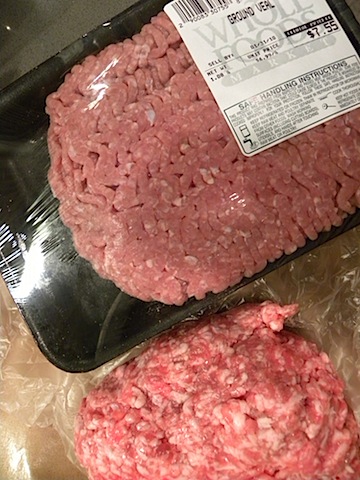 • ¼ cup fine dry bread crumbs

• ¾ pound ground pork

• ¾ pound ground veal

• 1 large egg, lightly beaten

• ½ cup canned sliced water chestnuts, rinsed, drained, and finely chopped

• ½ teaspoon salt

• ½ cup chopped fresh cilantro plus ¼ cup sprigs

• 5 tablespoons soy sauce

• 4 teaspoons Asian sesame oil

• 2 tablespoons fresh lime juice

• 2 tablespoons water

• 2 teaspoons sugar
Here's what you do:
• Preheat oven to 500 degrees and position oven rack in the middle position.
• In a large bowl, pour milk over bread crumbs and stir until the liquid is absorbed.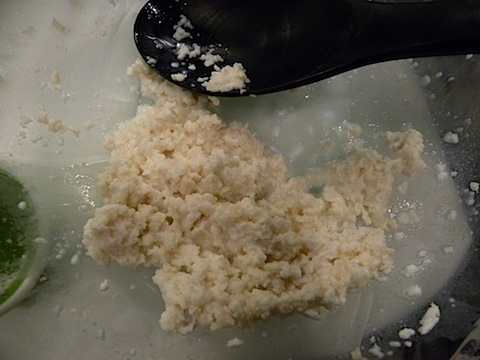 • Add the ground meat, egg, water chestnuts, salt, chopped cilantro, 1 tablespoon soy sauce, and 2 teaspoons of the sesame oil and mix until well combined.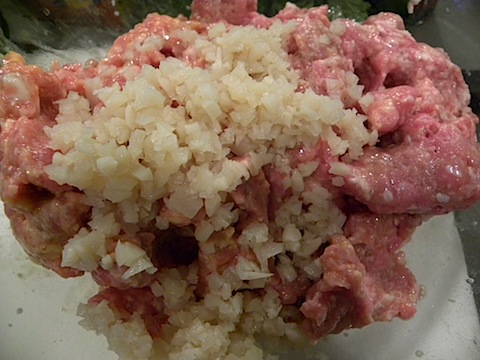 • Take roughly 3 tablespoons of the mixture to form shape. Transfer the meatballs to a glass baking dish and arrange about ½ inch apart. Bake for about 15 minutes.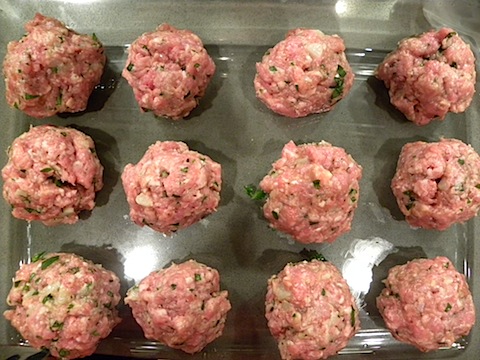 Now for the lime sauce:
• Stir together lime juice, water, sugar, the remaining 4 tablespoons of soy sauce, and remaining 2 teaspoons of sesame oil in a bowl until the sugar has dissolved.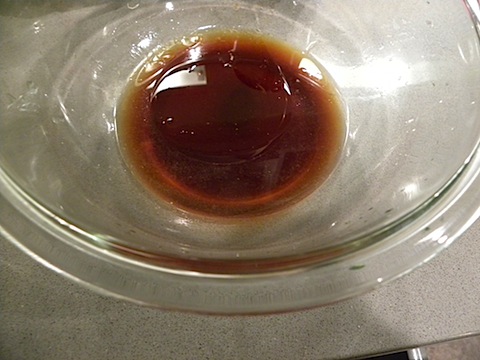 Since I had to transport the sauce, I used my dressing bottle with stirrer from Crate and Barrel. This thing is great. There are measurements and ingredients along the side of the bottle so you can create other dressings, too. It travels very well and is leak-proof. Woo woo!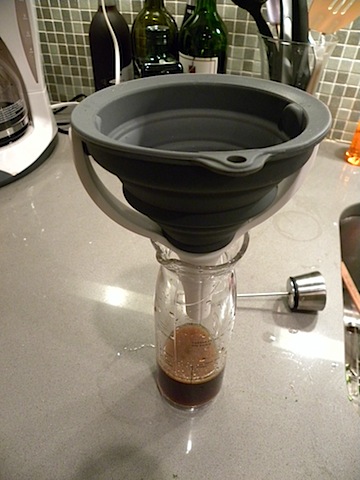 Once the meatballs were done in the oven I packed them up to head to Steven and Dustin's. Their apartment is stunning. Most everything they own is completely functional and everything makes perfect sense in it's given place. That kind of stuff just makes me happy. I think everyone has a friend (of friends) who always know how to host a great party and everything seems to run smoothly... that is how these two are!
Talk about attention to detail! Dustin purchased lanterns in Chinatown and strung them across the dining room ceiling, the table was set beautifully and the spread of food filled my belly in the most satisfying of ways 🙂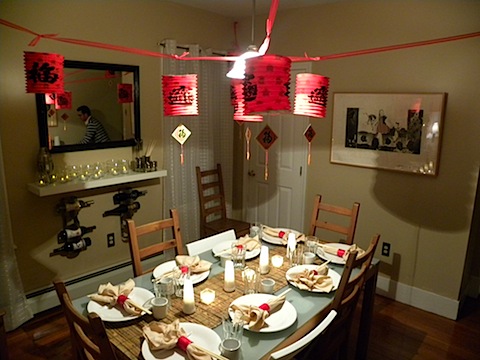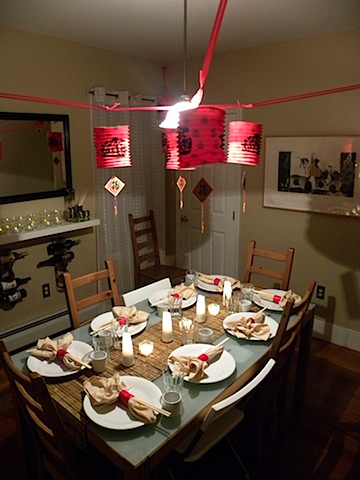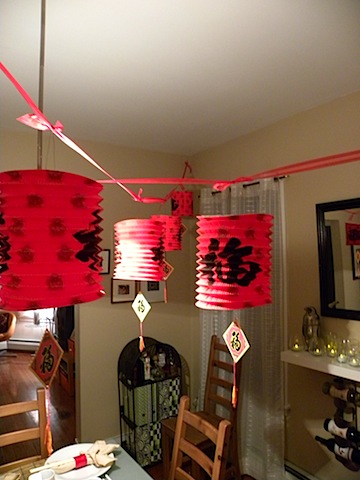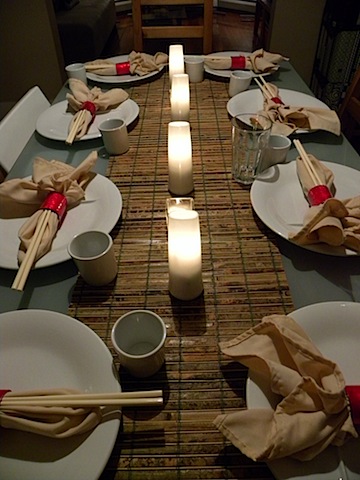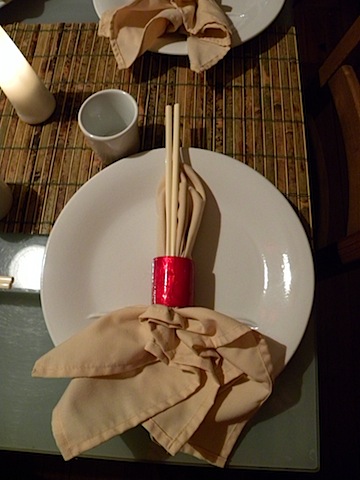 The menu was written in the kitchen on the chalkboard wall that I haven't stopped dreaming about.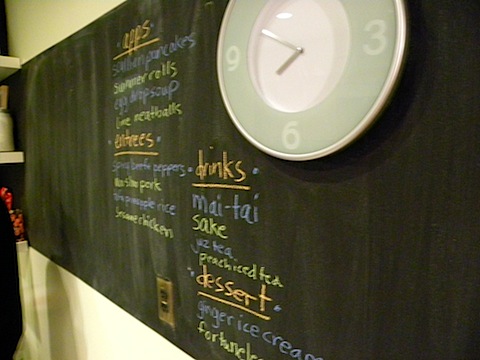 Ryan made Mai Tais that were delicious...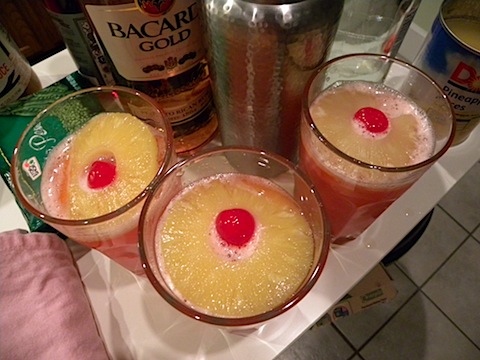 ...and then Dustin found some drink decorations in the pantry. Because a good host is always prepared 😉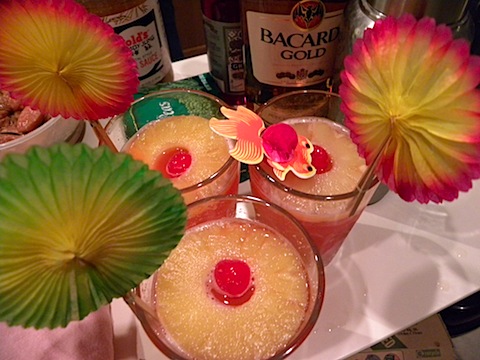 The menu was filled with some of my favorites! Here are a few:
• Scallion Pancakes
• Egg-drop Soup
• Spicy Beef with Peppers
• Moo Shoo Pork
• Tofu Pineapple Rice
• Sesame Chicken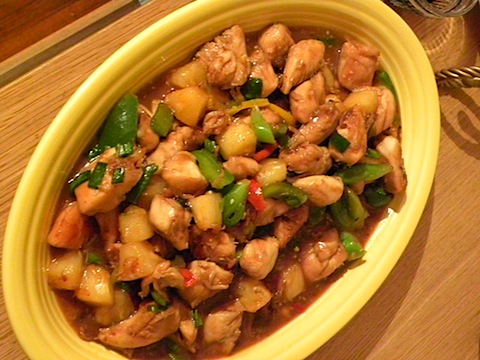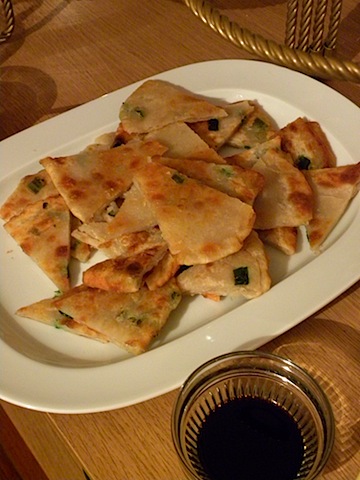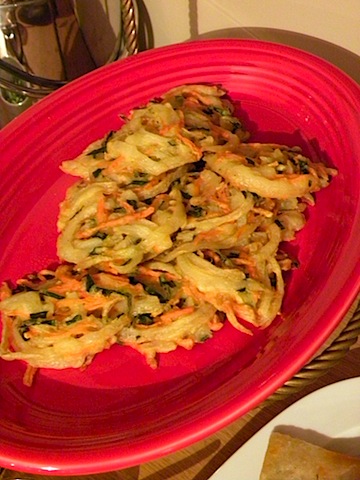 The Asian Meatballs with Sesame Lime Dipping Sauce... yum yum yum! Next time, I plan on making them a little smaller... more of a cocktail size! They were way too big, I think, but they tasted great especially with the lime dipping sauce and lots of rice.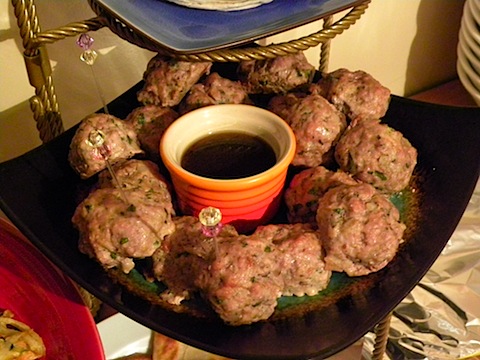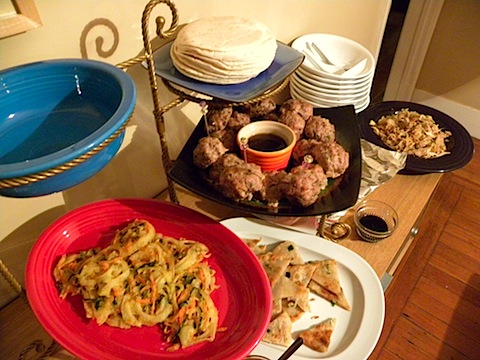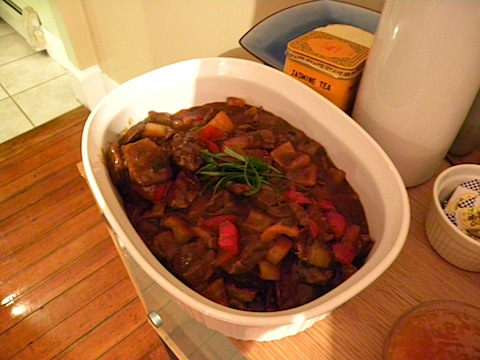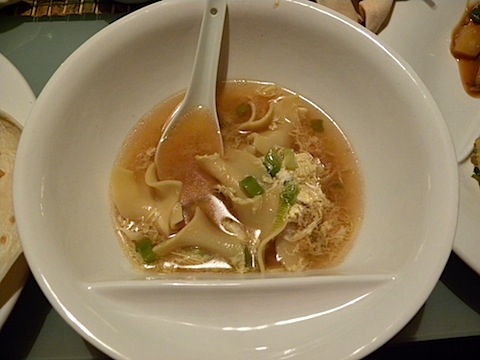 My plate: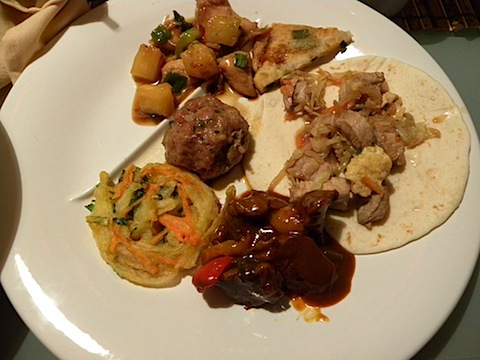 Friends enjoying good food and great conversation... there's really nothing better.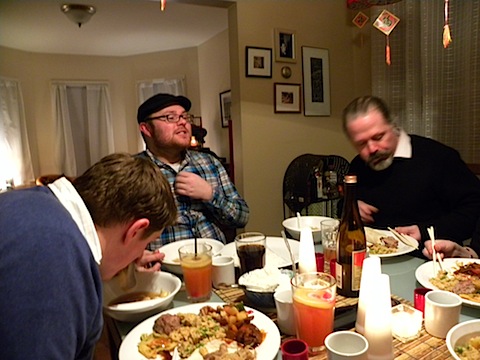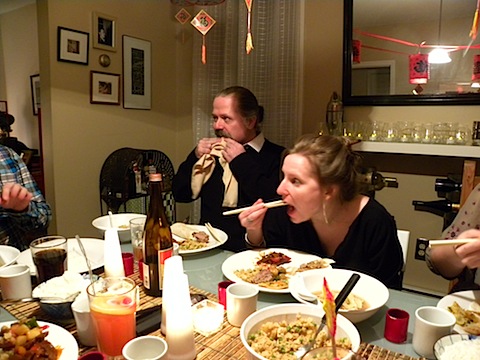 And then we somehow got on the topic of the first concert we attended, which just so happens to be one of my favorite conversations. Steven's was Cyndi Lauper and he even had the t-shirt to prove it... look how tiny it is! I was impressed at how fast he found it, too! My first concert was TLC, Montel Jordan, and Boyz II Men... all in one show and I went with my sister and dad! "This is how we do it!" What was your first concert??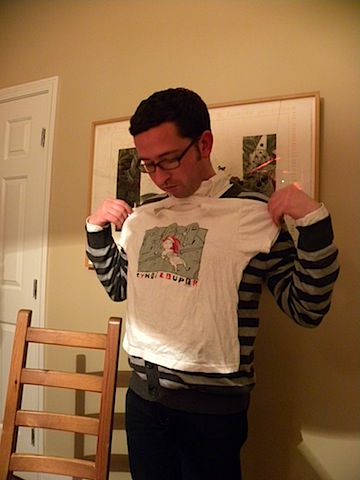 Dining with other food bloggers is fun because we all "get" each other 😉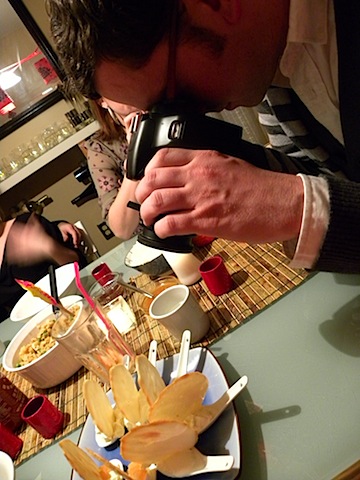 For dessert we had ginger ice cream and fortuneless cookies. I could have eaten this entire plate! Ginger is delightful.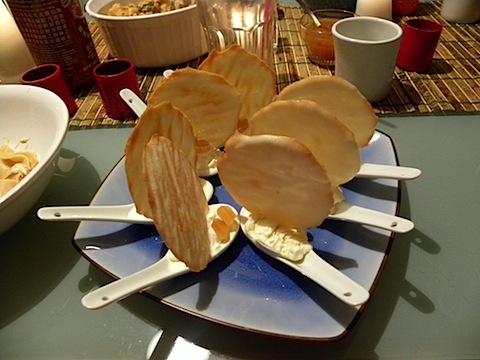 Ryan and Dustin: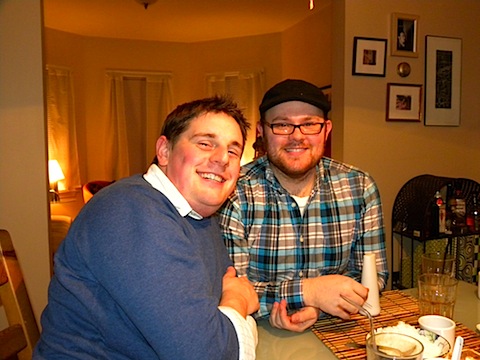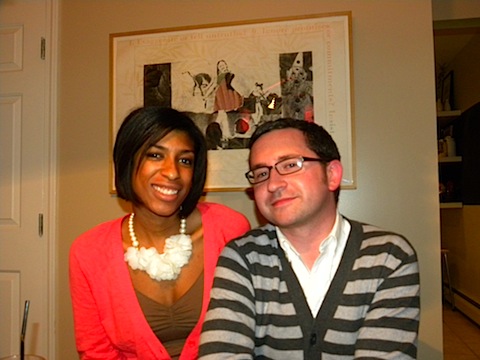 Me and Alison in front of the menu: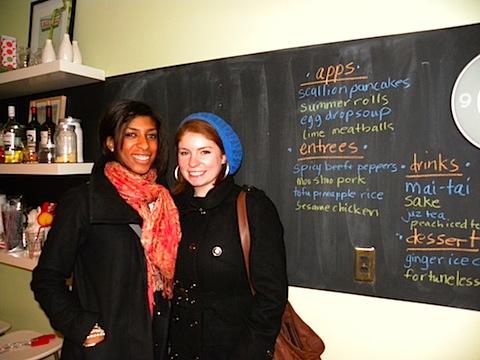 I highly recommend the Asian-Inspired dinner party! There are so many options for food to make that we don't get to eat homemade too often. It's usually a quick phone call away for take-out or delivery but it was a ton of fun to know all of us pitched in to create them on our own. Also, If I had to guess, I'd say it was about negative 12.2 million degrees in Boston on Friday night. And warming up with friends, food, and Mai Tais was probably the only thing that would have gotten me out of the house to step into that weather 😉
Thanks to Steven and Dustin for hosting a great party!
[Chels]