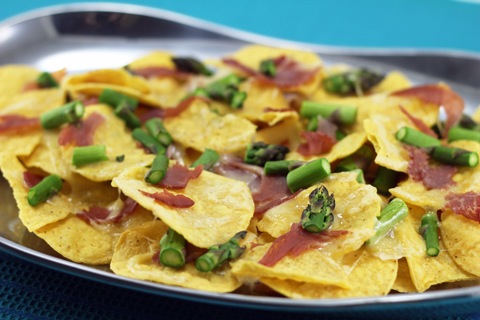 I'm back! In a way, it feels like I was away forever. And in another way, I can't believe I'm home already. How did the wedding fly by so darn quickly?! I just don't get it. Words can't really describe how absolutely incredible both the wedding (and all the events surrounding it!) and honeymoon were. But you know I'll be trying! After all, that's what I do. I'm still trying to decide how to write a wedding post since our (best ever) photographer has all of the amazing photos and we don't have many of our own just yet. BUT she did just post a little preview of the pre-wedding stuff. You can check it out if you'd like. It's fun.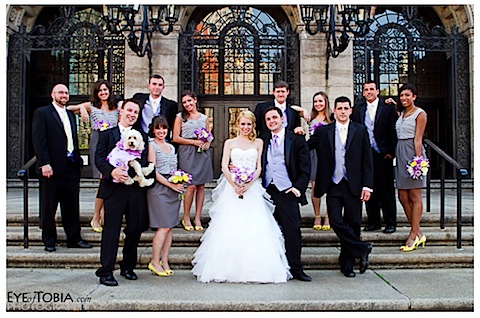 And then there are nachos. That was an odd transition, huh? From white dresses to cheese-covered tortilla chips. I mean, we have to get back to reality at some point, right? I went back to work yesterday and am officially done with wedding fun and vacation. Womp. I was trying to figure out a way to ease back into blogging slowly and nachos are really the best way I can do so. After all, I did just return from Los Cabos, Mexico, where I ate my weight in nachos (and guacamole…Seriously. A LOT of guacamole). I may have actually had some form or other of nachos every day. And I could probably continue to happily eat nachos every day for the rest of my life. Maybe Chris didn't realize that's what would happen when he married me. I'd hide in a corner and eat nachos all day. Too bad he's stuck with me now! Muhaha.
These nachos are a bit different. But don't hate on them. Sure you can have your traditional cheese-laden, chili, guac, and salsa packed nachos any day of the week. And you should. But sometimes it's fun to switch things up and add a fresh vegetable or two. And still cheese. Just a bit more of a "sophisticated" cheese. Say it with a french accent for extra effect. Even though it's technically a Swiss cheese. Just trust me on this.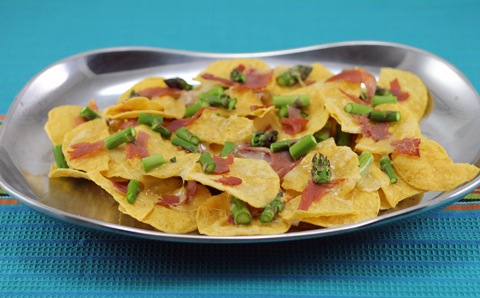 Asparagus, Prosciutto, and Gruyere Nachos (serves 2-3):
Print this recipe!
A couple handfuls of tortilla chips
Gruyere cheese, thinly sliced
5 slices of prosciutto, chopped
8-10 stalks of asparagus, ends chopped off and cut into bite-sized pieces
(pre-heat oven to 350 degree)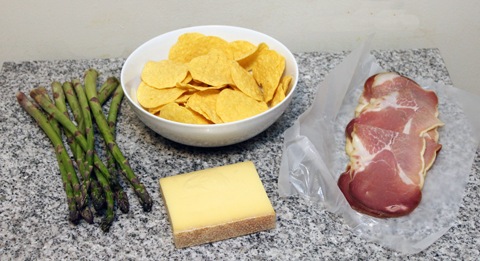 First couple days back from vacation call for 4 ingredient, 2-step recipes. Amen.
I know asparagus season ended pretty early in New England this year, but I think you can still get some pretty good bunches. The asparagus I used was nice and thin and I decided not to blanch it or do anything to it before topping the nachos with it. I wanted all those vitamins.
I did chop the asparagus into nice bite-sized pieces. Nachos can only handle so much!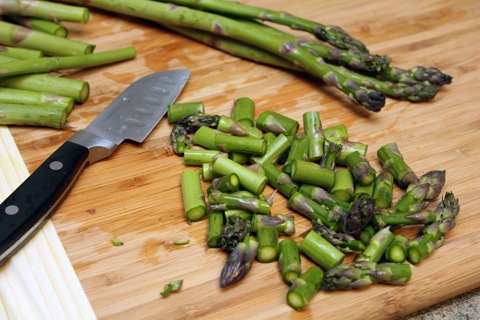 And then on a heat-proof plate, I layered gruyere, prosciutto, and asparagus.
If you're not a nacho-making aficionado, like myself, you might not realize that layering is key. It's kind of like when you go to the movie theater and ask the concession stand person to layer your popcorn and butter. When they do it, it's so so good. But if they just give you one of those looks like, "I'm making $5.50 an hour; you really expect me to layer your popcorn?" you really only end up enjoying the top ¼ of the popcorn. And by the time the previews finish, you're done with it. Not worth the $10 you spent.
p.s. don't you think round tortilla chips make much better nachos? I do.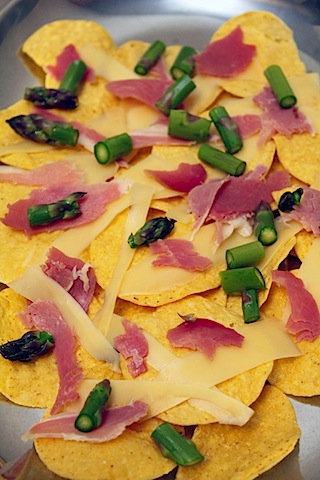 You can bake your nachos in a regular oven if you want, but I used my fabulous Cuisinart brick oven. Because it's one of my favorite appliances ever and you can cook whole chickens in it if you choose to, but I never have and therefore, try to utilize it as much as possible. Some day, I shall cook an entire chicken in my toaster oven and blog the results.
Anyway, nachos baked in an oven are always better than the microwaved kind. Bake at 350 degrees for about 12 minutes, until the asparagus gets bright green and the cheese gets melty.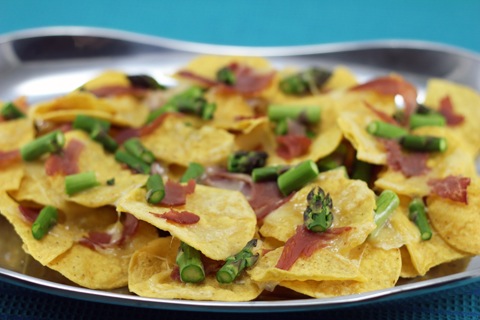 And then try to convince your friends and loved ones that yes, nachos with asparagus really are delightful. They might not believe you at first. My husband didn't. OK fine, I really just wanted to say the word husband. Weird. But really, Chris was all, "why would I want to eat nachos with asparagus?" But then, like usual, he tried them and ended up helping me devour the platter.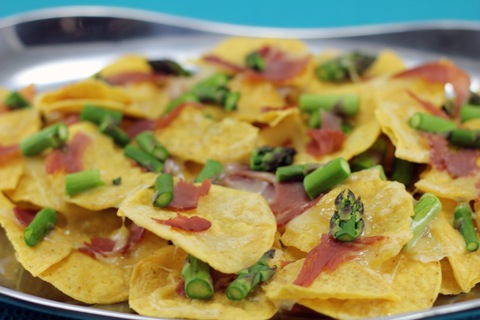 I try to refrain from saying "told you so!" Because I'm just happy he enjoys the food I cook. And also because I completely understand why you might be skeptical to cheer for nachos covered in vegetables. But to be fair, they're also loaded up with plenty of prosciutto and cheese, too.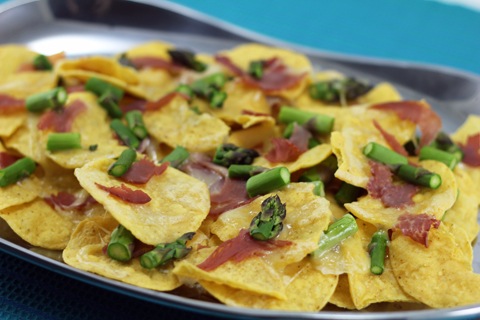 I have a feeling you'll be seeing lots and lots of Mexico-inspired recipes around here in the coming month or so. After pretty much every meal we had on our honeymoon, Chris exclaimed, "you HAVE to make this at home." I think he basically planned out my editorial calendar for the next 6 weeks. OK honey…
I'm hoping to do a little honeymoon post later this week. Mainly because the resort that we stayed at was incredible and we ate SO much good food! Le sigh. What the heck am I doing back in rainy old Boston, anyway? But YAY, I'm so happy to be blogging again!
Would you add veggies to your nachos or do you think they should stay far, far away?
[Sues]