After a super amazing vacation in Austin, Texas, I'm back in rainy, chilly Boston 🙂 I'm not complaining; I love the fall, but there was something so nice about 88 degree days sans humidity. There was also something so nice about having a little time off from work and seeing some of my favorite bands.
My vacation wasn't exactly a foodie's dream. After all, I spent the entirety of Friday, Saturday, and Sunday at Zilker Park for Austin City Limits. But I have to say the food was better than any food I've had at a music festival and reasonably priced, too. I was quite impressed! I was actually impressed by the whole event. It ran SO smoothly (at least it seemed like it), everything happened right on schedule, and I barely had any complaints. The food was actually good and totally reasonably priced! They actually allowed you to bring 2 water bottles in the park and had re-filling stations (but water only cost $2 or $3 if you wanted to buy it). It's like they wanted to make the concert-goers have an enjoyable, fun time. Not simply get as much moolah from them as possible. I totally appreciated that. Oh, and they did an awesome job of keeping the park clean, too.
But let's start at the beginning. Chris and I flew down to Austin with Beth and Adam on Thursday afternoon. Right when our flight landed, Chris and I were met by news cameras 🙂 OK, so KXAN was filming a story about ACL and we happened to be first in line to exchange our tickets for wrist bands.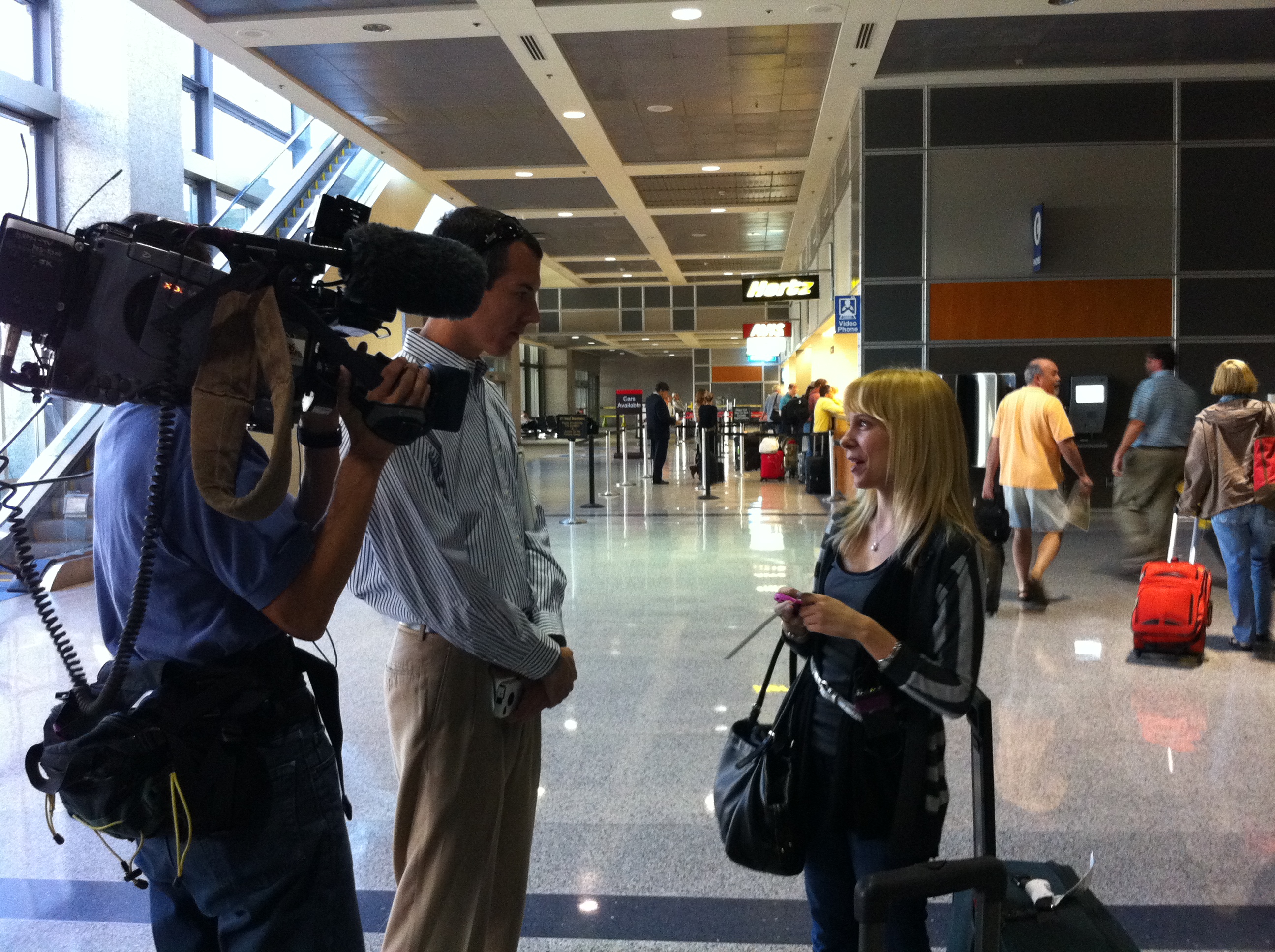 Don't laugh too hard if you watch the interview. I was running on 1.5 hours of sleep. Also, I didn't know if I should look at the newscaster or the camera, so my eyes are all shifty!
We headed from the airport to meet up with my parents, my cousins Cherylann and Tom, and my Aunt Judy.
We headed right to lunch at the Oasis. I actually came to Oasis the last time I was in Ausin (back when I was 14 or so?) and it was the perfect spot to view the sunset. We went for lunch, so didn't see a sunset, but the view was still pretty fabulous.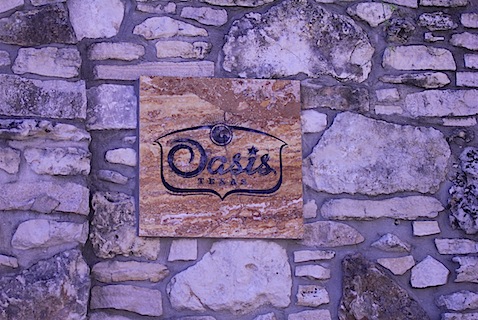 The Oasis is such a pretty, unique restaurant!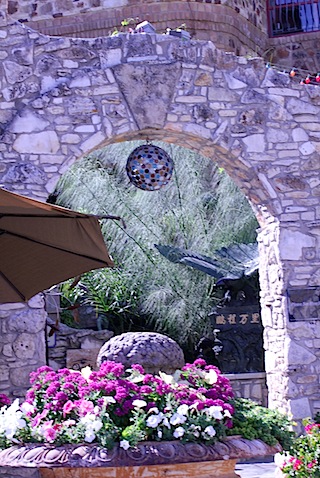 And the margaritas aren't bad either.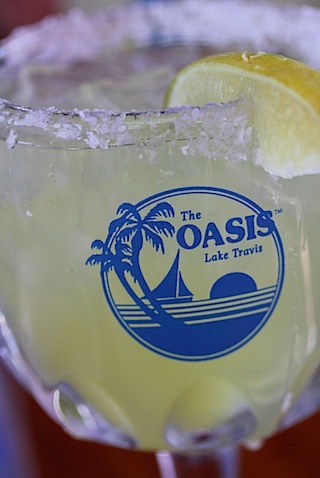 I had the fish tacos for my very first meal in Austin and they were delicious!
The whole gang: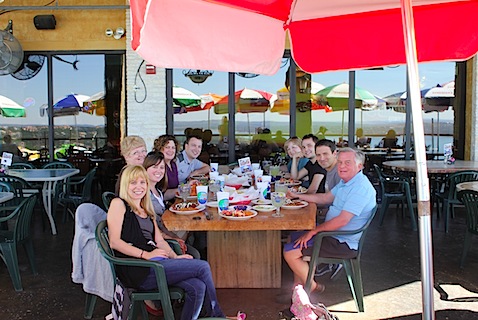 On the way back, Cherylann informed me of a cupcake truck called Hey Cupcake! Though we were all stuffed from lunch, there was no way I was turning down a visit to a cupcake truck, so we stopped by.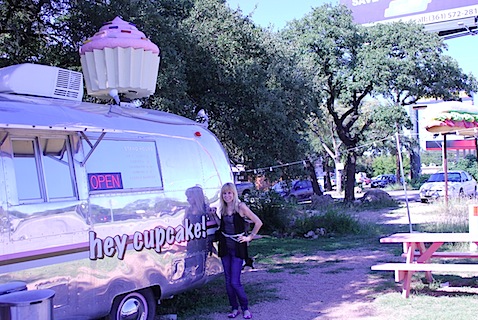 I obviously chose the "Pumpkinator" and though I didn't take a photo of it, I assure you it was totally amazing.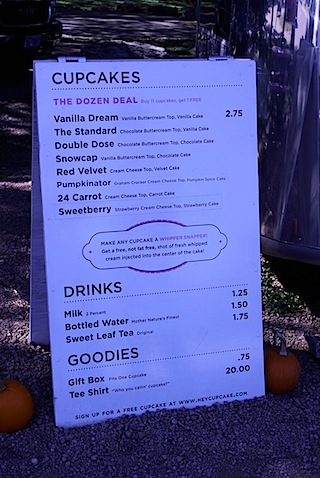 Can one of these park next to my apartment? Seriously.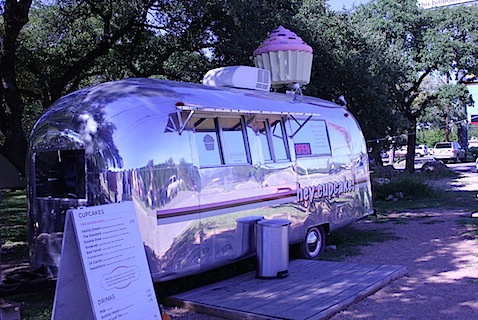 After hanging out with the family a bit and watching my cousin (actually my cousin's daughter... what do I call her? I always just call her my cousin, too :)) play a couple amazing volleyball games, we headed to Perla's Seafood and Oyster Bar right in downtown Austin.
Downtown Austin was seriously hopping! And I place I could see myself spending a whole lot of time in. There were food trucks everywhere, people outside, tons of live music, etc. There's absolutely no area of Boston I can even semi-compare to Austin.
We had to wait a bit for a table at Perla's, but it was OK because they had table-top shuffle board!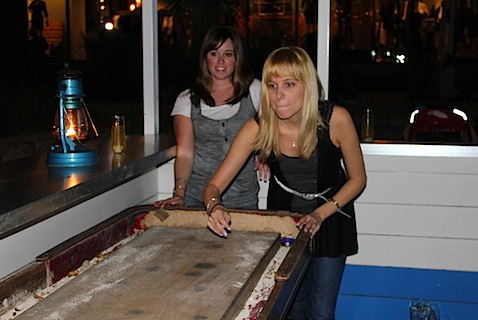 If you know anything about my family (ahem, my brother-in-law below), it's that we are a super competitive bunch and love opportunities for playing games of any kind.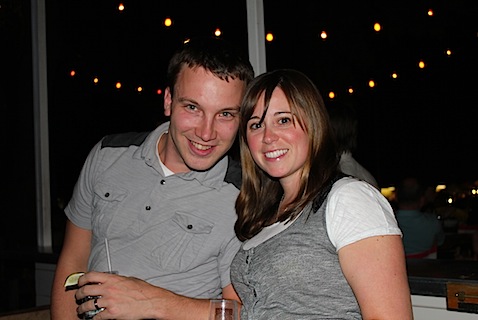 I have to take this moment to say, it was SO nice to be on vacation with my family. I can't remember the last time we took a family trip together and it was so nice to spend some quality time with them away from home 🙂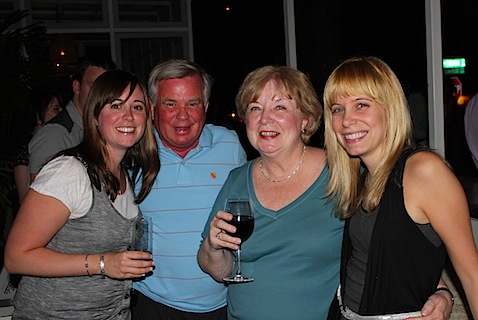 I wasn't starving after the huge lunch, so I just ordered the crab cake. Perfect choice!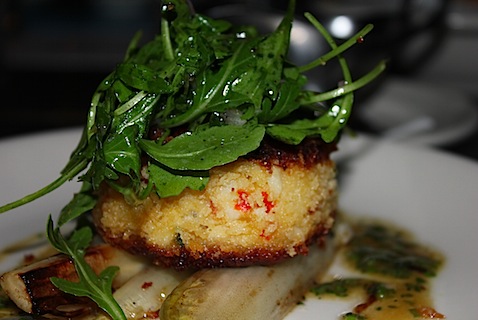 And I stole a bunch of Chris's calamari, too.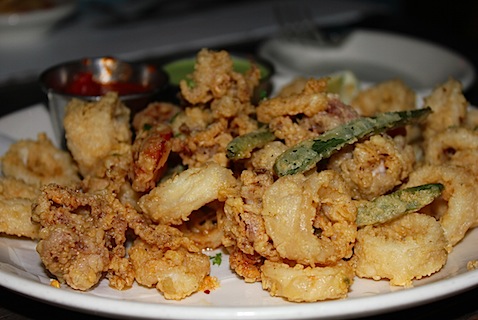 The next morning? Austin City Limits was starting!! We headed over to my cousin's house and joined in for their cocktail hour/brunch. We also donned our wrist bands.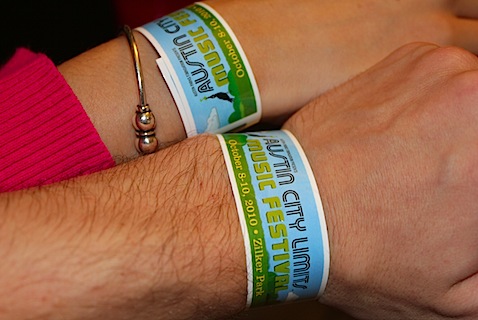 And headed to the show. It was seriously the experience of a lifetime. I mean, I've been to big concerts and festivals. But never a 3-day music festival with 75,000 people. It's hard for me to even describe what it was like being here.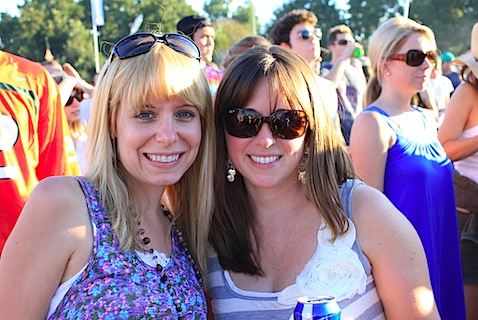 There were so many times when I thought to myself "omg this is heaven!" And then there were a few other times when I thought to myself "omg I need to get out of here." It got a bit claustrophobic at time and getting stuck in crowds made me feel kind of crazy. Sometimes just looking over the hill and seeing an endless sea of people made me feel not so hot. But in another way, it was just so cool to be there with so many people walking from stage to stage to check out various bands.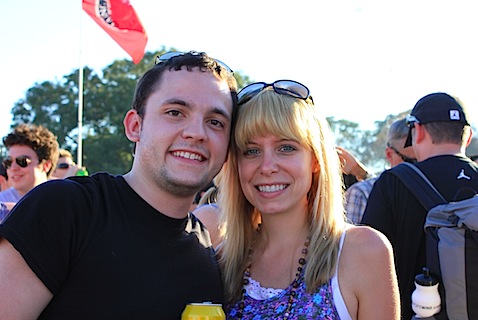 And then we'd find a spot to put our blankets down and sit in the sun listening to live music. And everything was alright again.
There were 8 stages, so plenty of bands to choose from. In fact, sometimes some tough decisions had to be made about who to see!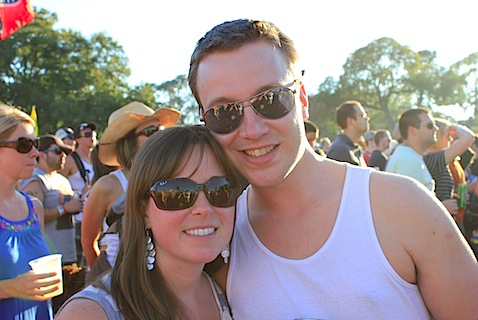 OK, so I was NOT supposed to have my camera in the park (so said one security guard, at least), so I didn't take any crazy good photos of the performers... Because, well, I didn't want to get in trouble. But one of my favorite performers the first day was definitely Spoon.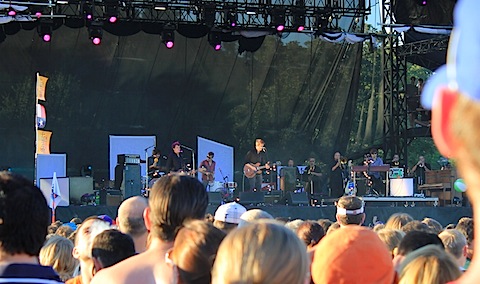 But we also loved Donavon Frankenreiter, Miike Snow, The Black Keys, and Vampire Weekend. Actually Vampire Weekend was absolutely amazing, but by the time they went on, everyone was getting pushy and it was difficult to see much.
When night hit, we did what any true Texan tourists would do. And bought cowboy hats.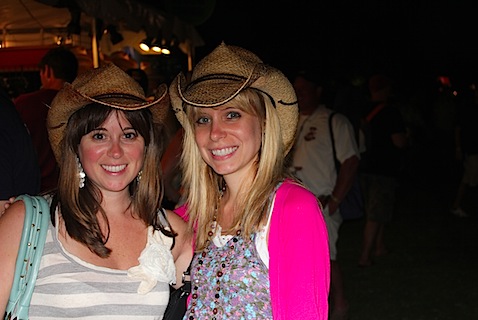 Seriously though, they were good for keeping the sun out of our eyes.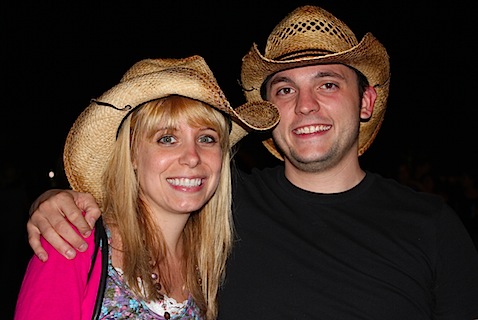 I'm pretty sure Chris and Adam kept there's on all weekend. In fact, Adam may still be wearing his at work.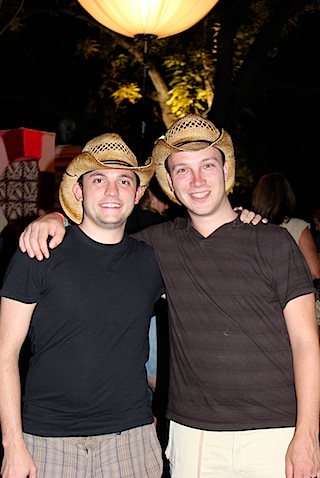 We ended the first night by listening to some Phish on our blanket at the back of the crowd. And high-tailed it out of the park before everyone else to avoid the crowds.
And then it was time for day 2. We started the day off with a little Pete Yorn.
With the whole gang 🙂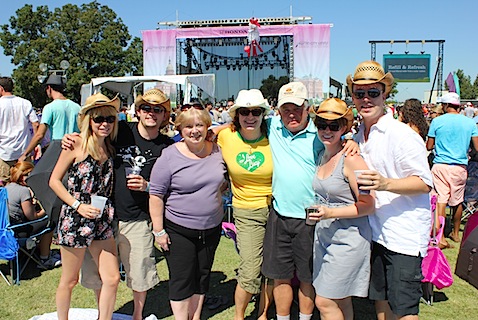 And tried to figure out the rest of our schedule for the day.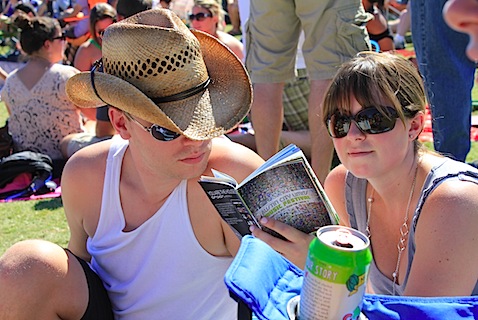 The Gaslight Anthem played a pretty fabulous set.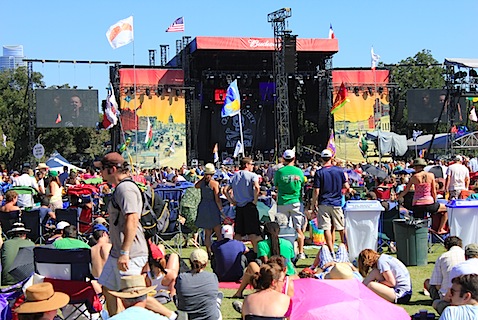 But the second day, I think my very favorite performer was LCD Soundsystem. OK, and Broken Bells was seriously awesome, too! The XX is one of my favorite bands and though they were a bit difficult to hear from where we were sitting in the back, I definitely enjoyed them.
So, the food at Austin City Limits. It consisted of tons of Austin's best restaurants and food trucks. The first day, I had a kinda mediocre wrap. But the second day, it was strongly recommended that we try Mighty Cone.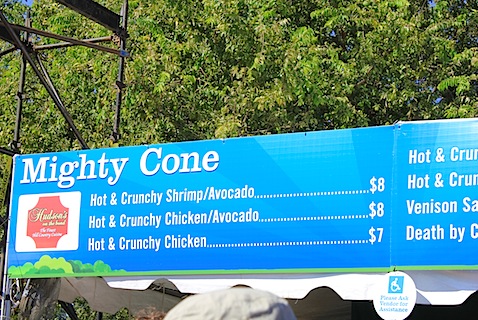 I chose the Hot and Crunchy Chicken/Avocado.
Umm, have you had one of these before? Because it's basically heaven. In a cone.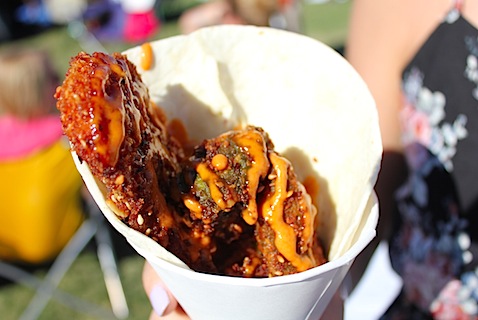 Clearly I'm excited. And will be frying avocado very soon. Actually, I'm quite certain I might just recreate the whole Mighty Cone.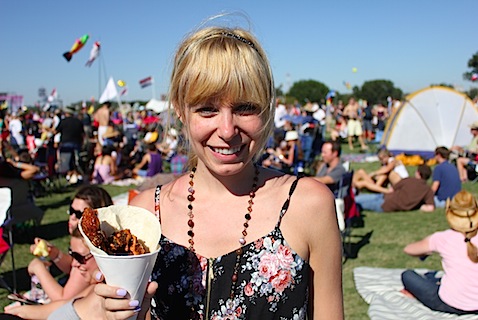 I'm not good at drinking a lot at all day (slash all weekend) events like this because a) I'll fall asleep being in the sun for 8 hours and b) I try to avoid the porta-potties as much as possible. This would probably also be a good time to inform you that while wearing a romper to an all-day fest on a hot day might be a good idea in theory, it's not the brightest idea when it comes to porta-potty time. I learned my lesson.
But I did drink plenty of Sweet Leaf green tea to keep myself hydrated. It was SO good and I am a huge fan of the mint and honey variety.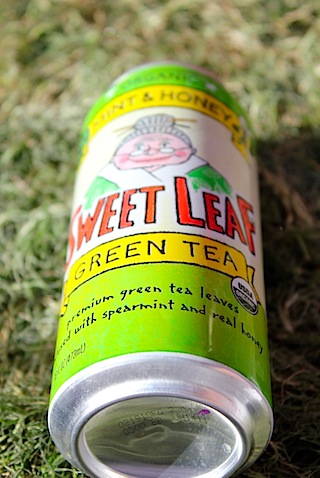 However, Austin City Limits also served wine. Full bottles of it. In squeeze water bottles. How cool is that? There are so many things that occurred at this festival that would just not happen in Boston.... WIthout disaster. I don't know if people are just more well-behaved in Austin or what, but i didn't see any fights or too many ridiculously drunk people.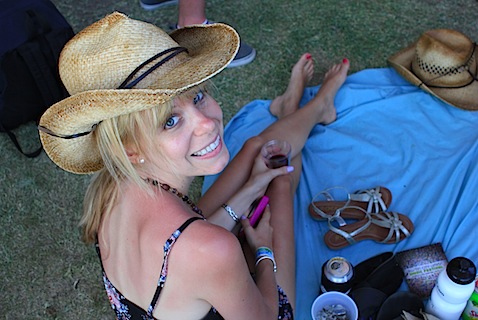 OK, so there were a few when we headed to the main stage to watch Muse the second night. In fact, one girl completely collapsed behind us (Chris and Adam had to help her up). It was during Muse that I feared my life too... We were really close to the stage, which was both incredibly exciting and super scary at the same time. It's especially hard being short in a crowd full of tall drunk people who are pushing and jumping up and down.
We stayed at the park until Muse ended their set and were caught in some major crowds on the way out. It was worth it, though!
The third day we didn't even attempt to bring the camera into the park, so we're lacking a few photos. But as far as the music went? Edward Sharpe and the Magnetic Zeros was AMAZING. I also loved Band of Horses and Yeasayer and the little I saw of The National and Norah Jones. Oh, and The Eagles? They were pretty amazing, too. It's like everyone in the park was joining in for one giant singalong.
We were leaving Austin on Monday, but not until later in the day, giving us the time for a bit to explore. We started the day at Covert Park to walk the steps up Mt. Bonnell for the beautiful views.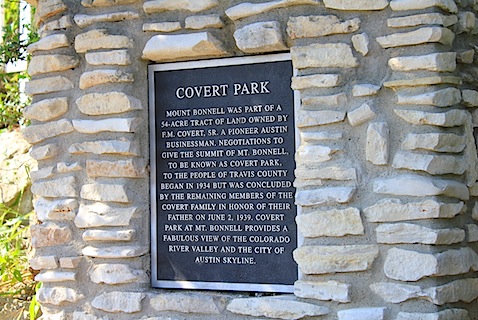 Told ya 🙂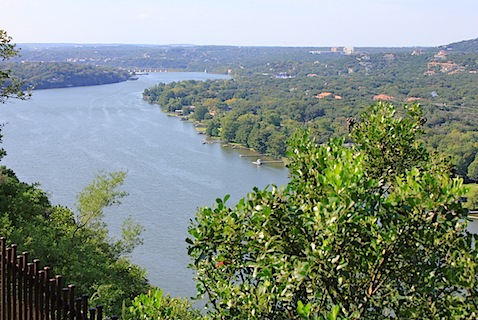 Not only was the landscape pretty, but there are some totally amazing houses right on the lake, too.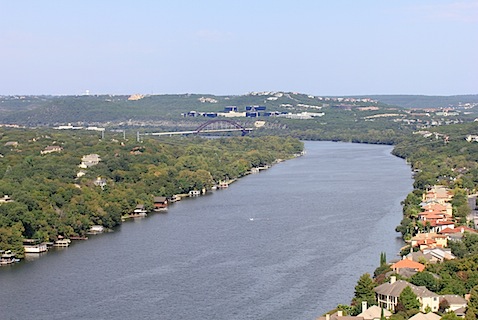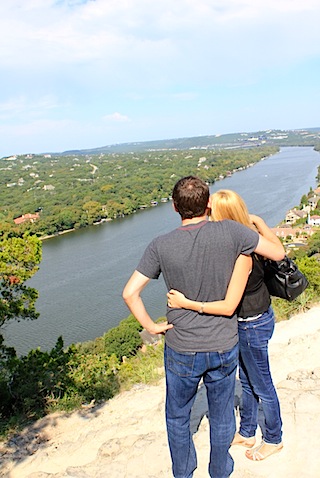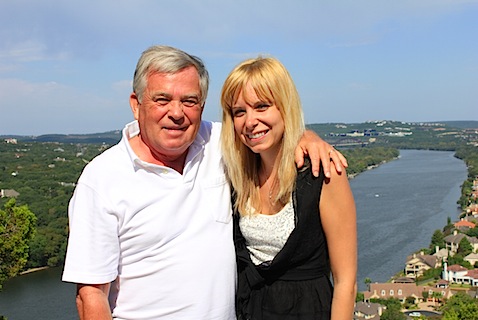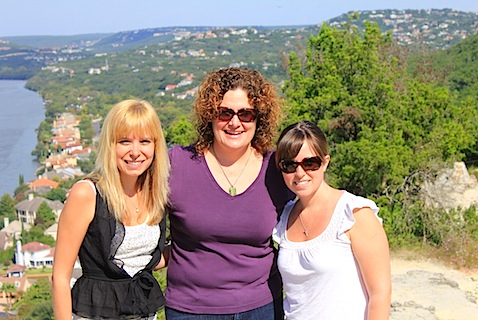 And then it was lunch time! Cherylann took us to The County Line, an award-winning BBQ spot.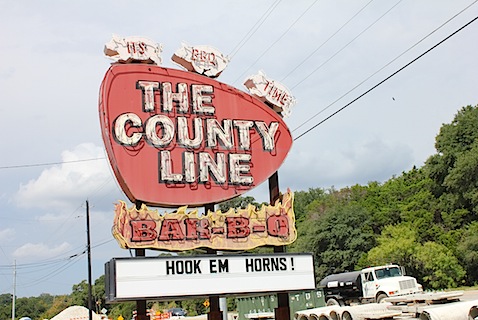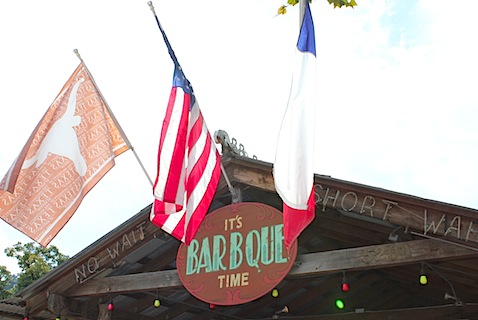 The homemade bread? Absolutely out of this world.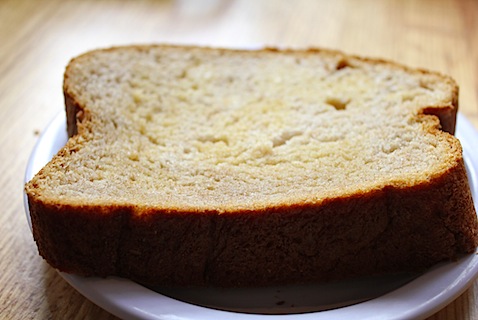 Especially when you top it with some honey butter. Do they have this stuff where you live? Because I've never seen it before... And that makes me kind of sad.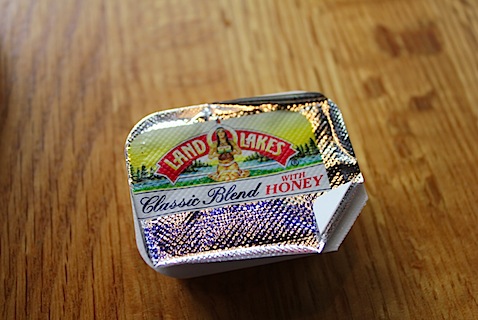 I ordered the beef brisket tacos, combining my love of BBQ with tex-mex. Fabulous.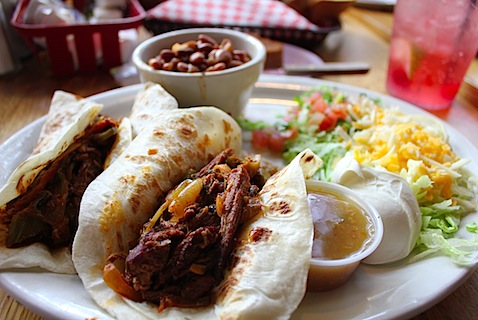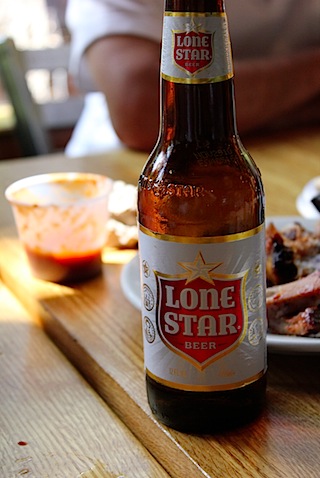 Chris ordered a full rack of BBQ ribs.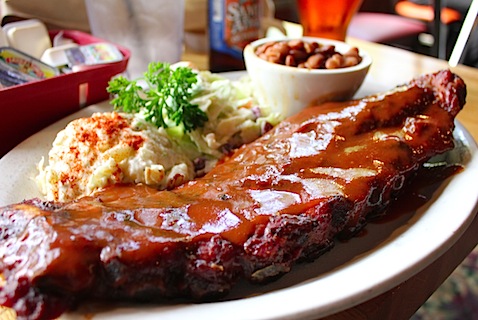 They were perfectly messy and meaty.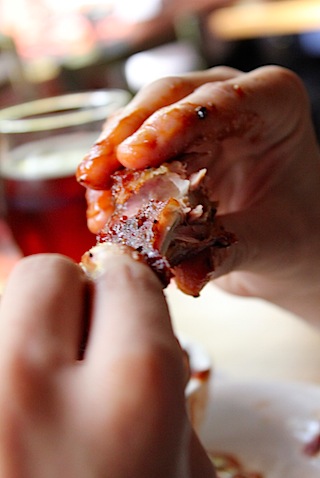 And he ate every bite.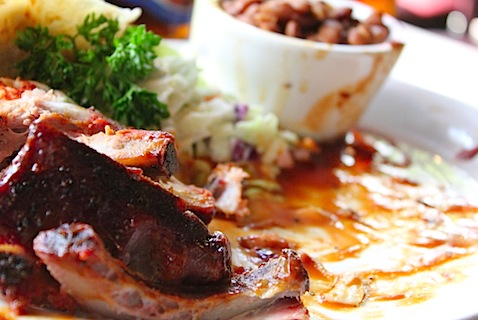 It was nearly time to head back to the airport and there was a choice to be made. Visit one of Austin's cupcake shops or head to Whole Foods. The Whole Foods in Austin is the flagship store and 80,000 square feet. 80,000! As you can imagine, this was a tough choice for me. Cupcakes or a huge Whole Foods? Ultimately, Whole Foods won out because how could I turn down an 80,000 square-foot Whole Foods? Plus, who's to say the cupcakes would have even been good?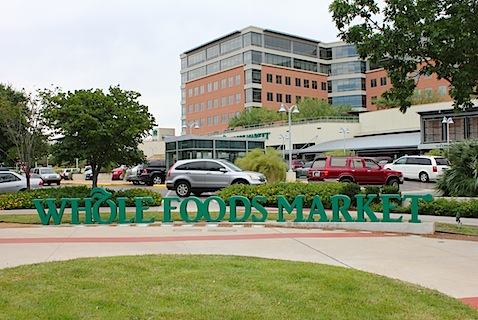 I realize this might sound silly, but I was in heaven the entire time I was in this store. I mean, I live in walking distance to a Whole Foods, but it's super tiny and there's not even a prepared foods section. Still, I could spend all day in it. Which means, this Whole Foods? I could legitimately move into.
Also, my cousin informed me that they have an ice skating rink there during a few months in the winter. So, you get the best of both worlds. Warm weather and ice skating 🙂
The produce went on for what seemed like miles.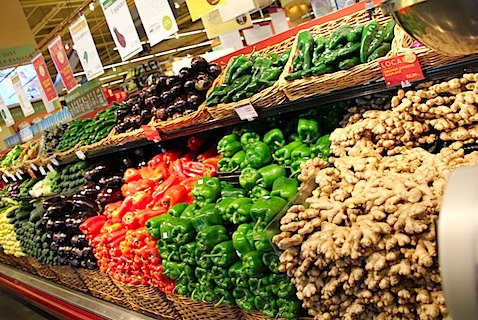 Then there was the largest roasted nuts section you've ever seen.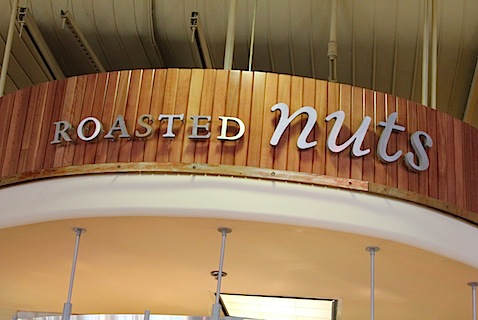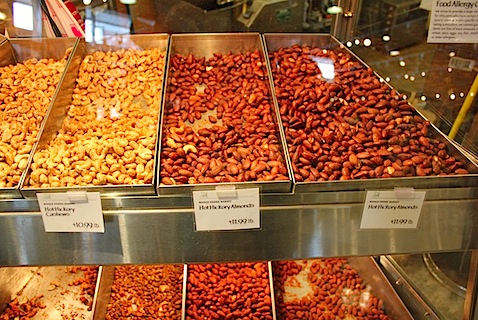 And tons of stations featuring different kinds of food.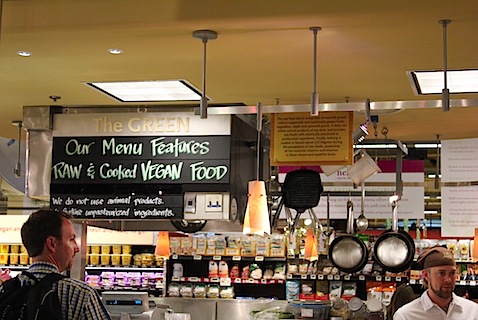 A HUGE fish counter.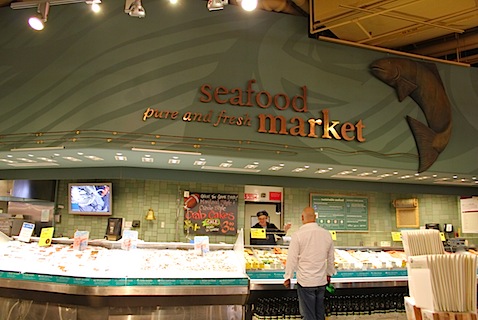 More wine than at your local liquor store.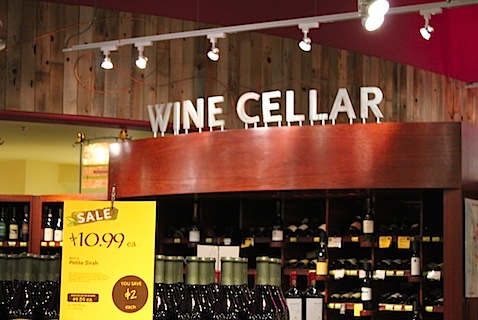 And guess what? They have wine tastings in the store. And not only that, but YOU CAN WALK AROUND SIPPING A GLASS OF WINE WHILE YOU GROCERY SHOP.
Is that not the most amazing thing you've ever heard? This must be my home.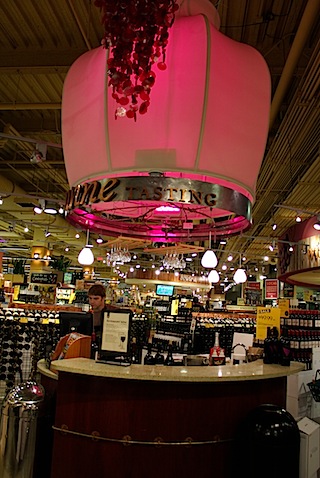 Or if you prefer beer, you could do that, too.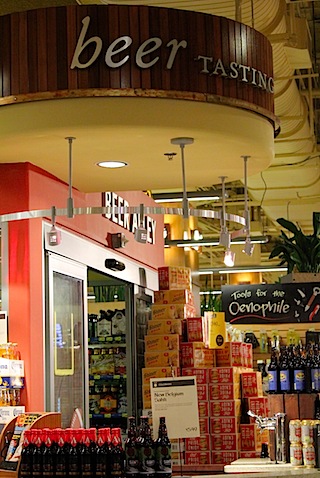 Or you could just take a seat at the Bowie BBQ and have a glass of beer there.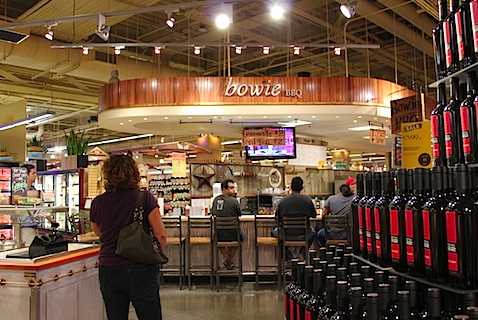 The meat counter was at least 3 times as big as in any Whole Foods I've ever seen. I loved the dry aged beef wall.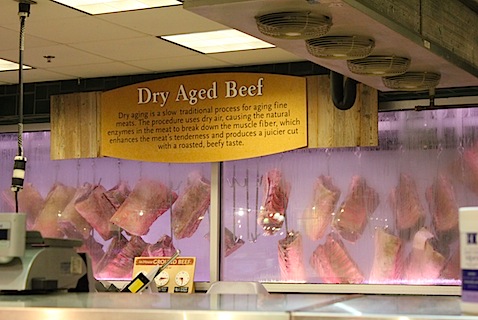 The coffee section? I'll take one of each, please!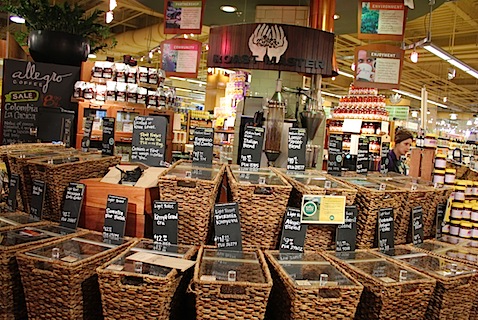 And some tea, too.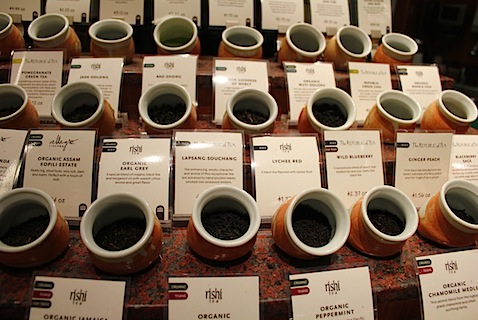 And then there was this thing called Candy Island.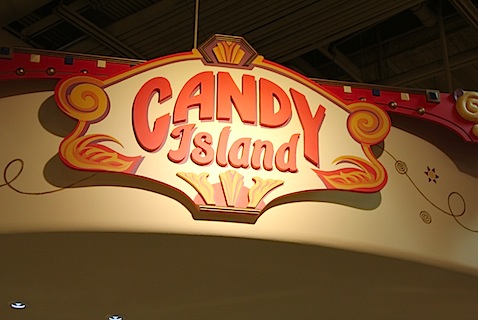 I mean, you really had to be there. But here's some idea of what it was all about: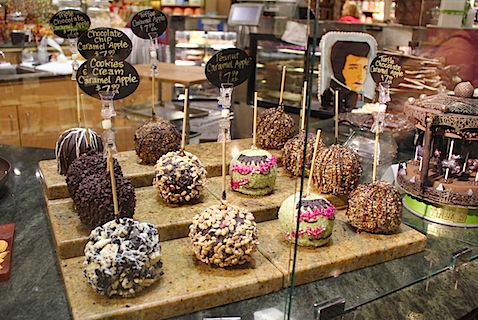 A chocolate carousel! On sale for $99.99. If I wasn't sure it would break in my suitcase, I would have bought it up!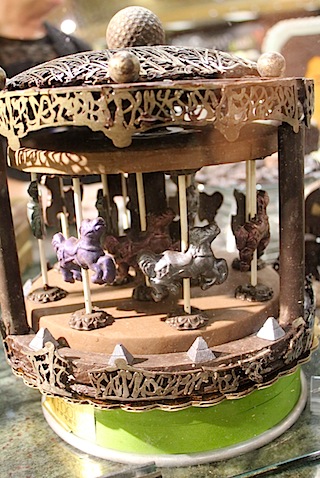 Now, I know Whole Foods has cupcakes, but I've never seen a Whole Foods with THIS many cupcakes. And this isn't even the half of it.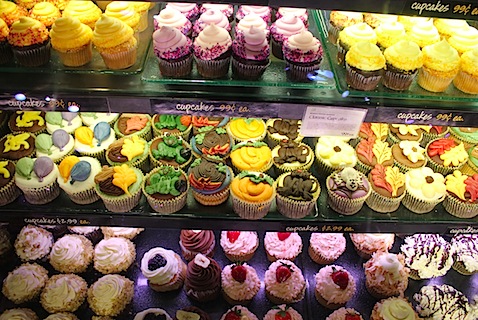 Of course, they offered all the other baked goods, as well.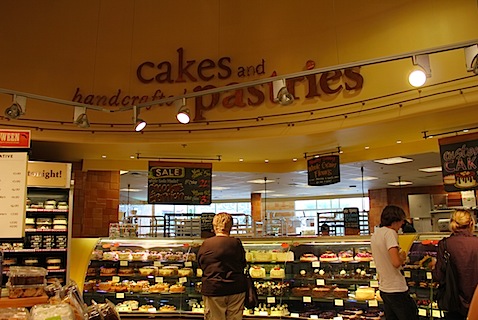 Or a giant cheese wall if sweet isn't your thing.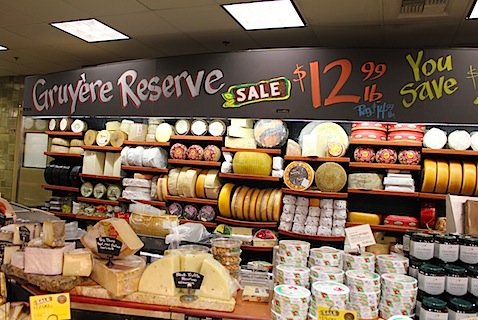 Or perhaps you'd like a gelato?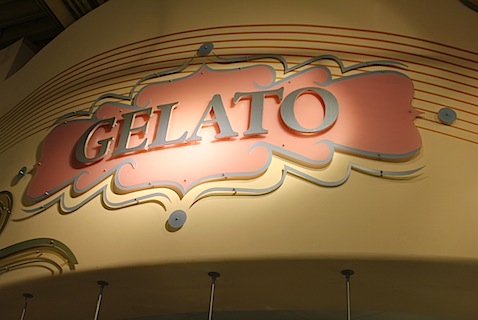 I did. I combined the peanut butter and jelly with black forest cake. Delicious.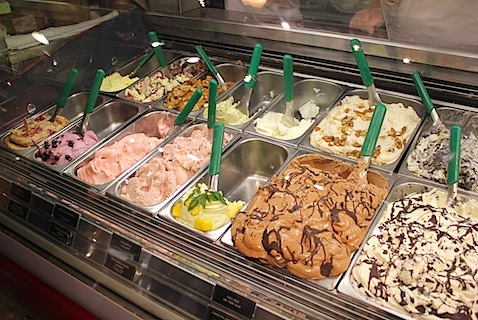 There were about 50 billion more things I wanted to explore and photograph at Austin's Lamar Whole Foods, but sadly I had a plane to catch and was forced to leave. Let me just say that if this Whole Foods was in Boston, I would be there for several hours every single week.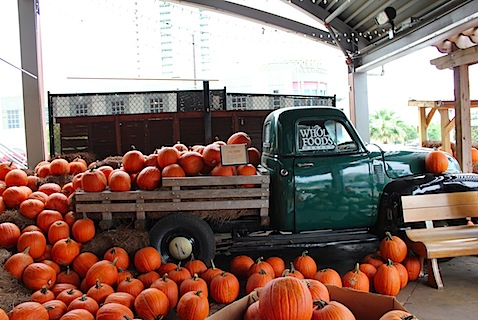 Thank you SO much to my wonderful cousins for knowing exactly what kinds of things I'd be interested in in Austin. They definitely got it right 🙂 And thank you to my whole family for being so supportive of me and We are not Martha... And understanding I had to do a little bit of work in the form of Project Food Blog even while I was on vacation.
I had an amazing visit to Austin and am already contemplating ACL next year. Though I'm pretty sure the weather could never be as perfect as it was last week. It was so nice spending time with my family, including my cousins and my aunt and it was just the vacation I needed 🙂
Have you been to a huge music festival? Did you love it?
[Sues]