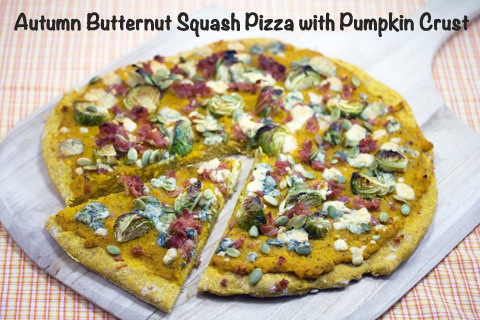 Some nights you have trouble sleeping because you're stressed out with work or life-related issues. Normal. Some nights you are up late because you can't stop watching episodes of Modern Family or House Hunters. Acceptable. Some nights you can't fall asleep because your significant other is snoring. You learn to deal with it and tune it out. And then there are some nights you lie awake tossing and turning because your neighbor won't stop snoring. No really. Your neighbor. Whoever lives next door to me snored his head off for at least an hour and a half straight at 2:30 a.m. last night. Don't ask me why I can't hear a peep from my neighbors on a normal basis, but each measure of this man's breath was completely audible to me in the wee hours of the morning.
In my sleep-depraved state, I contemplated writing a note and sliding it under his door, but I wasn't quite sure what it would say. "Could you please get your snoring under control?" Or "It would be fabulous if you could sleep in a different room." Or "As much as I love sharing a wall with you, I don't want to feel like I'm sharing a bed with you." Or perhaps I could simply slide a pack of Breath Right strips under his door. Do those things even work? Let's just say I hope this is a one-time event (I'm thinking this isn't his normal sleeping spot as I've never heard him before. Or perhaps it was a guest staying in the guest room). And also that thank goodness this Monday is a holiday and I didn't have to get up and work.
I know, I know I just posted a pizza recipe last week. But this one is so good, I have to post it ASAP. It was born out of a challenge from Hodgson Mill to build a better pizza. Now, I think the pizzas I make are pretty fabulous, but improvements can always be made, so I took the challenge on. And I did it! I thought the crust I was making for the past two years was the best in the world, but I'm totally in LOVE with this new one I just created. It has pumpkin in it. And whole grains. Way healthier than my normal crust and more flavorful, too. I wanted to make the ultimate autumn pizza, so I topped this bad boy with everything that makes me love fall. Like butternut squash and brussels sprouts and prosciutto and gorgonzola cheese and pumpkin seeds. Give me a pair of riding boots and some hot apple cider and call me a complete autumn cliche. I don't even care.
Autumn Butternut Squash Pizza with Pumpkin Crust (makes one pizza):
Print this recipe!
Pumpkin Crust:
⅔ C warm water
2 t Hodgson Mill active dry yeast
½ t sugar
1 C Hodgson Mill Whole Wheat Flour
1 C Hodgson Mill Naturally White All-Purpose Flour
¼ C Hodgson Mill Yellow Corn Meal
½ T salt
2 T extra-virgin olive oil
½ C pumpkin purée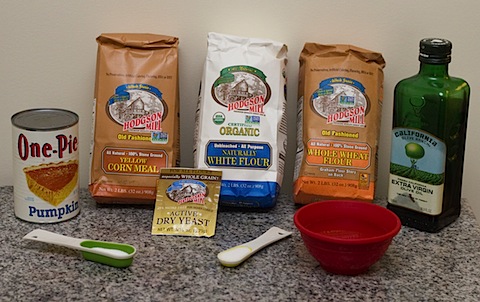 Toppings:
Half butternut squash, peeled and seeded (I often buy the halves at my grocery store)
Olive oil
3 garlic cloves
6 large brussels sprouts
3 sage leaves, chopped
Pinch nutmeg
2 oz. prosciutto, chopped
Gorgonzola cheese, crumbled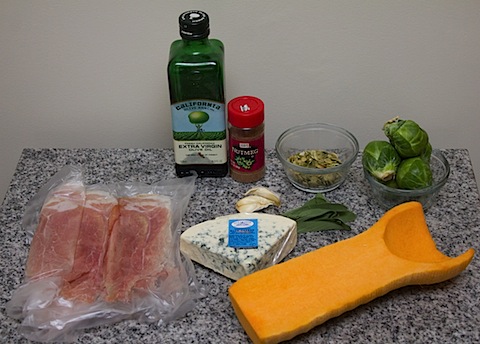 Pour warm water into a small bowl and sprinkle the yeast and sugar over it. Let mixture sit for about 10 minutes. It will become nice and foamy.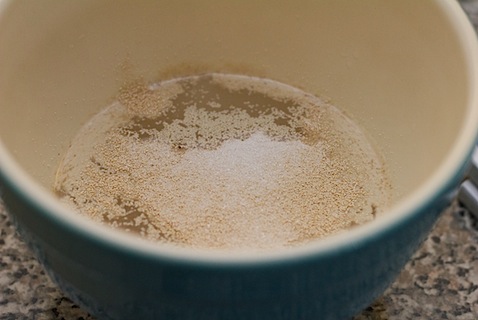 Soon, it will look like this!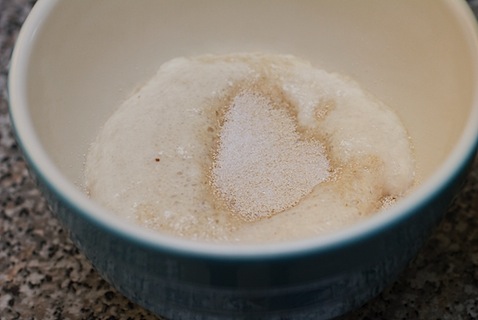 Whisk together the whole wheat flour, all-purpose flour, cornmeal and salt in a large bowl.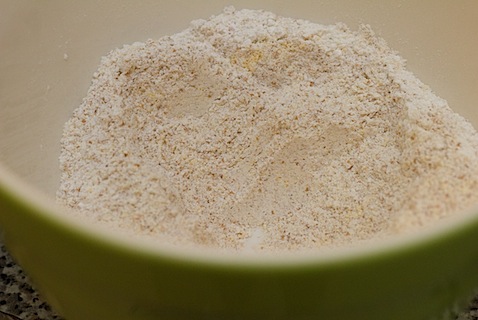 Pour in the yeast mixture, along with olive oil and pumpkin purée.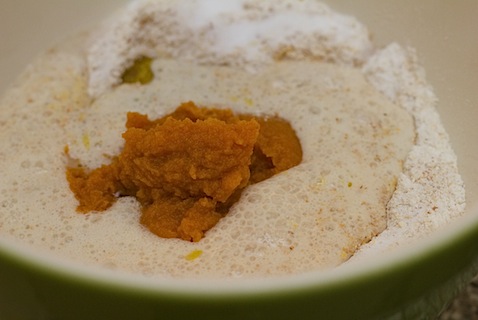 Using a wooden spoon, gently mix together, until mixture becomes cohesive.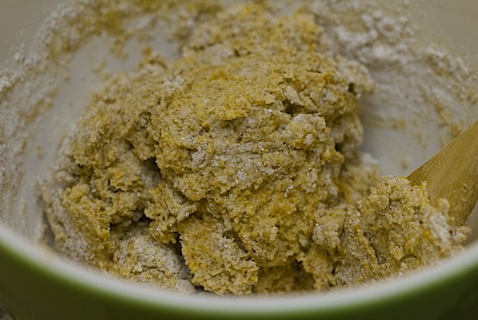 Then you'll want to knead it. You can either do this on a floured surface for about 7 minutes. Or you can pop it in a KitchenAid mixer with the dough hook for about 2-3 minutes.
Place dough in an oiled bowl, cover with a towel, and put in a warm spot for about an hour while it rises.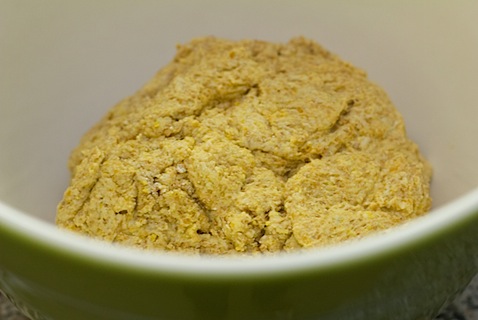 While the dough is rising, start prepping your toppings.
On a foil-covered baking pan, place your butternut squash half, garlic, and brussels sprouts, all tossed with olive oil and sprinkled with a little salt and pepper.
Put in the oven at 400 degrees.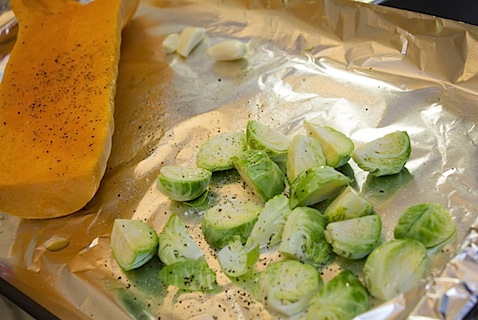 Remove brussels sprouts and garlic from oven after about 20 minutes.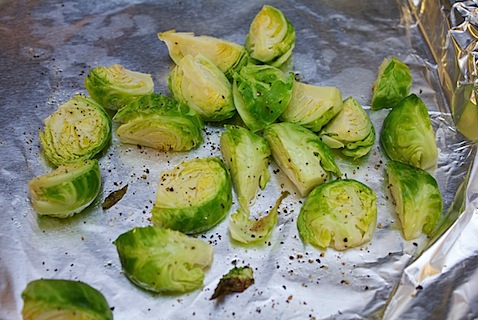 Squash will need 20-30 minutes more. Remove from oven when tender and let cool a bit.
When cool enough to touch, cut squash into pieces to place in food processor. Also throw in garlic, chopped sage, and a pinch of nutmeg.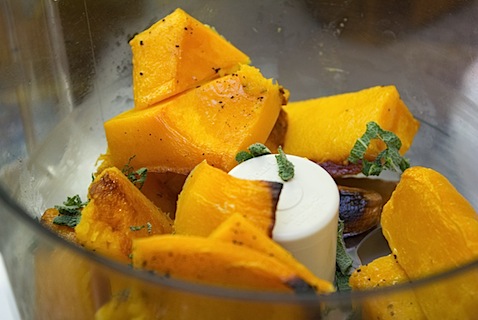 Blend together, adding about 2 t of extra-virgin olive oil and you're processing. Process until squash is a nice purée.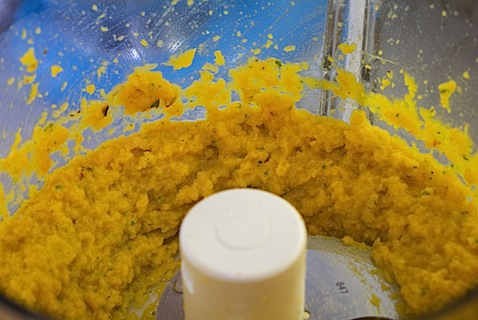 Place your dough on a well-floured surface.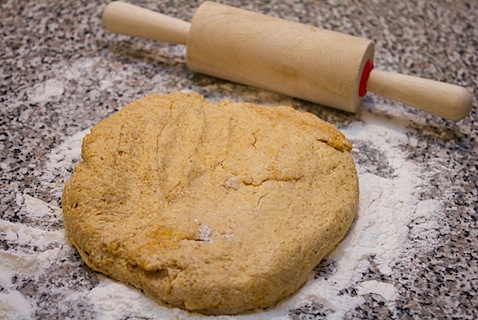 This dough was definitely a little more moist than most doughs I'm used to working with, so I made sure to have plenty of flour on hand.
Roll dough into large round.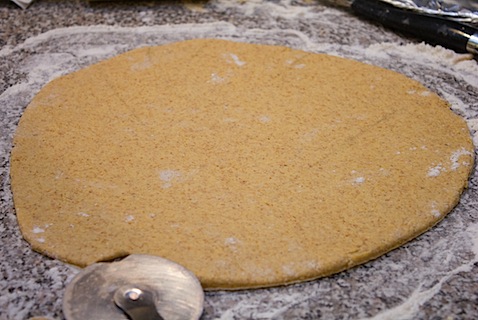 Place on either a pizza stone or a foil-covered round baking pan, brushed with olive oil or cooking spray to prevent sticking.
Spread butternut squash purée on dough round. It smells sooooo good!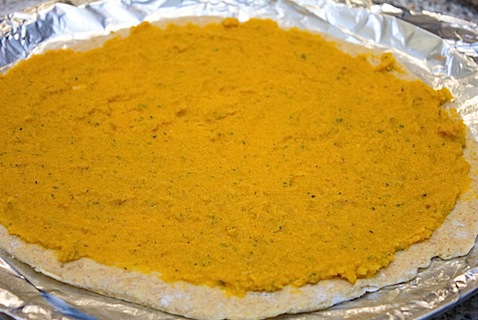 Top squash with brussels sprouts, prosciutto, gorgonzola cheese, and pumpkin seeds.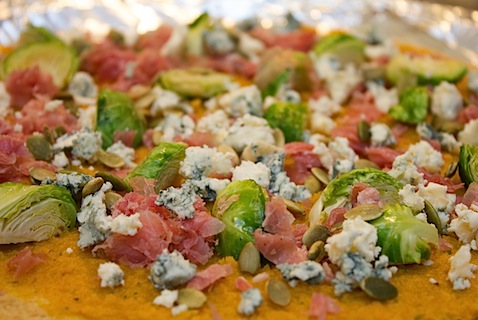 Bake at 450 degrees for about 20-23 minutes until crust is nice and crispy.
Et voila!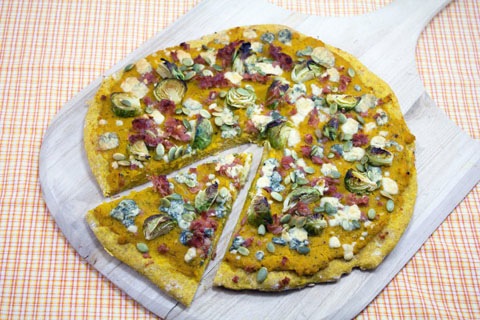 Let's start with the crust. As I've mentioned a million times before, I'm a thin and crispy crust kinda gal. When I was making this crust, and especially when I was rolling it out, I realized this crust was going to be better a little thicker and I decided I was OK with that.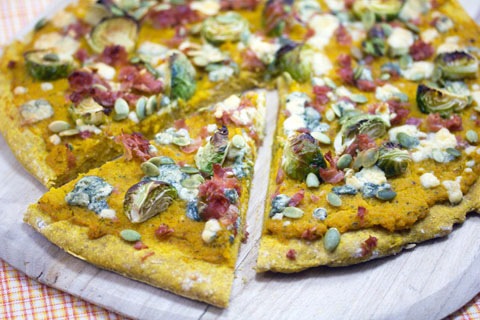 And I most definitely was. Though it was thicker than my typical crust, it was still crispy, especially on the crust ends. I think this had something to do with all the wonderful whole grains. I think sometimes people are afraid to utilize grains in their pizza dough because they fear it will be dry or bland. This was anything but!! I'm sure the pumpkin helped add a little moistness and flavor, but I loved absolutely everything about this crust.
And I'm thrilled that I used all three of the Hodgson's Mill products in it. Goa complete. Next time I might go with even less all-purpose flour just to see what happens. You know how I like to get a little crazy!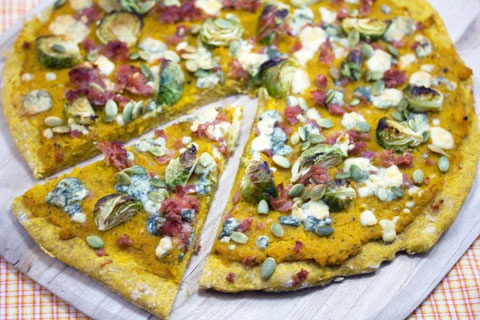 OK the toppings were pretty awesome too. In case you haven't noticed, I'm not a huge red sauce person. At least when I'm making pizza at home. If I'm ordering pizza, I love a good traditional pie, but at home I like to experiment. I generally go with a brushing of olive oil before piling my toppings on, but this time I decided to create a sauce of my own. The butternut squash purée!
It was creamy, garlic-y, and slightly spicy from the sage and nutmeg. But wasn't overpowering at all. The perfect base for a harvest-time pizza.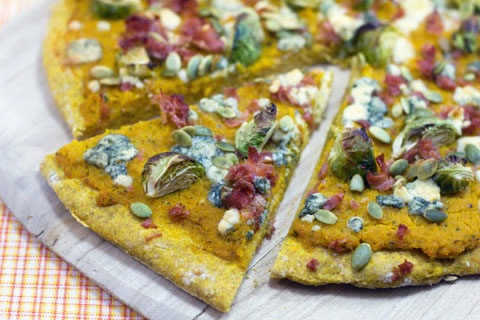 I don't care if you say you don't like brussels sprouts, I truly believe you will love them on this pizza. They are nicely roasted and crispy. Subtle, but delicious.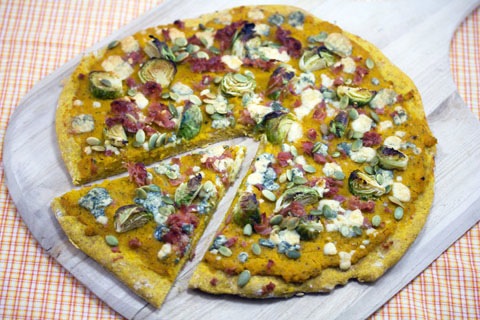 Prosciutto is always perfection, so no need to say too much on that. The gorgonzola cheese adds the perfect bite and powerful punch this pizza needs in some bites. And the pumpkin seeds add a little extra seasonal crunch. I almost built the pumpkin seeds into the crust, but decided I wanted them on top of the pizza instead.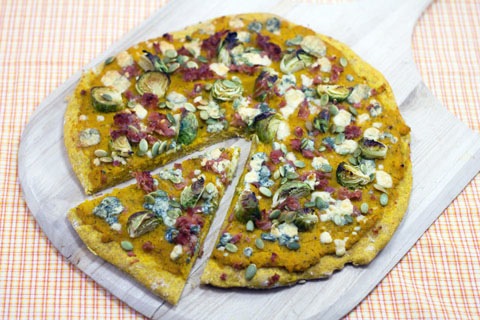 I also almost tried to sneak apples and cranberries into this creation, but decided to restrain myself. There's always time for an ultimate Autumn pizza part two. I'll probably use this same crust but do a whole different topping mixture.
These are the things that run through my head when my neighbor keeps me up until 4 in the morning snoring.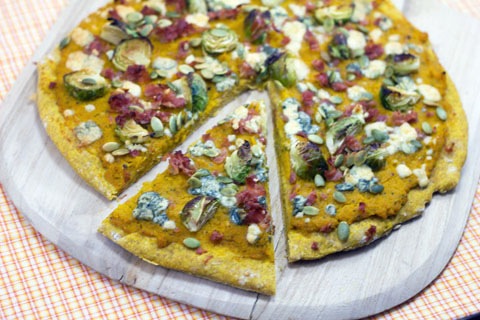 Isn't that weird to even say? I'm going to try to forget it ever happened to make the next time I run into him in the hallway a little less awkward. Or at least get some earplugs.
For now, I will soothe myself with the knowledge that I've found my new favorite pizza crust. I'll be entering this pizza into Hodgson Mills's Build a Better Pizza Contest and if you think it sounds fabulous (or try yourself it and know it is!), I hope you'll vote for me! I'll provide more details when voting is open. Thank you!
Have you ever had to hear a little too much from your neighbors?
I also wanted to announce the winner from my Keurig giveaway. Congrats to Kristin (who also happens to be the blogger at FoodFash)! I'll contact you ASAP so you can collect your prize!
[Sues]