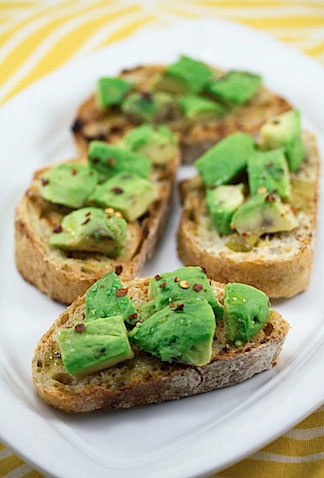 In case you don't know this about me, I don't do well with change. I like security and those constant things in life that you can always trust to be there for you when you need them most. In that same vein, I don't like moving. I think it has something to do with the fact that I was born and raised in the house where my parents still live. I never moved as a child and when I left college and got to Boston, I stayed in my apartment for 5 years. I finally moved across the street (literally… I can see my old apartment from my current bedroom) when Chris and I decided to move in together. Two years later and we're gearing up to move again.
I have a lot of mixed emotions about this move, especially given the fact that I'm leaving my favorite neighborhood and home for the past 7 years. It's tough, but at the risk of being incredibly cheesy, I've learned that "home is wherever I'm with Chris" and if we had to move to Nebraska, I'd be fine with it if I were with him. But really, things aren't so dramatic. At all. The bottom line is Brookline is a freaking expensive town and our apartment raised rent a ridiculous amount and some day we want to buy a house. So, we're moving out to Melrose, which sounds really far and scary to me. But in reality, my commute to work will be 20 minutes less each way and we'll be closer to Downtown Boston via public transportation. And I'm excited to be in a new home with my new husband, where we will start our married life together. I know it's going to be all good; I just have a tough time saying goodbye to my constants.
I feel like avocados are one of those safe things in life. They're always good, no matter how they're prepared. If they're a little mushy, you can mash them up into guacamole and nobody is any wiser. They're also simple. When I was reading this month's Bon Appetit magazine, I was immediately struck by the Editor's Letter. Adam Rappaport talked about a fancy dinner party he threw, with expensive ingredients and well-planned out courses. Except he forgot the appetizer and at the last minute threw together some avocado toasts. And they ended up being the best part of the meal; the course everyone raved about. We already knew that the simple things are so often the best, but sometimes it's good to be reminded.
I mean, there was no way I wasn't going to make these when I spotted this photo as I was flying to Virginia last week: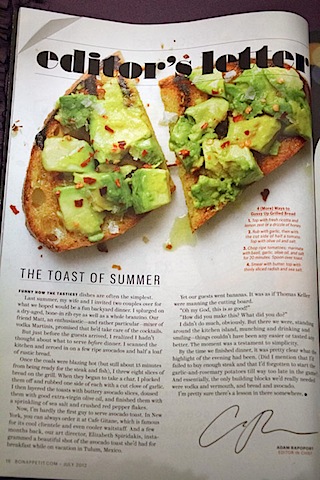 I'm giving you a recipe, but really just do what you want and use whatever amount of ingredients feels right to you. Make it simple and stress-free. There's enough in life to be stressed about; dinner 7 nights a week shouldn't be one of them.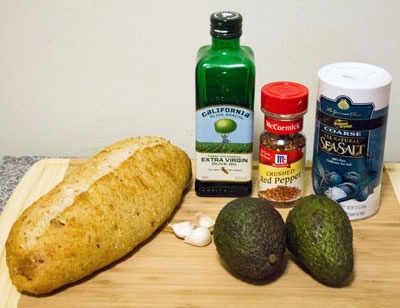 Avocado Toasts (makes about 10):
Print this recipe!
1 loaf good, crusty bread
2 avocados
3 cloves garlic
Olive oil
Crushed red pepper
Coarse sea salt
Slice your bread and peel and chop your avocado into cubes or slices. Also, peel your garlic.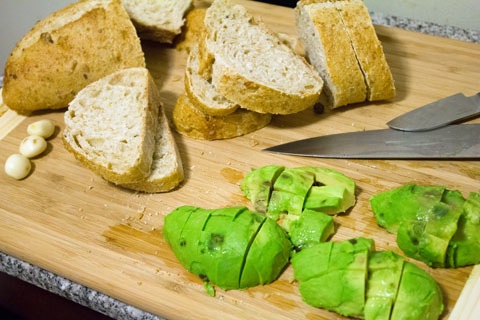 On a grill or in a grill pan, toast your bread on each side until it starts to get brown and crispy.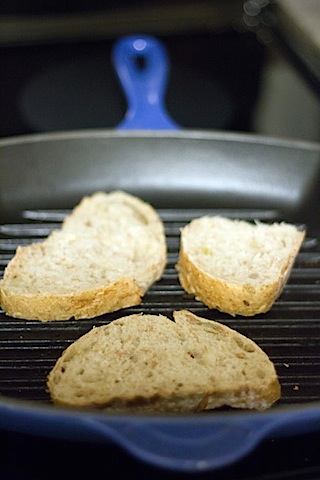 Take bread off the grill and cut each clove of garlic in half. Rub on warm bread.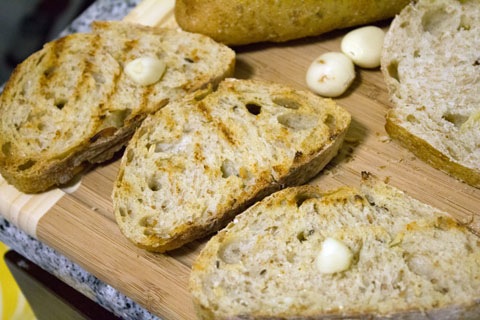 Pile on the avocado. Drizzle with good extra-virgin olive oil and sprinkle with crush red pepper. Add some sea salt on top, too.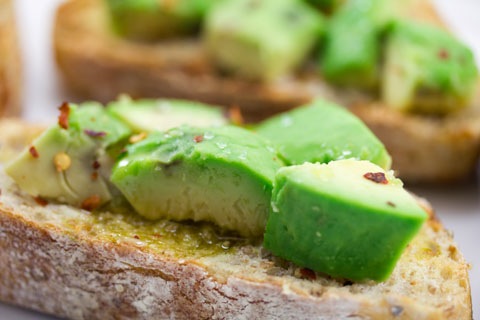 And dinner is ready. Or your party appetizer. But I really did eat these for dinner. Why not, right? They were delicious and I felt totally satisfied after I ate a few (fine… 5).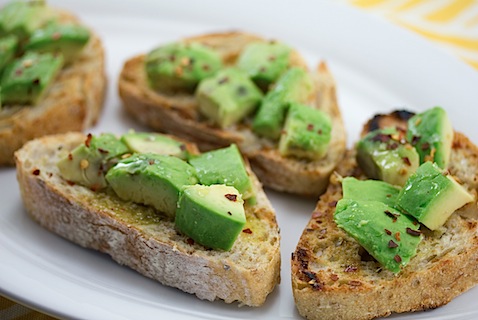 They're perfect for summer when you don't feel like putting a whole lot of time into meal-planning and as Adam Rappaport discovered, they're also perfect for guests whom you want to impress.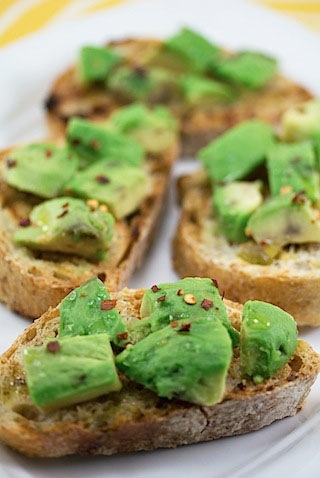 And if you're in the process of moving or gearing up for it, these little babies will keep you sane and happy. Trust me; I know.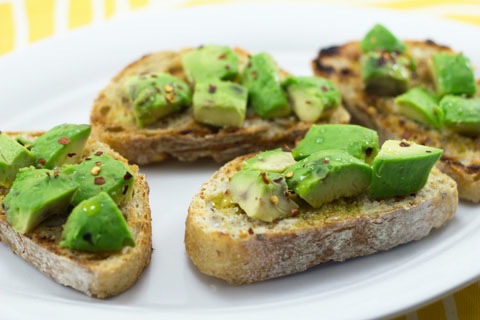 And yup, now I'm getting back to packing. Seriously, that's just about all I did this weekend. My body aches and my brain hurts from trying to decide what to keep and what to throw away (I told you, I'm not good with change!). I can't believe I have to jump into a full week of work without any downtime, but once we're all moved and happily settled, it will be worth it. And I can't say I'm not incredibly excited to say goodbye to the MBTA's Green Line and hello to my super shortened commute. Change is good.
Do you move a lot or tend to stay in one place for extended periods?
[Sues]
Cookie Dough Lover's Cookbok Giveaway Winner!
I also wanted to announce the winner of the fabulous Cookie Dough Lover's Cookbook from last week. It's Lorilea! Congratulations! I'll reach out to you ASAP to get your contact information.