Well… I've actually been back for a week, but I'm just now getting back to reality. Took some time. I love this city, not only for its breathtaking views, unique shops, and great restaurants but because this city can inspire you to be so creative. I've never collected a more attractive bunch of business cards on a trip 😉
One of the first full days in the city, while my bud was working, I explored the Marina and stumbled upon La Boulange cafe and bakery. I got a greattt cobb salad to-go so I could eat outside and enjoy the great weather.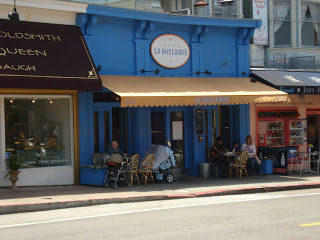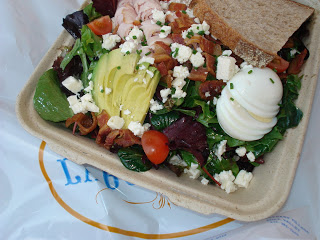 1909 Union Street
415.440.4450
I continued my walk up Union Street and stopped in Mingle, a really cute boutique that had very friendly and helpful salespeople! I bought 2 eco friendly tote bags, one for myself, and one for my sister.
1815 Union Street
415.674.8811
One of my favorite stores on Union Street is Union Street Papery. Tons of custom stationary and invitations from some big names and local artists too. One of my favorites designers: eggpress! ahhh… simple and adorable!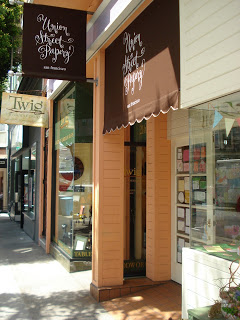 2162 Union Street
415.563.0200
I got the chance to FINALLY meet Jon from 2guysuncorked, who just so happens to be a San Fran resident! He's one of my new favorite people 🙂 We met up and went to Ferry Plaza Wine Merchant, a lovely little wine bar in the Ferry Building downtown. It was slightly an older crowd, but it was great to meet Jon and introduce him to my San Fran buddy I was visiting! Now we just have to meet up with Ted and we'll be good to go 🙂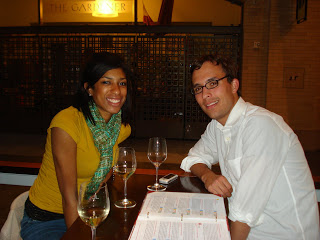 Ferry Plaza Wine Merchant
One Ferry Building: Shp 23
415.391.9400
We didn't get a chance to make it to Kara's Cupcakes but all of my wandering around led me to That Takes The Cake , a fairly new, very small but adorable cupcake shop. I got the "orange zinger" cupcake for myself and an "opposites attract" for the bud. Check out the menu. Delicious. And the girl who worked at the counter was a sweetheart! Hooray for good food and nice people 🙂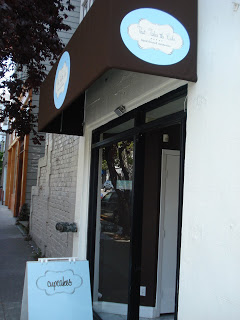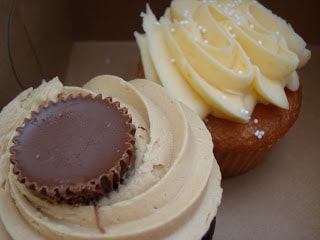 2271 Union Street
415.567.8050

I was also very lucky to head up to wine country. It's safe to say if I ever hit the jackpot, I'm heading to Sonoma for a second house. I took tons of pictures but they don't even do the place justice. On our way up we saw a winery/gallery/garden called Cornerstone Gardens. We didn't really know what to expect but we wound up staying there for hours. We had a blast walking around all of the gardens and viewing the public art. There is also a salvage yard filled with some great finds! I was tempted to have some stuff shipped back to Boston, but really… I have no where to put it.
I could post about this place forever because I loved it that much.
23570 Hwy. 121
Sonoma, CA
703.933.3010
Another favorite of mine is for sure Boudin Bakery at Fisherman's Wharf. The bud got a Boudin chili bowl (yum) and I obviously got a salmon club on Boudin sourdough (why wouldn't I?).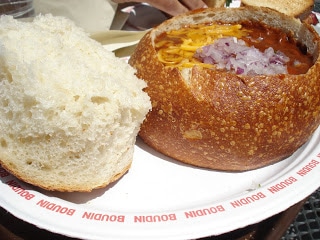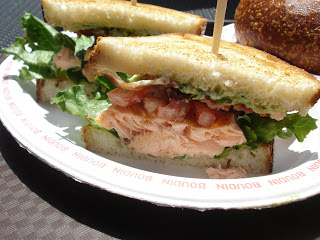 We checked out the sea lions on the pier before we ate… I think I fell in love with them… it was hilarious watching them push each other off: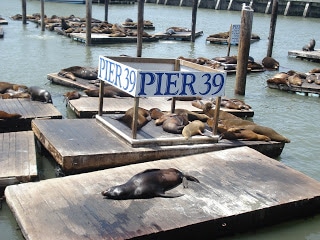 My favorite, favorite, favorite place is Northpoint Coffee Company in Sausalito (if I hit the jackpot again I'd buy a third home here!) I fell in love with this quaint coffee house when I went out to Sausalito in October and it was such a rainy, dreary, gross day and I warmed up with a cup of their Mexican hot chocolate. To die for. This time around, the weather was 1,000 times better and the hot chocolate tasted justttt how I remembered, if not better with a view like this.
1250 Bridgeway
Sausalito, CA
415.331.8777
There are so many reasons to love Northern California… I'm sure I'm missing a million 🙂
I'll be posting more scenic pictures on my design blog too, so keep an eye out!
[Chels]