Hi, everyone! I just wanted to apologize for being lost in space the last couple days. We were actually lost at Butterball University in Chicago! You might remember that we went last year. And we were SO happy to be back again. In case you didn't know, the Butterball Turkey Talk-Line ladies some of the nicest, warmest people I've ever met in my life. And we feel so, so lucky to have the opportunity to spend time with them and listen to their infinite turkey knowledge. There's nothing like learning from the best.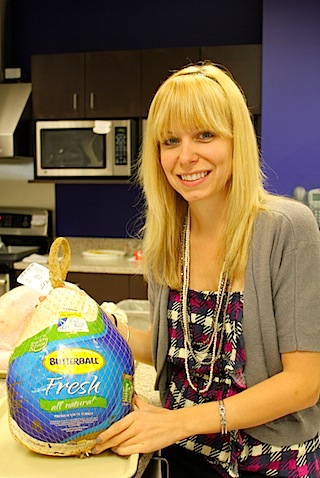 (Plus, we got to experience Butterball's new easy-to-open packaging first-hand. And let me just say... it's awesome!).
We'll be writing a full recap in the upcoming days. But we just wanted to leave you with a few sneak peek photos for now. I learned A LOT last year, but after this year, I think I feel confident to actually prepare my own Thanksgiving turkey. But the carving part? Maybe not so much. We're taking it a step at a time.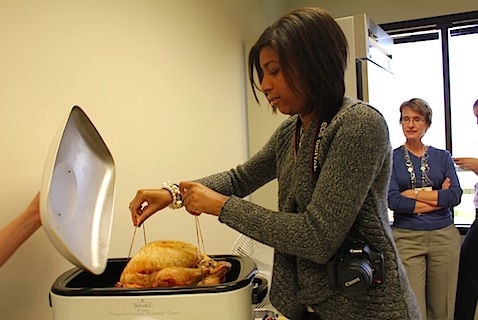 My turkey is the closest in the photo. I'll tell you all about what I did to it... And what Chels did to hers (we were each assigned a different method to preparing our turkeys). And we'll give you some super helpful turkey tips, too, with the full recap.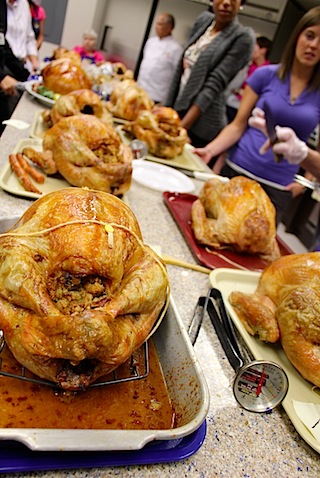 Thank you SO much to everyone at Butterball University for being so welcoming to us and sharing your seriously huge wealth of knowledge. There were so many moments the last couple days when I thought to myself "I never want to leave!" Who knew cooking turkey could be so much fun?
[Sues]
Full disclosure: We were hired to attend Butterball University and write on the Butterball Blog and are being paid. However, all of our opinions are our own and we're under no obligation to write about our fabulous experiences on our own blog. Seriously, we can't even believe we're so luck to be paid to have the experience of a lifetime. Life rocks 🙂