This post has a lot going on. Like a lot, a lot. It started off with a simple bacon jam. If you can call a bacon jam simple. Which, besides the fact that it's super simple to make, I'm not so sure you can. But you can definitely call it awesome. Don't be scared of the name. We could always call it a "bacon spread," but that sounds sort of off, too. I just know that I've had Martha Stewart's bacon jam recipe bookmarked on my computer for well over a year. And finally decided I needed to make it happen. Make this. I don't think there's any way you'll ever regret having a mason jar full of bacon jam in your fridge.
This post also contains a grilled cheese. With avocado. AND a giveaway! When Land O'Lakes reached out to me about a Cheese Chatter webinar and Twitter chat they were holding, I joined in to chat about cheese on what was one of the most fabulous Twitter chats I've participated in. I, unfortunately, missed the webinar but you can still watch it and get some great ideas for party foods you can make with Land O'Lakes cheese! Just beware you'll get majorly jealous that you don't work in their test kitchen, inventing cheese-packed recipes on a daily basis.
They also offered to send me and let me give away a few fun "cheesy" items to one of you! I wanted to correspond the giveaway with a post involving LOL cheese (yes, I enjoy calling it LOL cheese). The thing is, I'm not a huge fan of American cheese and wanted to try a different kind. Land O'Lakes actually has a huge variety of cheese, but apparently not at my grocery stores. I finally found a variety pack, which included provolone and colby, so I jumped on it for a decadent grilled cheese. With bacon jam. Which brings this post full circle.
Bacon jam. Cheese. Giveaway. That's all you need to know.
Bacon Jam Avocado Grilled Cheese:
Print this recipe!
4 slices good bread
1/2 T butter
4 slices cheese of your choice (I used Land O'Lakes colby and provolone)
1/4 C bacon jam (see recipe below)
1/2 avocado, peeled and sliced
1/4 C arugula
Bacon Jam:
Adapted from MarthaStewart.com
Print this recipe!
1 1/2 pounds sliced bacon, chopped into 1-inch pieces
1 large yellow onion, finely diced
3 cloves garlic, peeled and smashed
1/2 C apple cider vinegar
1/2 C packed dark-brown sugar
1/4 C maple syrup
3/4 C brewed coffee
Cook the chopped bacon in a large skillet over medium-high heat, making sure to stir a bit, until bacon is slightly browned. This should take about 20 minutes or so.
Then remove the bacon to a paper towel-lined plate with a slotted spoon.
Save 1 tablespoon of that lovely bacon fat in your skillet and add the chopped onions and garlic to it. Sauté for about 5 minutes, until onions are translucent.
Then add the apple cider vinegar, brown sugar, maple syrup, and coffee to the skillet.
Bring to a boil and use a wooden spoon to scrape up all the delicious brown bits from the bottom of the pan.
After about two minutes, add the bacon back to the pan and stir.
Now put the mixture into your 6-quart slow cooker and cook on high uncovered, for about 3 1/2 to 4 hours.
3 1/2 hours of having my apartment smell like a bacon heaven? Don't mind if I do. What is a bacon heaven? I have no idea, but I think I want to go there.
You can tell the mixture is becoming jam-like!
After the bacon mixture is done in the slow cooker, transfer it to a food processor (yes, you dirty a lot of appliances making this jam, but it's SO worth it!).
Pulse in the food processor until the mixture is coarsely chopped.
Let the mixture cool (yup, torture!) and then refrigerate in airtight containers (I used mason jars) and refrigerate for up to 4 weeks. But it won't last that long. Because you'll probably eat it with a spoon. And then force yourself to make something like a grilled cheese sandwich, so you don't feel totally disgusting about yourself.
The grilled cheese part is even easier than the bacon jam part. Simply spread butter on one side of all four slices of your bread. Place bread butter-side down in a skillet over medium-low heat. Place a slice of cheese on each slice of bread and top each slice with a little bit of bacon jam.
Pile some avocado slices on one side.
Toss some arugula on the avocado and place the other slice of bread over the top.
Let grilled cheese brown and then flip over to brown on other side.
Slice and serve. Unless you're the kind of person that doesn't have to cut a sandwich in half before eating it. Like my husband. I can't fully enjoy my sandwiches, and especially grilled cheeses, unless they're sliced in half!
There's not really a whole lot I can say about this grilled cheese sandwich that you don't already know. I mean, cheese, bacon jam, and avocado. Those three words say it all.
I know, I know. I ignored the arugula. But I LOVE arugula and think it makes most anything better. You don't have to add it to this sandwich, but I highly recommend it. Plus you can kind of sort of pretend you're doing something healthy if you add arugula. These are the rules of life I follow.
And adding two kinds of cheese. Always a good decision.
Is it bad that I just decided I want to mix the bacon jam into an ice cream? I mean, I'm sure people have done worse with bacon. And you have to admit, a nice vanilla ice cream with bacon jam topping sounds pretty perfect. No? Then I'll just sit in a corner by myself with a giant bowl of it.
Land O'Lakes Giveaway!
Now it's your turn to win from Land O'Lakes! They'll be sending one lucky WANM reader an Emile Henry Pizza Stone (to make lots of cheesy pizza!), a large white serving platter from Crate & Barrel (to arrange a beautiful cheese platter!), a LOL grocery bag (to carry all your cheese home from the store!), and a coupon to try their cheese (to purchase that cheese!):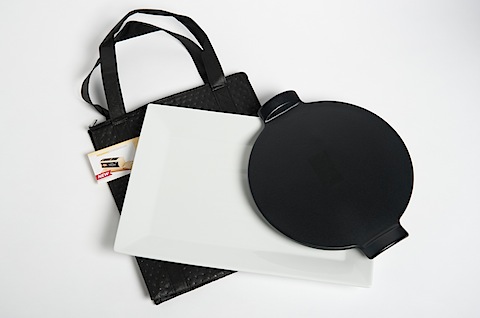 All you have to do is tell me what kind of LOL cheese you'd love to try. I think I need to get my hands on the provolone with smoke flavor! Submit your comment by Friday, March 1 at  11:59 p.m. and you'll be entered to win. For extra entries, 1) follow WANM on Twitter and 2) tweet about this giveaway!
Good luck! And please, make yourself some bacon jam.
[Sues]
Disclosure: I was provided with my own gift pack and received a recording of an informational webinar from Land O'Lakes. As always, all opinions are my own!