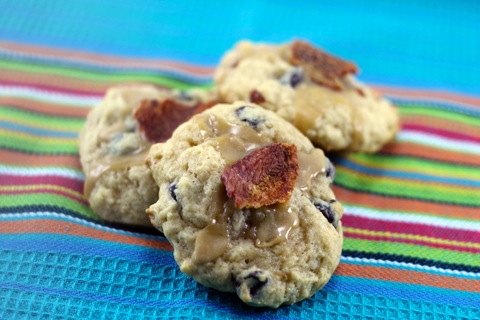 Can I just say I can't wait to get married? Like really, really can't wait. This weekend was packed with wedding-related activities and, while I could do without all the appointments (seriously... they take up A LOT of time!), it's all generally exciting and I know I'm going to miss them when they're over. Yes, I'll miss trying on my dress for the however many-ith times and looking at it in the mirror. Though we've been engaged for almost a year and a half, Chris and I finally did our engagement photos yesterday. Maybe it's a little crazy, but a session was included in our photography package and we knew it would be a good way to spend some time with our photographer and get comfortable posing for a camera. We were both a little nervous since we decided to have our session in busy Coolidge Corner on a Sunday afternoon, but we ended up having a ton of fun and getting some awesome shots (I think!) in front of some of our favorite neighborhood spots. Since we'll be moving out of our 'hood soon (sob!), I have a feeling these photos will be very important to us. Plus, we had a fabulous time with our wedding photographer! She had us feeling quite comfortable behind the camera, even when kissing on Beacon Street. Yay! It was a wonderful afternoon, which concluded in a cocktail and a burger from one of our very fave neighborhood spots, The Regal Beagle.
Now, let's talk about bacon. I can't believe this hasn't happened on We are not Martha yet. But it WILL be happening again. Like lots and lots of agains. Because I really, really liked this combination. And have a feeling that, though some may shy away from it at first, they'll really need to try it to believe it. And believe it. I know bacon is pretty much overplayed by now, but it's still delicious. And it still helps to make the perfect meal and dessert. Plus, maple is one of my favorite flavors of 2012! And come on, I'm still making cupcakes, despite they're over-saturation in our world. A little too much bacon airtime is not going to have me quitting it.
Bacon Maple Cookies (makes about 2 dozen cookies):
Print this recipe!
8-9 slices bacon
7 T unsalted butter, room temperature
¼ C granulated sugar
¼ C packed brown sugar
1 large egg, room temperature
1 t pure maple syrup
1 t maple extract
1 ¼ C all-purpose flour
¼ t salt
¼ t baking soda
3 T sour cream
½ C chocolate chips
For glaze:
½ C powdered sugar
2 T real maple syrup
½ t maple extract
(pre-heat oven to 350 degrees)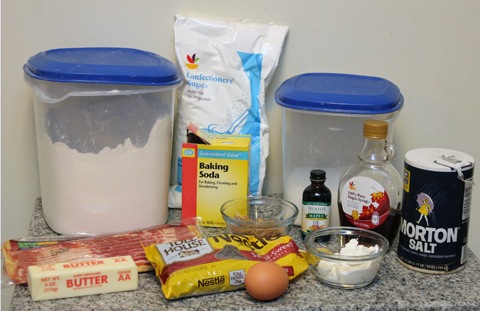 First things first, let's fry that bacon up! Fry it until it's nice and crispy.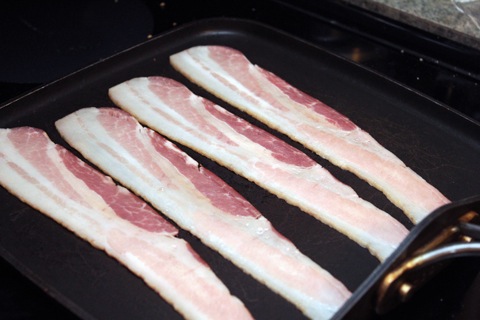 In a mixer, beat together the butter with the granulated sugar and brown sugar, until fluffy.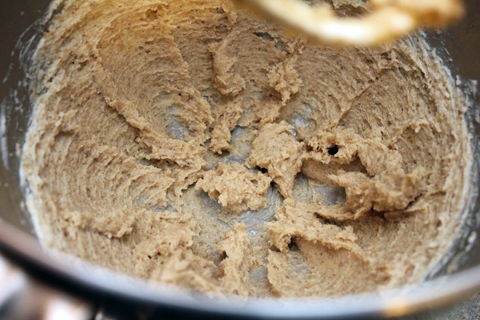 Now, beat in the egg, maple syrup, and maple extract, until combined.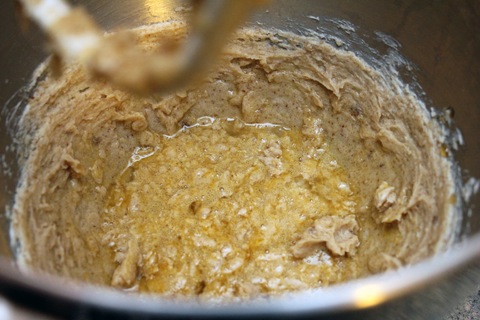 In a separate bowl, whisk together the flour, salt, and baking soda.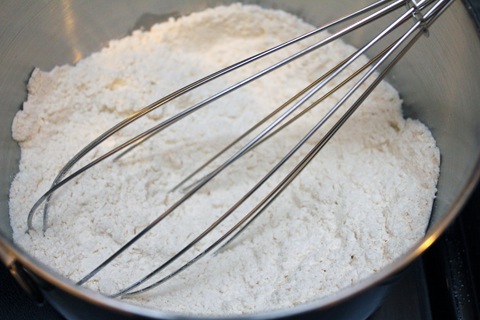 Now, add half the flour mixture into the batter, followed by the sour cream, and then the rest of the flour mixture. Mix until just combined. I LOVE Martha Stewart's method of adding sour cream to cookies instead of milk. It adds a nice light fluffiness that makes for a fantastic cookie. And I want to do it with pretty much every cookie I make now. Try it. You'll see.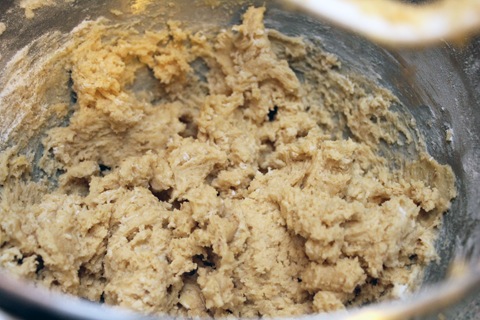 Pour ½ C chocolate chips into the batter and crumble up your crispy bacon to toss in. Reserve abut a slice or two of bacon, so you have some leftover to top your cookies with.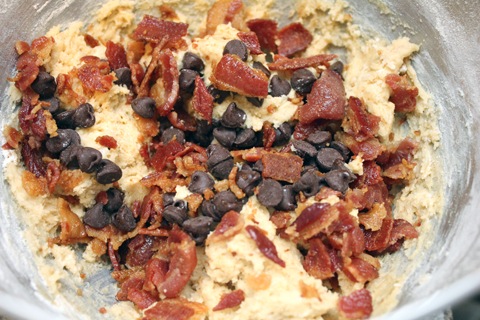 Stir with a spoon, until combined. How delicious does this look?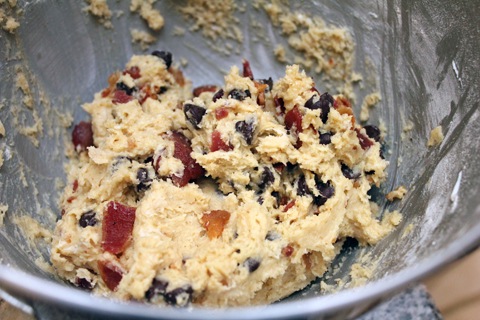 Pop this dough in the freezer for about 10 minutes to firm it up. Alternately, you could put it in the fridge for 20-30 minutes.
When you're ready to get baking, line baking sheets with parchment paper. Now, drop dough onto baking sheets in about 1 T balls. Place them about 2 inches apart from each other.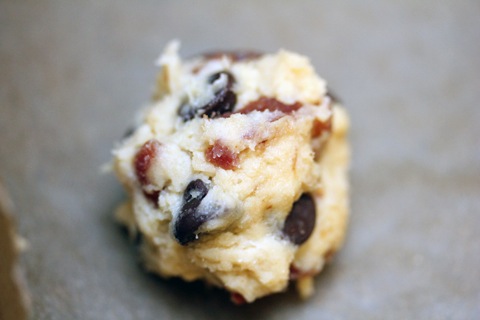 Bake at 350 degrees for 12-15 minutes, until the edges are nice and golden.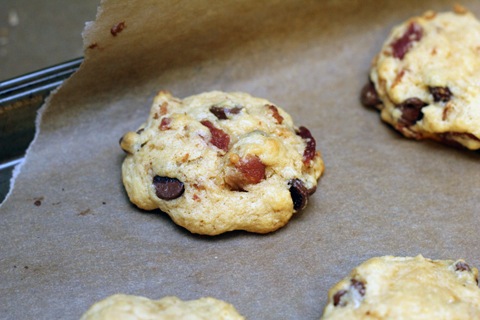 Let cookies sit for about 5-10 minutes before moving to cooling racks to cool completely.
And get started on the maple glaze. This one's really simple- just whisk together powdered sugar, maple syrup, and maple extract. Taste it and add more of whatever you think it needs. But it should be pretty perfect!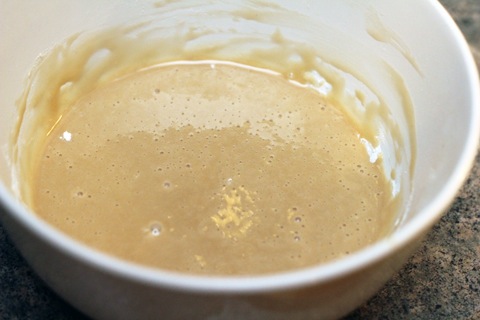 When the cookies are cooled, spoon a little dollop of maple glaze onto each cookie. Make sure you lay a paper towel under the cooling rack as the glaze will get a bit drippy.
Top with a little piece of bacon.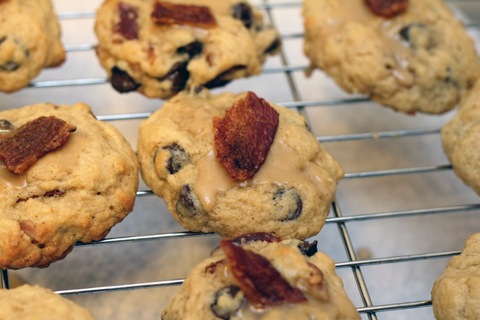 And, if possible, put cookies in the fridge to chill, so the glaze will harden.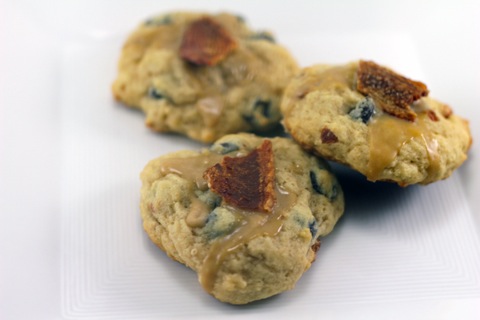 And then indulge in that mapley, bacon goodness. Make sure to keep these in the fridge, though, since there is obviously bacon involved.
I brought these cookies, along with my very favorite s'mores cookies, to Jay Peak for my Bachelorette Weekend! Sadly, I think they were mostly ignored during the weekend, likely because they were stuck in the fridge and not hanging out on the counter waiting to be snacked upon. But I did make sure Chels (the resident bacon expert) sampled them and she proclaimed them delicious. Yay! And I will most definitely be whipping them up again!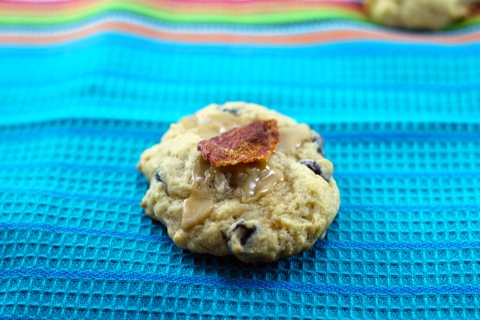 If you think about it, there really isn't any way you can go wrong with the sweetness of maple syrup, the chocolateyness (yes, that is a word) of chocolate chips, and the saltiness of bacon. A flavor match in heaven... I don't care if you are scared of eating meat in your cookies (OK yes, that sounds kinda gross, but just trust me, it's not), so long as you love salty-sweet, you will be obsessed with these.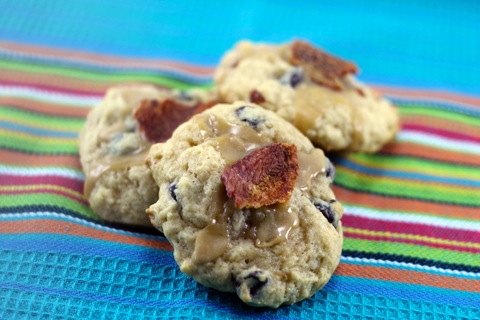 Tell me, are you so over the bacon "trend" or are you still willing to combine it with your other favorites?
[Sues]