I just returned home from spending a fabulous weekend in Chicago. The company was amazing (my sister, her boyfriend, and some of the best blogger friends), and the food delicious. From cupcakes galore (there is a seriously ridiculous blog posting coming soon about this...possibly more than one) to sushi at Bob San and wine and cheese at Vintage Wine Bar, I was quite satisfied with my culinary experience. Friday night, me, my sister, her boyfriend, and his brother had dinner at my sister's before catching the evening performance of Wicked (SO good, go see it ASAP!).
My sister's dinner menu consisted of pork with a delicious BBQ rub, whole grain rice (from Near East, best rice ever), spinach with garlic, and acorn squash. The squash?
Baked acorn squash with mustard and honey.
Um, amazing. You already know about my orange vegetable obsession, and this squash was incredibly EASY. And so so so good.
Cut the squash in half vertically and scoop out the seeds and such. Place the halves in a pan. Mix up a delicious little bowl of 6 tablespoons of unsalted butter, 2 tablespoons of Dijon mustard, and 6 tablespoons of honey. Spoon 2 tablespoons of the mixture into each squash. We used WAY more than 3 tablespoons because we only had 4 squash halves and the more the better, right? Even still, we ended up throwing some away.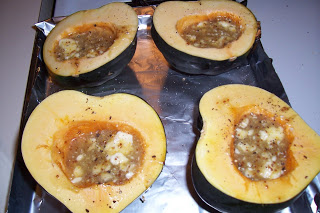 Then, bake the squash at 375 degrees for an hour-an hour and a half, until it's tender. This is SERIOUSLY heaven. Soo sweet and melt-in-your-mouth delicious. We couldn't stop talking about it all through dinner. Here was the final-plated meal (on the plates I grew up eating off that my sister is now in possession of).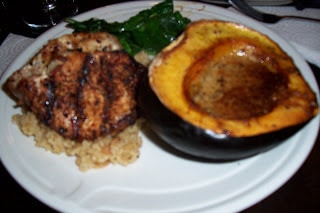 Clearly, my parents and their culinary craziness rubbed off on both me and my sister. Though I am already missing Chicago and its people and food, I can't wait for her to move to Boston so we can cook many more meals together!

[Sues]