Looking for a quick weeknight meal that's delicious and healthy? These Baked Chicken Chimichangas are easy to make and healthier than the typically fried Tex-Mex dish. Plus, they make a great freezer meal!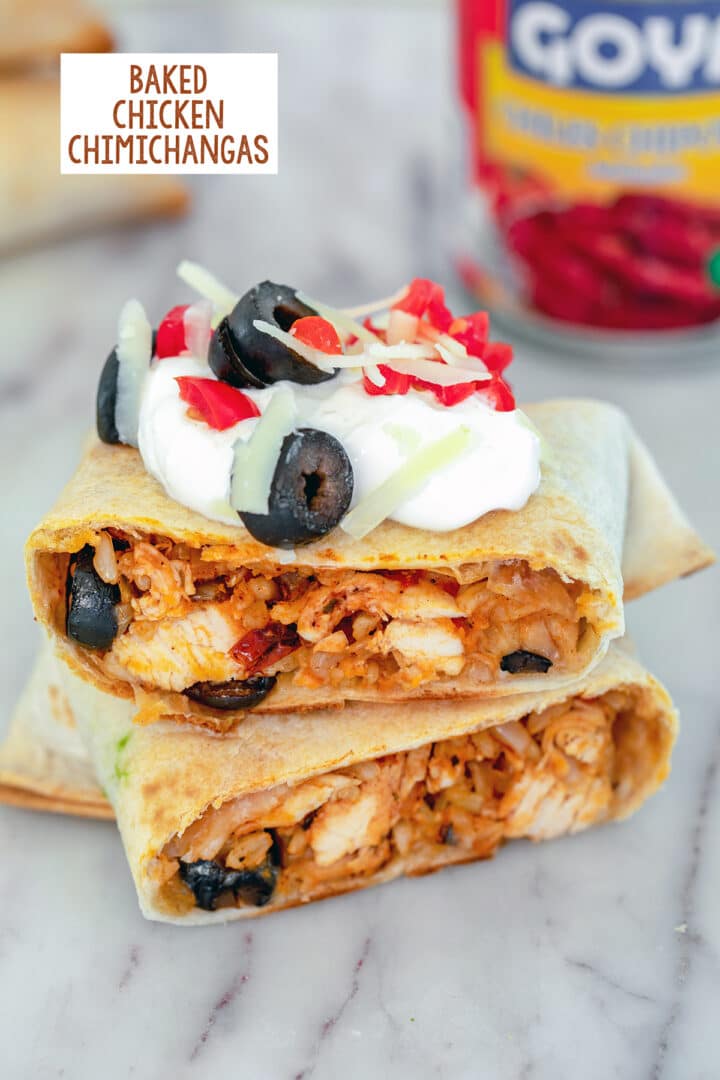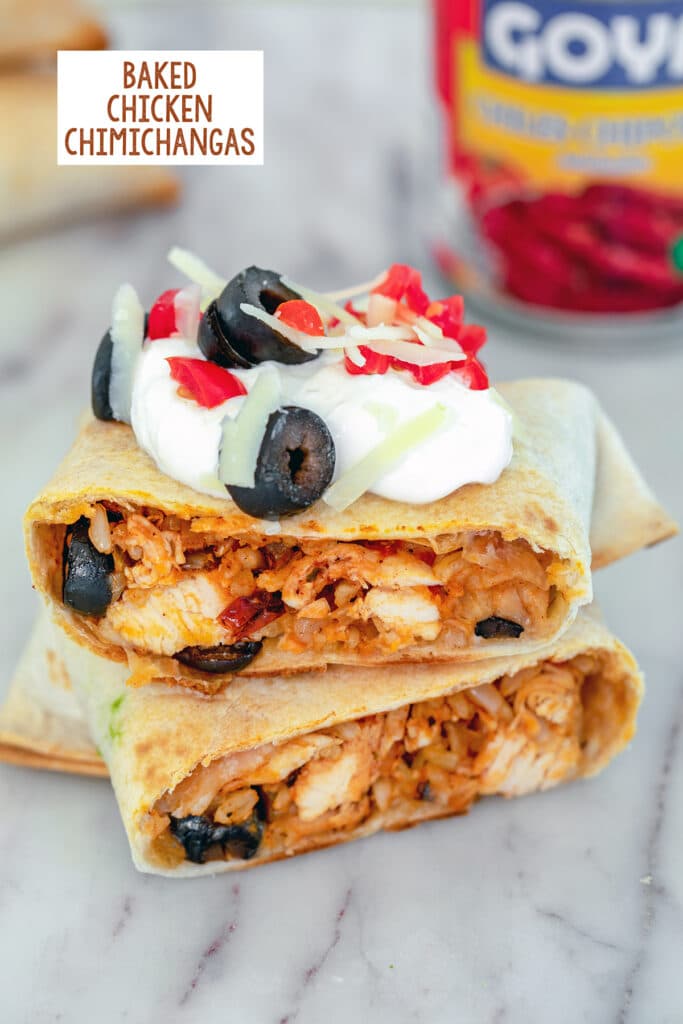 You have no idea how excited I am to be re-sharing this recipe for baked chicken chimichangas with you today. I first made this recipe back in 2012 and I'm happy to declare it the dinner recipe I've re-made the MOST over the last seven years.
This is in large part due to the fact that my husband is obsessed with them. Other than tacos, this is his most requested meal and one that I'm always happy to make. Not only do I make them all the time, but I also ALWAYS have a nice stock of them in the freezer, so they're available for a super easy last-minute dinner whenever we want them.
I originally opted to bake my chimichangas because a) frying is always a more arduous task than baking is. It takes longer, it's messier, and it's smellier. And b) I wanted a healthier chimichanga.
When you can make Tex-Mex/Mexican food healthier AND just as tasty as its original, you can consider it a very good evening. Especially if you have a margarita with it. You know you want to!
What Are Chimichangas?
First thing first, if you've never had a chimichanga, you should know that it's basically a deep fried burrito. They're popular in Tex-Mex cooking and are usually made with rice, cheese, beans, meat, and flour tortillas.
Of course, for this recipe, I decided to bake them instead of fry them and still managed to keep them absolutely delicious.
Why You'll Love This Recipe
These baked chicken chimichangas are so incredibly easy to make and really just require combining the ingredients in a skillet and then assembling the chimichangas in flour tortillas. So, obviously you'll love that.
Oh, and if you use rotisserie chicken (which I recommend), they're even easier.
But you'll also love how packed with flavor and delicious they are. I use chipotle chiles to add a nice flavorful spice, plus the salsa with heat-level of your choice, and lots of sharp cheddar cheese.
And like I mentioned, they're much healthier than the typical chimichanga since they're made with chicken and brown rice and they're baked instead of fried.
There's so much to love!
Ingredients
Here's what you'll need to make these baked chicken chimichangas:
Olive oil
Onion
Chili powder
Salt
Garlic
Cooked chicken (rotisserie chicken works well!)
Chipotle chiles in adobo sauce
Oregano
Salsa (however spicy you like it)
Cooked brown rice
Flour tortillas
Shredded cheddar
Sliced olives
Toppings of your choice (avocado, tomato, etc.)
How to Make Baked Chicken Chimichangas
Now I'll show you how easy it is to make this recipe. Be sure to check out my video if you want to see more about the step-by-step process!
I like to use brown rice for these chimichangas since it's healthier and honestly, with all the other ingredients included, it's just as tasty. You'll want the rice to be cooked before you add it and you can always do this a day in advance if you want.
Otherwise, just cook it while you cook and/or shred your chicken. I like to use a rotisserie chicken when I make these because it's so incredibly easy, but you can also cook your own chicken for these if you'd prefer.
Sauté the onion in a little bit of olive oil, along with chili powder and salt. Add in the garlic and cook until the onions begin to brown.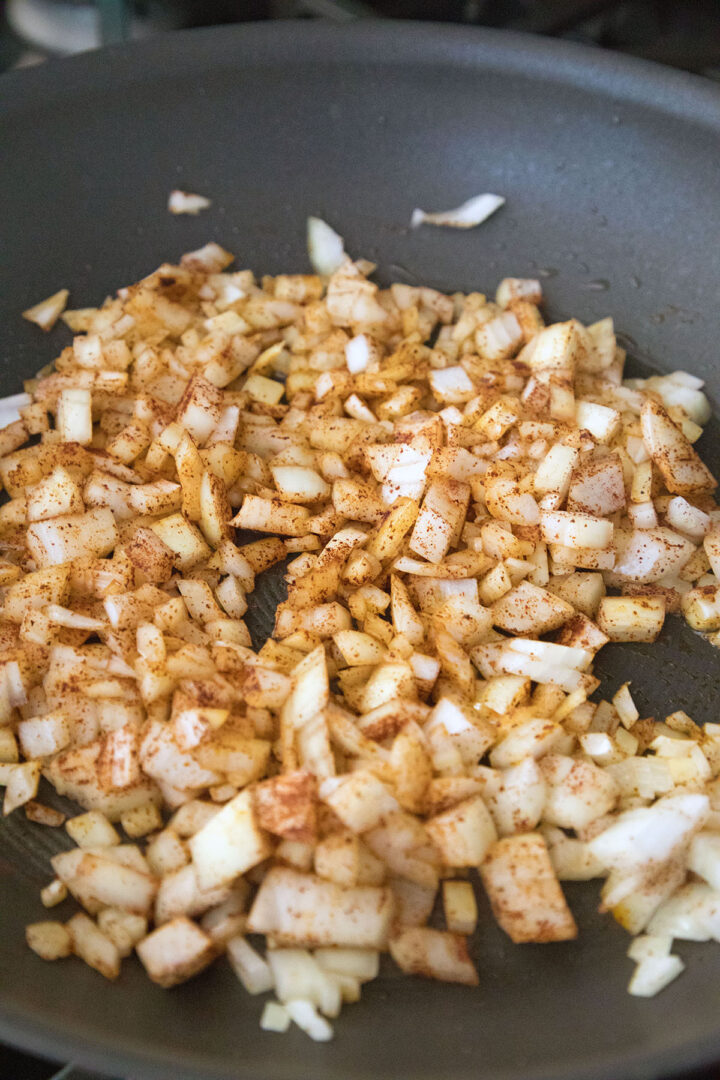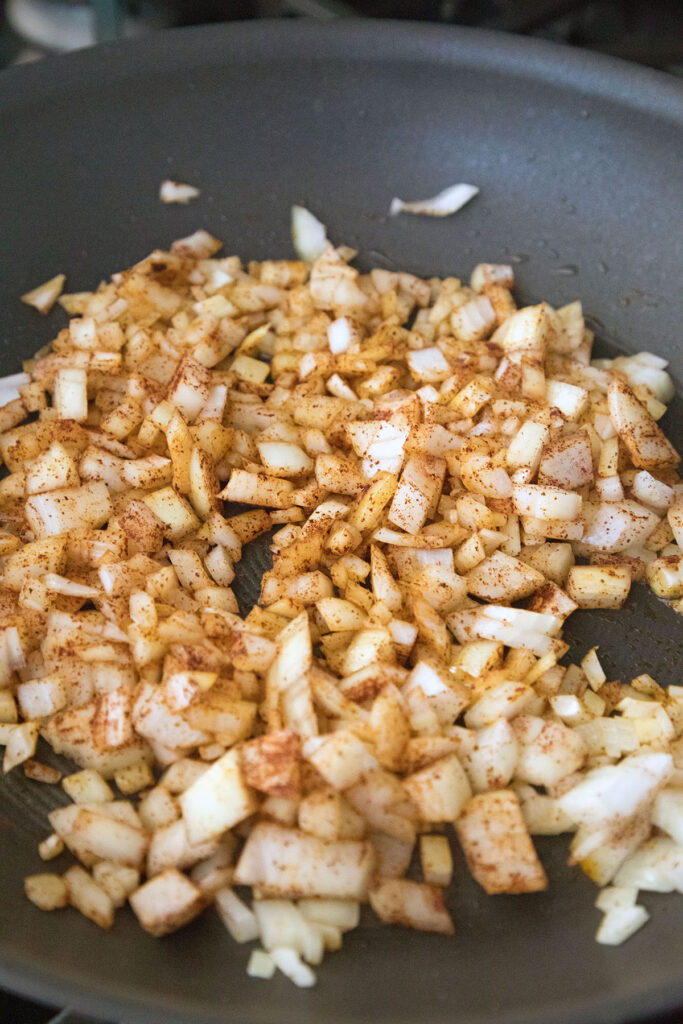 Then add the chicken in, along with the chipotle chilis and sauce and oregano.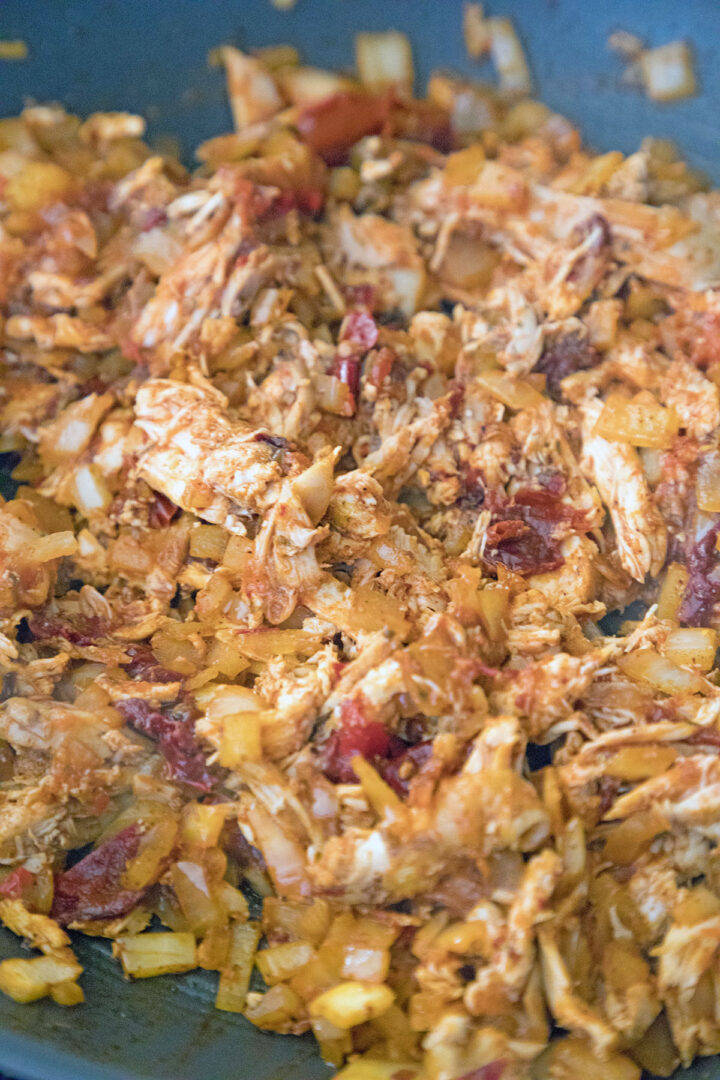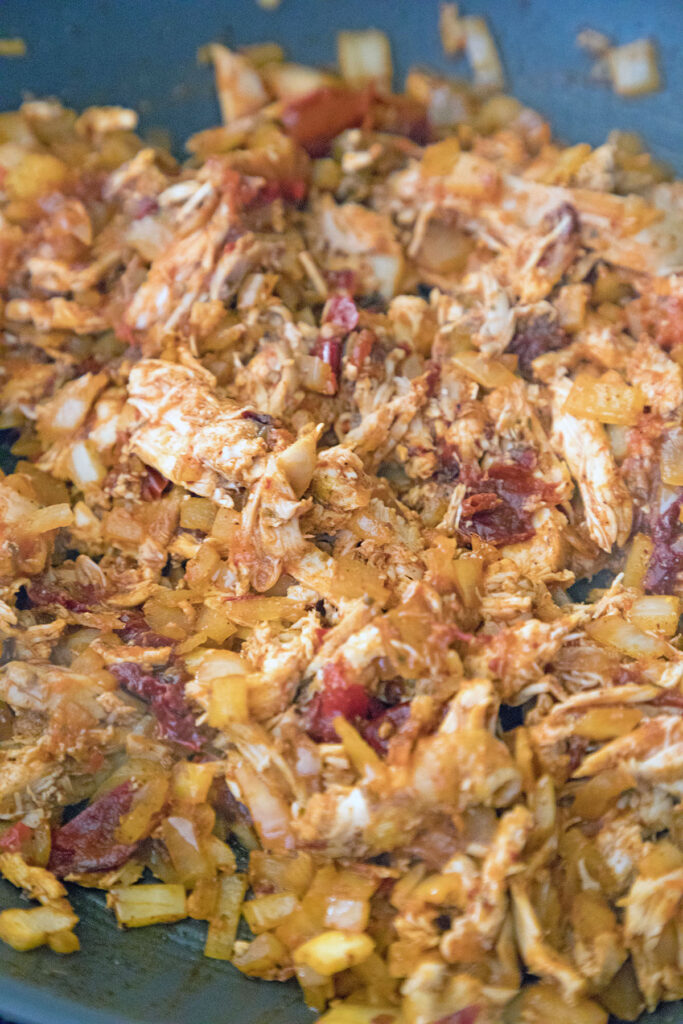 You can pretty easily control the spice level of these chimichangas, depending on how many chipotle peppers and how much sauce you use. I've included my recommended below, but I sometimes amp it up a bit for my husband (I've even made them with a whole can before!). If you don't like too spicy, use a little less.
You can also choose what spice level you want your salsa to be. I use spicy, but use mild if you prefer!
Add that in and then cook on low for about 5 minutes. And stir the rice in to combine. And your filling is complete! That's all it takes.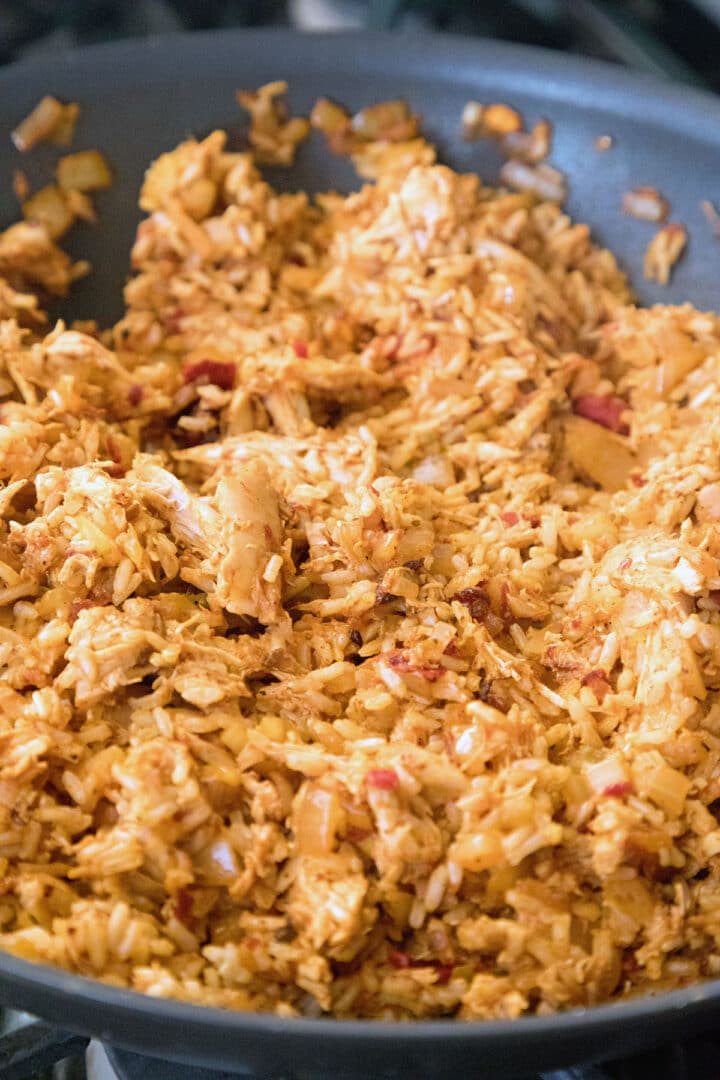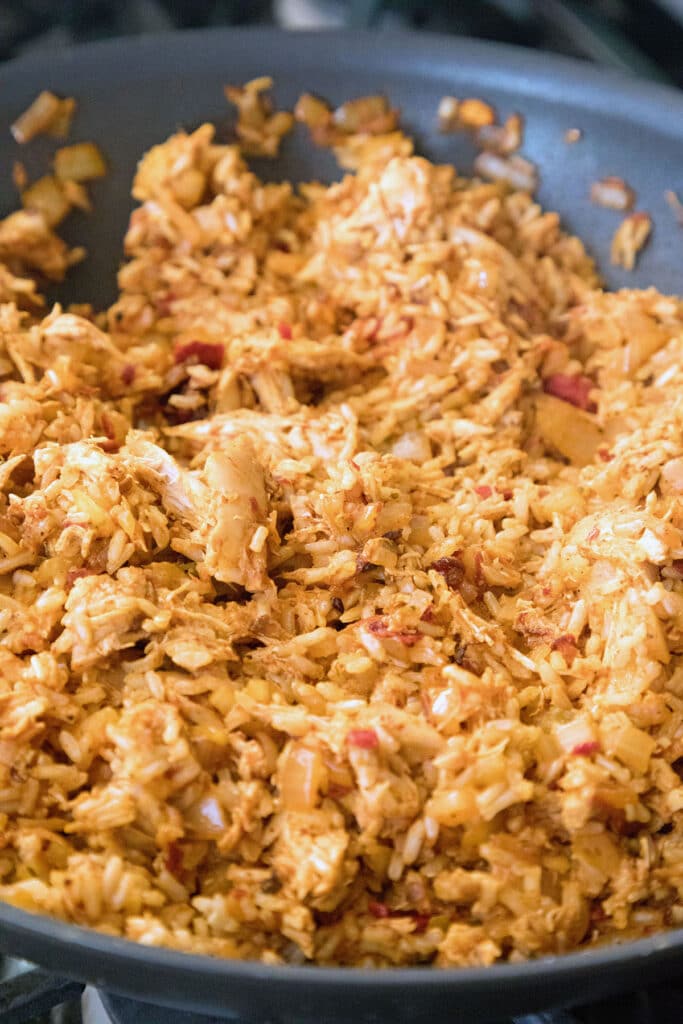 Warm your tortillas a bit in a pan, in the oven, or in the microwave to make them more malleable.
Now, scoop about ¾ cup of the filling onto the center of a tortilla, sprinkle some nice sharp cheese on top and add some sliced olives if you like them.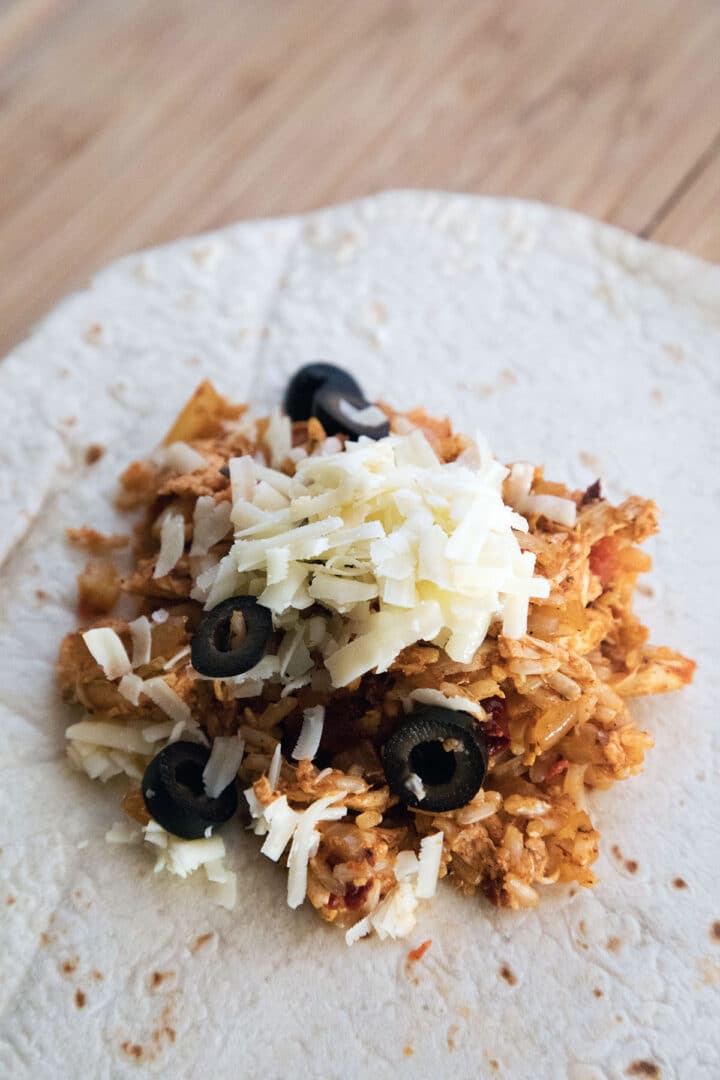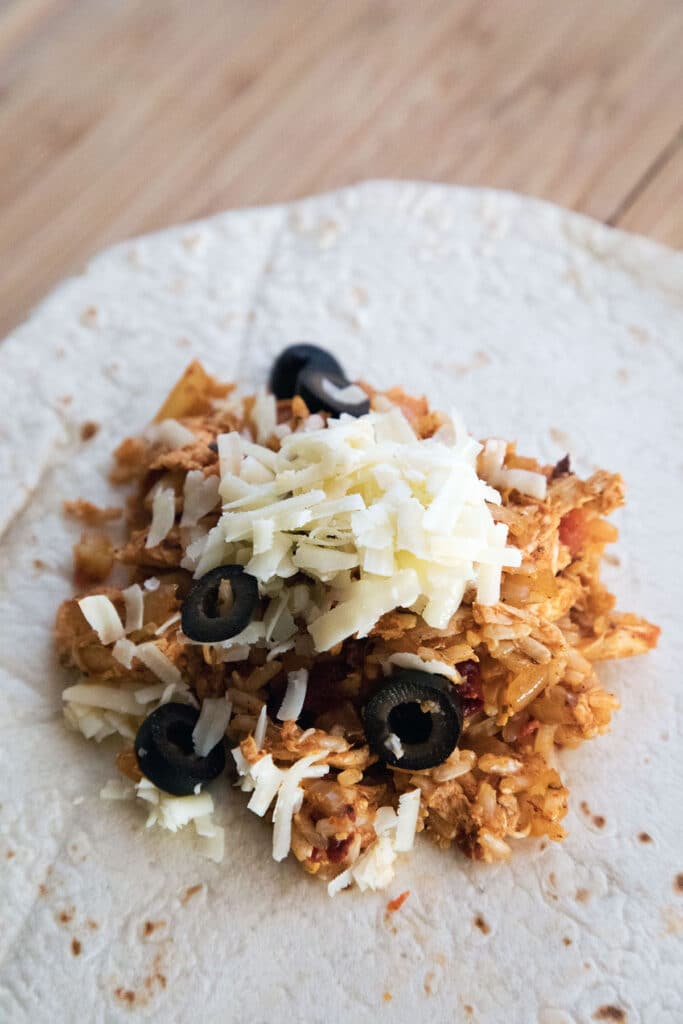 And fold the tortillas up like an envelope! I created a video tutorial for this recipe so you can see exactly how to do this.
Now, place the chimichangas you want to bake (or see below on how to freeze) on a foil-lined baking sheet, brush lightly with olive oil.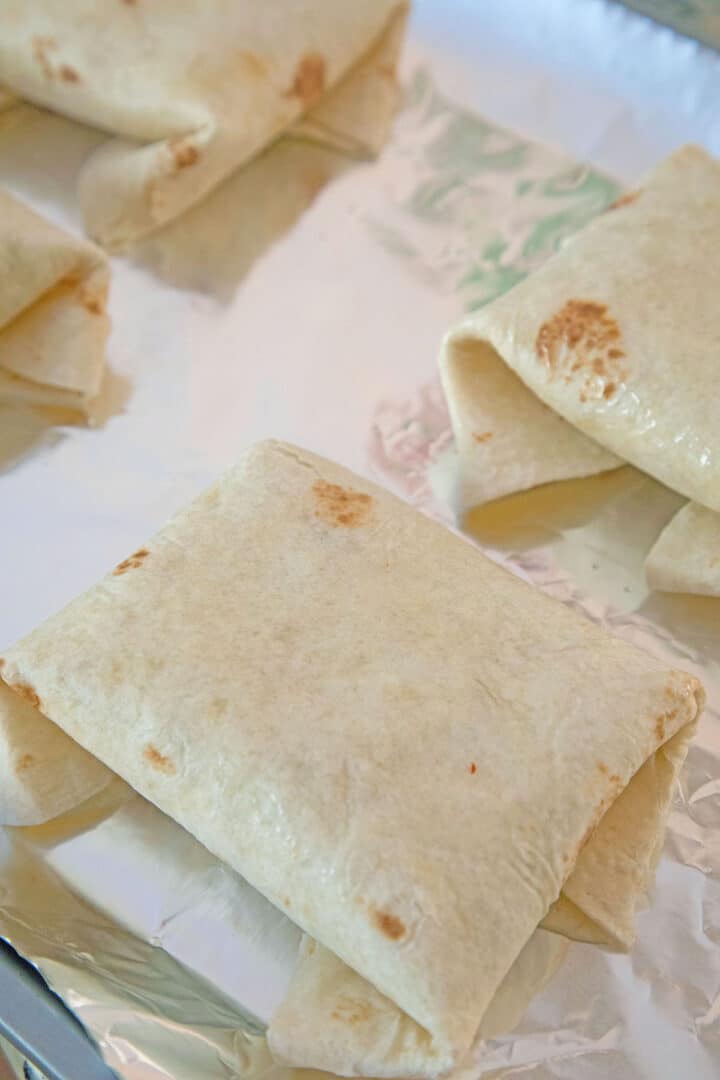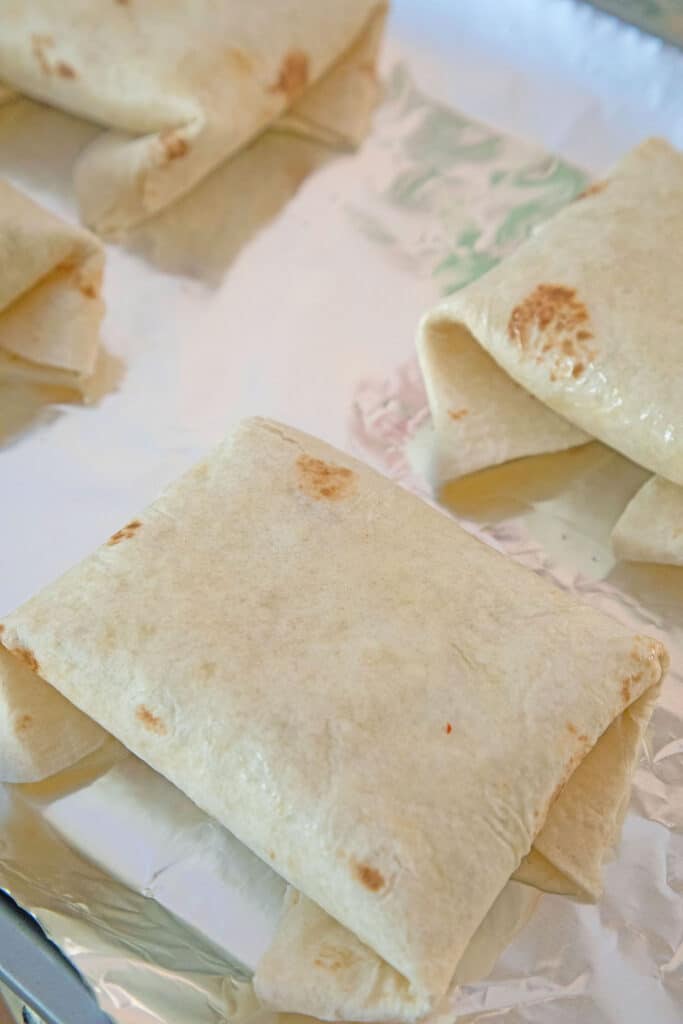 And bake at 400 degree for 16-20 minutes until the chimichangas are turning golden.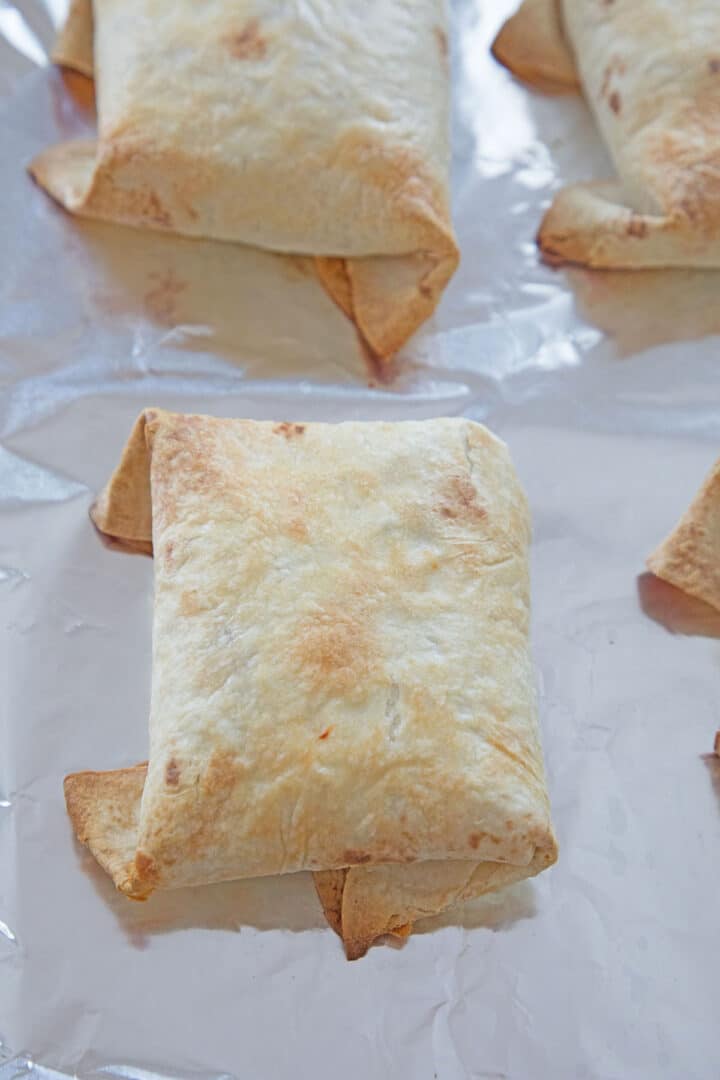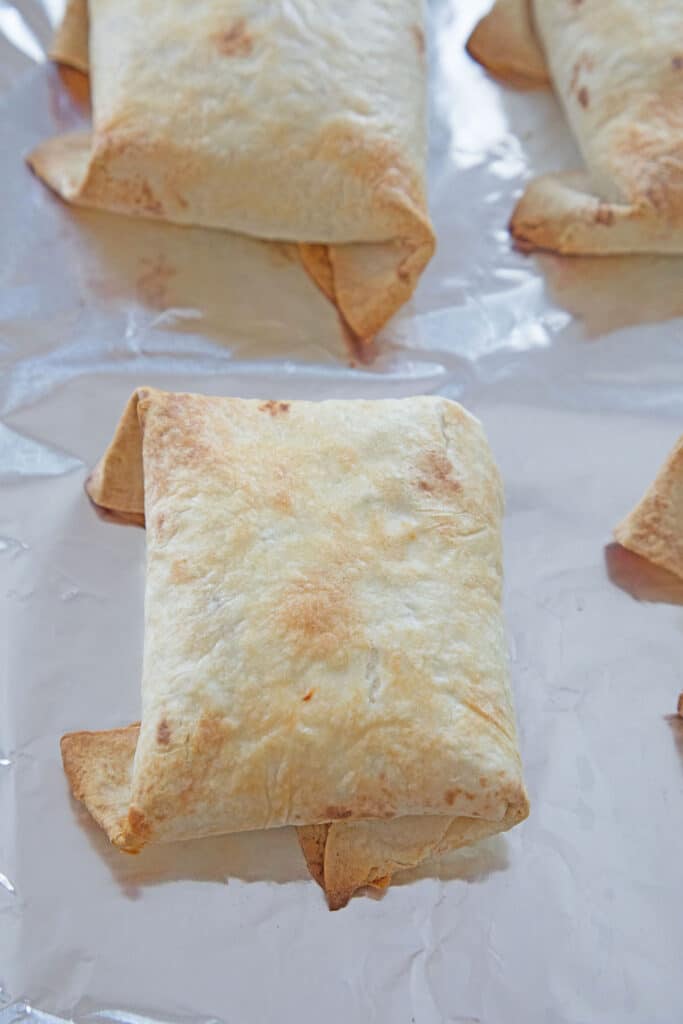 And dig in! Actually, don't. Add your toppings first. I served these baked chicken chimichangas with sliced avocado and added some chopped tomato and a dollop of sour cream. With some more cheese and olives, of course!
I'm always excited by how the tortilla crisp up, but I know the true test is when I cut into the chimichanga. Annnd…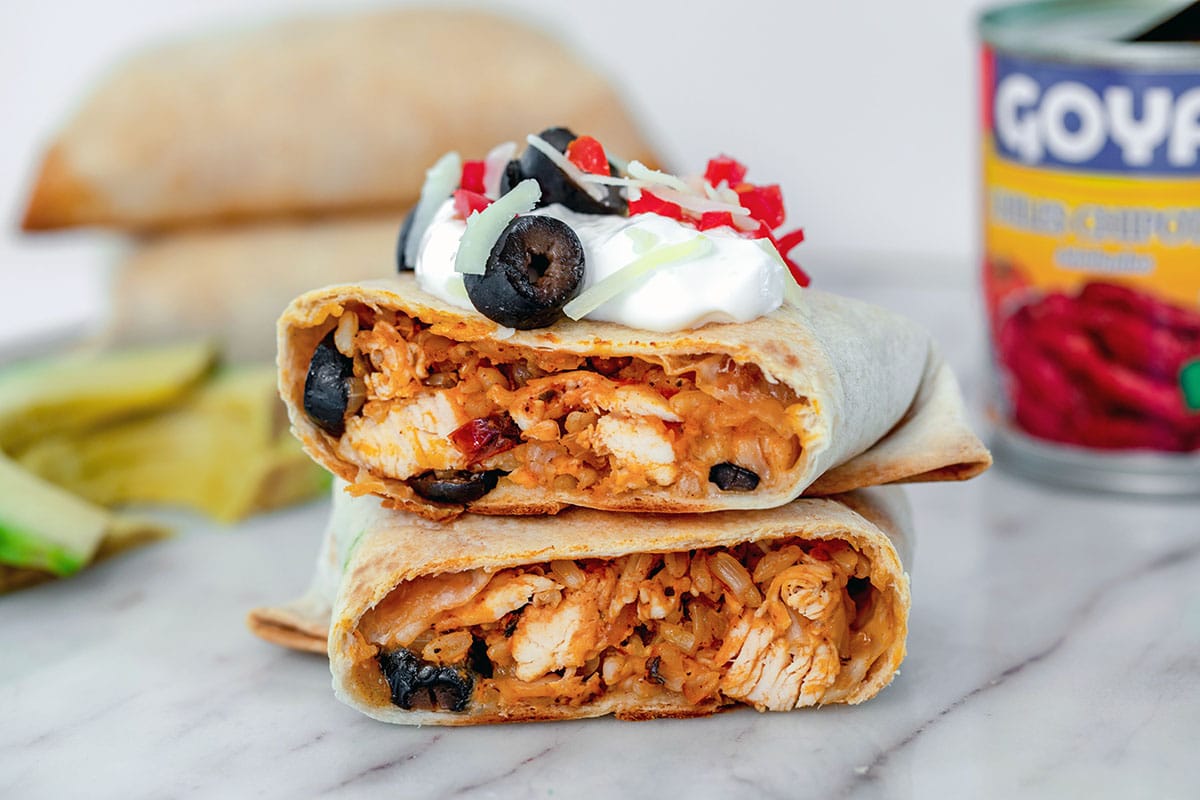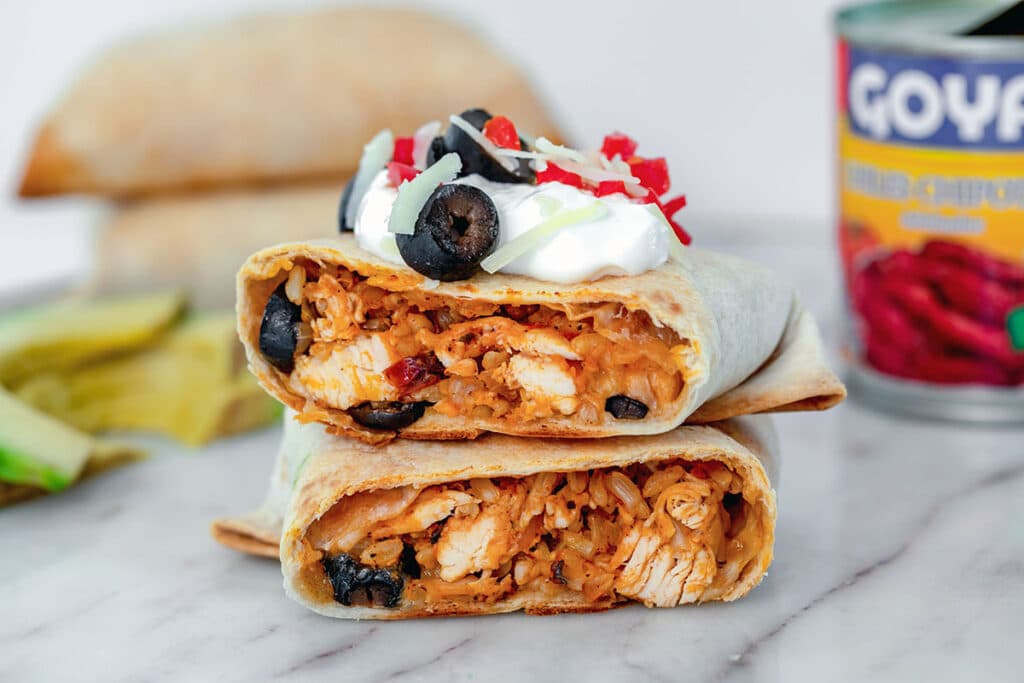 How to Freeze Chimichangas
One of my favorite parts of this recipe? The fact that it freezes SO well! This recipe makes 8 baked chicken chimichangas, but every time I make it, I immediately bake 4 of them and I immediately freeze the remaining 4.
This is also a great meal to make for new parents or someone who is going through a tough time and could use a home-cooked dinner. They can freeze them and just pull one out whenever they want a quick and delicious dinner.
Once you're done assembling the chimichangas, tightly wrap any you want to freeze in plastic wrap, put in a freezer Ziplock bag (make sure all the air is sucked out) and store in the freezer until you're ready to eat.
When you're ready to enjoy, simply unwrap, brush with olive oil, and bake at 400 degrees for for 24-28 minutes. Chris generally prefers to just pop them in the microwave for a couple minutes and that totally works, too!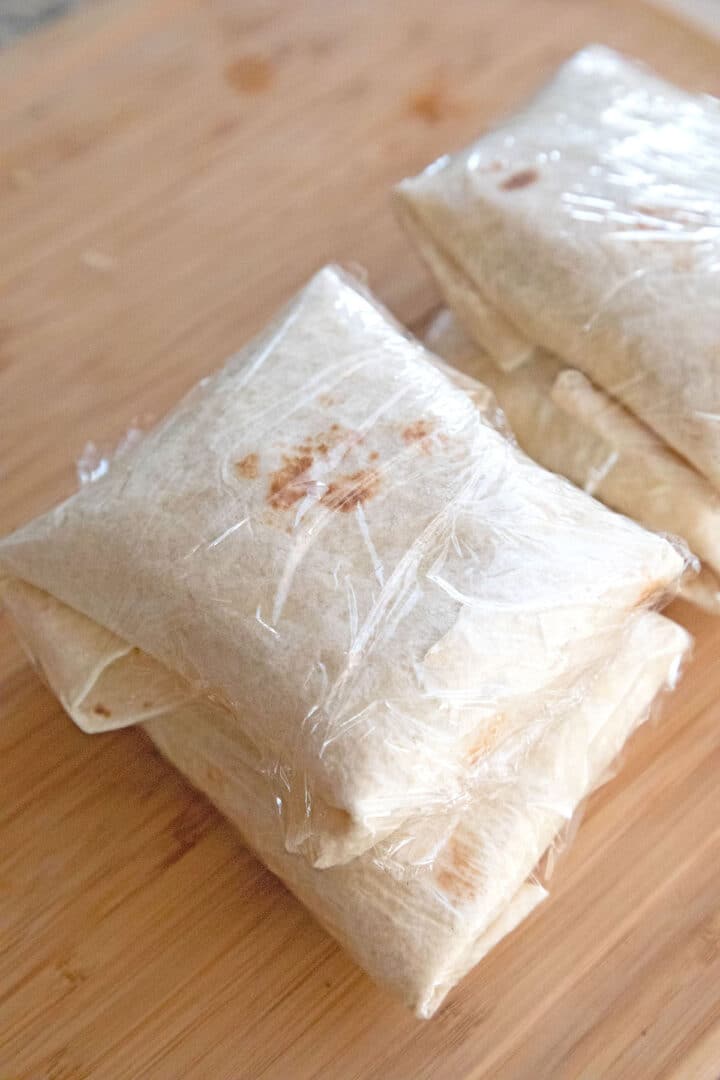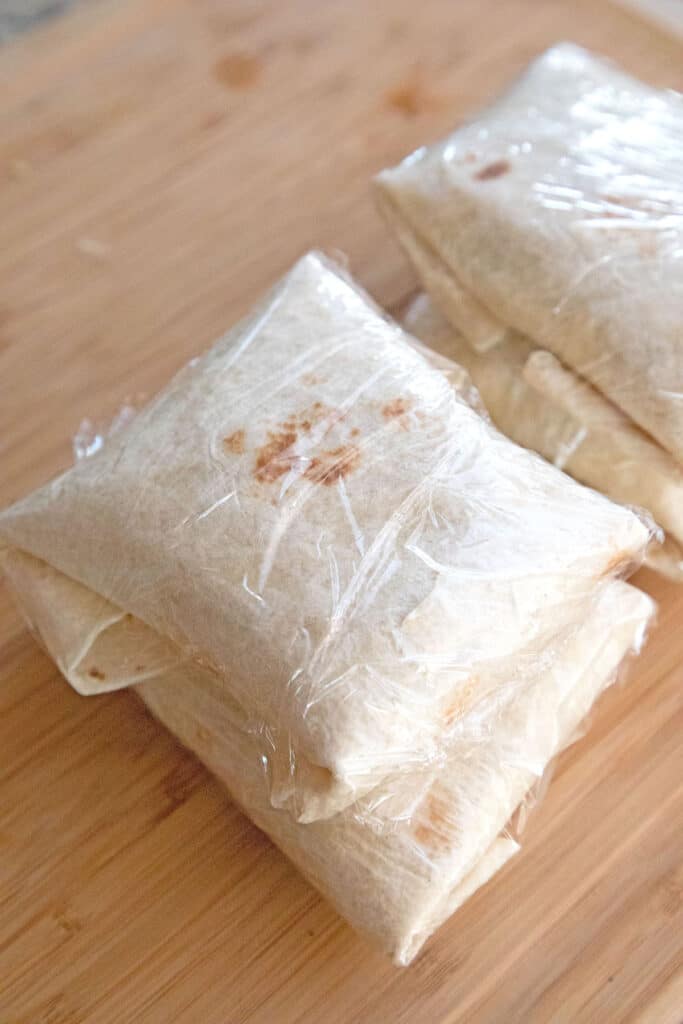 This filling is amazingly delicious. And as I'm sure you can see by now, so ridiculously easy to make.
I'll probably never fry a chimichanga again. Seriously!! This baked version is just too good to justify getting out the oil, making a mess, and having the extra calories. If I want more calories, I'll just add more cheese and sour cream!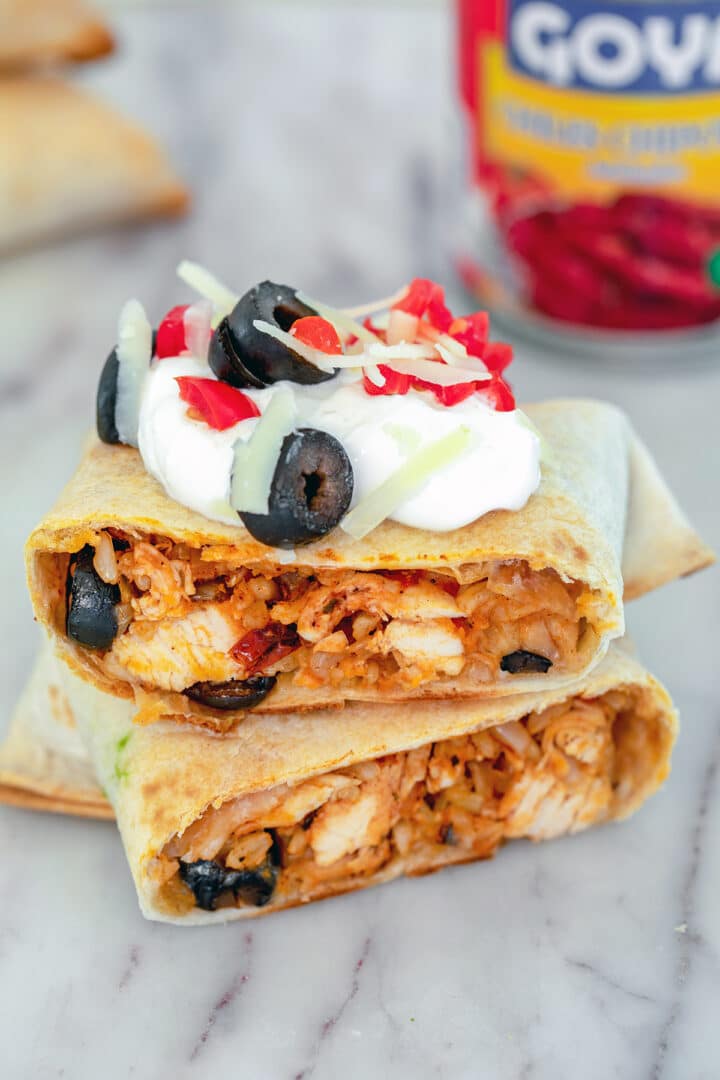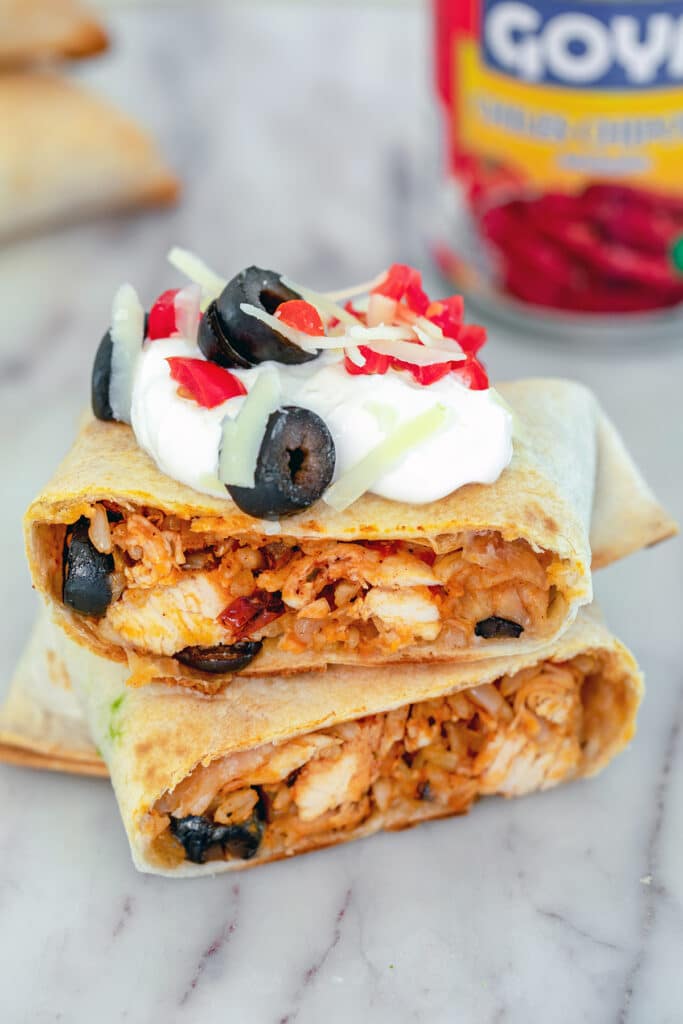 Not only is this dinner a super easy weeknight meal idea, but when you have your freezer stocked with them already prepped, it's even easier. And much healthier and less expensive than ordering a pizza like we so often do when we don't feel like cooking.
If you're making them for the family, you may want to make the mixture a little less spicy for kids... Unless your kids can handle the heat! I think I've always loved a little kick to my food.
More Easy Tex-Mex and Mexican Recipes
If you love Mexican-style and Southwestern food as much as I do, you'll definitely want to check out some of my other
Traditional Fried Chimichangas (from MasterClass)
Chicken Nachos (RecipeTin Eats)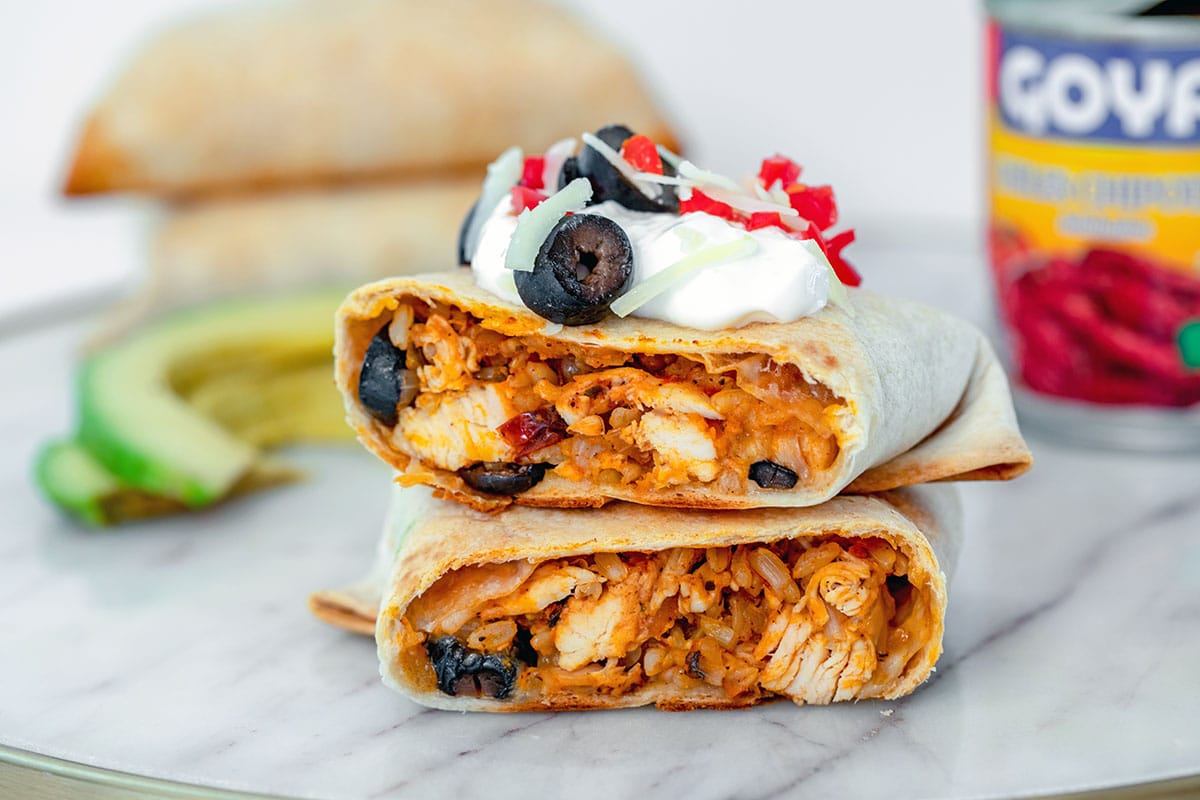 If you or anyone you know loves chimichangas, I highly recommend trying these baked chicken chimichangas. You'll see how easy it is to have Mexican food at home that's healthier and dare I say it, more delicious!
Oh, in case you're wondering the difference between a chimichanga and an enchilada (I was), besides the chimichanga usually being fried... The main difference is that chimichangas are made with flour tortillas while enchiladas are made with corn tortillas.
Enchiladas are also traditionally topped with sauce, while chimichangas are not. I love making enchiladas, too, but nothing beats these baked chicken chimichangas!
What are you eating for dinner this week?
📖 Recipe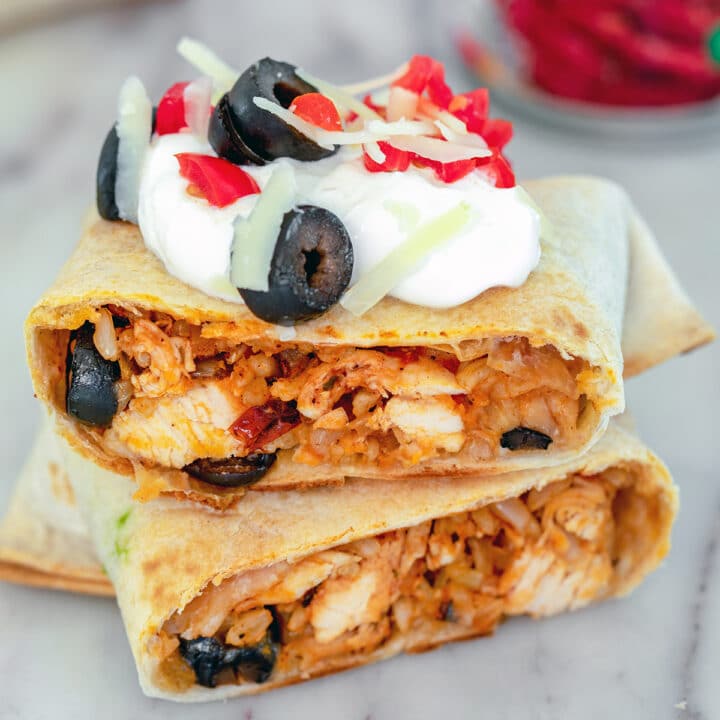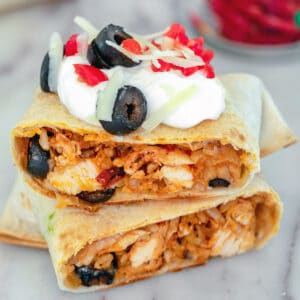 Baked Chicken Chimichangas
Looking for a quick weeknight meal that's delicious and healthy? These Baked Chicken Chimichangas are easy to make and healthier than the typically fried Tex-Mex dish. Plus, they make a great freezer meal!
Print
Pin
Rate
Ingredients
1

Tbsp

olive oil,

plus more for brushing

1

cup

chopped onion

1

tsp

chili powder

½

tsp

salt

2

cloves

garlic,

minced

3 ½

cups

shredded cooked chicken

(rotisserie chicken works well)

4

chipotle chiles in adobo sauce,

chopped

3

Tbsp

additional adobo chili sauce

½

tsp

dried oregano

½

cup

salsa

(however spicy you like it)

2

cups

cooked brown rice

8

large flour tortillas,

warmed

1 ½

cup

shredded cheddar,

plus more for topping

⅓

cup

sliced olives,

plus more for topping (can omit if desired)

Avocado, tomatoes, etc.,

for topping
Instructions
Preheat oven to 400 degrees and line a baking pan with foil.

Add olive oil to a large skillet over medium heat. Add onion, chili powder, and salt and cook for 3 minutes. Add garlic and cook for another 2 minutes, until onions are browning.

Add chicken, chipotle chiles, adobo sauce, and oregano to skillet and stir to combine. Mix in salsa and cook for about 5 minutes.

Stir in rice and cook until rice is heated through.

Place a flour tortilla on a plate or work surface. Scoop about ¾ cup of the chicken filling into the center, sprinkle with cheddar cheese and add sliced olives (if desired). Fold the bottom edge of the tortilla tightly over the filling. Fold in the sides and then fold the top down to completely cover filling. Place on foil-covered baking sheet and repeat with remaining tortillas and ingredients. See recipe notes if you want to freeze some or all of the chimichangas.

Lightly brush tops of chimichangas with olive oil. Bake for 16-20 minutes until chimichangas are turning golden.

Serve with toppings like avocado, sour cream, tomatoes, additional cheese, and olives.
Notes
To freeze chimichangas, after assembling them, wrap individual chimichangas tightly in plastic wrap and store in a ziplock bag with all air removed. When ready to bake, remove from plastic wrap, brush with olive oil, and bake at 400 degrees for 24-28  minutes, until cooked through and golden. You can also microwave the chimichangas if you prefer.
Share a Photo of Your Finished Recipe!
Mention @wearenotmartha and share a photo if you've made the recipe!
View Web Story for this recipe.