As promised, the doughnut experimentation has begun in my kitchen! As I was walking out of Crate and Barrel a while ago, I saw the book Doughnuts: Simple and Delicious Recipes to Make at Home . The images on the cover tickled my fancy and I started flipping through the pages. Then I started drooling. Then I found myself taking my wallet out of my purse in a zombie-like state and purchasing said publication. Because who wouldn't want to make their own doughnuts in the privacy of their own home? Side note: As I just typed "doughnuts" I accidently typed "doughbuts"… no joke! Which is most likely what will happen to me if I make every recipe in the book 😉 Woops!
So, as I was skimming the book, I noticed so many of the recipes really were simple-sounding and I figured since I've never really made my own doughnuts before, this was probably the best book to start with. For my first recipe out of the book, I decided I should stick with something basic so I can feel confident experimenting as the days go on. Knowing how a baked homemade doughnut should taste is great grounds for building more unique types. Since I purchased a doughnut pan with the cook book, I decided to start with the basic Baked Cake recipe. It's done in about 30-minutes… so quick for such a tasty treat!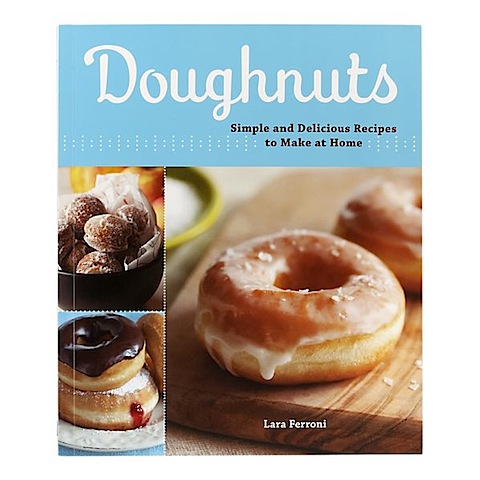 Here's what you need (for 6 doughnuts):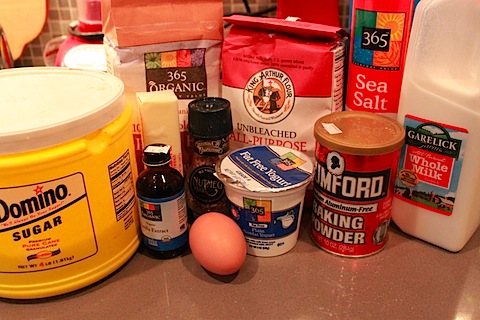 • 3/4 cup plus 1 tablespoon of all-purpose flour
• 1/4 cup whole wheat pastry flour (bought at Whole Foods)
• 1 teaspoon baking powder
• 1/3 cup superfine sugar
• 1/2 teaspoon freshly grated nutmeg
• 1/2 teaspoon salt
• 2 tablespoons unsalted butter
• 1/4 cup whole milk
• 1/4 cup plain yogurt
• 1 teaspoon vanilla extract
• 1 egg
Here's what you do:
• Preheat oven to 350 degrees and lightly grease a doughnut pan.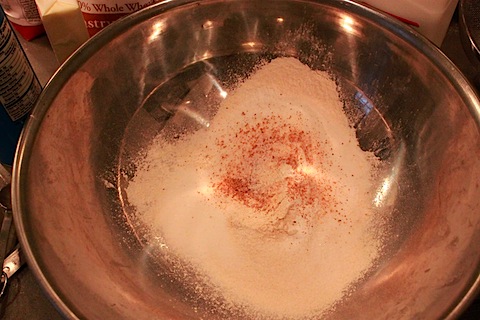 • Sift the flours and baking powder together in a bowl.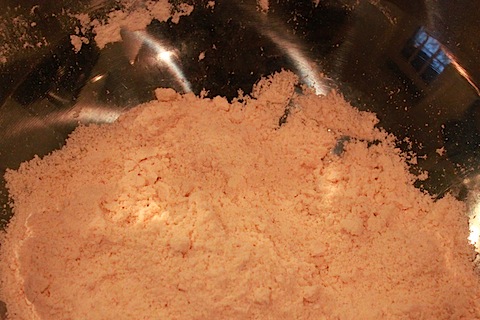 • Whisk in sugar, nutmeg, and salt. Now, using your fingers, incorporate the butter.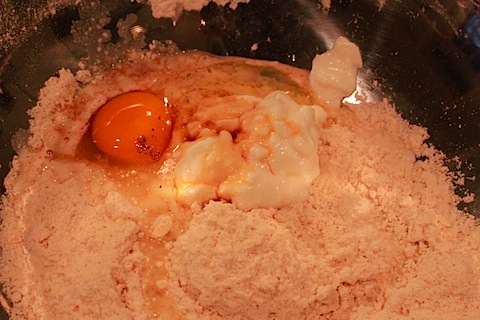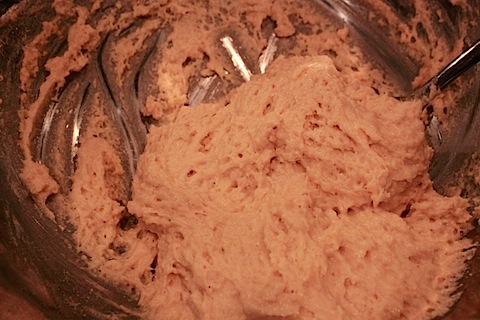 • Add the milk, yogurt, vanilla, and egg. Stir until everything is just combined, making sure not to over-mix.
Now it's time to fill the donut pan!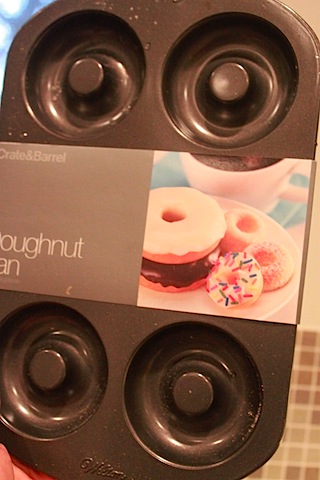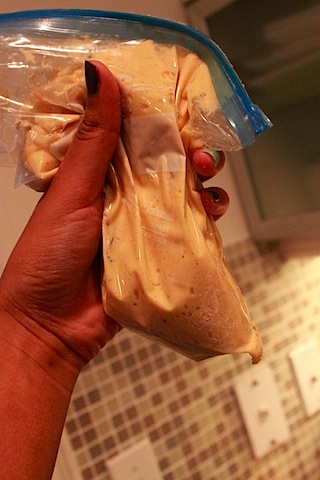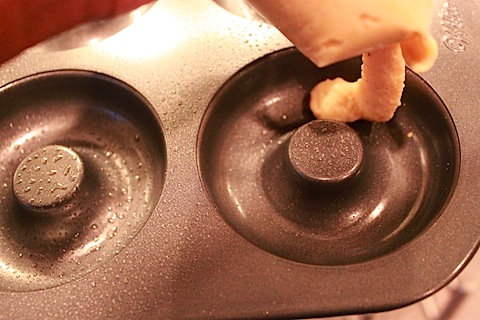 • Using a piping bag, or in my case, a make-shift piping bag by snipping the corner of a zip-lock bag, fill each section of the doughnut pan, being careful to leave the center posts cleared. We want perfect little doughnuts, here 😉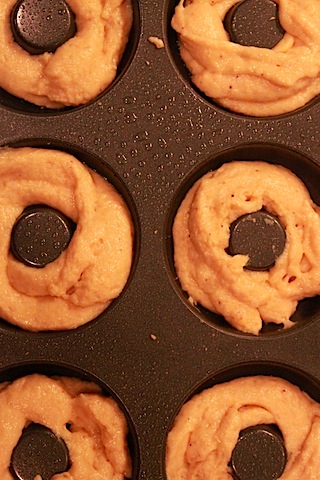 • Bake until doughnuts are lightly golden or springy to the touch, about 8-10 minutes. I was waiting for the doughnuts to get a bit more golden but when I tested them, they were already quite springy so I took them out since I didn't want to over-bake them.
• While the doughnuts are baking, you can quickly make your glazes. I chose to do a basic sugar glaze and a maple glaze.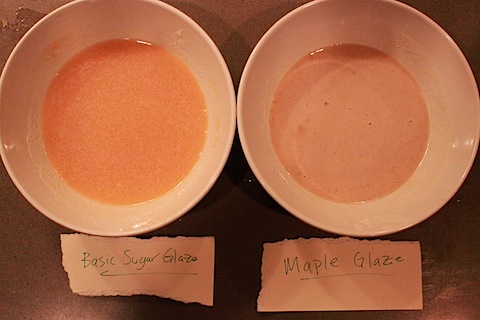 For the Basic Sugar Glaze, here's what you need (feel free to cut in half, or even quarter it, if you're only making 6 doughnuts):
• 1 1/2 cups confectioners' sugar
• 3 to 4 tablespoons milk (or water)
• 2 teaspoons vanilla extract
For the Maple Glaze:
• 1 1/2 cups confectioners' sugar
• 2 tablespoons maple syrup
• 2 tablespoons milk (or water
I'm out of control and used regular sugar instead of confectioners' because I wasn't paying attention and was rushing around. But really, I was just excited to be baking doughnuts and I spaced out. Despite the big goof, the glazes still tasted really good. Now you know where we get the name of our blog from… clearly not a Martha move 😉
For both glazes, place the sugar in a bowl and slowly add in the other ingredients until everything is incorporated nicely and the glazes look pourable.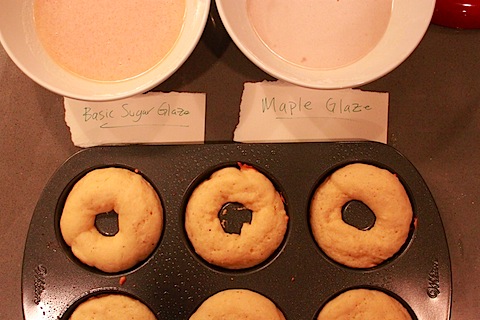 Once the glazes are done and the baking of the doughnuts is complete, let the doughnuts cool a bit while still in the pan. Once cooled, you can begin dipping each one into the glazes.
OOOOOOH and AHHHHH over these beauties for as long as you'd like. My guess is that won't be too long because you'll want to just dive right on in. I did. One maple glazed and one sugar glazed were devoured in a matter of moments. The thing I liked best about the baked doughnuts it's they're "healthier" (hehe) and the consistency of them is sort of cakey… unlike a fried doughnut.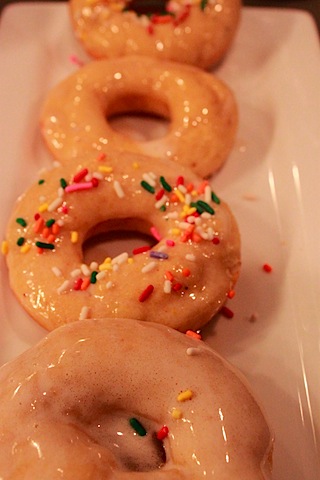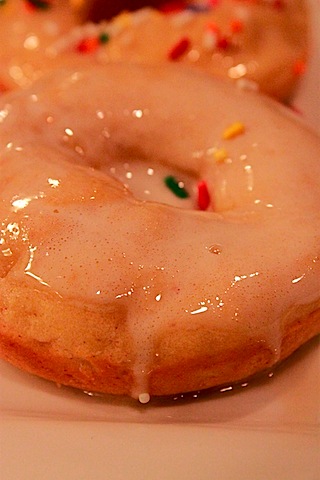 As I was dipping the doughnuts in the glazes all I could think about is the sudden desire to host a doughnut-making party. How much fun would that be? Everyone could make their own glazes and combinations. Who wants to come over?!?! 😉
————————-
And now for a GIVEAWAY. I really liked Doughnuts: Simple and Delicious Recipes to Make at Home and I really want one of you to add it to your cookbook collection, too. All you have to do is answer this simple question by Saturday, February, 26th by 11:59pm EST.
What's your favorite doughnut? Mine? Easily strawberry frosted with jimmies (or sprinkles, depending on where you life!)! It's the only thing I get at Dunkin' Donuts 😉
[Chels]