Almost everyone knows mozzarella sticks are one the the most delicious appetizers ever. The other night, we really wanted to use the Napa Valley marinara sauce sent to us b
y Mezzetta.
We like to make our own tomato sauce if we're making an actual pasta dish, but the jars of sauce looked so good, we needed to make something to try them out with. Chels casually mentioned mozzarella sticks would be fun, and the more we thought about it, the better that sounded, so we decided to make up our own recipe for them. While the normal, deep-fried mozzarella sticks are delicious, we decided to come up with a healthier version by baking them. And honestly, they were just as good!
What you need for Baked Mozzarella Sticks:
Mozzarella Cheese, 12 oz.

2 eggs

1 Cup Plain bre

adcrumbs with additional seasoning of your choice (we used a rosemary and garlic seasoning and it was perfect) or Italian flavored breadcrumbs

Parmesan cheese, 1/4 Cup grated

Marinara sauce for dipping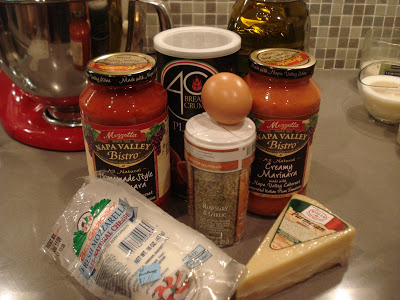 We used Mezzetta marinara, of course! Their homemade-style marinara and their creamy marinara.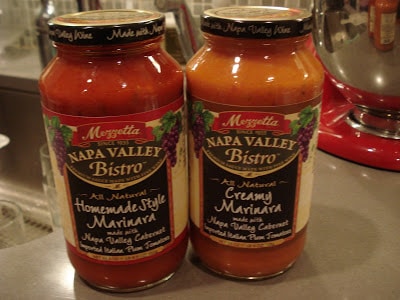 First, we cut up the mozzarella cheese. You can cut it however you like, in the shape and size you want. We thought it would be fun to make "mozzarella balls," but since the grocery store didn't have them, we just bought a block of mozzarella cheese and cut it into small "sticks." If you have time, it's a great idea to pop the sliced cheese into your freezer for a while. This will make it melt a lot less when you go to bake it.
Put your bread crumbs and seasoning in a pan and place over medium heat. Cook while stirring for about 5 minutes, until they're toasted. Once you're done toasting the breadcrumbs, stir in the grated parmesan cheese. Is there anything better than coating cheese with cheese? We're pretty sure there's not.
Crack the eggs in a small bowl and whisk until blended. Now, dip your cheese strips (or whatever shape you have!) into the egg, so it's coated. Then place the cheese stick into the breadcrumb mixture and completely cover it in breading.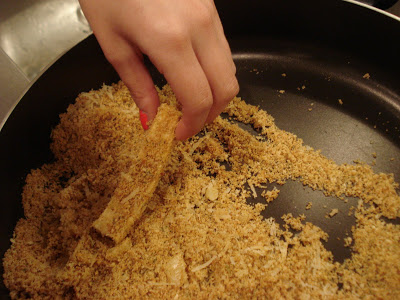 We lined the mozzarella sticks on a baking sheet (which we lightly brushed with extra virgin olive oil… we came to the conclusion that you probably don't

need

to do this step, but we figured better safe than sorry.) Now you're ready to pop the mozzarella sticks in the oven. This is where the freezing ahead of time comes in handy. We baked ours for about 7 minutes at 350 degrees. But you need to keep your eye on these very, very closely, as you want them to bake, but don't want them to completely melt into a cheesy mass. If they look like they're totally melting, remove from oven, let cool a bit, and then put them back in. Freezing the mozzarella ahead of time helps harden the cheese up a bit, making it less likely to melt.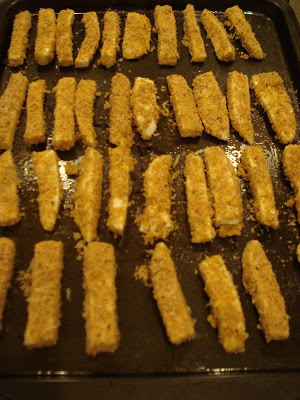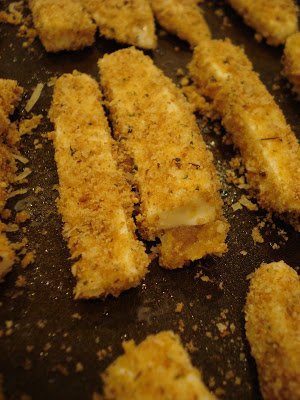 It's good to let the mozzarella sticks cool after they're done baking, so they're not so soft and pliable. Then right before you're ready to serve them, you can put them back in the oven on very low heat to warm them.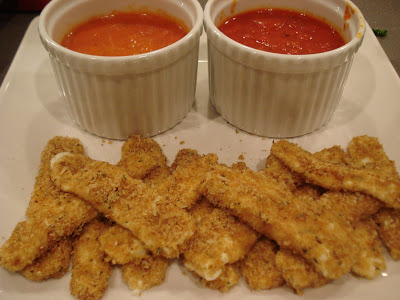 Serve with your choice of dipping sauces. We were extremely impressed with Mezzetta's Napa Valley sauces, which are incredibly full-flavored and fresh tasting.
And we were thrilled by how our mozzarella sticks came out! These would be the perfect party food, since they're easy to pick up and are still delicious when room-temperature. Although frying cheese is, of course, delicious, we really recommend the baked version. Because, we really think they were just as good, if not better since they're a bit lighter. We will definitely be making these again!