So, yesterday Chels posted about the Herb-Savor (which you can win if you enter here!) and today I'm talking about a lot of basil. I've had the worst luck with buying basil lately and having it go bad the very next day. It's definitely one of the most frustrating things, especially when you have a recipe planned that you're really excited about. I was lucky that most of this basil stayed good for about 1.5 days. I was nervous because some of the basil at my grocery store already had mold on it on the shelf! How gross is that? I'm definitely planning on getting a basil plant this summer- my sister had one last year that did amazingly well!
I wanted to bring a light and springy dessert home to my parents' house for Easter and thought Basil Lime Sorbet sounded absolutely perfect. I also made some lemon cookies to accompany the sorbet, which I'll be posting about next week 🙂 If you have an ice cream maker, this sorbet is pretty much the easiest thing you could ever make. I made it on Friday night in between watching Dateline. As I've said a million times before, cooking and watching Dateline is basically my ideal Friday night. Oh, with a fun cocktail, too 🙂
Basil Lime Sorbet (makes 1 pint):
Adapted from The Herb Companion
Print this recipe!
• 2 C packed basil leaves
• 3 1/4 C water
• 1 C sugar
• 3/4 C fresh lime juice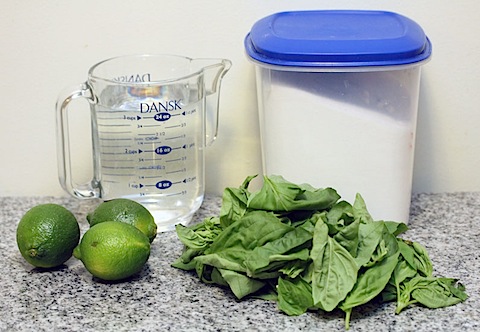 Start by blanching your basil. Boil a pot of water and put the basil in it for 10 seconds. Then remove, drain, and put in a bowl of ice cold water.
Whatever you do, don't let those basil leaves spend more than 10 seconds in the boiling water! Hence why I don't even have a photo of them boiling 🙂 You don't absolutely have to blanch your basil, but it allegedly helps give the sorbet a nicer, more vibrant color.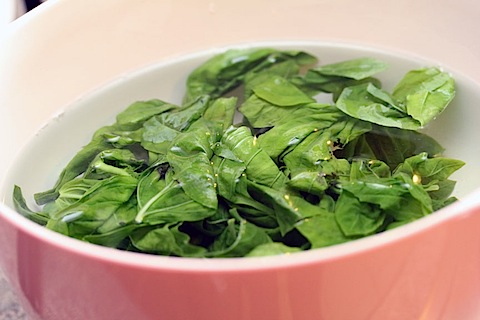 Now, put the basil leaves in a blender along with the water, sugar, and lime juice.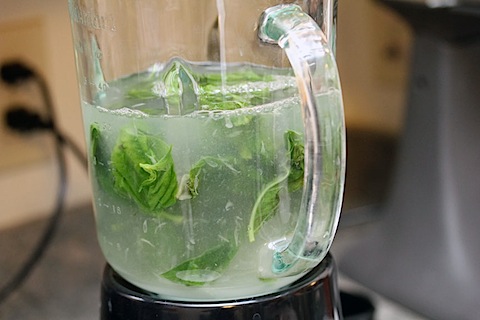 Puree the mixture on high speed for about 1 minute until you have a very smooth and bright green liquid. Looks kinda like a green monster! And smells amazing.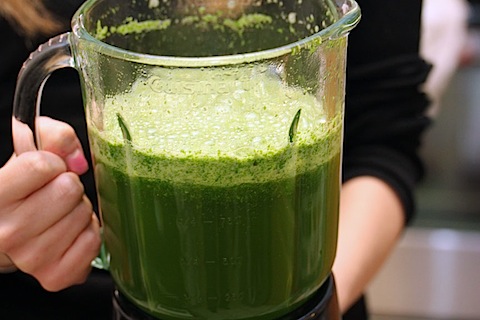 The following photo is an example of "hi, I need a major haircut and root touch up disgustingly badly." Eeek. The good news is I'm headed back to my favorite Boston salon, Rock Paper Scissors, on Newbury Street this afternoon. If you're in the market for an amazing salon, this is the one! I blogged about it last May, but I love it even more now. Perhaps I'll share another photo of my hair transformation after I see Sami tomorrow!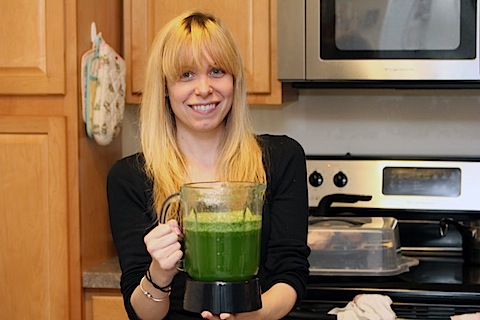 Pour through a fine mesh strainer, so you can catch all the non-pureed particles.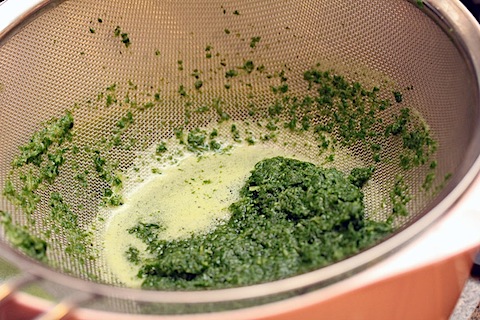 And you're left with a fabulous, Ecto Cooler like liquid (also, isn't it weird that I'm typing this IN the blogging software Ecto and it's spell-checking its own name?).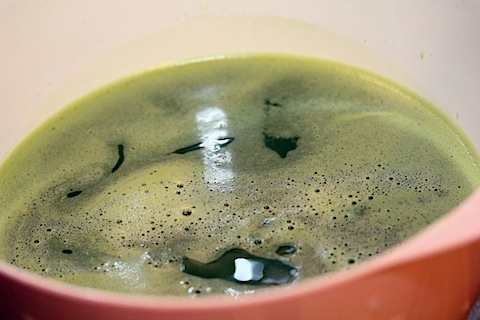 Now freeze in your ice cream maker following manufacturer's directions. In my KitchenAid ice cream maker, that basically means just process it in the already frozen bowl for a while. Mine took about 40 minutes to really freeze up and look like sorbet.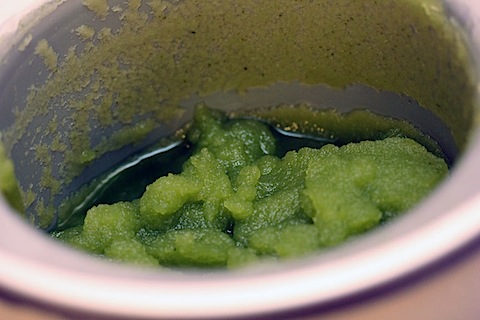 Then stick it in the freezer for at least 3 more hours or overnight. When I woke up on Saturday morning, it really looked like sorbet! Um, a kind of ugly color sorbet, but still sorbet.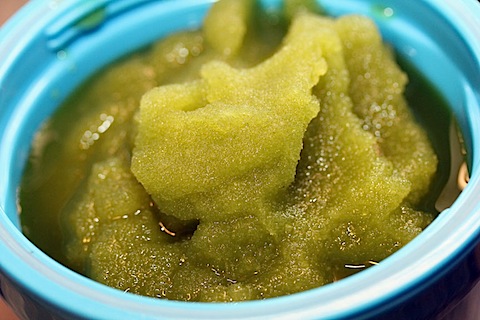 In the meantime, I also made some jellybean cupcakes. In the spirit of Easter, I couldn't resist!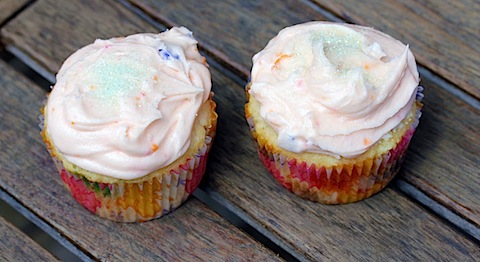 Chris has a legit jellybean addiction, so I thought it would be fun to try working them into a cupcake. I actually used my white wine cupcake recipe and just included chopped up jellybeans. I also put lots of ground jelly beans in the frosting. And am pretty sure I broke my Cuisinart Mini Chop in the process. It was for the sake of the jelly beans!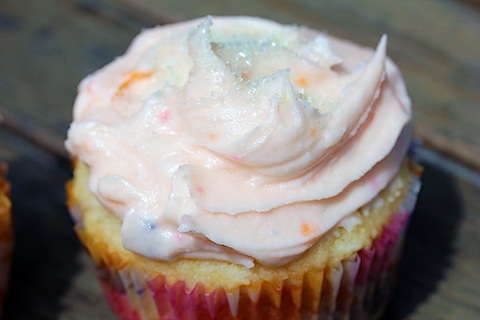 Chris appreciated them 🙂 But I think he appreciated the fact that the Celtics swept the Knicks even more. Boy moves here from Virginia less than 3 years ago and suddenly he's the biggest Boston sports fan I know!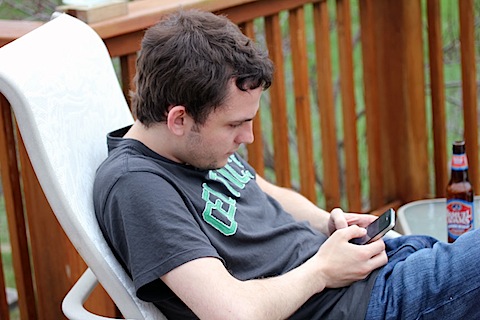 Anyway, back to the basil sorbet. It was unique, refreshing, and super flavorful.
I think my family was a bit apprehensive about a sorbet smelling so strongly of basil at first, but then they all enjoyed it immensely! Mine was definitely a lot more basil than lime, so I added a bit of lime juice to the ingredients above to balance it out for you.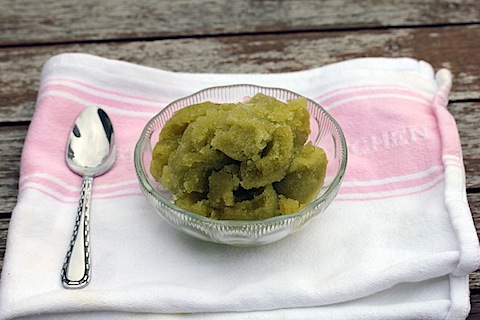 Everyone said this would be an excellent palate cleanser for a big meal and I have to agree. But the color… I know. The color was less than stellar.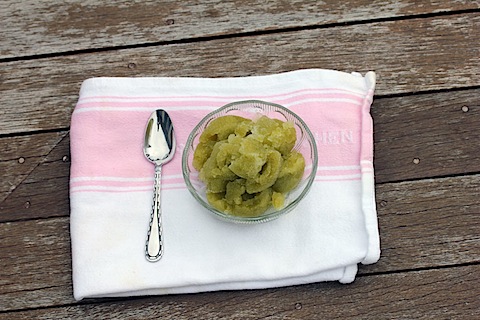 Also, as my mom pointed out, nobody would eat a bowl of sorbet this big. But I don't think that's true. Because I would. Wouldn't you?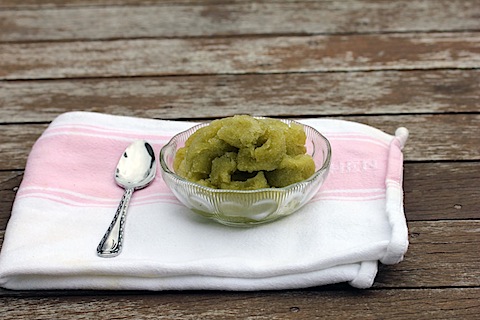 So, if you unfortunately do not win the Herb-Savor, you should just take all that basil that's about to go bad and make this. Next, I think I want to try a sorbet with thyme or rosemary. Stay tuned for my Cocktail Friday drink this Friday that involves thyme. It's a simple one, but a good one for the summer!
What's your favorite sorbet flavor? Any unique flavor combinations?
[Sues]