I'm a huge sucker for a great burger and some onion rings. So when I saw the July edition of Martha Stewart Living I drooled when I saw the glossy (beautifully layed out!) spread titled Burgers Above… & Beyond I had to whip something up! Each burger in the article was featured with a perfectly paired side dish. I was mostly interested in the onion rings and decided to do my own spin on the basic burger. With a few simple ingredients and some spare time, this dinner really turned out to be worth it!
Beer-Battered Onion Rings
• Combine 1 cup all-purpose flour, 1 teaspoon coarse salt, and a pinch of cayenne pepper in a medium bowl, then whisk in 3/4 cup buttermilk, 3/4 cup beer, 1 large egg, and 1 teaspoon grated lemon zest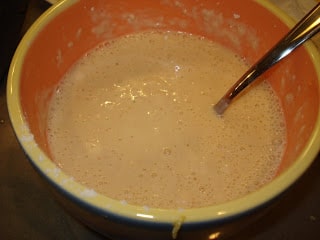 • Heat oil in a heavy sauce pan over medium-high heat. The recipe says to use about 4 cups of vegetable oil… I used about 2-2.5 cups and I was fine.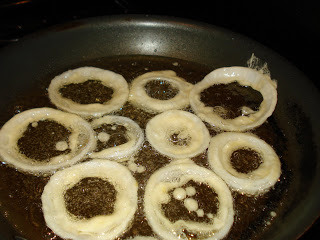 • Dip several slices of onions in batter and generously coat.
• Gently place coated onions into the oil and cook, turning once for about 2-3 minutes, until golden brown. Remove onions from oil and place on a paper towel.
For this I just did my own thing, but took bits and pieces from the Beef Burger recipe featured in Living this month. I just seasoned the beef with salt and pepper and grilled like I normally would. I did, however, decide to use whole wheat mustard like the recipe called for. I bought Maille old style whole grain dijon mustard, which was really good, and I'm not normally even a huge fan of mustard!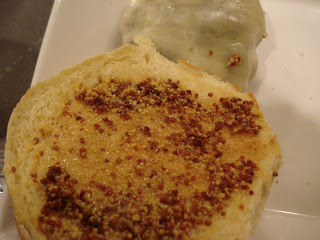 I toasted the burger bun until lightly browned, then I topped it with some sharp cheddar cheese, grilled onions, bacon, Boston lettuce, tomato, and a little ketchup.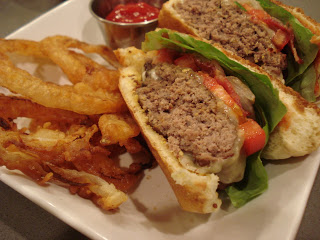 -I'm almost positive if you click on these images, you'll be able to taste it! 😉
I think if you can get the timing right, the onion rings would be great for a party too… serve them when they're nice and crispy. The recipe suggests heating the oven to 200 degrees and placing the onion rings on a baking sheet to keep them warm, which I clearly didn't need to do since I was eating them right away 🙂
[Chels]