One of our very favorite things about summer is sitting outside with our friends, enjoying the sun and, of course, some good food. And sometimes some refreshing summer drinks. A couple weeks ago, Sara invited us over for a BBQ in her fabulous courtyard and, as always, there was plenty of delicious food to indulge in. But we also got to try something new.
Beija
. We just so happen to know Kevin Beardsley who is the CEO/owner/founder of Beija (along with business partner Steve Diforio) and because he's so awesome, he brought a couple bottles of Beija and taught us how to construct our own cocktails.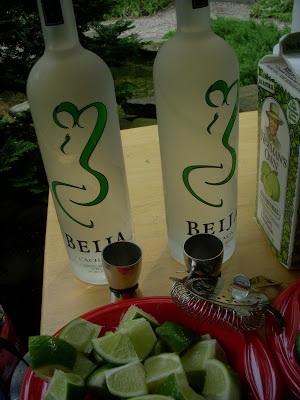 Beija
is a rum from Brazil and it's special because it's made with sugarcane juice; it's smoother than the typical Brazilian rum and I'm pretty sure that even if you don't love rum, you'll probably find Beija to be quite enjoyable. Oh an
d, in Portuguese, Beija means "to kiss." Kevin lived in Brazil for a while during college and fell in love with
Cachaça, so he decided to bring it to the U.S. where we could enjoy it as well. The rum can currently be found in lots of high-end bars and liquor stores around Boston and will be arriving in NYC (and hopefully everywhere else) very soon.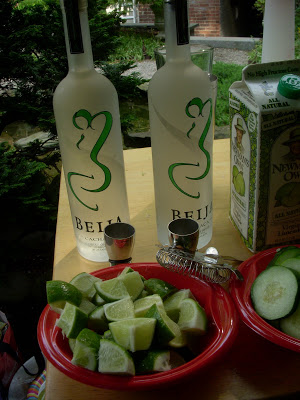 Kevin brought the rum (I accidentally typed "yum" at first, which is also
quite
suitable) and all the fixings, but he insisted we learn to make our own drinks.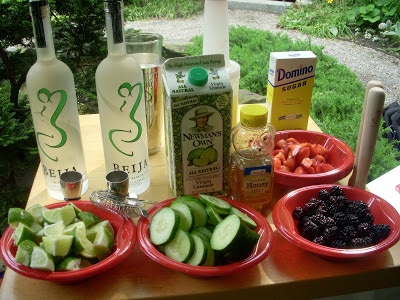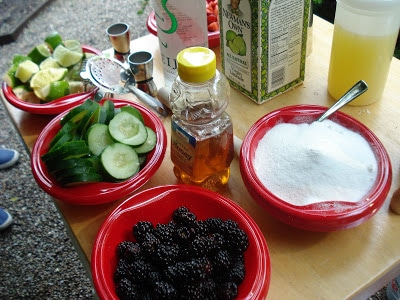 I think I groaned a bit at first, but quickly saw the merit in making our own drinks, especially since Kevin was there to help every step of the way. I'm also the worst decision-maker in the world, so trying to figure out what ingredients to use was my biggest challenge.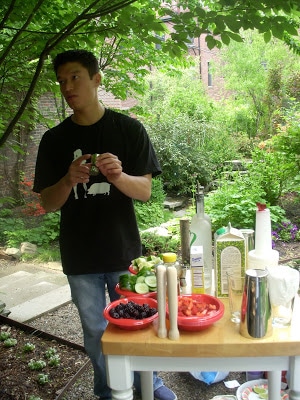 I finally settled on a Beija cocktail with black raspberry and lime, two of my favorite things. First, we put the fruit in the bottom of a glass and muddled it (with a special Beija-branded muddler), then filled the glass with ice and added 2 oz. of Beija and a little bit of sugar. We put the shaker over the glass so it fit tightly and shook like crazy until everything was nicely mixed. We took the shaker off the glass (this was another challenge for me… you need to put some muscle in!) and added just a little bit of soda water. And voila!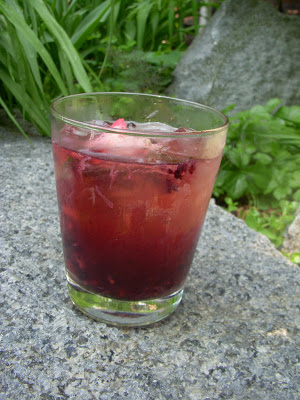 (Black raspberry and lime)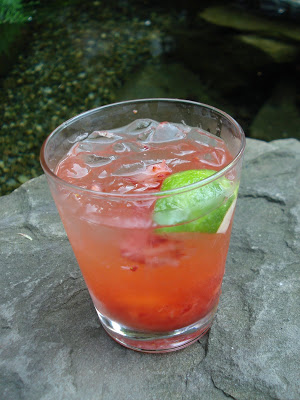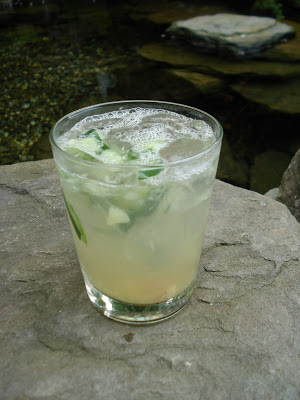 Can I just say this was one of the best, most refreshing cocktails I've ever had. And I am not a big rum drinker! Though we were simply in Sara's courtyard, you could have fooled me and told me I was on an island somewhere sitting on the beach (well, almost). Later that afternoon, I tried a Beija cocktail with cucumbers and honey and, oh my goodness, who would have thought that combination could be so amazing?

Later that evening we decided to take the party to Alibi, one of our favorite bars in Boston. We obviously ordered our drinks with Beija and observed how the bartenders made them… cause you know… we're experts now 😉
To read more about Beija and it's founders, check out this
article
which was featured in the March 8th, 2008 Boston Globe.