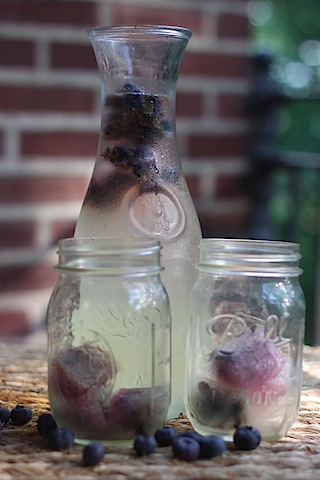 A few weeks back our buddy Heather, who does PR for Whole Foods, reached out to us and asked if we wanted to host a Berry Bash during the month of June. Whole Foods would provide us with a gift card to shop for all of the organic berries and ingredients needed to throw the party. Of course, I immediately jumped on the opportunity but between all the weddings, design deadlines, and working multiple jobs, I quickly realized that June was a hot mess of a month. Plus, it's just plain hard to get a group of people together this time of year. Corey was visiting me earlier this week, so I emailed Heather to ask if two people would still be considered a "bash". When I got confirmation from her that two people is most definitely a "bash", I started getting a menu planned.
I've mentioned this before, but in the summer my appetite is pretty much shot. I always crave lighter foods and lots of fluids. Also, I try to avoid using my oven as much as possible because my apartment is on the top floor of my building and we don't have AC in the kitchen area. Needless to say it feels like my whole living space is an oven and it takes forever to cool down. I tend to make quick meals that don't require lots of heat this time of year.
On the menu for our "bash":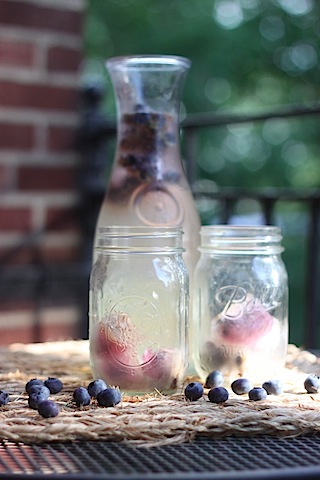 Sparkling Basil Lemonade with Muddled Blueberry Ice Cubes
We sipped on this all day and night. It's definitely going to be my go-to drink this summer… delicious and refreshing! It would be even better if you added a splash or two of vodka in it, too 😉 In the basil lemon syrup, I used fresh basil I got from my CSA share. It's been such a treat to know I'll have fresh produce from Vermont throughout each week.
Ingredients:
• 2 cups basil lemonade syrup (recipe below)
• 2 cups basil lemonade syrup (recipe below)
• 2 cups cold water
• 2 cups muddled blueberry ice cubes (recipe below)
• 1 1/4 cups fresh lemon juice
• sparkling water
Stir together all of the ingredients in a large pitcher and pour into glasses. Top off with sparkling water.
Basil Lemonade Syrup (makes 5 cups)
adapted from epicurious
• 4 cups packed fresh basil sprigs
• 4 cups water
• 2 cups sugar
• zest from one lemon
Boil all of the ingredients in a medium saucepan and stir until the sugar has dissolved. Allow the mixture to stand at room temperature and keep covered for an hour. Transfer to a plastic container and chill for about an hour. Strain the syrup through a sieve into a bowl and discard the solids.
Muddled Blueberry Ice Cubes
• 1 cup fresh blueberries
• sparkling water
• water
I eyeballed this one because I just made it up on a whim since I love adding fruit to ice cubes. In a small bowl, muddle the blueberries. Place a small spoonful of the muddled blueberries into an ice cube tray. Pour a dash of water in each cube and top off with sparkling water. Place in freezer until solid. My most favorite part was munching on all of the blueberries once they cubes melted!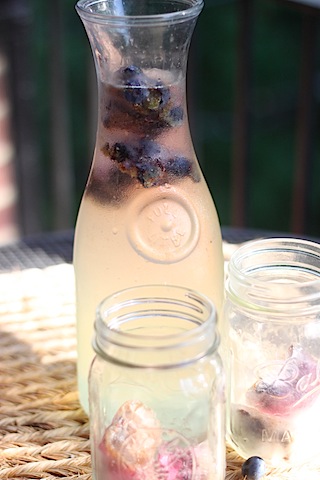 Fruit Skewers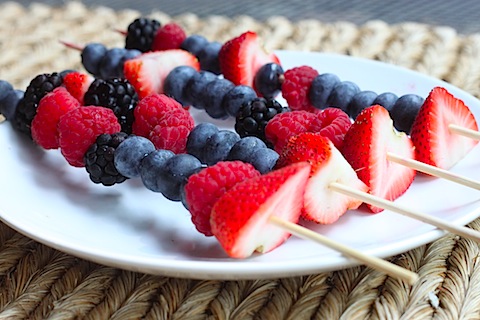 These don't really need directions! Simply pick your favorite berries and arrange them on a skewer. SUPER easy but fun. A nice little twist instead of doing a fruit salad and perfect for the upcoming 4th of July holiday, haaaay, American flag! I used strawberries, blueberries, raspberries, and blackberries. You could even drizzle some melted white chocolate or dark chocolate on top and freeze them.
Grilled Chicken, Strawberry, and Poppy Dressing Wraps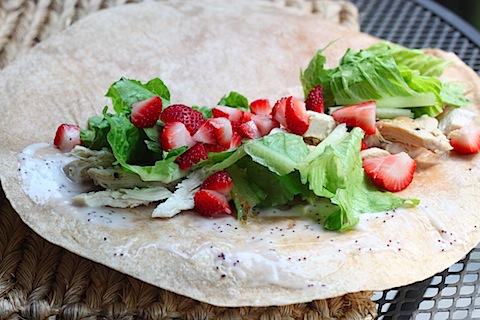 Confession time. I have a very strange addiction/obsession with Brianna's Poppy Seed Dressing. There may have been a few times I thought about plopping down on the couch and sticking a straw in the dressing bottle and just chillin'. I kid. But the stuff is great and especially on fruits and veggies. Again, this wrap is unbelievably simple.
Ingredients:
• Whole wheat wrap of your choice
• Romaine lettuce
• handful of strawberries, roughly chopped
• Grilled chicken, seasoned with salt and pepper
• Poppyseed dressing, I prefer Brianna's. Not sure if I mentioned that yet?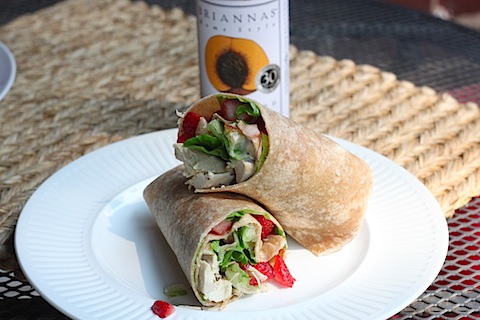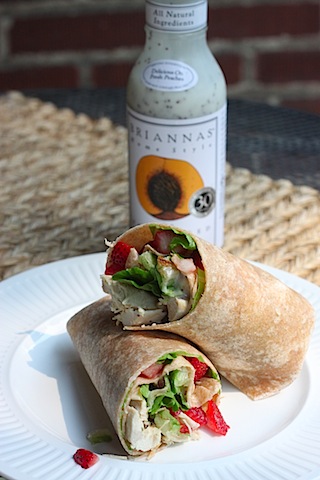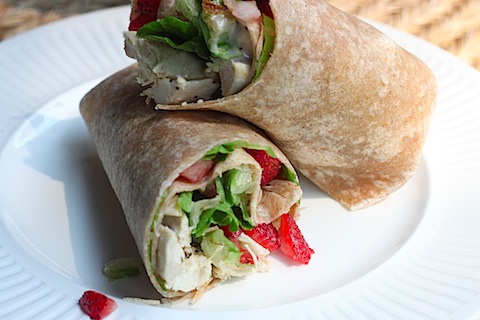 Blueberry, Lemon, White Chocolate Chunk Cookies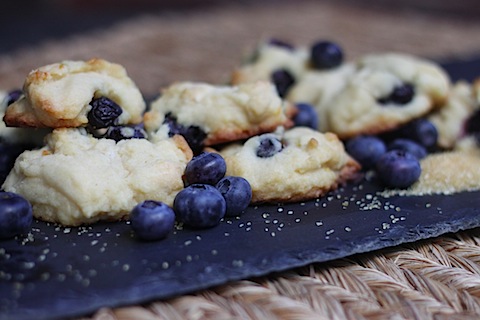 I made these cookies last year and everyone in my life who had them nearly fell over. I brought them down the Cape to my friend's parent's house and woke up one morning to her brother's hovering over them in the kitchen eating them for breakfast. Highlight of my life. They're like little cookie muffins with bursts of blueberries. Delightful. I even used them for ice cream sandwiches the last time I made them.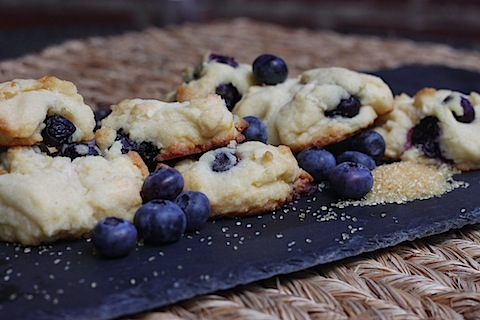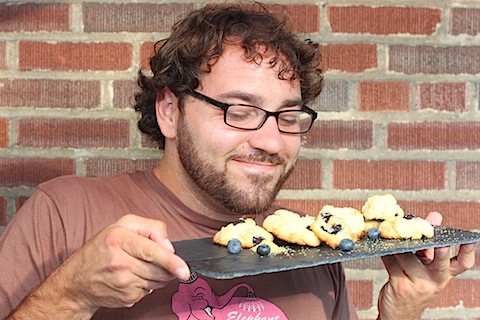 mmmm, cookies. blueberries. chocolate. yum.
What are your most favorite berry recipes to create this time of year?
Special and huge thank you to Whole Foods for hooking me up with the funds to make some fun summery treats!
[Chels]