I'm a really big snacker. This probably has something to do with the fact that I do most of my work from home, so the kitchen is always right around the corner. I'm constantly on the look-out for healthy-ish snacks, so I can indulge when I want without feeling too guilty. This salad is perfect because it's both healthy and filling. Oh, and it's sooo simple.
You can absolutely do anything you want to it, which is another reason I love it. I loosely followed a Martha Stewart recipe(when do I not??) but changed it up a lot. If I had green chile peppers, like the recipe called for, I definitely would have added those for a little kick.
Here's what I used in my black bean and corn salad:
1 T olive oil

2 cloves garlic, minced

1 small onion, chopped

1 can of black beans (drain them, but reserve 1/4 cup of liquid)

1 cup of corn (I didn't measure and probably could have used less than I did, but use as much as you want…it's your salad!)

1 T tomato paste

Salt and pepper

Parsley
Heat the olive oil in a saucepan over medium heat and add the onion and garlic. Once those are soft, add the black beans, the liquid you reserved, and the rest of your ingredients except for the parsley. I used Trader Joe's frozen roasted corn for my corn and it was SO SO good. I highly recommend it.
Now raise the heat a little bit, cover your saucepan and cook for about 10-12 minutes, stirring occasionally.

Remove from the heat and serve! Garnishing with parsley of course. I mixed some more parsley into the salad as well.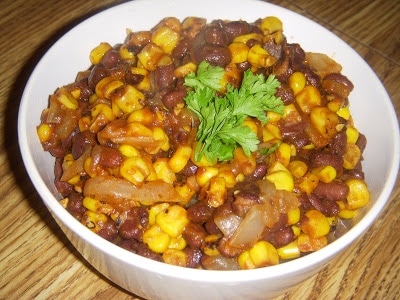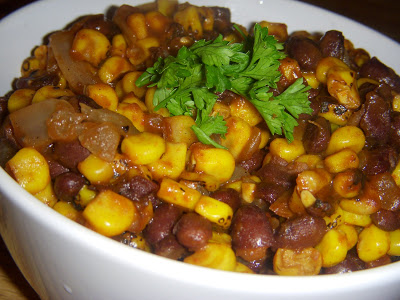 Because the salad is loaded with protein and fiber it's a deliciously filling snack. It's also chock full of antioxidants! You could also throw some in a pita or whole wheat tortilla and make a meal of it. And it's perfectly good whether you eat it hot or cold, making it the perfect anytime snack.
I just bought another can of black beans today because I want to have this in my fridge ready for all my sudden snacking needs!