AKA the easiest soup recipe in the world.
Let me start by saying I'm not a fan of meals made from canned foods. Like at all. So when I lined all the ingredients up for this recipe, I was momentarily disturbed. That's a lot of cans. And some frozen corn. But then I justified it by realizing canned beans are A-OK. And so are canned tomatoes. Canned chicken broth obviously isn't as good as homemade, but fat-free and low-sodium isn't so bad. Frozen corn is better than canned corn and it's all I can get right now. And I threw in some fresh red bell pepper and jalapeno for good measure. So, really it's not bad.
I needed a meal to make to accompany my chile-cheddar bread from the other night. When I spotted a black bean corn soup on Cooking Light's website, I realized with a few alterations, it would be the perfect soup to go along with the bread. Of course, that meant adding some jalapeno 🙂
Basically, this is one of the easiest soups you could ever make. And you should probably be sure to keep all these ingredients in your pantry at all times so you can make it in a pinch. Whenever I use multiple cans of black beans, I think about the time my sister ordered 33 cans of black beans on Peapod instead of 3. She could have made a whole LOT of this soup.
Black Bean and Corn Soup (makes about 5 servings):
• 1.5 C frozen corn
• 3 (15-oz) cans of black beans, rinsed, drained, and divided
• 1 1/2 C fat-free, low sodium chicken broth (or veggie broth)
• 1 (14.5-oz) can diced tomatoes (no-salt-added if possible)
• 2 T chile paste (such as sambal oelek)
• Pinch of salt
• 1 jalapeno, finely chopped
• 1/2 C red bell pepper, finely chopped
• Goat cheese or greek yogurt for topping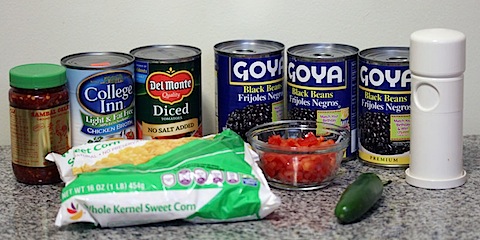 Heat a dutch oven over medium-high heat. Coat pan with cooking spray.
Add corn to pan and saute for about 4 minutes, stirring occasionally.
Combine two cans of beans and chicken broth in a blender and process until smooth.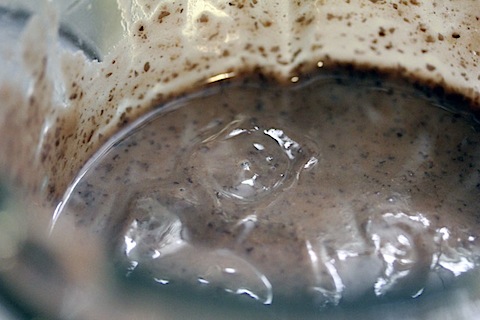 Add bean mixture, remaining can of beans, tomatoes, chili paste, and salt to corn in pan.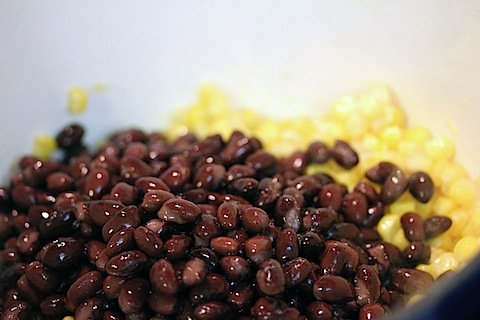 Stir to combine and then bring to a boil.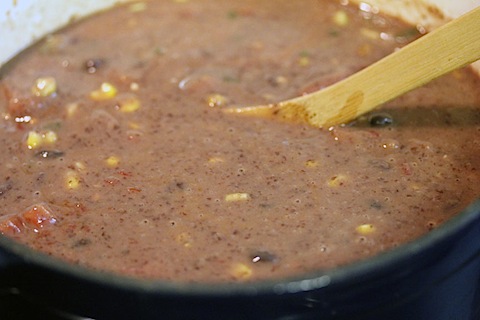 Cover, reduce heat to medium, and bring to a simmer for about 15 minutes, stirring occasionally. About 5 minutes before it's done cooking, toss in the jalapenos and red peppers.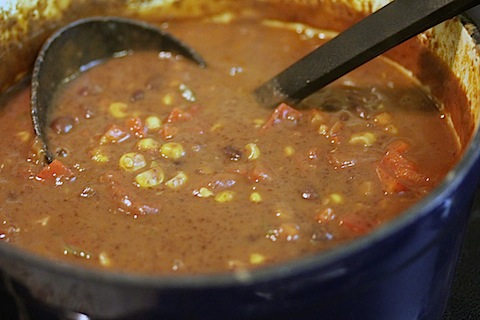 Annnd that's all. It legitimately has to cook for 15 minutes. And all you really had to do was open a few cans. It just feels so wrong. But trust me, it's so, so right.
I topped my soup with some goat cheese for a little extra zing. And obviously ate it with my chile-cheddar bread.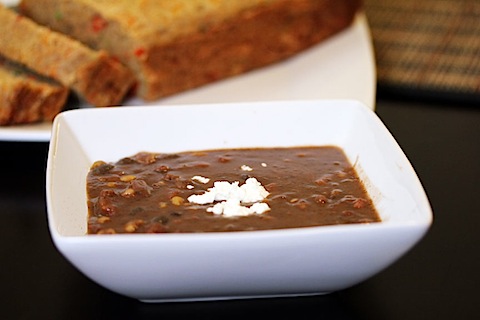 I absolutely loved this soup because it was super thick and creamy, without having any cream or even milk in it. That, to me, is the sign of a perfect soup.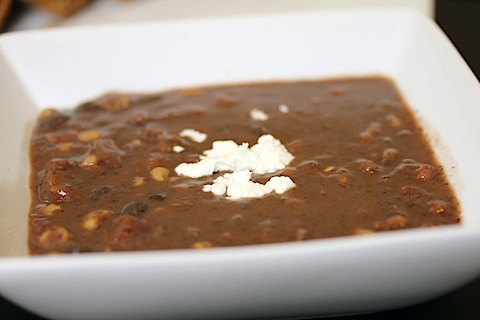 Even Chris liked it… And he, allegedly, doesn't like black beans. I say allegedly because I'm pretty sure he just didn't realize how fabulous black beans really were.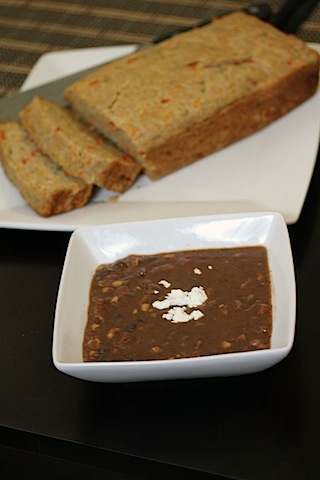 If you don't end up eating all the soup (or make a double batch), it also freezes really well. I know it's almost spring (thank goodness!), but you definitely still have some time left to make this soup before the chilly weather arrives. I'm telling you, it's SO easy, you can make it and still enjoy the rest of your evening. You don't even have to miss the Bachelor or American Idol (if you're into that kind of thing, which… I am).
What's your favorite super fast meal?
Oscar Awards Red Carpet Swag Bag Giveaway Winner!
The winner of our Orville Redenbacher Swag Bag is Courtney Sprague! Congratulations, Courtney!!! And we'll be contacting you shortly, so we can send you your goodies 🙂
Happy Wednesday 🙂
[Sues]