I have really nice childhood memories of my parents making chili on cold winter nights, and it's something I've always wanted to try making on my own. While I have no hopes of my chili matching my parents', I figured I'd try to come up somewhere in the ballpark.
The awesome thing about chili is that you can do whatever you want to make it your own. I was originally inspired by a recipe from the March 2008 edition of Bon Appetit, but then got more inspiration from this Epicurious recipe. And then I went wild and did a few things of my own. So, basically, this chili can just be called "Susie's Chili," or something like that. I'm really bad at following recipes because I get so many ideas about what I think would be good that I just can't help myself. Usually when I cook, I try to make my meals as healthy as possible, while still having them taste delicious. So, for this chili, I used a lean ground turkey, which in my opinion, is just as good as beef.

This was another one of those meals where I thought, "ohhh man, this is going to take forever," and it was as simple and quick as can be! Here's what you need, but remember, you can totally add whatever you want. Make your chili your own (hehe):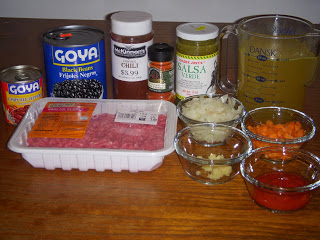 Just chop up the onions, carrot, and garlic (I know. I thought carrot in chili was really weird too, but I figured I'd give it a go and it actually ended up tasting pretty good), throw them in a pot with some olive oil, and cook until tender. Then add the ground turkey (or beef or whatever you want to use) and cook for a few minutes until it's no longer pink. Add all of your chosen spices. Chili powder is a must. I also used cayenne, but realized I had no cumin (oops). I like spicy so I added lots of chili powder. Then add a 13-15 oz can of black beans with the water drained out, chicken broth, and tomato paste. I didn't have tomato paste either, so I added some tomato puree instead. I'm allll about the improvisation. I also threw in some salsa verde and chipotle peppers for a little extra kick. BAM! Um, just kidding; I swear I don't imitate Emeril on a regular basis.
Bring it to a boil and then let it simmer for about an hour while it thickens. It will seem super watery, but don't fear; it will definitely thicken up. You might want to give it a stir every now and then.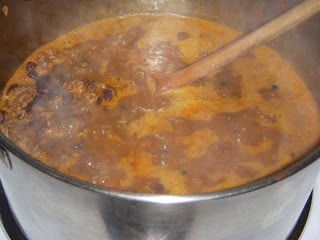 Yeah, I know it doesn't look too appetizing yet.
But I promise that it will soon begin looking veryy appetizing. When it's all ready, just season with some salt and pepper and serve it. Then comes the fun part...add whatever you want!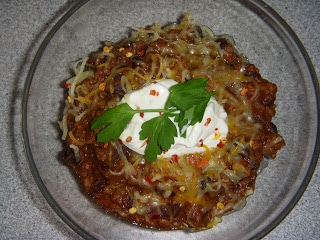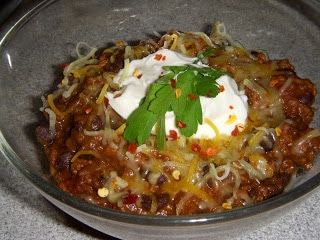 I added a bit of light Mexican-style cheese and a dollop of sour cream. I'm honestly not even a huge fan of sour cream, but I just think it looks so pretty so I have to add it. I also added some red pepper flakes because I thought it needed a little extra pizazz and color.
I obviously went to 2 Guys Uncorked for some wine suggestions and the Rudolf Muller Bunny Riesling they suggested is absolutely perfect for this chili. It definitely helps tame down some of the spiciness.
While cooking my chili, I listened to Drive-By Truckers (new and old) because honestly, is there anyone better to listen to while making something like chili? If there is, fill me in. But DBT kinda made me feel like an outlaw. And I kinda liked it.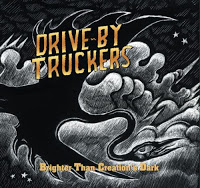 Side note: Chels may or may not have made some sort of turkey chili tonight as well. I swear we didn't talk about it; we just had freakishly similar cravings.
Just so you can see the exact ingredients and measurements I used:
"Susie's Chili"
1 C chopped up onion
1 C chopped up carrot
4 cloves minced garlic
5 T chili powder
1 T cayenne
1.25 lb. ground lean turkey
1 13 oz can black beans, drained and rinsed
3 C chicken broth
1 T tomato puree
2 T chopped chipotle pepper
2 T salsa verde
[Sues]