After blogging for close to 5 years (!!!), last week, I finally had the chance to go to BlogHer and mingle among some of the blog world's finest. I've always wanted to go to BlogHer, but usually ended up picking the more specialized blogging conferences. And when I say specialized, I mean conferences having to do with food. This was my first very general blogging conference and I went for part personal reasons (We are not Martha) and part work reasons (I work as a social media marketing specialist).
I had an absolute blast, but man was this different from any other blogging conference I've ever been to. It was even way different from BlogHer Food. In fact, I don't think I met a single food specific blogger who was attending the conference. I did meet a lot of awesome moms and family-type bloggers (I would love to know what percentage of bloggers at BlogHer are moms!) and lots of bloggers who write about their lives in general. It was awesome to connect with bloggers I don't normally have the chance to meet! I'm always amazed by how many blogs are out there that I might never discover on my own if I don't actually get out there and start talking.
It's tough to say what my favorite part of BlogHer was, but I guess I'll go ahead and be cliche and say it was meeting so many fabulous people. But really. I went to New York City completely alone, not knowing anyone at the conference. But BlogHer is the kind of place where it's totally normal to just go up to people and say, "Hi! I'm Susie!" or to have people come up to you and introduce themselves. I absolutely love that. Probably partly because I live in Boston and… well, that just doesn't happen here.
My first evening in New York, I had the pleasure of dining with the good people of Stonyfield at the brand new Chelsea's Table in Chelsea Pier. The restaurant comes from Stonyfield Chairman Gary Hirshberg and is all about "real food," natural and organic. It's both cafe and caterer and it opened specially for us to enjoy dinner on Thursday evening.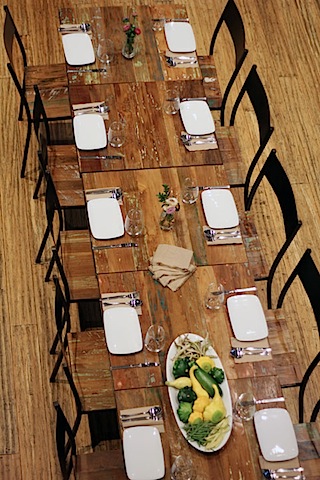 Oh, and I can't forget to mention, they serve many Stonyfield treats, including a wonderful organic dairy bar.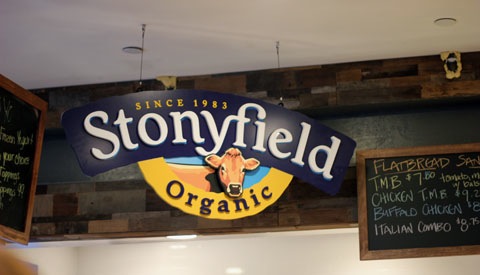 I loved the murals on the walls.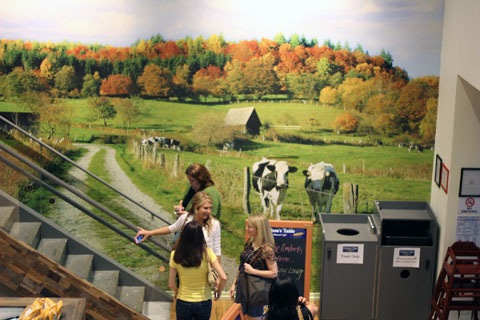 Executive Chef David Seigal told us all about the cafe, its mission, and its menu. Plus he whipped up quite the feast!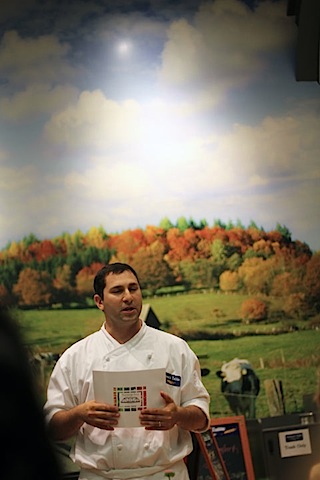 My favorites included the kale salad:
The black truffle risotto: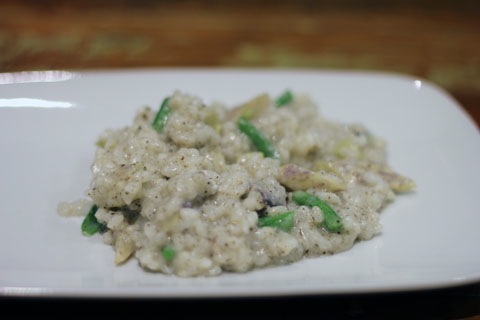 And the portobello burger: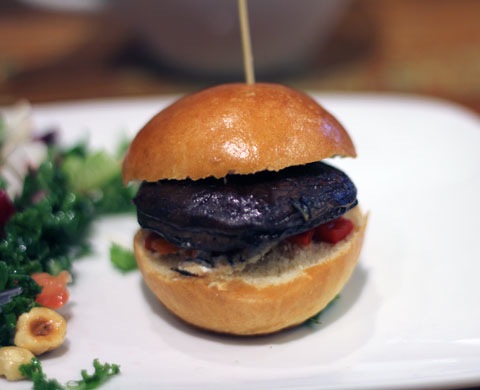 If I lived or worked near Chelsea Pier (and not gonna lie, I kind of wish I did!), I'd be stopping in here for lunch pretty much every day. If you live or work in the area, definitely check it out and tell Gary hello. Dining at Chelsea's Table was a great way to kick off BlogHer!
The next day was all about the BlogHer sessions and the expo. Since I work in social media, I wanted to attend all the social media sessions, even though I figured they'd be pretty basic.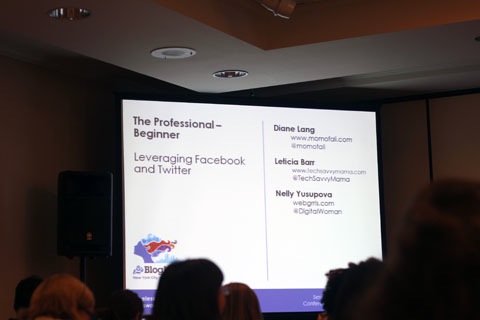 They definitely were and I found myself wishing they were a bit more in-depth. But I do understand it's tough to please 5,000 conference attendees who are all at different experience levels. Still, why is all social media information for beginners? What about people who know how to use it for the basics, but want to take it a step or two further?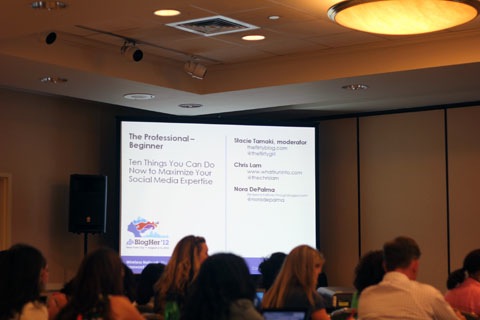 I was a little disappointed the Brand-Blogger Connection was closed off before I even got there, but ended up having a pretty good experience at Avoiding Google Analytics Overload (though it's A LOT to cover in 1.5 hours). Many people will tell you they don't go to blogging conferences for the sessions, but I always want to see what I can learn at them. At the very least I can get inspired… And I now know I need to take some serious action on Google+ (OK, I already knew this; but now I really know this).
In between the day's sessions and keynotes, I went off to the Expo Hall!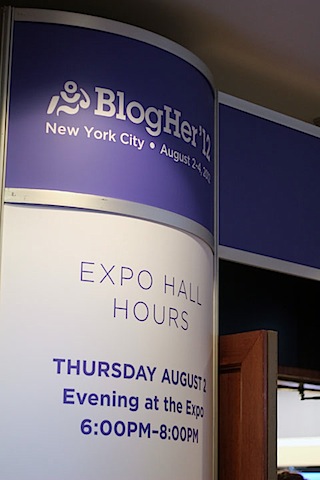 I tried to scope out every booth at the expo to see what was working and what brands were doing a fabulous job connecting with bloggers.
Of course, you won't be surprised, but Martha Stewart (and team Staples) does it again! I seriously contemplated moving into Martha's little Staples world. No really, I wanted to hide out here and play "house" when everyone else went home.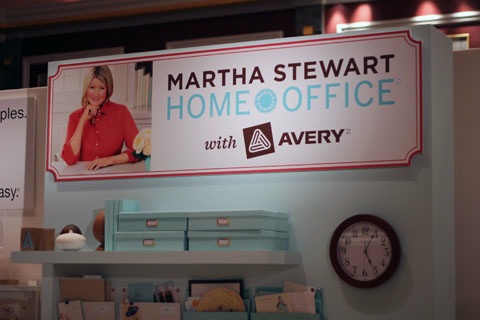 Nothing inspires me quite like a well-organized space and clearly Martha Stewart's line at Staples has everything I need to put myself (and my home) together.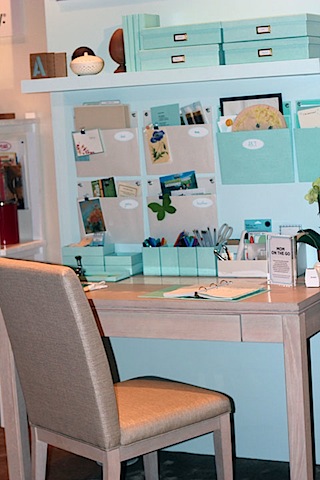 =
Why doesn't my kitchen shelf at home look like this? (wait, I know this answer… Because I have WAY too much stuff!).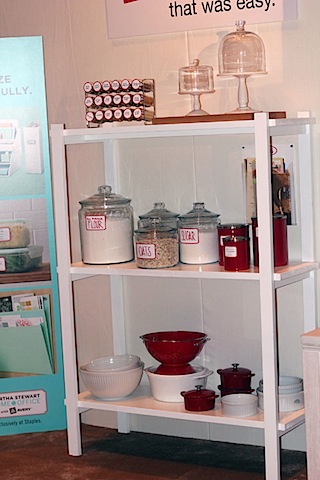 Maybe it seems obvious, but having a celebrity spokesperson never hurts when you're trying to get the word out about your brand at a blogging conference.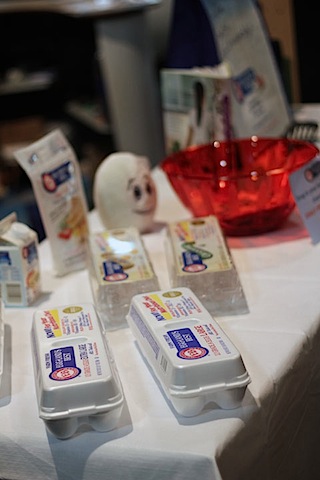 No, not the Eggland's Best egg (though I do love him!); I'm talking about Iron Chef's Candice Kumai.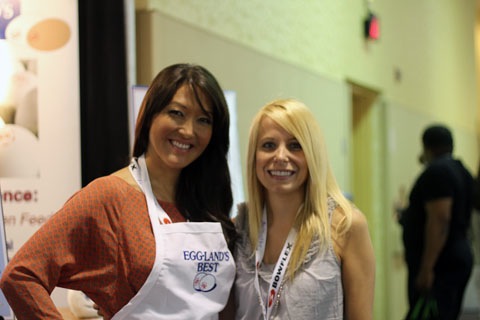 Candice was more than happy to chat with bloggers and pose for photo opportunities. What a sweetheart! She's getting ready to release, Cook Yourself Sexy
, a book I may just be reviewing in the future.
Eggland's Best also had a fun little slot-type machine, in which you could win a prize. Interaction is the key when it comes to blogger expos.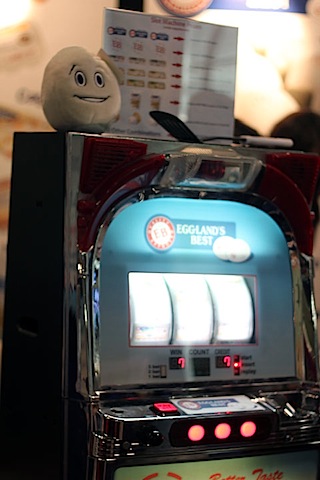 Introducing the public to new products is also a good expo plan. Dannon had cases full of their new Light & Fit Greek yogurt for everyone to try.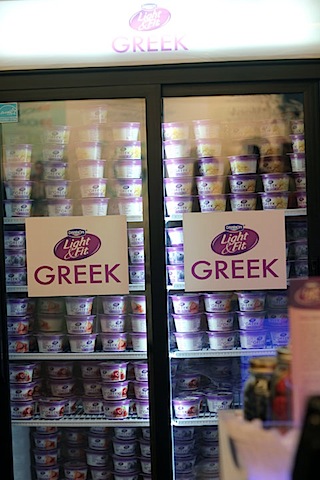 Land O Lakes combined both tactics and cooked up some dishes using their new butter with olive oil and sea salt. I absolutely NEED a stick of this butter ASAP.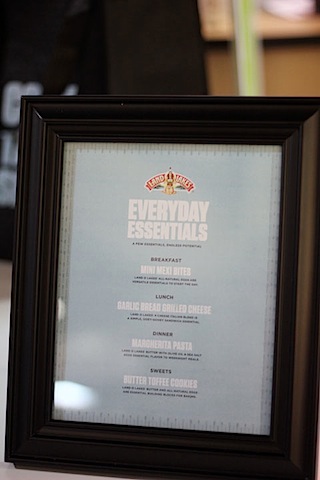 But they also brought along a celebrity friend. Can you guess who?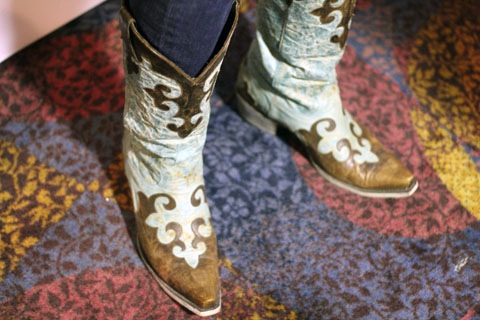 Yup, Ree Drummond, the Pioneer Woman herself!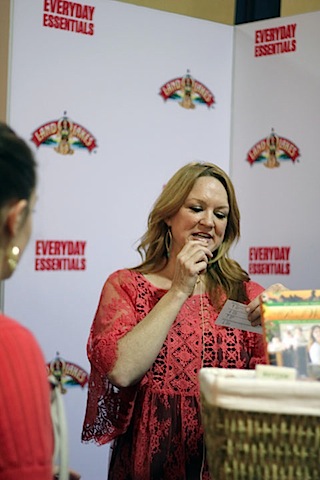 And she was sweet enough to take photos with anyone who wanted them (which was likely everyone at the conference). I almost went back two days in a row, but I didn't want to get all creep show on her. You never know; Marlboro Man could have been hiding out behind the stacks of butter.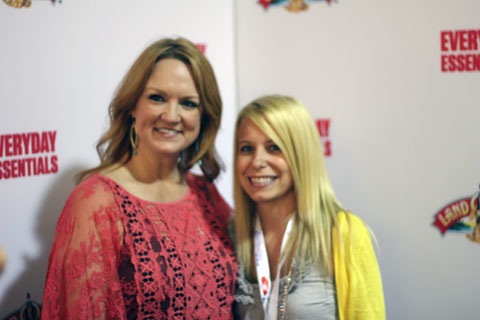 But don't get me wrong; the celebrity guest doesn't have to be "big time" to work for the brand. One food brand whose products I've never in my life tried and would probably not be quick to write about had me tweeting away. Who? Jimmy Dean.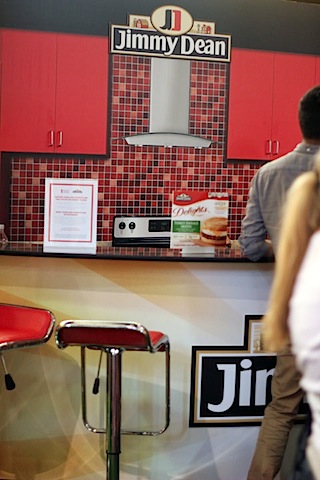 Why? Because they brought this guy along: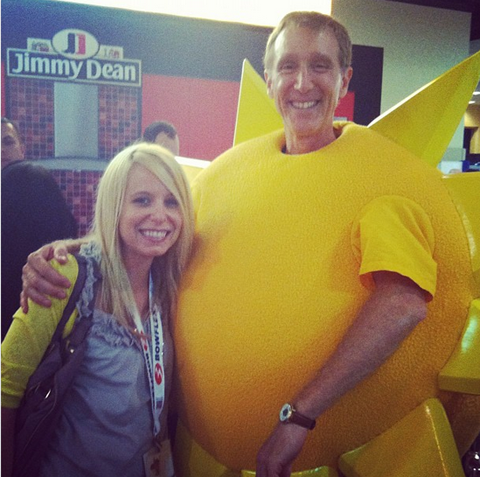 Well done, Jimmy Dean; well done.
Sometimes just plain pretty wins, too. I loved Dole's greenhouse.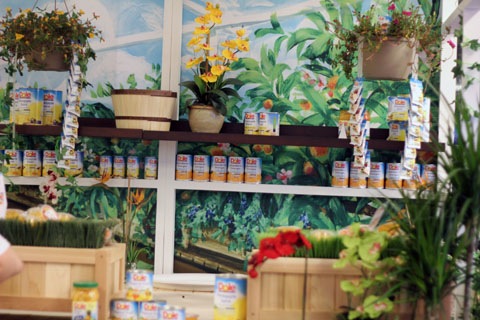 And other times information is key. Chris and I got a SodaStream for our wedding (we drink a ton of seltzer water!), but haven't had a chance to use it yet between our busy schedules and moving and all. The nice representatives at the booth told me exactly how to use it with lots of tips and tricks.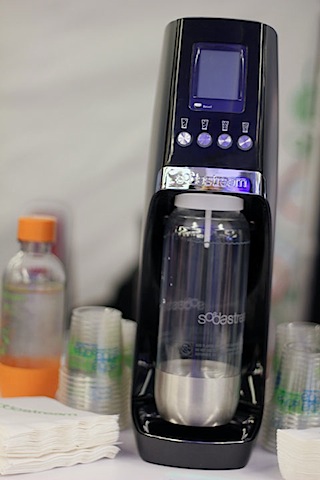 Plus they introduced me to the unsweetened essences. Mint? Seltzer water with mint is right up my alley, so I will definitely be seeking this out.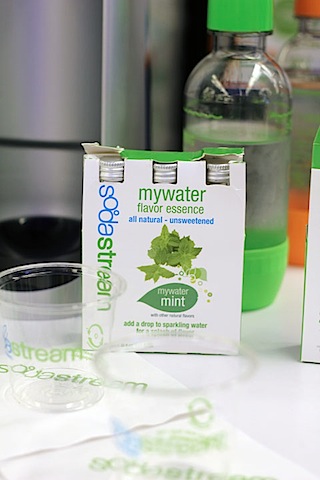 Offering food samples always works, too. Kikkoman did something a little different by having someone develop a recipe for them. Soy sauce ice cream?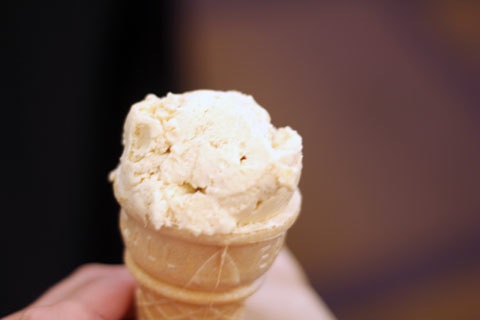 It was actually delicious! I can't imagine there was TOO much soy sauce in this as I could mainly taste the brown sugar with a hint of pizazz. Maybe I'll have to try this one at home?
Wholly Guacamole offered samples of their guacamole. I had never tried the spicy variety before and I absolutely loved it.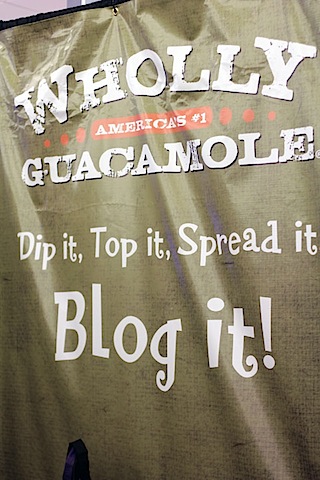 You know me, I don't eat a lot of packaged food. And I almost always make my own guacamole because it's easy and fresh and delicious. But this legitimately tasted just like what you'd get if you made it yourself (it's all-natural and has no preservatives!). And you know all those times you're seriously craving guacamole and can't find any avocados that are ripe enough to use? I know, tough life. Here's your answer.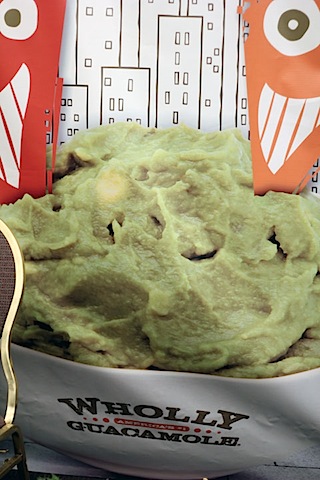 Some of the sponsors even had suites as their showrooms and invited us up to visit. Hershey's had a full-on camping trip in their suite, complete with fake grass, fake campfires, tents, and lots and lots of s'mores making. You know I had a s'more or two (or 10).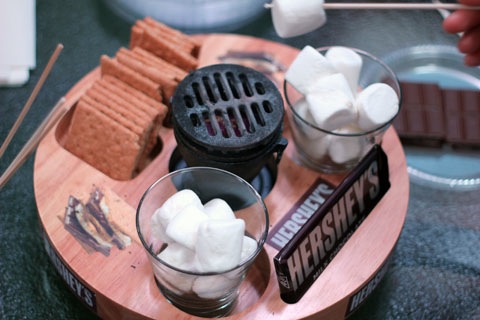 And I've really got to hand it to Starbucks for introducing their new Starbucks Verismo system to a bunch of social media happy bloggers. They invited me to sit through a demonstration of the new single serve coffee machine and to try the coffee for myself.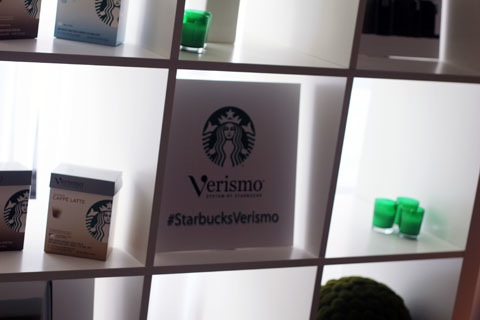 I'll admit, the machine was pretty cool. It makes the absolutely perfect latte and the one I had seriously tasted exactly like what I'd get at Starbucks. I imagine the regular cup of coffee is the same- like having a Starbucks in your home!
Plus, the latte is more beautiful than you'd ever think a latte could be (I'm sure the Bodum
glass didn't hurt!).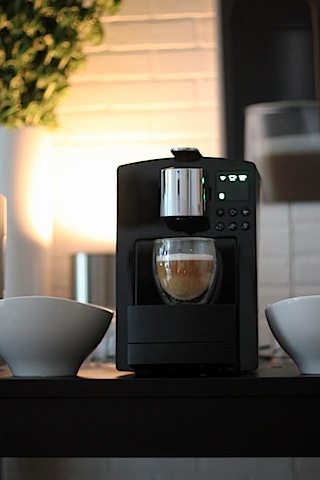 And the machines are prettier than your average single-serve coffee maker, too. Very sleek, if I do say so myself. I like the smaller, less intense machine ($199) myself as it would fit nicely in the corner of my counter. The larger machine with more bells and whistles will cost, if I remember correctly, $399.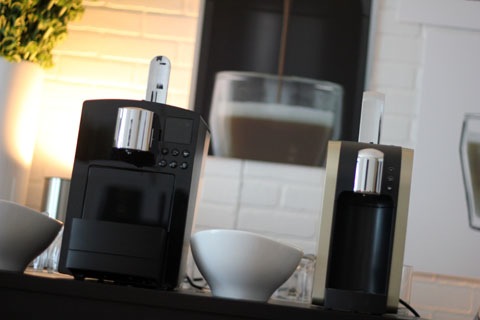 And that, my friends, is a very brief report of the sponsors at the BlogHer expo. Trust me, I could go on. And on and on.
You know what my favorite part of BlogHer 2012 was, right? I mean, y'all heard Martha Stewart did a keynote speech, didn't you? Well, she did. And she was fabulous. From her outfit (and her shoes…. omg her shoes!) to her sense of humor, advice, and honesty; I loved everything about her presence at BlogHer.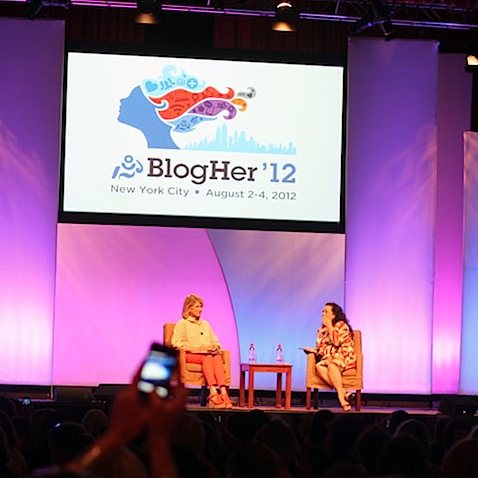 I only regret that I didn't get any better photos. I wasn't sitting that far from her but I stupidly forgot my most useful camera lens at home and the lighting on the stage wasn't that great for photos (but looked fab in person).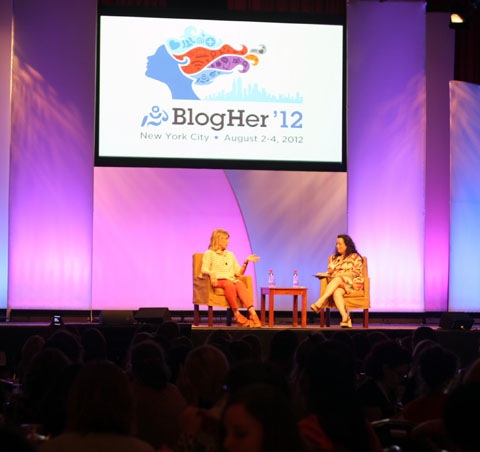 Katie Couric did a keynote speech on Saturday and she was also absolutely fabulous. I've never been a huge Katie fan (I didn't not like her; just never had much of an opinion), but I thought the way she connected with everyone at BlogHer was perfect. She was funny and completely down-to-Earth. New fan!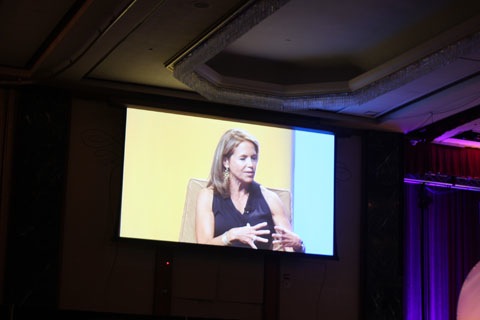 There was a LOT more to BlogHer that I'm not including here. From the non-stop parties to the crazy networking to the New York City experience, it was quite the few days. And I'm still marveling at the fact that I'm part of such a wild word. Not to mention, going through my plethora of business cards and visiting the blogs and social media accounts of everyone I met over the 3 days.
But for now, I really need to catch up on sleep. If there's one thing BlogHer is not about, it's sleep. But I'm OK with that.
If you've been to any, what has your favorite blog conference been?
[Sues]