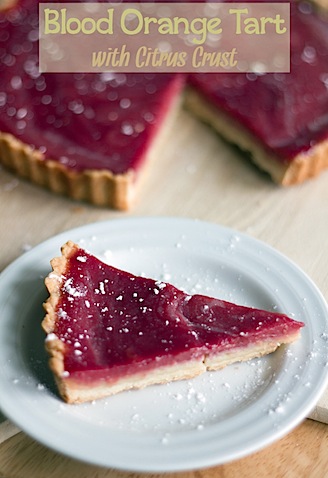 It took me the better part of winter to find blood oranges at the grocery store. And now they're already waving goodbye. Well, if oranges could wave. Which they can't. Which is good. Because that would be creepy. And I probably wouldn't have cut into them to make this tart. But while spring is kind of sort of in the air, we're still getting snow here in Boston. I mean, I guess it's meteorological spring already? Which I really don't understand because why can't we all just pick a day that spring starts and agree on it? Is it really that difficult? Apparently so. The weatherman keeps calling this a "spring storm," but it still just feels like winter here. While I'm completely over the cold, I'm easing my pain by enjoying winter fruits and vegetables to the fullest extent before they leave us for berries and spring delights.
I swooned when I saw a recipe for a Blood Orange Tart on White on Rice Couple's blog. I immediately pinned it and stared at it every time I went to Pinterest. When I finally found blood oranges, this is the first thing that came to my mind. I read all the comments on their blog (ALWAYS read comments on recipes you're making!) and saw that a lot of people who made it were disappointed with the color of their tart. There was lots of speculation that the plethora of eggs could have caused a dulling of orange, so I re-thought the recipe and cut the eggs quite a bit. I also cut the butter. So really, this blood orange tart is actually quite healthy. In my head at least. Vitamin C for all! Happy breakfast.
Blood Orange Tart with Citrus Crust (makes 1 tart):
Print this recipe!
2 T cornstarch
3/4 C sugar
1/2 t sea salt
3 eggs, beaten
1 egg yolk, beaten
1 T blood orange zest (from about 2 blood oranges)
1 C blood orange juice (from about 6 blood oranges)
2 T butter, cut into 1/2″ pieces
1 recipe citrus crust (see below)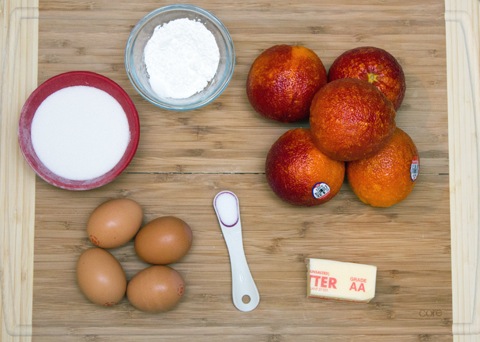 Citrus Crust (makes one crust):
Print this recipe!
1 3/4 C all-purpose flour
2 T cornstarch
1 t kosher salt
1/2 T lemon zest
2/3 C powdered sugar
1 1/2 sticks butter, room temperature and cut into small pieces
Pre-heat oven to 325 degrees.
Let's start with the crust, shall we? Whisk flour, cornstarch, salt, and lemon zest together.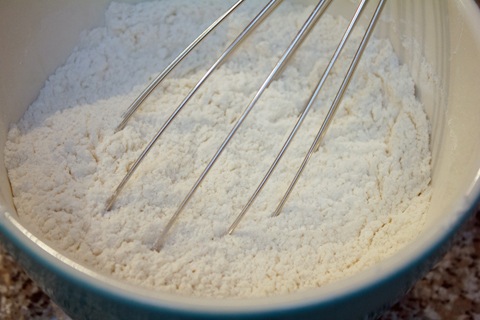 In a food processor, combine powdered sugar and butter and pulse until smooth.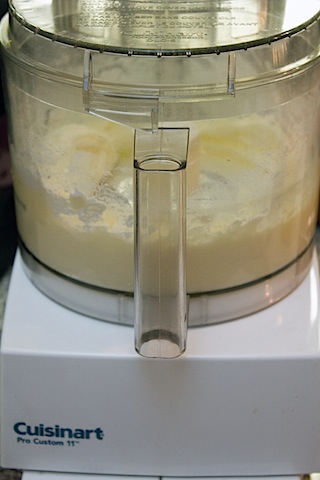 Now add in flour mixture and pulse until you get a mixture with pea-size pebbles.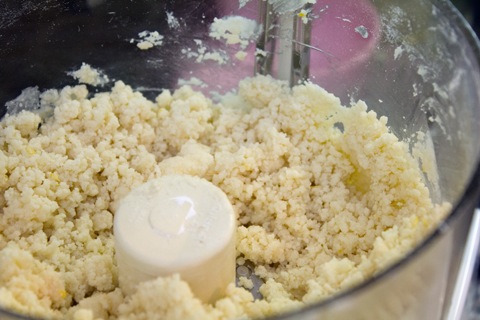 Lightly grease a 9-inch springform tart pan. Press dough into pan, making certain to press dough up and against edges.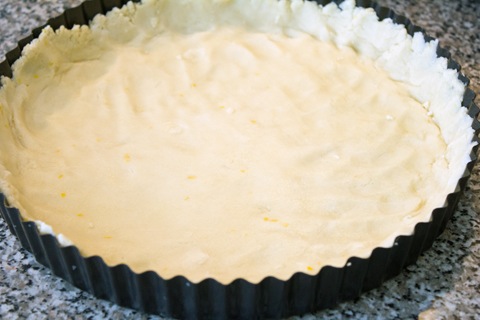 Bake at 325 degrees for about 30 minutes, until the crust is just beginning to turn golden.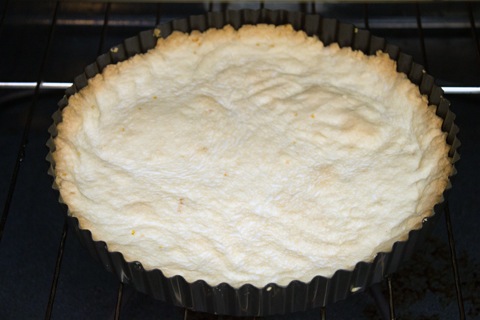 Now your crust is done and you can get started on the good stuff. You can even make this crust the day before you need it as long as you refrigerate it.
In love with blood oranges. IN LOVE.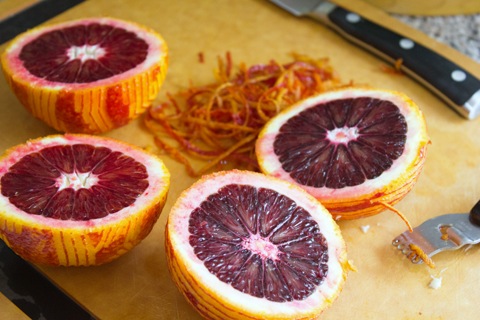 I normally hate the tediousness of juicing fruits. But I actually highly enjoy juicing blood oranges. Probably just because they're so pretty… And they're kind of like a novelty to me.
Start by whisking together the cornstarch, sugar, and salt in a medium bowl. Then mix in the eggs (and yolk!), zest, and blood orange juice.
And cook over a bain marie or double broiler (I make a homemade one with my heat-proof bowl sitting on top of a pot of boiling water). Be sure to stir the mixture often with a wooden spoon, until the curd starts to thicken.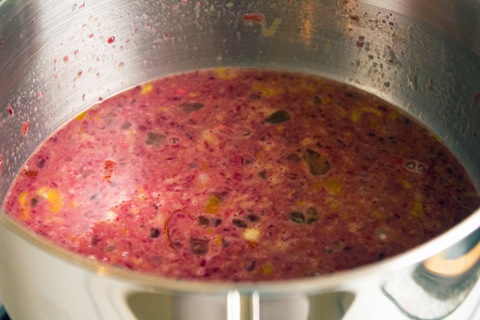 When it coats the back of your spoon, remove from heat and stir in butter.
Push curd through a fine mesh strainer, so you can catch the zest and the curd will be nice and smooth.
Pour the curd into your pre-add crust and then pop back in the oven for 15-20 minutes.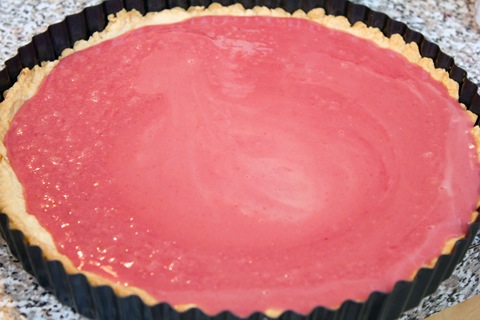 Chill in fridge for at least 4 hours before you serve.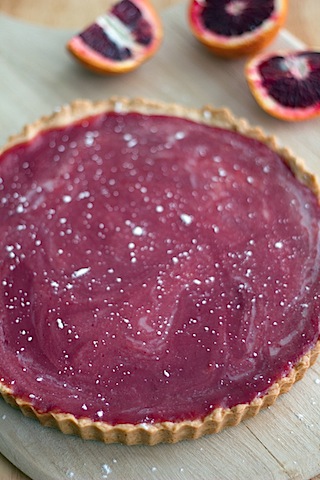 Sprinkle with some powdered sugar for some extra prettiness.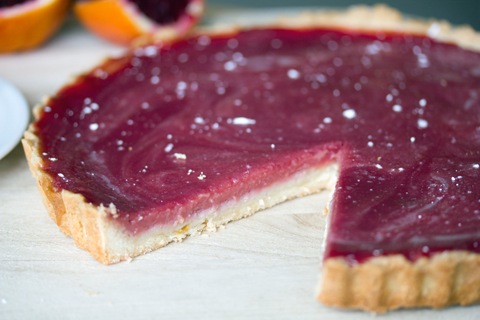 I was actually quite pleased with the color of the tart! It was very true to blood oranges and has a hue like no other dessert I've made. And I didn't miss the eggs I left out. At all.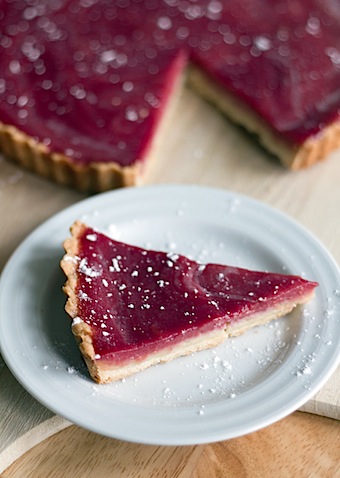 The consistency of the curd was exactly what I expected and combined with the buttery, crumbly crust perfectly.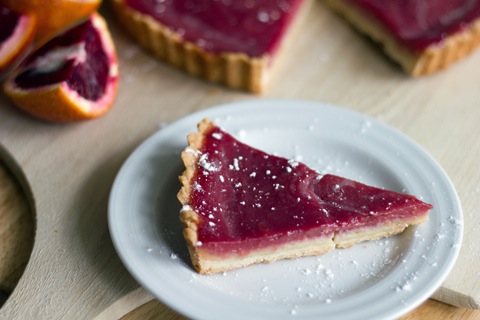 There was definitely a tartness to the tart (a tart tart? I love it!), but that's exactly what I desired. If you prefer sweet over tart, you can always add more sugar when you're mixing the ingredients. But getting that full blood orange flavor without too much added sweetness is a beautiful thing.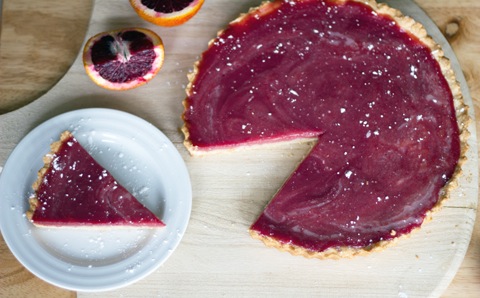 Of course, the tart's crust added some of that tartness too and I loved the bite from the lemon! Lemon and blood orange should totally get married. They'd make adorable and delicious babies.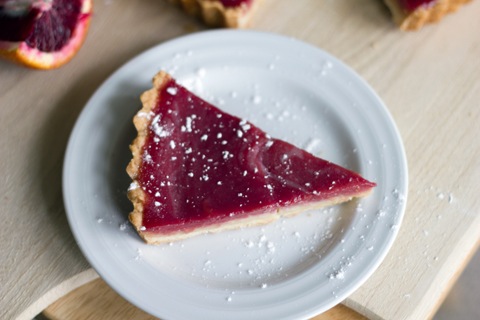 I highly recommend making this tart for a winter dinner party, especially if your guests have labeled themselves "not dessert people." They'll feel like they have to try it because it's rude to go to someone's house for dinner and completely turn dessert down even if you're a "not dessert person." And so they'll have a "no thank you" portion and then probably another piece, too. And you'll be all "I told you so! You are so a dessert person." They'll still deny because "not dessert people" take a certain pride in that fact about themselves…. But you'll sleep well knowing you created a dessert a "not dessert person" gobbled up. Take my word for it.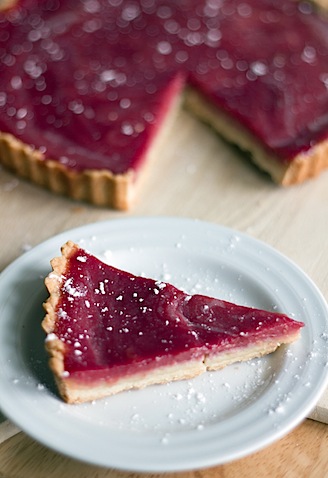 I would seriously take another winter blizzard if it meant a couple more bushels of blood oranges. Don't smack me for saying that. You're just lucky I can't actually control things like that.
Have you enjoyed blood oranges this winter? How?
Land O'Lakes winner!
I also want to announce the winner of last week's fabulous Land O'Lakes giveaway. Drumroll please… It's Maria who commented: "Cheddarella! What the what? Hows about a Philly Cheese steak with Cheddarella, jalapenos and bacon jam? I need this in my life, stat!" Congratulations! I'll be emailing you ASAP so we can send you your prize. Hooray!!
[Sues]