Happy 4th of July!! I hope you're all having the best weekend ever. I definitely am. I feel like I've packed SO much into the past couple days and still managed to find plenty of time for relaxing. It's kind of incredible. I've had about 10 of the best-ever meals, walked about 15 miles in the beautiful city of Boston, and curled up on the couch to read about 500 pages of some very fabulous books (in case you're wondering, I just finished Little Bee and am attempting to dive into A Game of Thrones… So far I like it a lot better than I thought I would).
Anyway, Sunday was another packed day. And to think, there's still another whole day of weekend left! When Whytnee from the Boston Harborfest emailed us and asked if we wanted tickets to this year's Chowderfest, I jumped on it. Because why wouldn't I want to attend a festival that is all about eating the Boston-area's best clam chowder? I headed to Government Center with Chris and Adam on Sunday afternoon, so we could get our chowdah on. As a side note, I have to say that I personally believe my mother makes the best clam chowder, but still had to see what Boston's restaurants have to offer.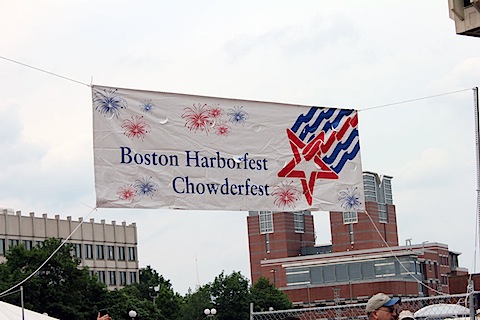 The first chowder we tasted was from Clancy's in Dennisport down the Cape.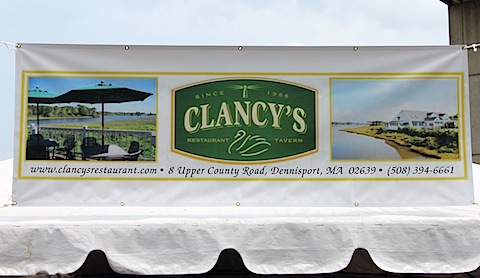 Right when we tasted this chowder, we knew it was going to be a fabulous ChowderFest. We were oohing and ahhing and saying, "This is what chowder should be like!" Of course, we still had 5 more clam chowders to taste, so we didn't let ourselves get too excited. (Also, props to Clancy's for being the only restaurant who worked their brand with their own napkins. Everyone else used generic).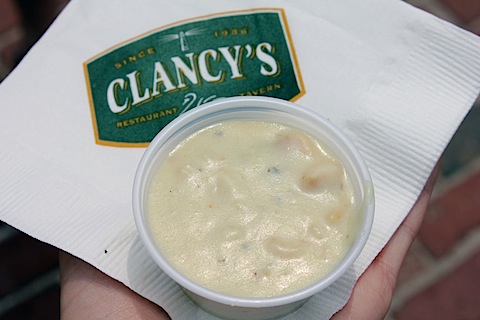 Next up was Anthem Kitchen, from Boston's Faneuil Hall.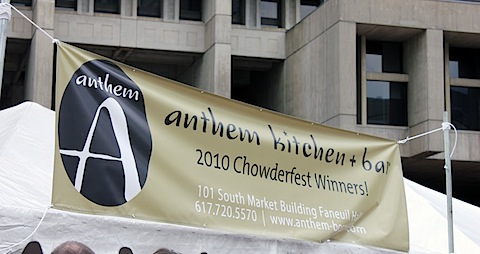 And omg we were served another awesome chowder! This one had noticeably fewer clams than Clancy's, but the flavor was to die for. I'm not sure what seasonings they put in their chowder, but I'm pretty sure crack is involved (and I mean that in a way so as to say it is ADDICTING).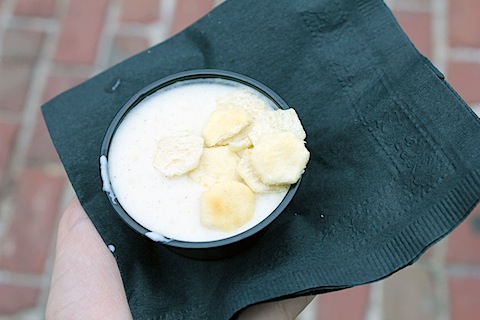 The boys were enjoying the chowder overload. Though somewhat disappointed there was no beer served at Chowderfest. I mean, choweder+beer=summer heaven, right? That's OK; we stopped at Mija in Faneuil Hall for margaritas after the fest.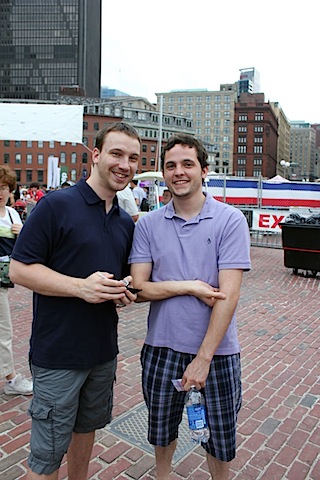 Next, we headed to rey Mr. Dooley's chowder, from the Financial District.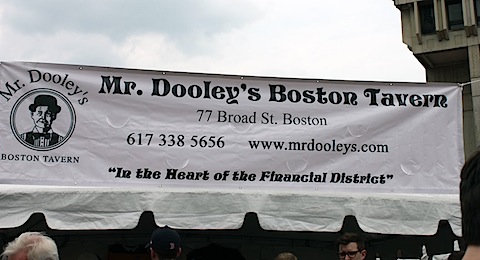 They offered a great tasting chowder (especially with added Tabasco on top!), but it was super potato heavy and lacking clams.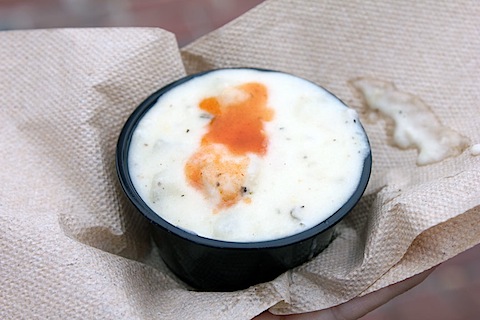 City Hall Plaza was packed with people (but not overwhelmingly so) and there were even a couple of jugglers.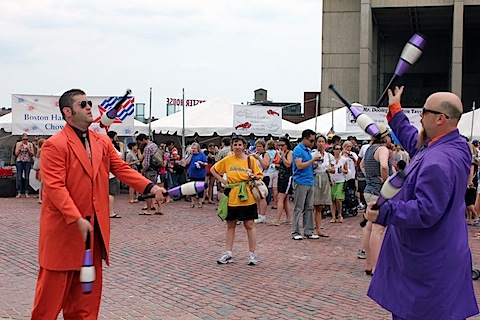 On to Ipswich Clambake. We had a good feeling about this one since Ipswich is known for their clams.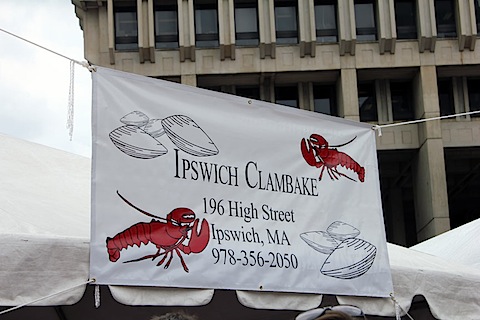 The chowder was tasty and packed with delightful clams, but there was a tiny bit of an aftertaste I didn't love. It was likely from the container the chowder was sitting in for probably some time (they were traveling from Ipswich after all), so I didn't really hold it against them.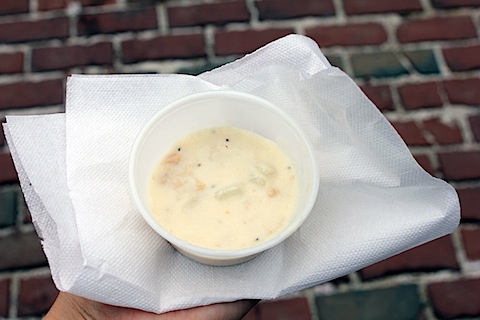 Jerry Remy's of Fenway/Kenmore was missing a sign and we almost skipped right over them before noticing the booth was serving chowder. Definitely our least favorite of the day. It was super thick (almost like the filling in chicken pot pie) and did not taste like clam chowder at all. I wasn't too surprised since I would never think to go to Jerry Remy's for clam chowder, but I'd be interested to talk to someone who enjoyed this one.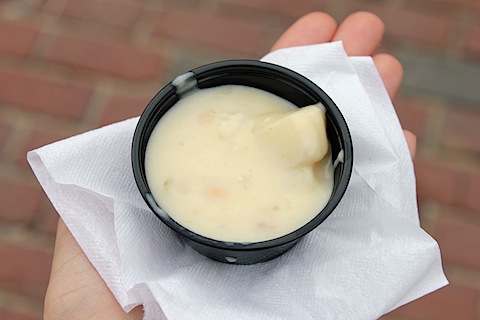 Our final tasting was from the Chart House, on Long Wharf.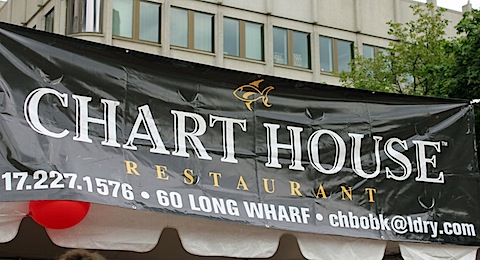 Somehow I've never heard of the Chart House (I guess it's a national chain?) and I'd say their chowder was pretty good, but not out of this world head to the wharf right now and order it. It turns out, Chart House was just showing off their already named hall of fame chowder, but we decided to rank it anyway.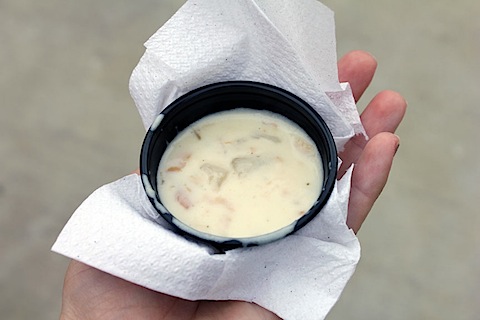 After trying all the chowders, I was torn. Clancy's or Anthem? They were both pretty perfect, but so different. Obviously we had to go back and try both of them again. We were being held responsible for making this major decision, after all, and wanted to be as well educated as possible.
In the end, we all went with Clancy's for our vote. Why? While Anthem's chowder was packed with awesome flavor, Clancy's was more traditional tasting. Plus, it contained so many clams in each little cup. And isn't that the most important thing when it comes to judging a good clam chowder?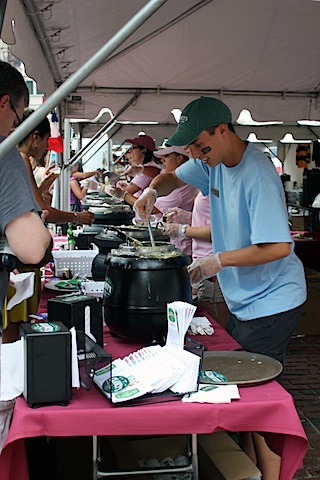 We set forth to cast our votes.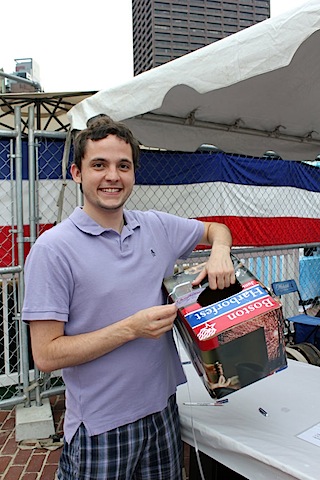 It was a big moment.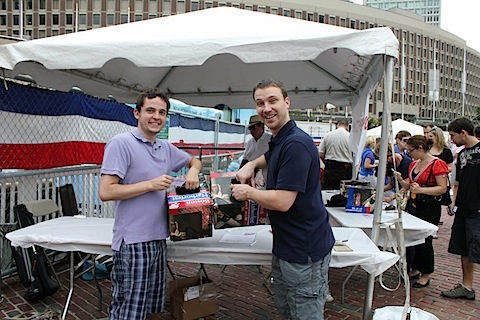 In case you're wondering, here are my official 2011 Boston Harborfest Chowderfest rankings:
#1 Clancy's in Dennisport
#2 Anthem Kitchen in Faneuil Hall
#3 Ipswich Clambake in Ipswich
#4 Charter House at Long Wharf
#5 Mr. Dooley's in the Financial District
#6 Jerry Remy's at Fenway/Kenmore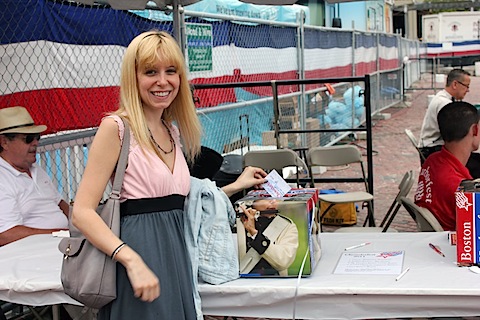 Phew. I think we're all officially chowdered out.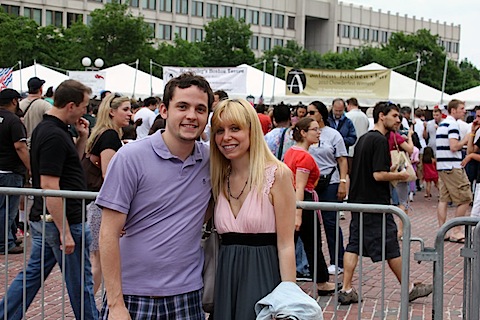 There was a lot going on outside Chowderfest on City Hall Plaza and it was nice to see Boston so bustling.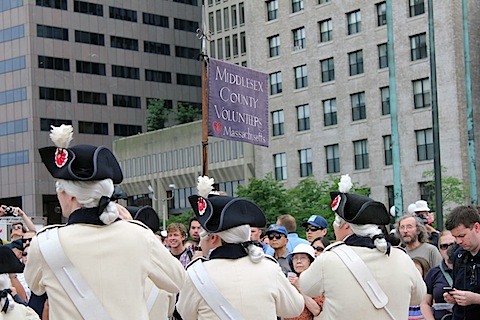 We stopped by the Keurig booth, where they were serving up iced coffee and tea. They gave us a cup filled with ice and a K-Cup and let us make our own coffee using the Keurig machine.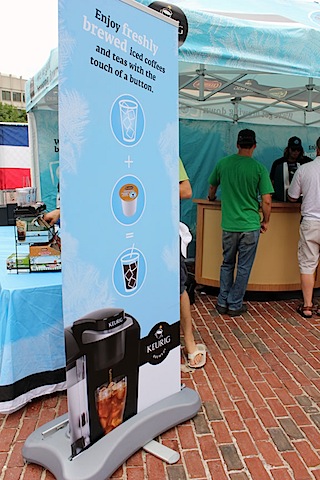 Such an awesome idea for a hot day and perfect for washing down all that chowder.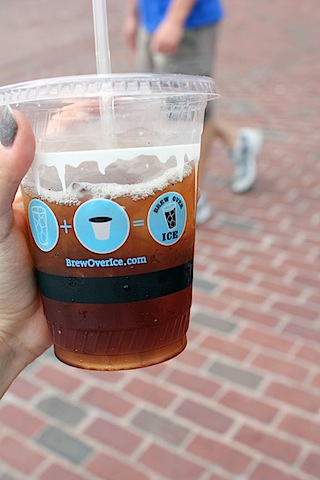 And as I was writing this post, the winners of this year's Chowderfest were announced on Twitter! And I'm THRILLED to say that my top 3 ranking are identical to the winners!
Clancy's came in #1 with the best clam chowder, followed by Anthem Kitchen and Ipswich Clambake. I'm so glad the rest of the Chowderfest attendees agreed with me.
Thanks so much to Whytnee for inviting us to Chowderfest and letting us take part in the historic chowder decision.
What spot serves your favorite clam chowder?
Happy 4th of July!! 🙂 Hope you make it a very merry Cocktail Monday!
[Sues]