A few weeks ago, my sister called me to let know that a new bakery had opened up in my neighborhood. She was raving about one of their house-made sodas and I was immediately intrigued. The new bakery and cafe, called Treats on Washington, is a few doors down from my sister's hair salon, which explains why she was in my neck of the woods! For living in Brighton, I guess I never really know what's going on since I do most of my errands and what not in Brookline because I live closer to that side of town. Every once in a while, I'll venture into Brighton Center and discover little gems. Treats on Washington being the newest.
Upon turning the corner onto Washington Street you can see the brightly colored awning pulling you in to enjoy something sweet. Or savory, as I discovered during my first visit for lunch a couple days ago.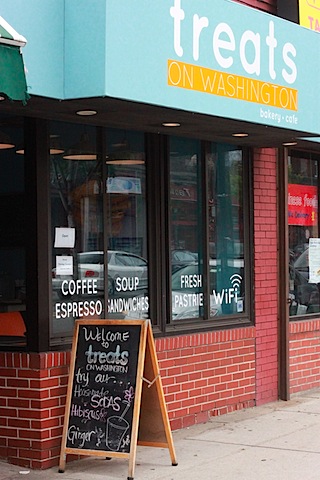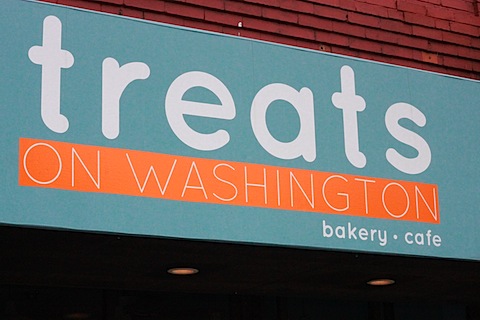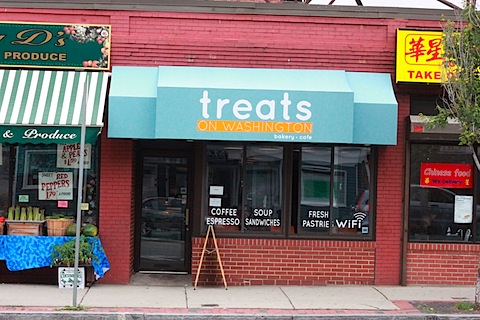 As I entered the space, the pale blue walls, modern ceiling fans, hints of contrasting oranges and reds in furniture, and row upon row of tasty treats caught my attention. Not to mention the cheerful faces behind the counters, which I soon learned were owners, Dana and Jessica.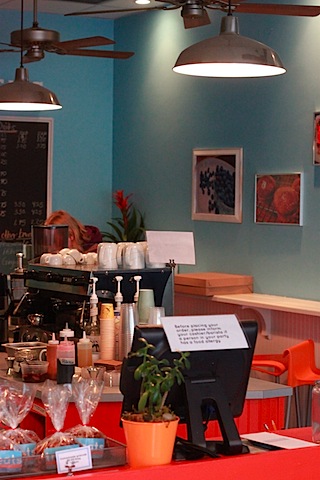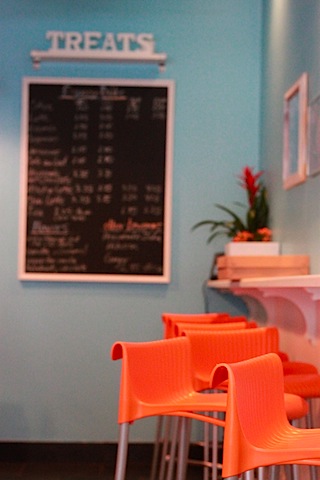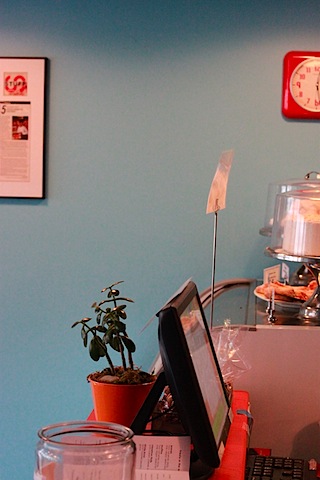 As I starred longingly at the glass case, knowing full-well if I didn't ask for suggestions I'd be there all day, the girls started naming some options for my lunch.
But I couldn't keep my eyes off the desserts.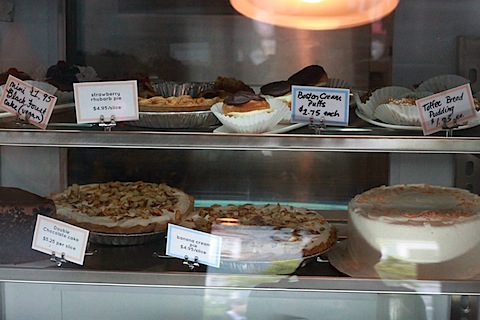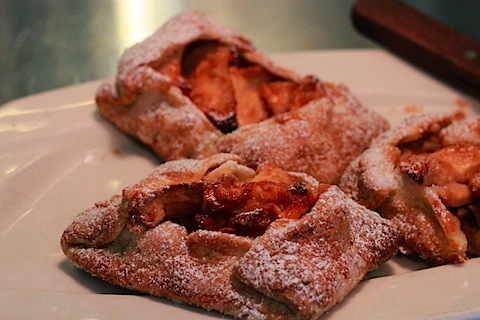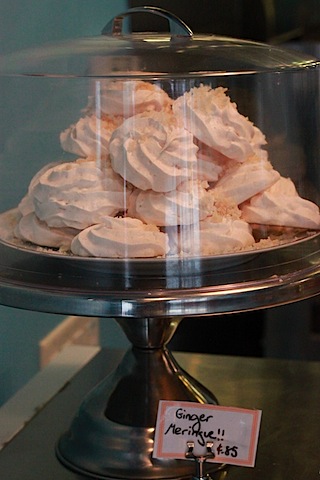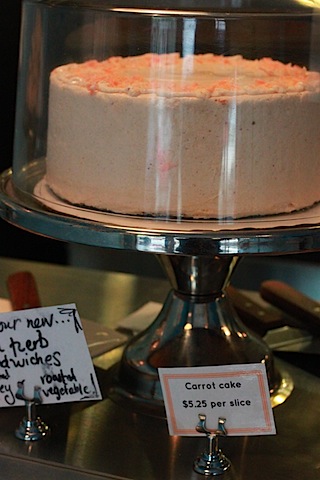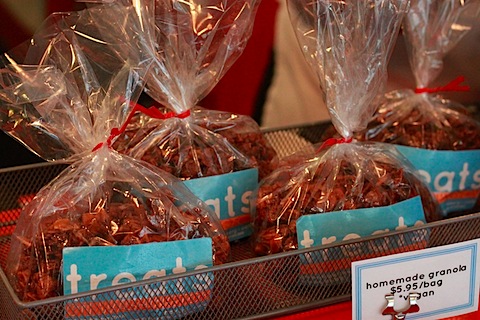 Treats carries the perfect selection of menu items, both quantity wise and variety wise. I don't do well (at all!) with making decisions, especially when it comes to food, so I appreciate menus that aren't overwhelming. Treats carries a great selection of simple sandwiches that can be prepared warm as well. And from what my sister told me, the house-made soda was a must. I never drink soda but this one sounded promising and I loved that it was homemade! My options were a hibiscus soda or a ginger soda ($2.95). I obviously couldn't decided which to get so they mixed them together. It tasted exactly like a pretty flower with a hint of fresh ginger, to be honest! Definitely one of the most refreshing carbonated beverages I've ever had. And for lunch, I finally decided on their handmade braided bread stuffed with black forest ham and rich cheddar cheese ($6.75).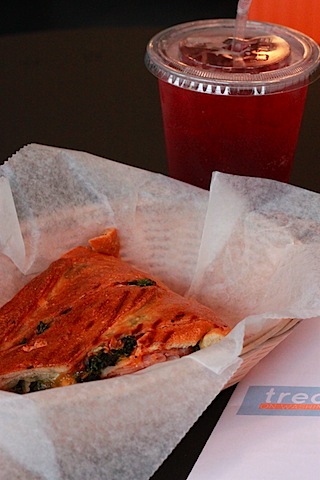 I may have actually mouthed to myself as I was eating, "This is sooo good". I used a fork and knife, but only because I was in public. I promise you, if I ate this at home I would have devoured it in minutes flat and had cheese dripping down my chin. I might just get it to go next time. It was a chilly afternoon the day I visited Treats, so this sandwich, clearly prepared with the freshest herbs and meats, warmed me right up.
I started to pick the melted cheese off of the parchment paper with my fork when I finished the sandwich. Not very lady-like, but necessary.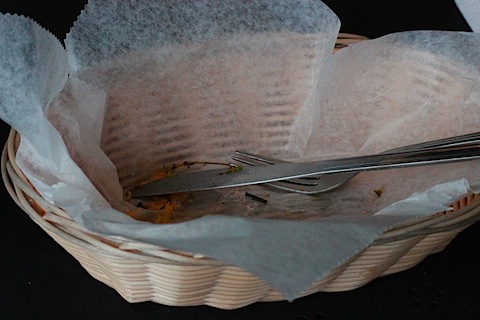 I was so pleasantly full after my lunch, and as if I needed more food, I took a stroll around the rest of the space to eye the desserts.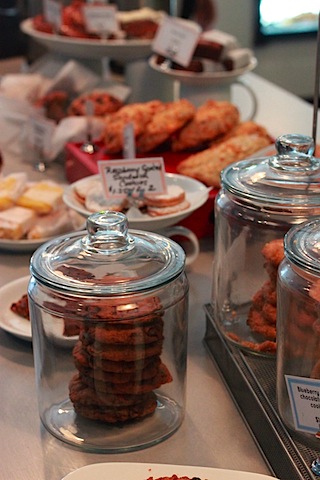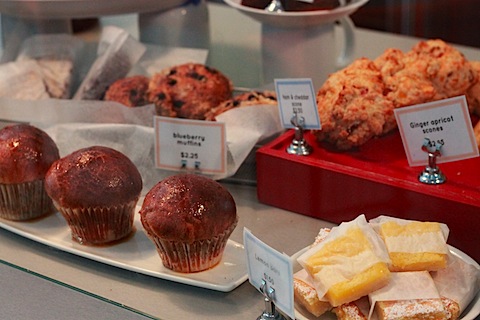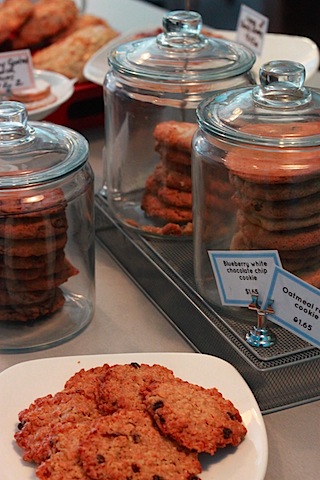 The girls were so sweet and told me to pick whichever I'd like, on them. The spiced raspberry cookies were eyeing me so I took a couple for the road. I ended up eating them for dessert that night and felt like Cookie Monster while I ate them. Thankfully, I only had two because serious damage would have been done had there been more in my possession. They were perfectly spicy and just the right amount of sweet. And oh, so moist and soft.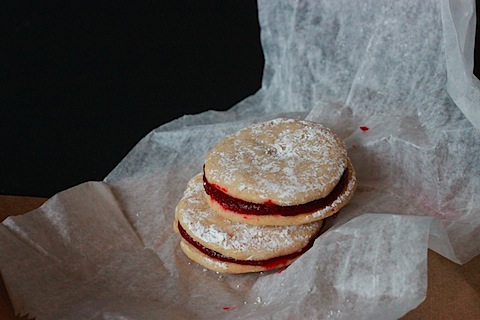 Along with so many sweet options, Treats also offers coffee, espresso, sticky buns, croissants, pies, custom cakes, two daily varieties of scones and muffins and vegan options of scones and muffins as well. My sister actually had a sample of their red velvet cake yesterday and informed me that I have to go back and try it immediately. So there's always that to look forward to.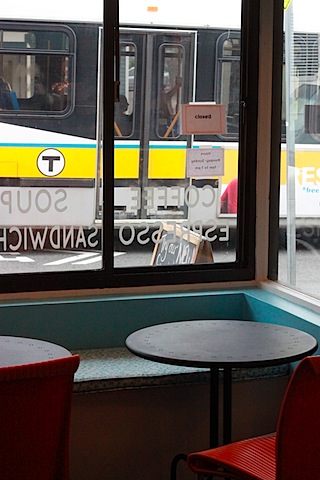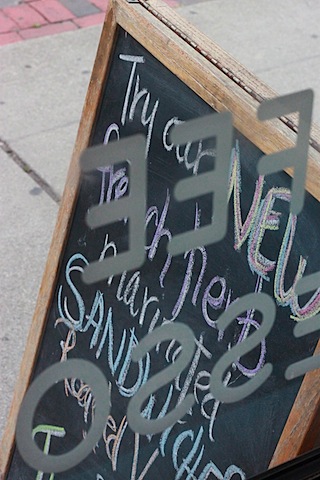 Along with a Summer filled with refreshing house-made sodas, because I'll surely be back. And now that I know they have wifi I'll probably end up moving in.
Treats on Washington
379 Washington Street
Brighton, MA 02135
617.202.5837
[Chels]