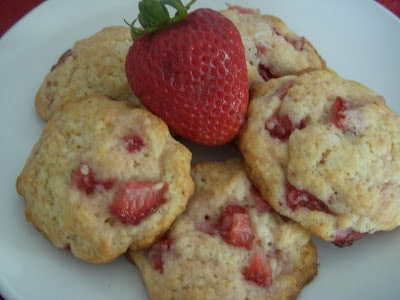 In case you haven't noticed, strawberries are in season right now! This makes us extremely excited for a couple reasons. First of all, the strawberries at this time of year are extra big, juicy, and red. And second of all, 16 oz. of strawberries only costs about $2.99. Oh, and third (and most importantly), many restaurants in Boston are participating in the Strawberry Dessert Festival. So, Chels and I decided that in honor of this, we'll be posting a series of strawberry-related recipes here on We are not Martha.
But since Chels and I aren't inviting all of you over to enjoy our strawberry treats (sorry, our apartments aren't big enough; we promise we would if we could!), you should participate in the Strawberry Dessert Festival if you're in the Boston area. At participating restaurants from June 12-June 28, when you order specifically prepared strawberry dessert items, a percentage of proceeds will go to the Federation of Mass Farmers Markets. The Federation of Mass Farmers Markets is the only statewide non-profit dedicated to supporting and promoting farmers' markets. We LOVE farmers' markets here at WANM, so this is definitely a cause we can get behind!
Here are the participating restaurants:
Beacon Hill Hotel & Bistro, Tremont 647, Garden at the Cellar, Henrietta's Table, flora, The Summer Shack (Cambridge), Burton's Grill (Boston), Bistro 5, Highland Kitchen, The Fireplace, 51 Lincoln, L'Andana Grill, Haley House Bakery Cafe, Tabella, Tastings Wine Bar and Bistro, Tatte Fine Cookies and Cakes, Tomasso Trattoria, and Watch City Brewing Company.

Also, a few Whole Foods Markets (Charles River Plaza, Symphony, Brighton, and Fresh Pond) will be donating 50% of proceeds from sales of their strawberry parfaits from June 12-21.
In the meantime (and because the Strawberry Dessert Festival won't last forever), here's a recipe for Strawberry Shortcake Cookies, which were pretty tremendous! Who knew strawberries in a cookie would taste SO SO good? But they do!
Strawberry Shortcake Cookies (makes about 2 dozen):
12 oz. strawberries

1 t fresh lemon juice

1/2 C plus 1 T sugar

2 C all-purpose flour

2 t baking powder

1/2 t salt

3 oz. (6 T) butter, cold, unsalted, and cut into small pieces

2/3 C heavy cream

Sanding sugar for sprinkling (or regular sugar if you don't have sanding)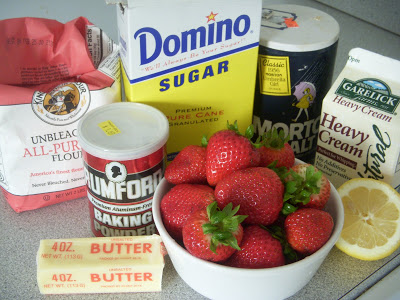 First you'll want to hull your beautiful, in season strawberries!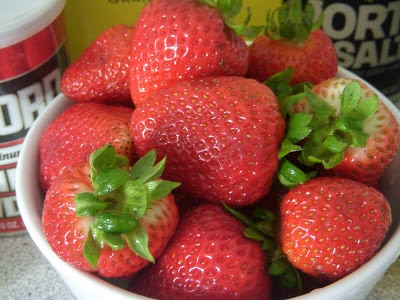 And don't worry; "hulling" really just means getting rid of the green stem. I simply cut it off with a knife, not owning any fancy hulling tools. Then I diced the strawberries into 1/4 inch pieces.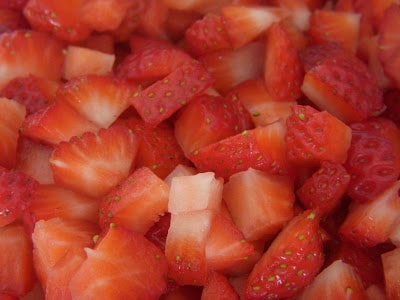 In a medium bowl, I threw in the strawberries, lemon juice, and 2 T of the sugar.
In another larger bowl, I whisked together the flour, baking powder, salt, and remaining 7 T of sugar. Then I took my butter pieces and rubbed them into the flour mix with my fingers. I just used my hands, but a pastry cutter (also known as a pastry blender) would come in handy. I kept mixing this together until it was a crumb-like mixture. Then I added the heavy cream and stirred until it was dough-like. And then added in the strawberry mixture.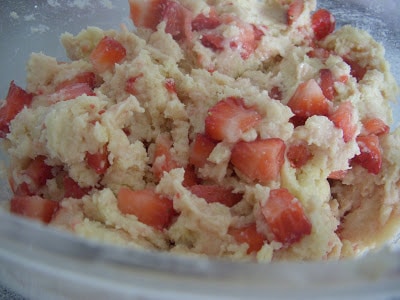 I spooned (using an ice cream scoop!) about a T of dough onto a cookie tray sprayed with some cooking spray. I think I made my cookies a bit bigger than Martha made hers as I only got about 2 dozen out of my batter (she got 3 dozen). I thought the ones I made were the perfect size, though.
Then you can sprinkle the cookies with your sanding sugar, which is basically just larger granule sugar, to make the cookies nice and pretty. I sadly couldn't find any, so I just sprinkled the cookies with regular sugar.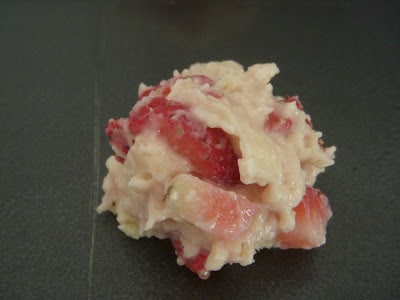 Bake the cookies for about 19 minutes at 375 degrees.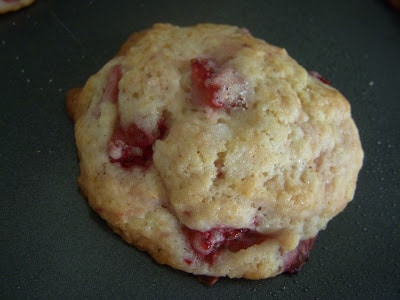 And YUM, they're done! These cookies really did taste like strawberry shortcake and I was quite thrilled with them! I NEVER would have thought, "hey, let's put some strawberries in cookies," but it most definitely works. And then I thought they would be weird to eat warm, but they weren't at all. Now I'm envisioning putting two of these cookies together with some strawberry (or vanilla) ice cream in between. Mmmm. Yup, I'm pretty thrilled it's strawberry season!
So, Strawberry Shortcake Cookies are just one thing you can do with strawberries this season. Please go out and support the Federation of Mass Farmers Markets by eating dessert (and dinner while you're there) at one of the participating restaurants (these are some of the Boston-area's BEST restaurants!) during the Strawberry Dessert Festival. And please make sure you check out your local farmers' markets this summer, no matter where you live.
To find a farmers' market near you, you can visit
localharvest.org
and enter your zip code!
Keep checking in with us because we'll have some more delicious strawberry desserts coming your way!