Ever eat breakfast, lunch, or brunch at a new restaurant and the only thought that goes through your mind is "I must come back here for dinner"? That's what happened to me during yesterday's brunch at Pomodoro in Brookline Village. I've been wanting to go for a while and thought a Sunday brunch and some sweet jazz tunes playing while I dined would be the best way to wind down from the weekend. And although one of my very favorite restaurants is located in Brookline Village (Sichuan Garden), I never seem to dine in this area nearly as much as I should considering there are lots of little hidden gems scattered about and it's in my neck of the woods.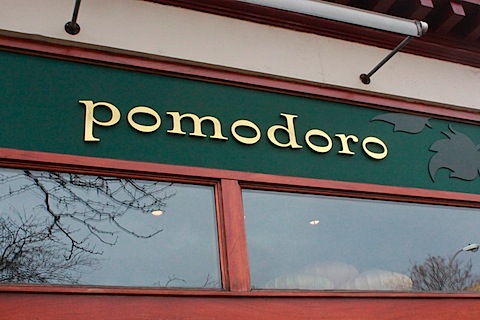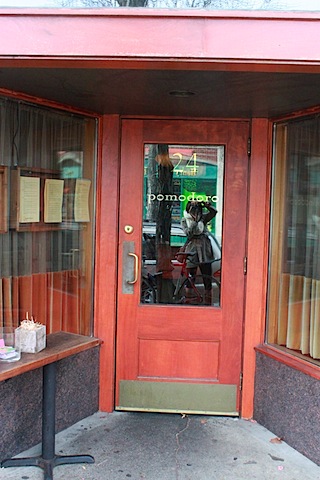 As we entered Pomodoro, around 11ish, to our surprise, the place was empty. Adorable, cozy, and warm, but completely empty. I feel like Bostonians love their brunch so to see a restaurant not jam-packed and without a line or wait on a Sunday morning was a shocker. The waiter told us to grab a seat wherever we were comfortable so we decided on a corner table by the windows.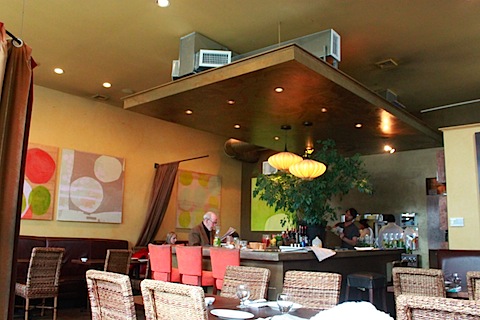 Once we got settled, our waiter brought over delicious bread with top-notch oil and olives. I mean, delicious. I normally try not to indulge in a ton of bread when I eat out because it fills me up so quickly, but on this day, I didn't care. It's almost winter, I'm about to go into hibernation, and it was… fascinating. Could.not.stop.eating.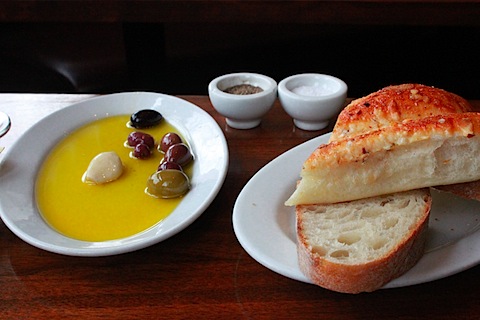 Also fascinating, you ask? A carafe of orange and mint infused water, of course. I plan on making this all the time at home. Insanely refreshing, especially with brunch. I think we easily drank through 1.5 carafes 🙂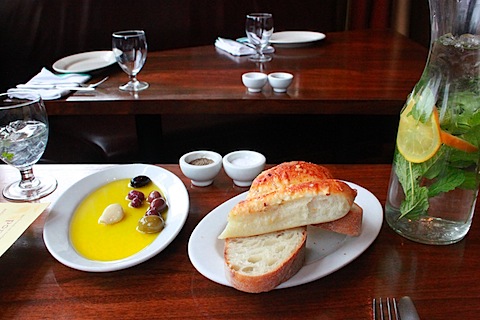 The menu was outrageous and everything sounded perfect. My roommate and I had a difficult time deciding on what we wanted so we each ordered something different and just split the two. Because sharing is caring, you know. 😉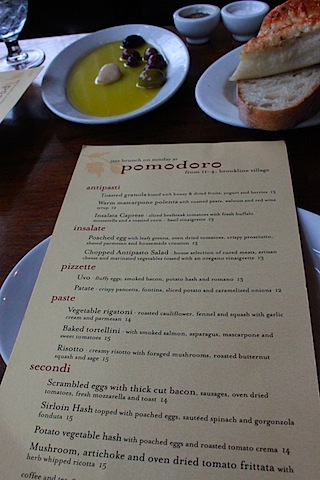 I ordered the sirloin hash topped with poached eggs, sauteed spinach, and gorgonzola fonduta. The flavors were bold yet simple. The ingredients were fresh and perfectly prepared. I felt like a little kid on Christmas morning eating this dish… always a new surprise to be discovered! It clearly doesn't take much to excite me!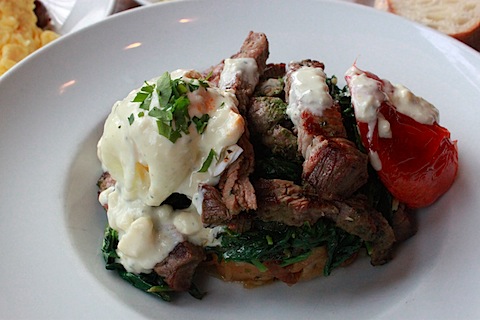 My roommate ordered the scrambled eggs, with thick cut bacon, sausages, oven-dried tomatoes, fresh mozzarella, and toast.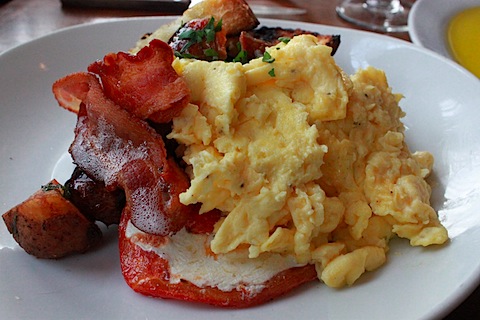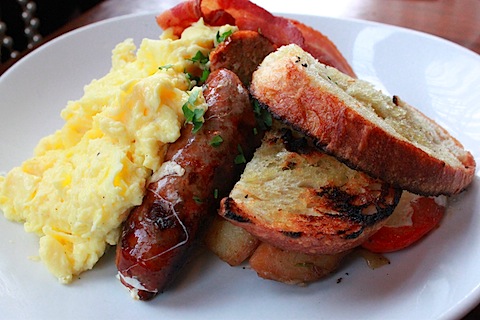 This was a glorified breakfast at it's best. Especially when a jazzy pianist took his seat and started serenading us patrons… all 6 of us 🙂 The prices were fair considering the portions were the most generous and the quality of ingredients was stunning. The service was a bit slow considering there were only a handful of us there but the food spoke louder and for me, that wins. Also know, Pomodoro only accepts cash (and they direct you to the ATM across the street if you hand them a credit card) which can be a bit frustrating if you're not prepared, but again… when the food wins, I go back 🙂 And dinner at Pomodoro awaits.
Pomodoro
24 Harvard Street
Brookline Village
617.556.4455
The rest of my Sunday was spent getting a massage at Healthworks Chestnut Hill (if you're looking for a good massage therapist, Christine H. at HW is aaaaaahmazing) and hanging out at my parent's house watching the Cetlics, some football, eating dinner, and laughing 🙂 I felt like an only child… until my brother and sister both called the house. 😉 The perfect day if you ask me.
What's your favorite way to wind down from the weekend and spend your Sunday?
[Chels]