If you were at the Foodbuzz Blogger Festival, I'm sure you remember the brussels sprouts we had at the dinner at Greenleaf Produce Warehouse. And if you weren't at the Foodbuzz Festival, you probably heard about the brussels sprouts we had at the dinner. I don't care who you are and how much you think you don't like brussels sprouts; if you tried these, you would fall in love. I knew I had to make these, much to the dismay of Chris who has never been a fan of brussels sprouts. I promised he would like these.
It took me forever to actually make these on my own because I wanted them to be as authentic as possible. So, when I finally found a Japanese grocery store, I snagged as many of the ingredients as I could. And I improvised on the rest.
Brussels Sprouts with Bacon, Ponzu, Fried Garlic, and Bonito Flakes:
Brussels Sprouts (Chef Lee says most people don't eat more than 4 heads, but this is a lie. Use more)
¼ lb guanciale (I couldn't find this Asian pork, so I used bacon instead. Also, consider pancetta)
Fried garlic
Ponzu sauce (if you can't find it, consider substituting soy sauce, rice vinegar and lemon juice)
Soy dashi (I couldn't find this so I used what I thought was the closest thing available: bonito-flavored oigatsuo tsuyu)
Butter
Olive oil
Shichimi or Togarashi spice (I actually found shichimi and togarashi combined in one little bottle)
Bonito flakes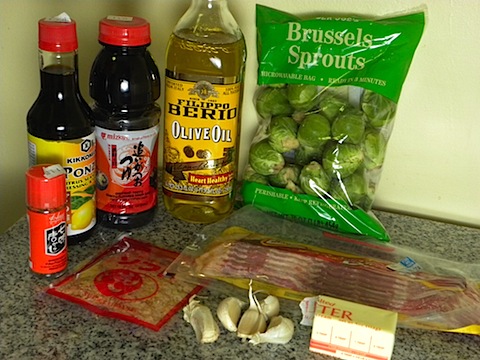 Admittedly, I spent way too much time wandering Asians groceries searching for what I needed. It's kind of difficult when you can't read Japanese/Chinese and nobody in the store understands what you're looking for!! But when I got to Japan Village Market in Brookline Village, I was thrilled to see "Ponzu" actually written on the bottle. I love me some Kikkoman!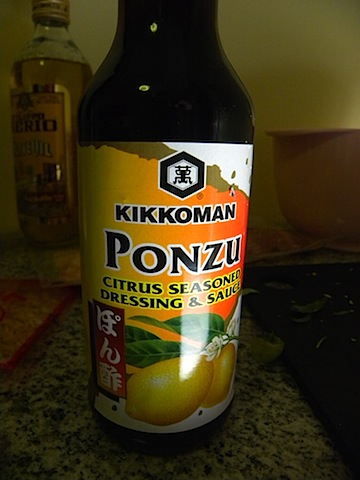 First things first: fry up your garlic! I just sliced it up and fried it in some olive oil until it started to brown.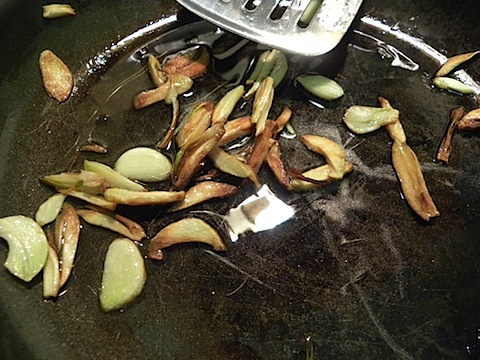 Cut the brussels sprouts into quarters, so that the roots stay in tact.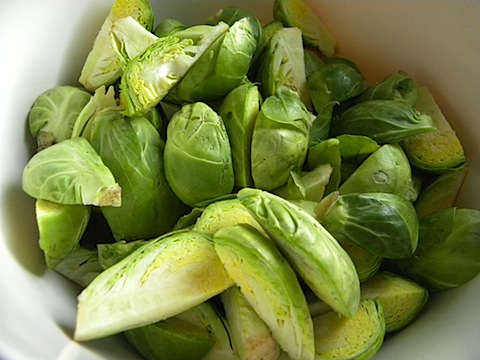 Boil water in a large pot with some salt. When it's boiling, put your brussels sprouts in to blanch. When they turn bright green, remove from water and immediately put them in an ice bath.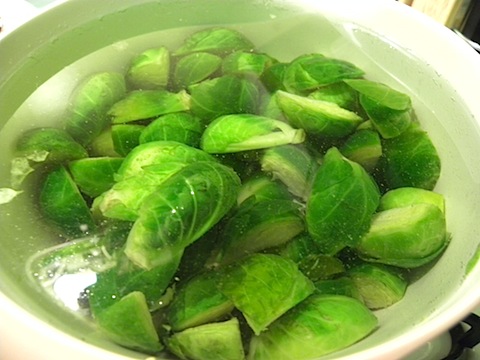 While the brussels sprouts were boiling and sitting in the ice bath, I cooked up the bacon. Use as much as you want. I used 8 slices because I was determined to get Chris to like the sprouts. And I knew bacon would do the trick. I cooked the bacon pretty much all the way, but didn't let it get too crispy since i would putting it back in a pan. Once it cooled, I crumbled it up.
Now, coat a frying pan in olive oil and put 1 tablespoon of butter in. Toss your brussels sprouts in and turn the heat up to high.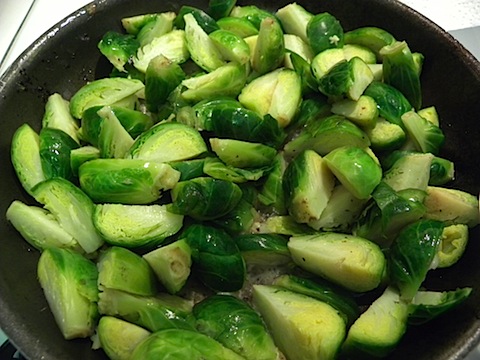 Let them brown up.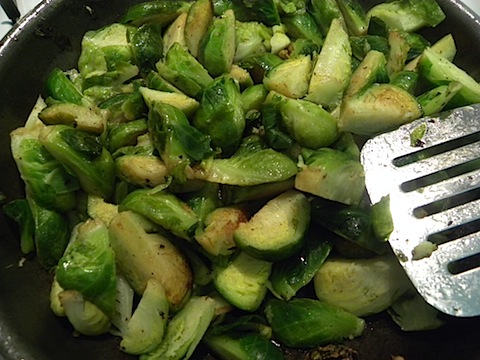 Then put the bacon in. Add in the ponzu and soy dashi (or whatever you're using). The pan will probably start sizzling when you add them in. Use as much or as little as you like. I probably added ½ cup of ponzu and a little less of the soy dashi.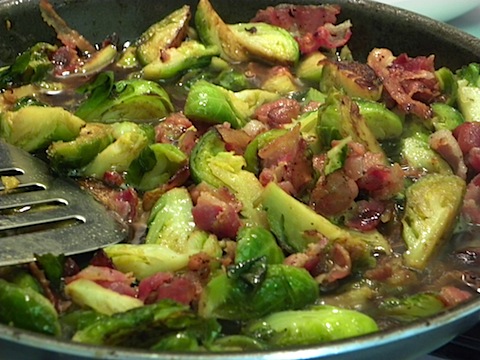 Let the liquid reduce as much as you want.
Top with the shichimi/togarashi, fried garlic, and bonito flakes. The recipe says, "The flakes will dance with joy," which I thought sounded absolutely lovely. And it was true, too! The flakes were literally dancing around.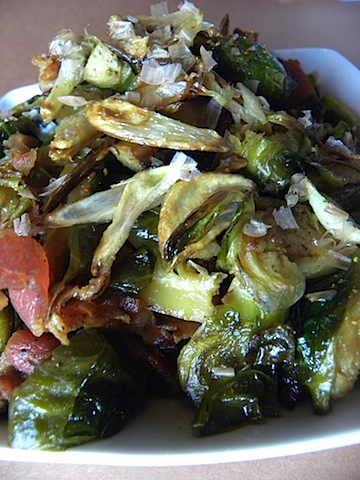 I was pretty happy that these turned out to be quite close in taste to Chef Lee's. And guess what? Even Chris admitted to liking them! I'm telling you, it's impossible not to like brussels sprouts that taste like this. Take the challenge!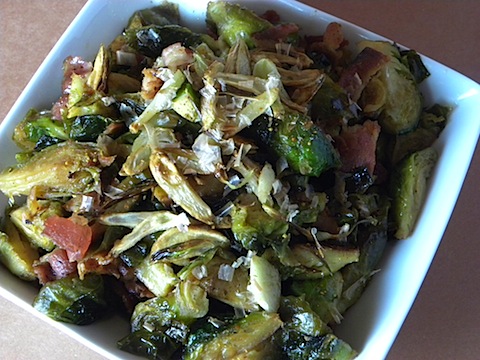 The best thing about this recipe is that you can totally improvise as much as you want. I think the important things to have are brussels sprouts (duh), some kind of pork, lemon, soy sauce, rice vinegar, and garlic. And these ingredients are all very easy to find! But definitely check out Chef Lee's recipe to alter it how you want to.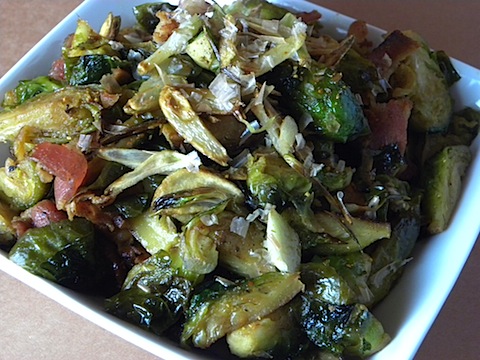 I served the brussels sprouts as a side dish to an Asian-inspired shrimp recipe that I'll blog about later. I'm super psyched because now that I have ALL these ingredients in my pantry (besides brussels sprouts and bacon), I can make them absolutely any time I want. Which might just be all the time. These are absolutely to die for!
Thank you Foodbuzz and thank you Chef Lee for showing the world how wonderful brussels sprouts can be (OK, so the bacon doesn't really hurt, either)!
[Sues]