Do you have a favorite burger in Boston or the city in which you live? Since long before I even moved to Boston, my Aunt raved always about the burgers at the Bristol Lounge in the Four Seasons Hotel. And every time I went to the Bristol Lounge for lunch with her, I always ordered the Bristol Burger. And she was right. But it's been a few years since I've dined at the Bristol Lounge, so when Kristan, Four Seasons Boston's Director of PR, reached out to me and Chels and asked if we'd like to design our own burger for National Hamburger Month, we jumped at the chance! We would be learning from the very best and knew it would be an amazing opportunity 🙂
We weren't quite sure what to expect when we arrived at the Four Seasons last night. But we immediately felt welcomed when we walked in and met Kristan, Chef Brooke Vosika, and everyone else who greeted us. Everyone was amazingly warm and friendly.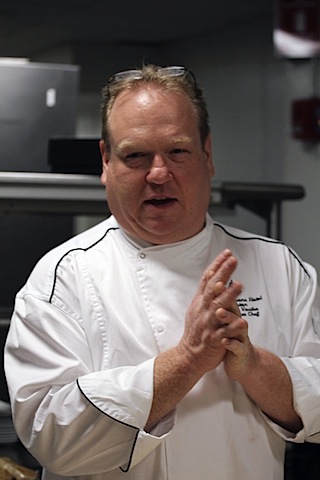 It also didn't hurt that they filled our wine glasses right when we walked into the kitchen 🙂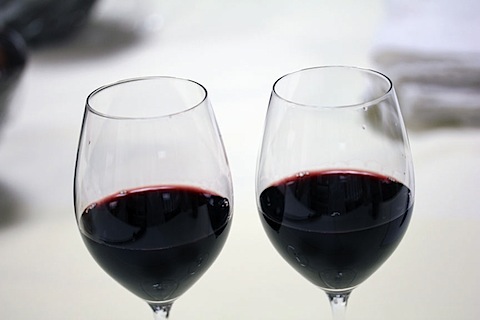 We talked for a bit about what makes the Bristol Lounge's burger so amazing (they consistently win Best Burger in Boston) and Chef Vosika explained exactly what we would be doing for the evening.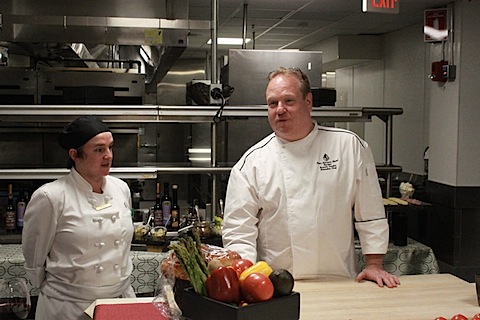 Chef Monica is also fantastic and helped us bring our burger creations to life.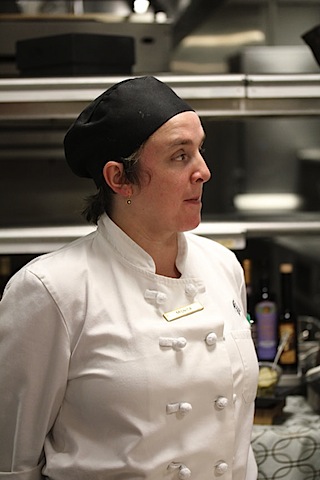 We started with the basic Four Seasons beef burger. Because really why change an already awesome thing?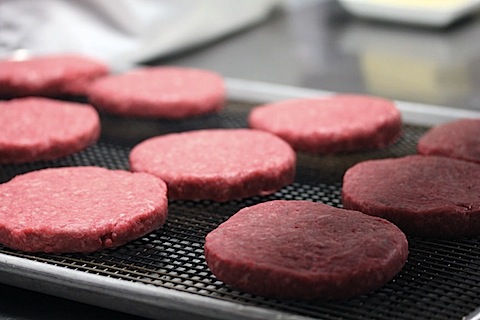 All of the burgers at the Four Seasons are freshly ground and grilled to order.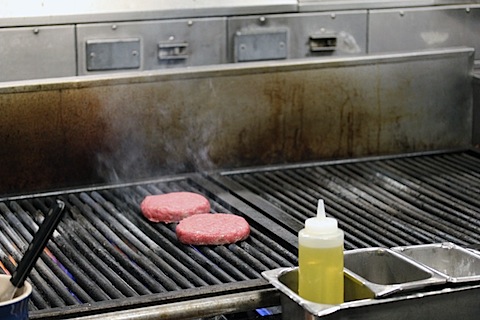 Check out the spread of toppings we had to choose from to make our burgers. Everything from sun dried tomatoes to fennel cole slaw to mushrooms and more.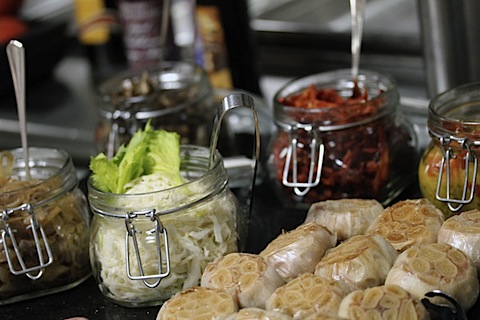 And lots of roasted garlic.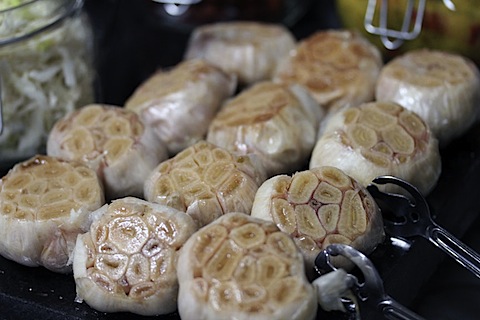 And deliciously caramelized onions.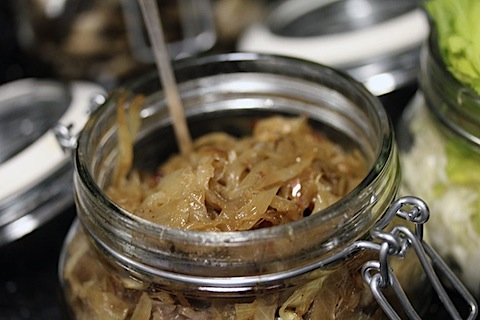 Any kind of cheese you could dream of. Of course, there was bacon, too!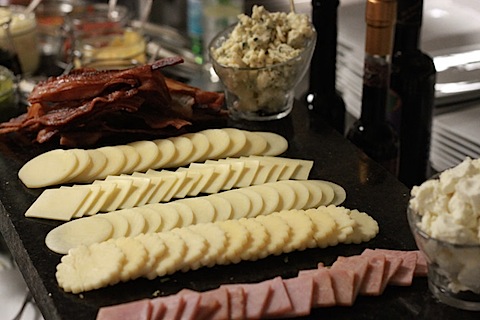 And fresh produce.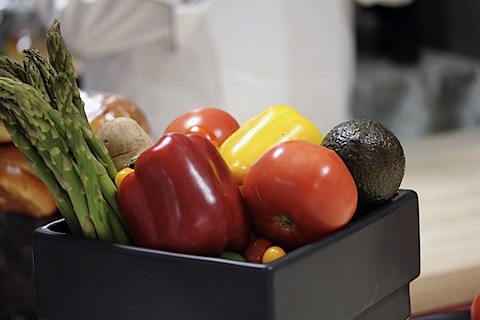 All the condiments you could imagine.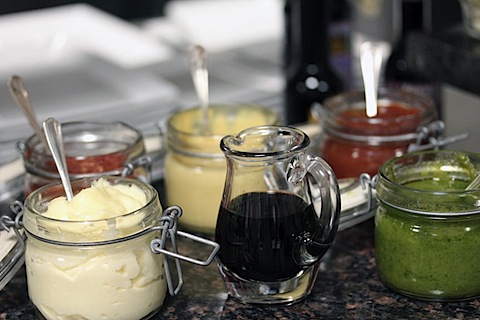 And house-made pickles.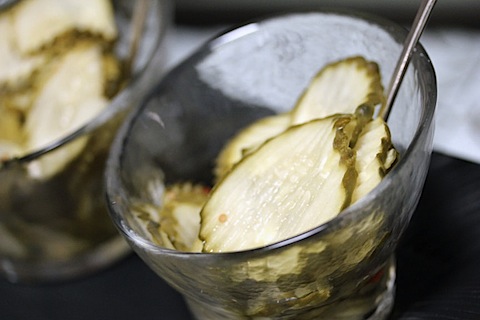 We were also told we could name any ingredient we wanted and they would try to find it for us. Time to get creative!
Plus, while we were planning our burgers, we got to snack on some of the Bristol Lounge's best treats. Always good to get the creative juices flowing.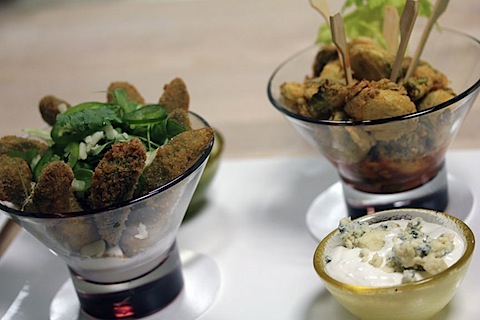 Like fried avocado.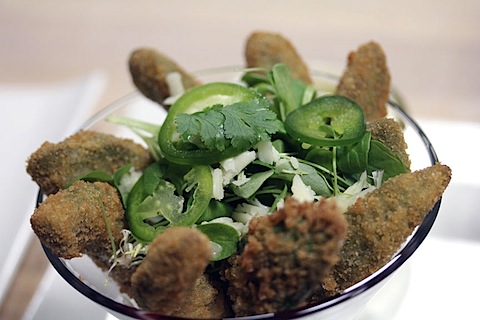 And buffalo brussels sprouts.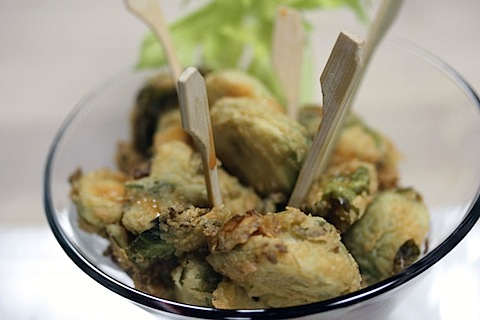 Both were absolutely amazing! And we had to try really hard not to fill up... Because we knew we'd be trying LOTS of burgers.
The chef warned us we might wake up in two weeks desperately craving this green sauce for the fried avocado. And I'm pretty sure he's right.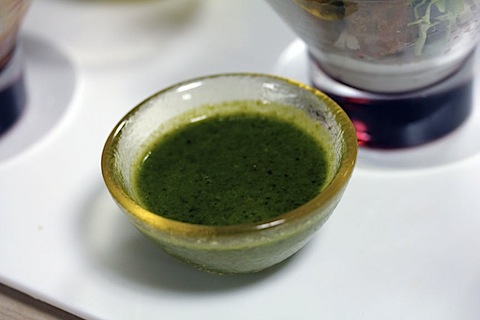 But we'll also be dreaming about these french fries and all their dipping sauces (the sweet potato fries may just be the BEST I've ever had!).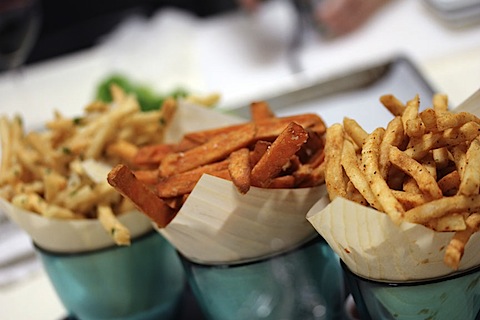 While I've always known the Bristol Lounge had fabulous food, I don't think I realized they were so fun! I mean, fried avocado and buffalo brussels sprouts? Incredible!
After some serious snacking, it was time for Chels to get her burger-making on.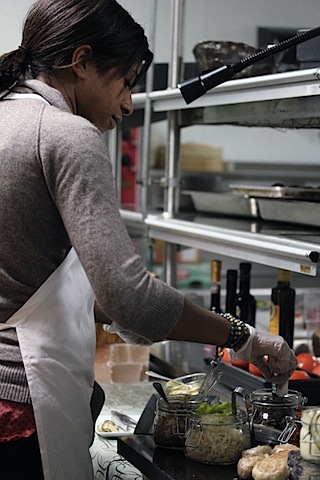 Both of us went back and forth and back and forth trying to decide what combinations we wanted to use. Neither of us are very decisive... We even took lots of notes. This was serious stuff.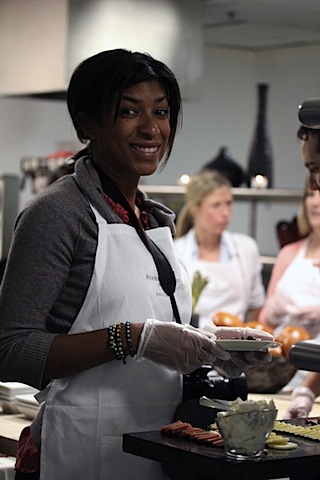 But Chels ended up going with a garlic mayo (amazing!!), mushrooms, bacon, swiss cheese, and lettuce and tomato.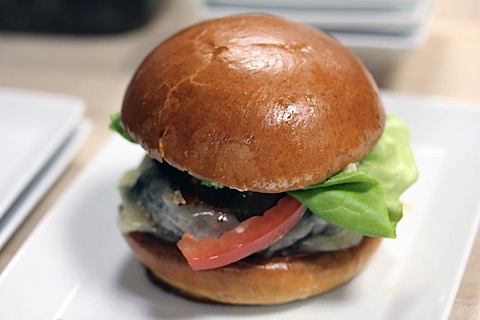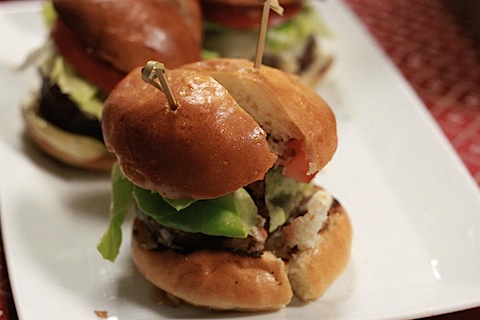 And then it was my turn...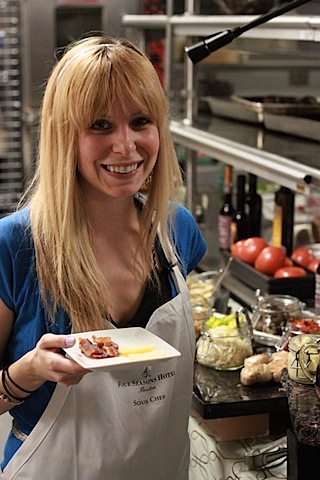 I did a bacon and cheddar burger with guacamole on one side of the bun and a chili mayo on the other. And topped it with tomato.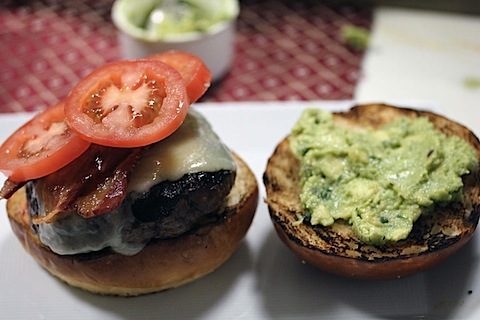 It was a total last-minute plan for me as one of the chefs happened to mention he could get me guacamole if I wanted it. Of course I did! If forced to name it, I alternated between "Martha with a Kick" or "Jekyll and Hyde" since it was mild on one side with the guacamole and spicy on the other with the chili!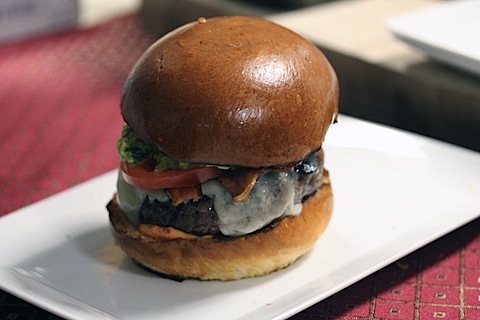 We got to build our own "big" burger and then the chefs recreated our burgers into mini versions so we could all taste them.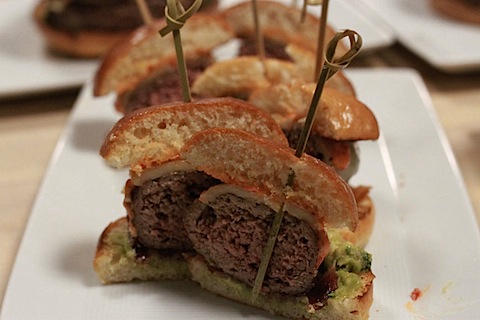 Oh, and then they brought out these house-made potato chips, which were absolutely OUT of this world. Not only are the Bristol Lounge's burgers incredible, but all their sides seem to match, too! Everything we tried, we loved.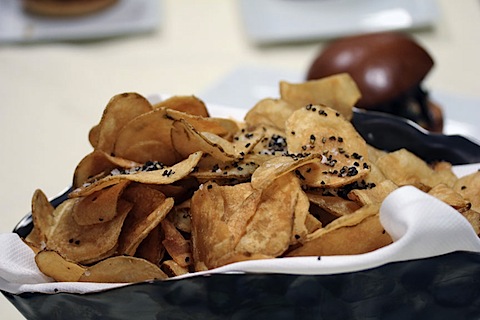 We were super proud of our burgers and had SO much fun. We got to take our regular-sized burgers home (where Chris immediately dug into my creation!).
We also learned that our burgers are going to be featured on the Bristol Lounge menu in May for National Burger Month- with our name beside our burger! How cool is that? I'll definitely be going back when my burger is featured. And maybe Chels's too. OK fine, I want to try all the burgers again!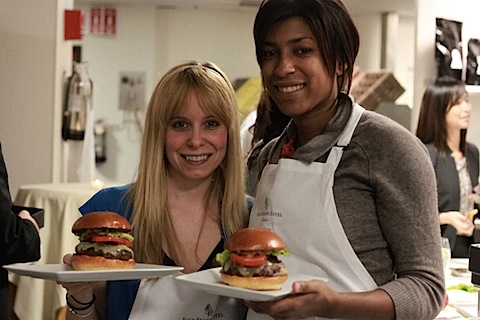 Talk about an amazing evening! Plus, we got to meet so many bloggers we've been reading FOREVER but have never met in person. I seriously feel like I know Daisy, but hadn't actually met her until last night. Finally! The same goes for Small Boston Kitchen and the girls from Just Add Cheese (who sadly got cut out of the below photo!) And if you want to learn more about burgers in Boston Burger Blog is the place to check it out!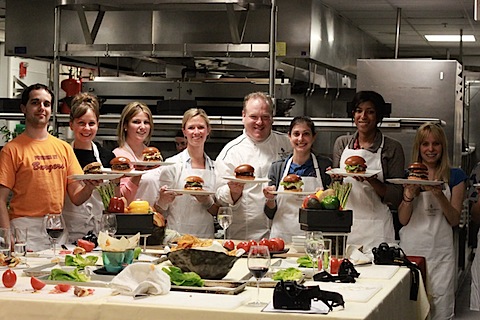 Now that I'm all in wedding planning mode, Chels and I obviously had to check out the beautiful venue that is the Four Seasons on our way out. Definitely a stunning location. And I was obsessed with these flower arrangements in the front lobby. I LOVE tulips and think these are so perfect for spring.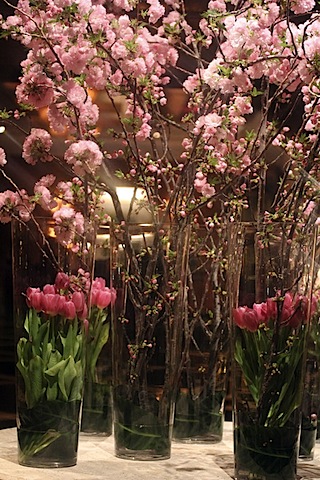 Thank you SO much to the Four Seasons for inviting us to this fabulous event!
Oh, and be sure to head to the Bristol Lounge throughout May to get a chance to try our burger creations! We'll let you know exactly when they'll be on the menu as the time gets closer 🙂
What's your dream burger creation?
Bristol Lounge
at the Four Seasons Hotel
200 Boylston St.
Boston, MA 02116
(617) 338-4400
[Sues]