In lieu of cocktail Friday (I'm just drinking wine tonight… my week was so crazy/draining that I can't even handle making a cocktail), I have something else fun to talk about. Turkey. I mean, I was going to wait on this post, but then I realized Thanksgiving is legitimately less than two weeks away. Whoa. How on Earth did that happen? Now I need another glass of wine to come to terms with how fast the weeks have been flying. And maybe a cupcake. Or a pumpkin doughnut.
If you've been reading our blog for over a year now, then you know how we experience Thanksgiving every year. Yes, with family and friends… But also with Butterball turkey! We've been working with Butterball for 4 years now (holy, that sounds like a ridiculously long time) and we have had nothing but awesome experiences with them. This is the first year we're not actually going to the Butterball headquarters in Chicago and we're seriously missing our Butterball buddies like crazy. I can 100% honestly say that the women (and few men!) who we've interacted with the past 3 years have been some of the nicest people I've ever met. Sadly, we won't get any photos like this in 2012: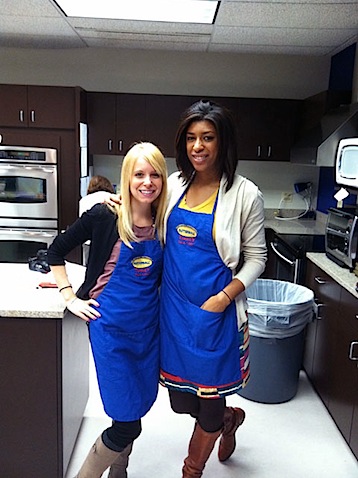 But I'm most definitely pulling out my notes and getting my turkey studying on. The classroom is not the only place you can learn… In fact, the kitchen is the best!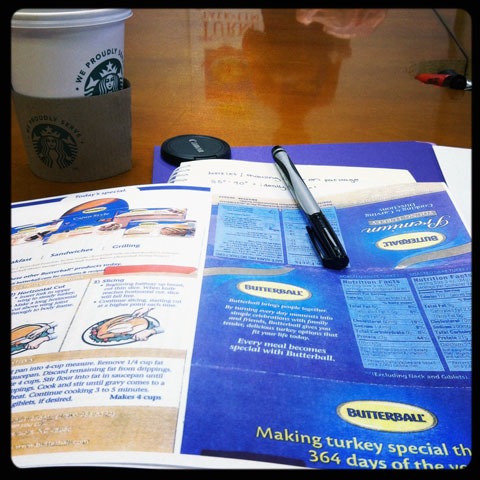 OK fine, our Butterball sessions were always in a kitchen anyway, but sometimes I think it's good to take what you've learned and go home and see what you can do with it.
Anyway, when you call 1-800-Butterball this holiday season, be sure to tell the lovely ladies that Sues and Chels say hi! And know that they'll most definitely have all the answers to your questions. BUT if you're all like, "It's 2012; why would I pick up the phone and call someone when I need help? There's got to be a better way," you're right. This year, Butterball launched their Butterball Cookbook Plus App ($4.99).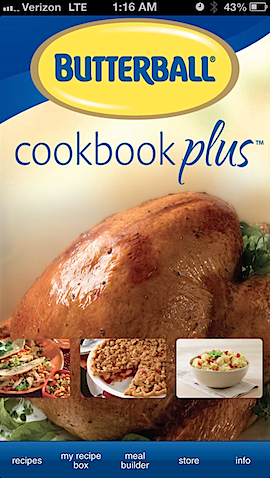 It's packed with TONS of Thanksgiving recipes (that you can obviously cook year-round) with recipes for everything from brined brown-sugar turkey to breakfast burgers to couscous turkey salad to cake pops. Each recipe has a big vibrant image and super duper easy-to-follow instructions.
One of my very own original recipes is going to be on the app, too. Cannot wait to see that!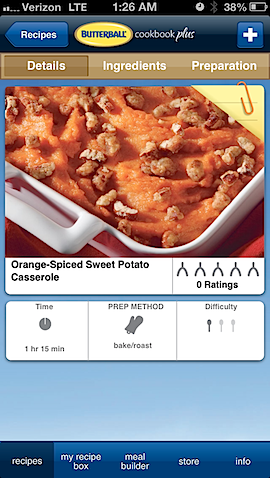 You can also easily save recipes to your recipe box and create grocery lists right on the app.
One of my favorite features of the app is the video tutorial feature. Since after 4 years of Butterball University, I still am a horrible mess when it comes to carving a turkey, having this nearby will be a must.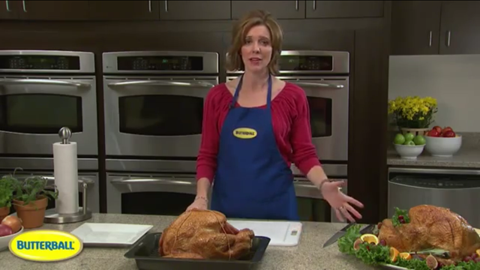 As will the handy dandy conversion charts. AND the fact that lots of the features take voice command, which means you can follow along with your chosen recipe and not have to touch your phone with turkey hands (or whatever the ingredient of the moment is). For me, my phone gets ridiculously covered in frosting all the time.
I love that we've been able to see Butterball come such a long way in the last 4 years. Now they have a very active Facebook and Twitter presence and are even on Pinterest. And I've been pinning away on their Golden Thanksgiving board 🙂 And, of course, we're still blogging away on the Butterball blog! Since I work in and love social media, there's nothing I love more than seeing a brand do things well. (But really, Butterball's website is also a tremendous resource).
Butterball Turkey Giveaway!
Want to win a Butterball turkey for your Thanksgiving dinner? OK, so Butterball won't be popping a turkey in the mail… But they will send you a turkey gift check if you win so you can go out and buy one yourself! All you have to do is leave a comment on this post by Monday November 12 at 11:59 p.m. letting me know what feature you're most excited for on the Butterball app. For extra entries 1) Follow @wearenotmartha on Twitter and 2) Follow @Butterball on Twitter. Just leave a comment for each extra entry you do. Good luck!!
Now, I hope you're in the Thanksgiving spirit and already have a Pinterest board filled with all the dishes you'll be making next week. 🙂
To see our past Butterball trips, check out:
Butterball University, 2009, pt 1
Butterball University, 2009, book 2
[Sues]
Disclaimer: although I am working closely with Butterball and had my Cookbook Plus app gifted to me, all opinions are 100% mine!