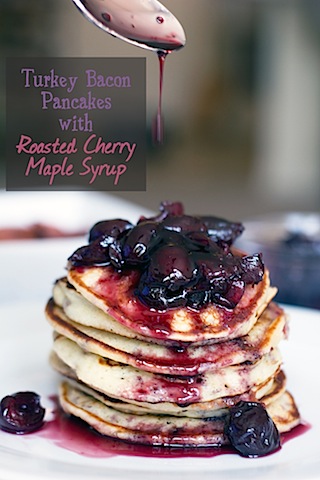 Sometimes I think life would be just a little bit more perfect if every day began with bacon and pancakes. But then I discovered what a day could be like if life involved bacon IN pancakes. And I realized it was even better. Like best day of your life better. These pancakes were, of course, inspired by my new project with Butterball. When I opened my giant package of various Butterball products, I immediately started craving bacon. Probably because there were four beautiful packages of Butterball Turkey Bacon. And that led to pancakes. Which led to my crazy brain wanting to combine the two. Why the heck not, right?
Obviously that led to me wondering what kind of fruit goes best with bacon. Well, I truly believe that any fruit goes well with bacon (or any food in general), but that cherries are especially delicious. So I roasted some cherries up and made them into the most delicious maple syrup in all the world. I really do mean that.
These pancakes are proof that bacon really does make everything better. Not that you really needed a reminder of that. And yes, turkey bacon most definitely counts!
Butterball Turkey Bacon Pancakes with Roasted Cherry Maple Syrup (serves 4):
Print this recipe!
6 slices Butterball Turkey Bacon
1 C all-purpose flour
2 T sugar
2 t baking powder
½ t salt
1 C buttermilk
3 T unsalted butter, melted
1 large egg
1 t vanilla
1 batch Roasted Cherry Maple Syrup (see below for recipe)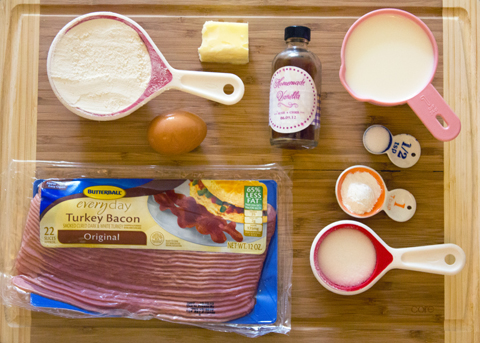 Roasted Cherry Maple Syrup:
Print this recipe!
2 C cherries, stemmed and pitted
½ C maple syrup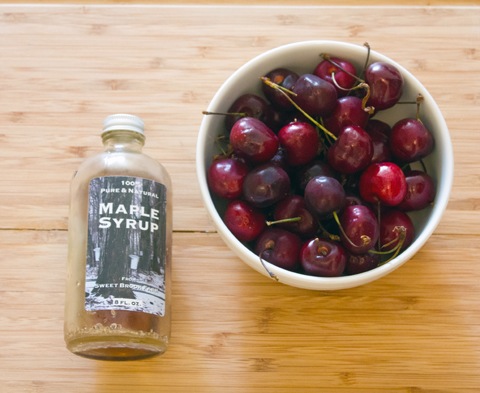 Where to start, where to start. Well, I'd start with the cherries. Place cherries on a parchment-lined baking sheet and pop in the oven at 350 degrees for about 30 minutes, until you can see the cherries beginning to burst.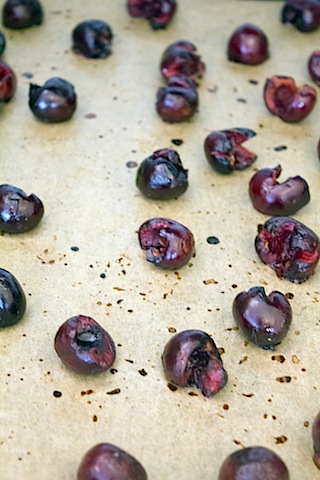 While the cherries are roasting, you can get started on the pancakes. Here is the star of the show!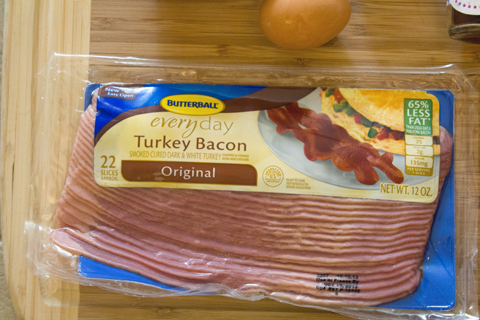 Butterball Turkey Bacon is not just a fabulous alternative to pork bacon. It's just plain delicious... And now I'm at the point where I'm craving it every morning! And since it has 65% less fat than pork bacon, I think that's OK! Plus, there are 22 slices in one pack, which means it's enough to feed a crowd of bacon-loving folks.
I always think bacon is best when it's slow-cooked, so I recommend starting the pancakes by crisping up your bacon. Since it's going inside the pancakes, you don't have to worry too much about slow-cooking, but it's still nice to do!
If you cook it over low heat, it will probably take about 20-25 minutes to cook and you'll have to be sure to turn it often. You could also cook it over medium heat for about 4-9 minutes, turning often.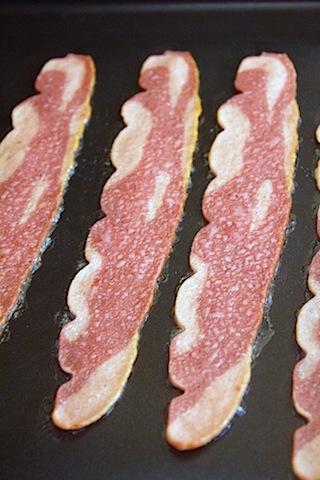 I made sure the bacon was super duper crispy so it would crumble right into the pancakes.
And while the bacon was cooking, I got my pancake batter ready.
First, I whisked together the flour, sugar, baking powder, and salt in a small bowl.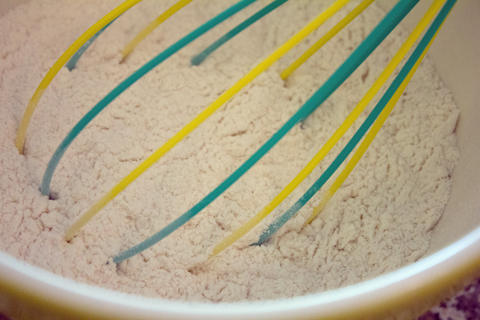 In a medium-size bowl, I whisked together the buttermilk, melted butter, egg, and vanilla.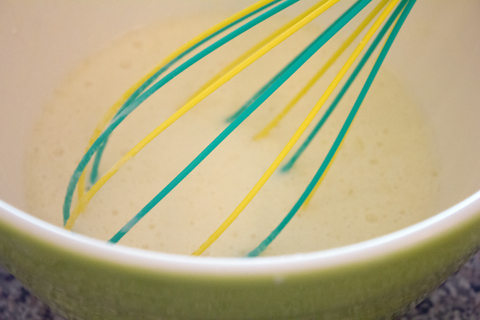 Then, I slowly poured the dry ingredients into the wet ingredients, stirring until they were just combined (being careful not to over mix). And then I crumbled the bacon into the batter.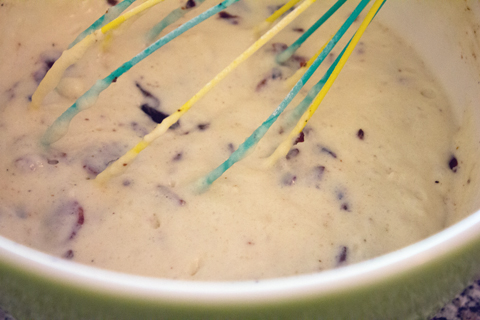 On the same griddle I cooked the bacon on, I poured about ¼ C of pancake batter on at medium heat. I cooked my pancakes right in the bacon grease (yum!), but you could spray or brush with olive oil if you choose.
Cook pancakes for about 1-2 minutes on each side, until bubbles have burst and they're nicely browned.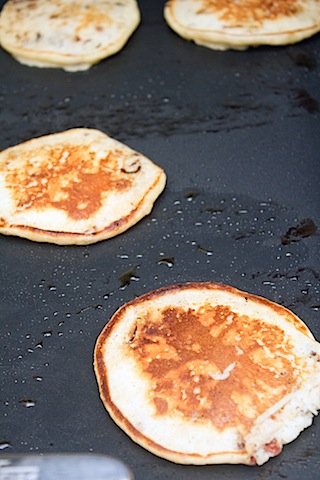 If you're doing the pancakes in batches, you may want to keep the finished ones warming in the oven.
And don't forget about the cherries! Once they're out of the oven, put them in a medium-size saucepan with about ⅓ C maple syrup.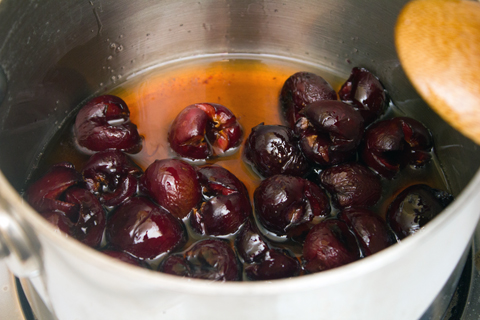 Bring mixture to a boil and then lower to a simmer and let cook for about 10 minutes.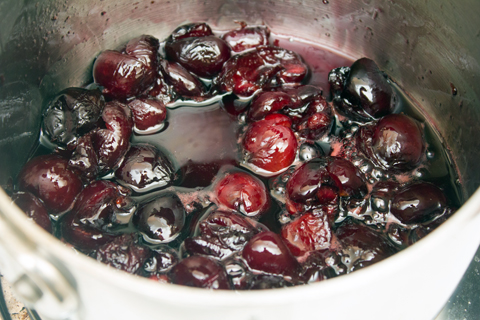 Pour the roasted cherry maple syrup over the pancakes.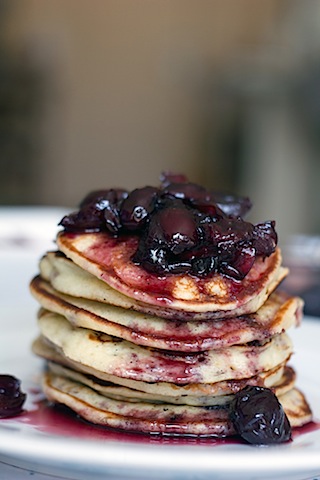 And repeat after me: breakfast is the best. Turkey bacon is the best. Turkey bacon-filled pancakes make me want to sing. Yes, sing.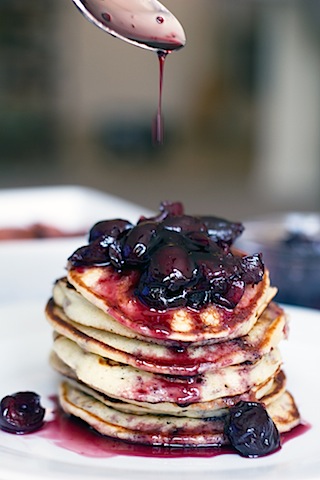 I actually served my pancakes with Butterball's Recipe Starters Hardwood Smoked Turkey Sausage. Because too much meat at breakfast? Is a lie. Especially if it's turkey. Turketarians unite!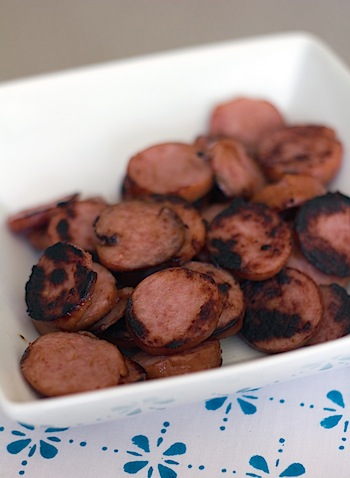 I'm sure that if I could have thought of a way to put the sausage in the pancakes, too, I would have. But on the side was fine, too. I kind of think the pancakes had enough going on already.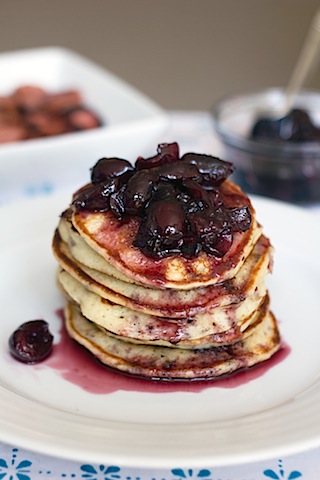 Like the roasted cherry syrup.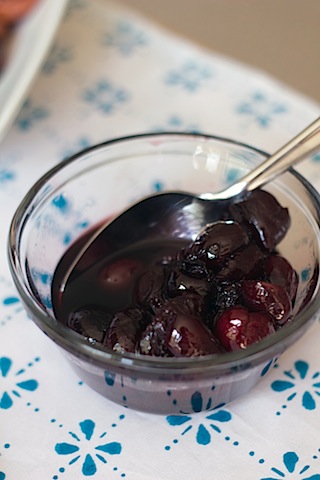 I kind of went a little bit overboard on the syrup. But it was SO. GOOD. I could not stop.
Is an entire stack of pancakes too much? Can you see the beautiful turkey bacon scattered about? Swoon!
Don't mind if I do!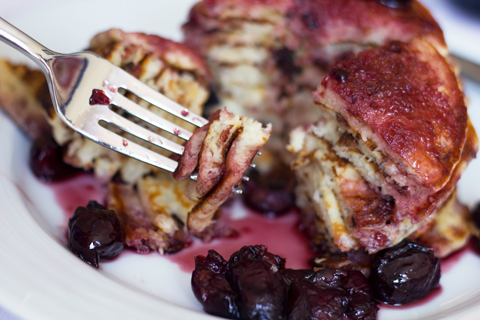 This photo will probably have to go into my someday book that I will call "The Aftermath," which will feature photos of the cooking and/or eating process. These pancakes were demolished in a matter of minutes.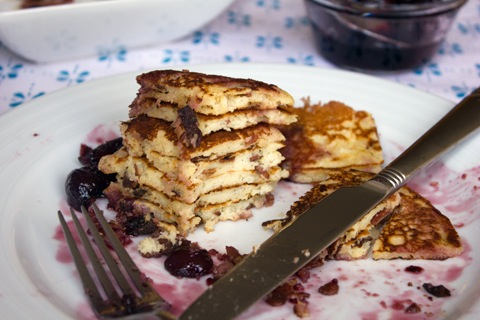 I'm fully convinced that your day will be at least ten times better if you start it with Butterball Turkey Bacon Filled Pancakes with Roasted Cherry Maple Syrup. If you need to skip the syrup in the interest of time or cherries not being in season, not a problem. Regular maple syrup will do, too. You can't really go wrong with putting turkey bacon in pancakes; just remember that.
What's your favorite way to incorporate turkey into your breakfast?
[Sues]
Disclaimer: I'm currently working with Butterball and was compensated for this post. However, as always, all opinions are completely my own! I hope it's clear by now that I really am a Butterball fan and am psyched to be working with them once again!