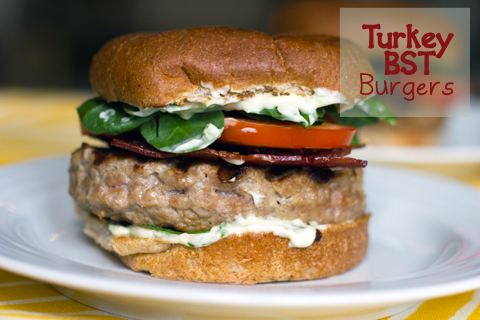 You know when you're out to eat and you just can't decide what to order? My biggest meal decision is often between the burger and the BLT. And sometimes I get just plain bitter I have to decide between the two. Sometimes I consider ordering two things, but I always have issues thinking I can eat EVERYTHING and must order the entire menu ASAP before I actually start eating a meal and realize, um, I really can't eat as much as I think it can. Especially when I order a mountain of nachos for an appetizer. Or calamari. But that's neither here nor there. I'm talking about tough menu decisions.
And that's precisely why I enjoy combining some of my favorite foods. At first glance, a burger and a BLT are not very difficult to combine as you can basically add some bacon to a burger and call it a day. But come on, now, a true BLT has a healthy slathering of mayonnaise, a condiment we rarely see on burgers, at least not here in America. So, whip yourself up a quick aioli and add a little spice to it if you're like me. I used spinach instead of lettuce because I always have it in my fridge. And I doubled up on the turkey with both the burger and the bacon. If Butterball's goal was to truly turn me into the most ridiculous Turketarian ever than I think they have succeeded. Well done, Butterball. Well done.
Butterball Turkey "BST" Burgers with Basil Jalapeño Aioli (makes 2 burgers):
Print this recipe!
1 batch basil jalapeño aioli (recipe below)
6 slices Butterball Turkey Bacon
2 Butterball Turkey Burgers
2 burger buns
2-3 tomatoes
1 C spinach
Basil Jalapeño Aioli:
Print this recipe!
½ C mayonnaise
1 jalapeño pepper, roughly chopped with seeds removed
1 clove garlic
2 T basil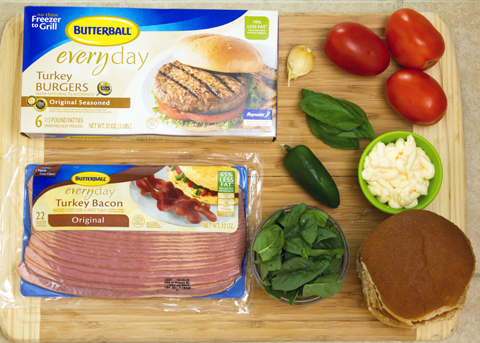 I know I'm working with Butterball and all, but I wouldn't lie to y'all. And when I say this turkey burger is the most tender, juicy burger I've had in a long time, I absolutely mean it. I had no clue turkey burgers could taste so good, but now that I know, I'm never looking back. Never ever.
Not only do I love the burgers, but I'm also majorly impressed with their packaging. Since Reynolds is a partner of Butterball, they designed the burger packaging- the burgers come in a lovely re-sealable freezer bag. This makes me happy for many reasons, one being that I have way too much experience with freezer burn and this bag means my burgers will not get freezer burn. Plus, they're kind of pretty as far as these kinds of things go. And I think you know you're old when you write an entire paragraph about a freezer bag and still feel as though you have more to say. I'll just stop now.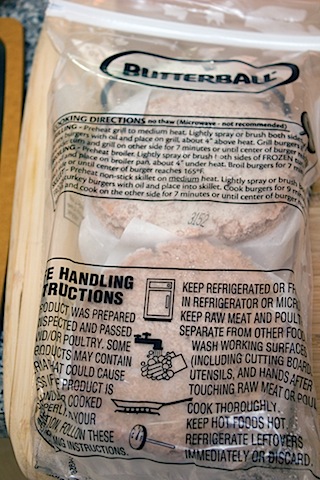 Anyway, let's make the aioli first. Place your mayonnaise, jalapeño, garlic clove, and basil in a blender or food processor and blend until smooth.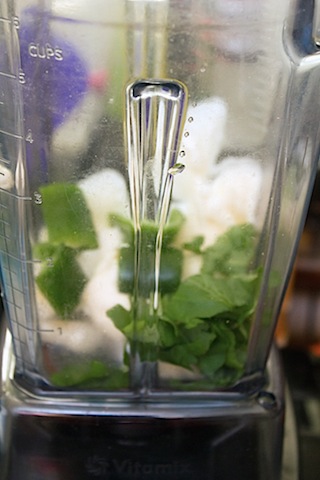 Remove to a small bowl and keep in the fridge until ready to use.
Now, let's get our bacon on. This time, I decided to cook my turkey bacon low and slow. I put my six slices on a griddle over low heat and let it cook for about 30 minutes.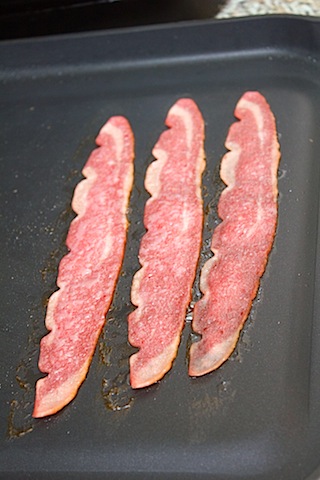 I also sprinkled it with a little bit of tellicherry pepper and fenugreek, which is a little trick my dad taught me. I flipped it a few times while it cooked up and got nice and crispy.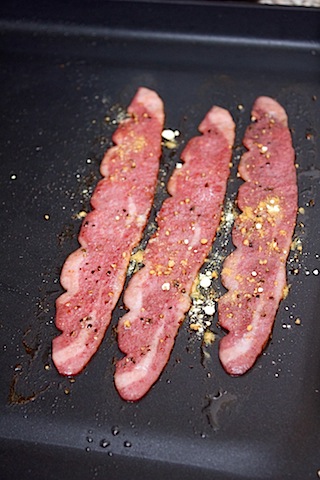 While the bacon was cooking, I brushed my burgers with a little olive oil and placed them on my grill pan over medium heat. I cooked on one side for about 5 minutes and then flipped and cooked for another 5-7 minutes, until the inside registered 165 degrees on a meat thermometer.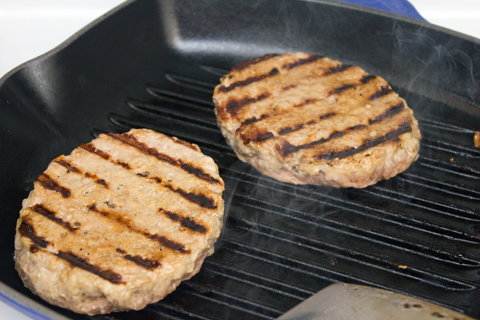 Perfectly cooked with the perfect grill marks! All done from my stovetop.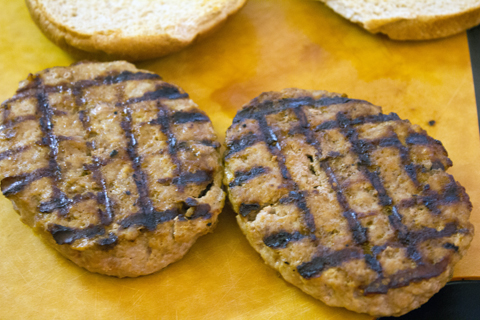 I toasted up my buns a bit because there really isn't anything better than a toasted bun when it comes to enjoying a burger.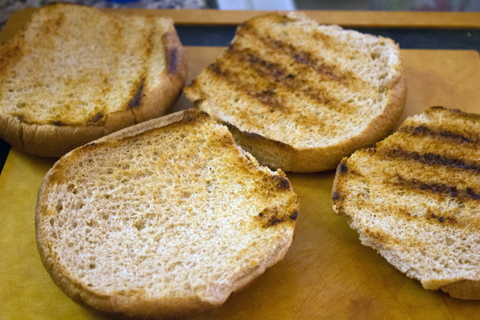 I got my aioli out of the fridge and generously spread it on each of the buns.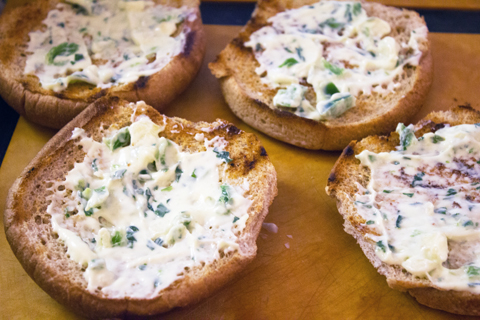 Then I put the burgers on the buns and topped with bacon.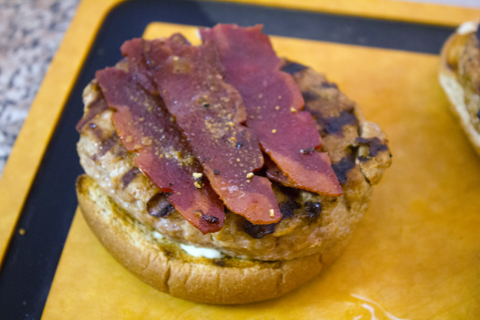 Tomatoes.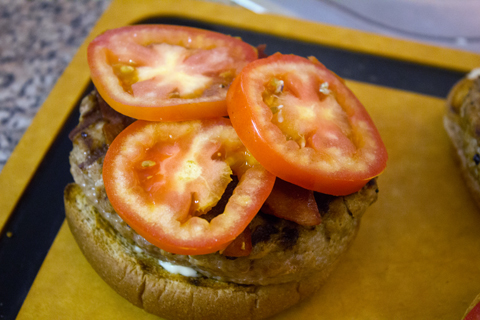 And spinach.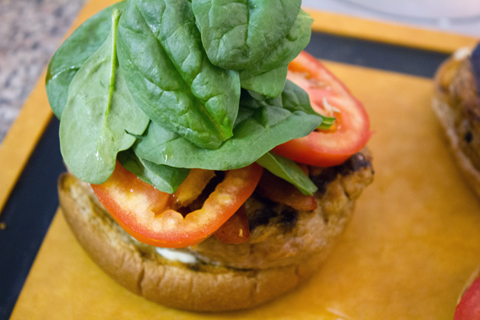 I put the top of the bun on and called it a day.
I might have even called it the best day ever.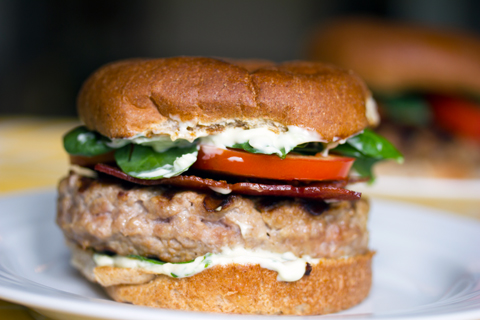 I'm sorry, but can't you tell just by looking at that burger how tender and juicy it is? I know I already said it, but these turkey burgers are like heaven. If you think turkey is dry and tasteless, try these. And your mind will be changed!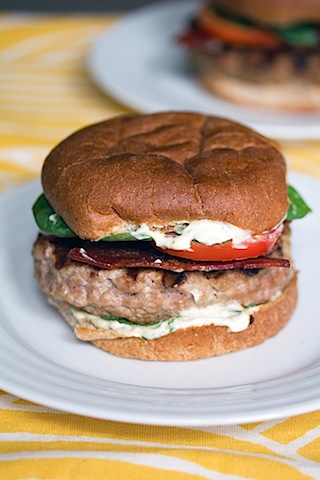 Don't you think it's funny how some people claim to hate mayo, but call it an aioli and they get all swoon-like? Pshh I won't call you out because I get it. I totally get it. This isn't even really a true aioli, but I'm going with it and you should, too.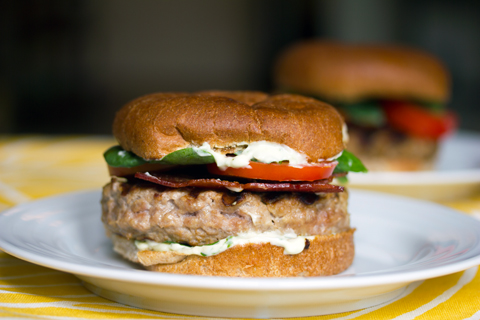 Everyone knows bacon makes everything better, so turkey bacon on a turkey burger must be enough to make the world explode, right? Well, pretty much. It added the perfect crunch to the burger and a little bit of saltiness to offset the tomatoes and spinach.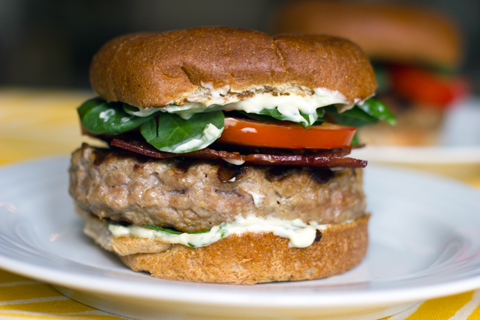 Turkey overdose? No such thing. And I actually made these burgers again a couple nights later. Because I got home from work and was tired and didn't feel like thinking and I remembered how simple and fast these were to make. And so I spent 15 minutes in my kitchen and came out with these, which I gobbled up. Get it, gobbled?
And now I never have to make that super tough menu decision again. Because it's sitting in my freezer. And fridge. Yum.
How would you top your turkey burger?
Check out the free Butterball Cookbook Plus app for more recipe ideas and Instagram for behind the scenes look at all things turkey.
[Sues]