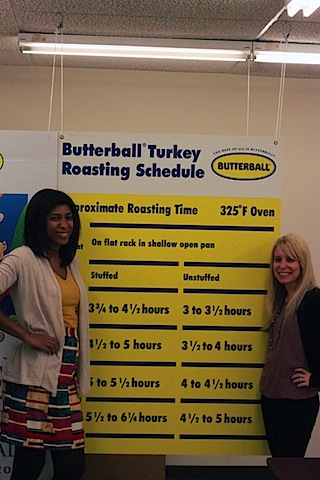 Hello! We're back from Chicago and proud to say we've completed our third year at Butterball University! This year's trip was a little bit shorter, but we still got our full day in at the Butterball kitchen, getting trained on how to cook turkey many, many different ways. While we've learned an endless amount of turkey cooking knowledge each year we've attended BBU, I honestly think this year was the best of them all. Everything really seemed to stick and I felt way more familiar and comfortable in the kitchen with the turkeys. I almost wanted to run home and prepare 11 different turkeys using each of the methods! Although I'm pretty sure my apartment building neighbors wouldn't appreciate it too much if I brought out a turkey fryer (unless I had Masterbuilt's Indoor Electric Turkey Fryer!). Though they'd probably love if I shared the leftovers.
When we first arrived in Naperville on Wednesday, we met the fabulous Butterball and Edelman team for dinner at La Sorella di Francesca, along with two other bloggers: Zippy from Champagne Living and Heather from Home EC 101. After a day of traveling, we were starving and dug right in to some calamari.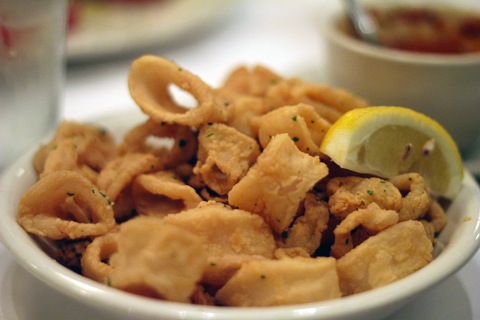 And tomato, basil, and mozzarella.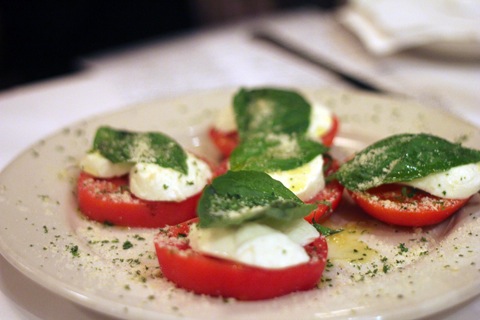 I enjoyed rigatoni and asparagus…. In fact, the biggest bowl ever. What? We had a full day of turkey cooking ahead of us and I needed to carbo-load (As a non-marathoner, I need a carbo-loading excuse, too. Just give it to me).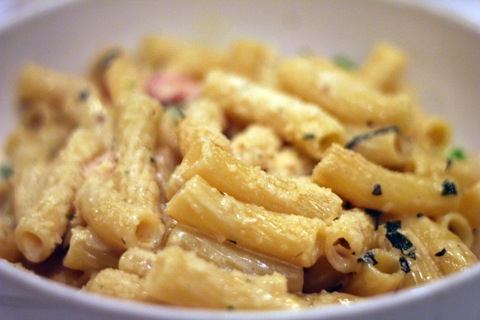 And Chels had the delicious pumpkin ravioli, which I snagged a bite of.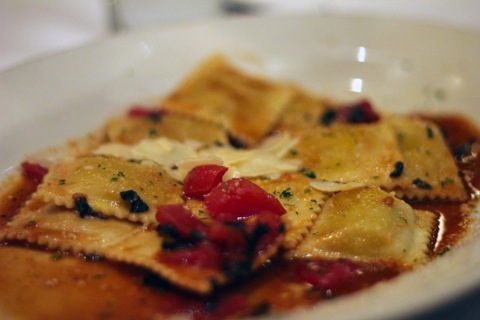 Dessert was a heavenly molton chocolate cake with mint chocolate ice cream. We couldn't resist!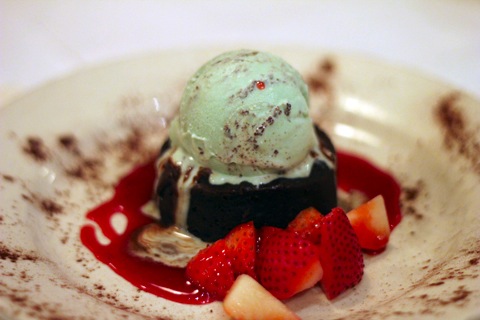 Bright and early the next morning, it was time to head over to the Butterball headquarters and join the ladies of the Turkey Talk Line. Seriously, this is one of the very best days of the year. It's called Freshman Day and is basically the day when the newer Butterball Talk-Line experts come together and learn and review everything there is to know about cooking turkey. That way, when you call 1-800-Butterball when you're tying to prepare your Thanksgiving turkey, they can answer every single one of your questions.
We've been lucky enough to have the chance to join them for the last 3 years, so we can learn right along with them! Basically, we're learning all things turkey from the most skilled turkey chefs around.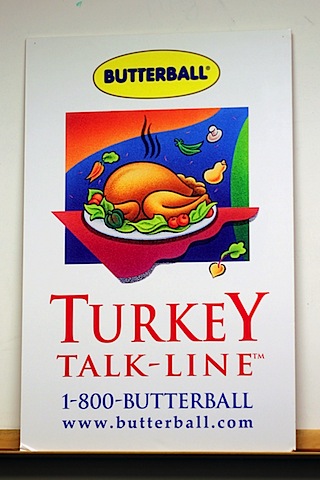 When we arrived, we spent a little bit of time listening to turkey experts Carol and Marty talk about everything from food safety to thawing to the different methods of cooking turkey.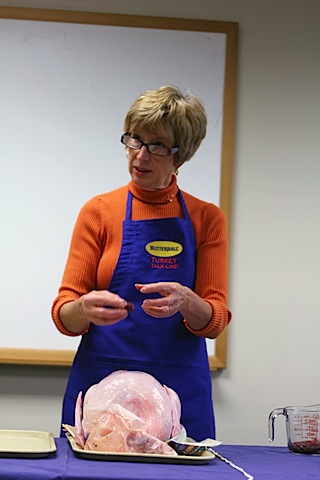 You may not realize it, but there really is so much to learn when it comes to turkey. One very common phone call the Talk Line ladies get is from people that didn't realize you need to take your turkey out of the freezer days before you want to cook it. You can't thaw in 8 hours, like you can a chicken breast! Of course, many other people have questions about what temperature their turkey should be so it's safe for their guests to eat and what exactly all that information on the Butterball label means.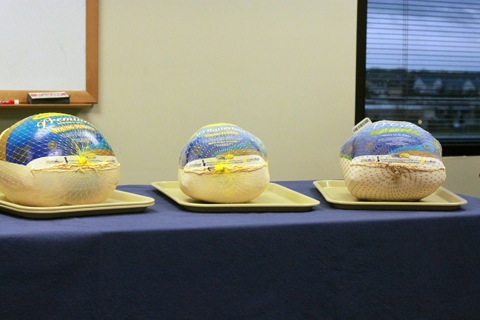 After refreshing our minds with all the information, it was time to get in the kitchen and start prepping our own turkeys! I'm still obsessed with the easy-open Butterball packaging. It's, um, actually kind of fun to open.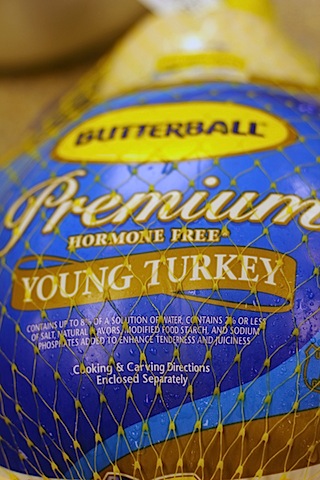 Like each past year, we were each assigned a cooking method and our very own turkey. This year, I got a moist heat method with the oven cooking bag.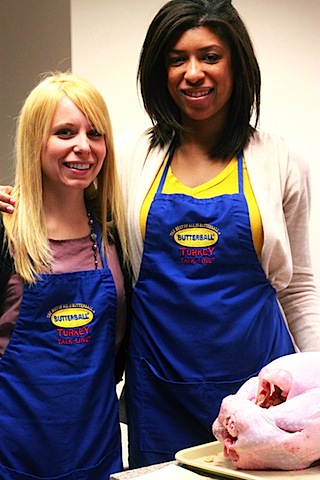 I grew up in a family that practices the dry heat open pan cooking method and before attending Butterball University, I never even realized there were so many different ways to cook a turkey. Now I am much wiser. Anyway, using an oven cooking bag is becoming more and more popular and one reason people like it so much is because it's a quick cooking method.
Chels's method was foil wrapped high temperature, which is also a quick cooking method.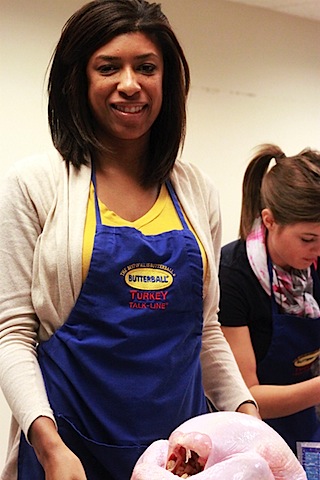 After we both prepped our turkeys (including stuffing them… for the experience. And then un-stuffing them!), we got to do a demonstration in front of the whole class.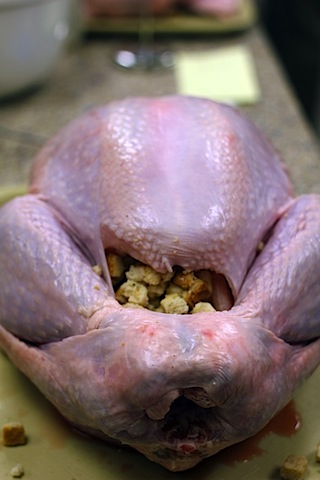 First I demonstrated how to prepare a Reynolds oven bag (a little bit of flour, some celery and onions) for the turkey, along with Carol.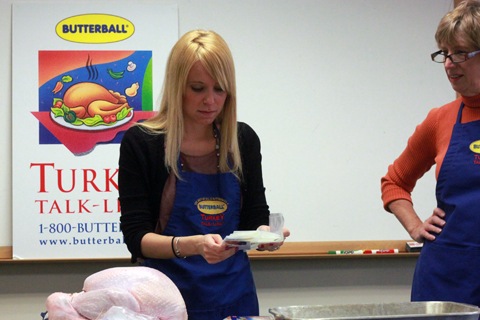 It was my first time so I had to take a look at the instructions 🙂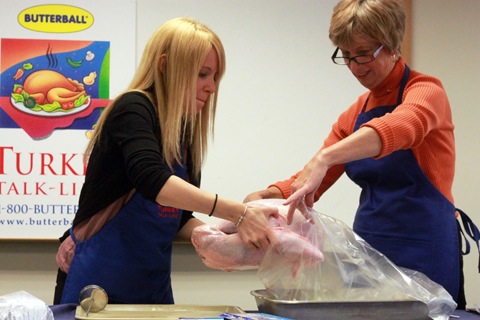 Then Chels sprayed her turkey with a little vegetable oil and covered it in heavy duty foil.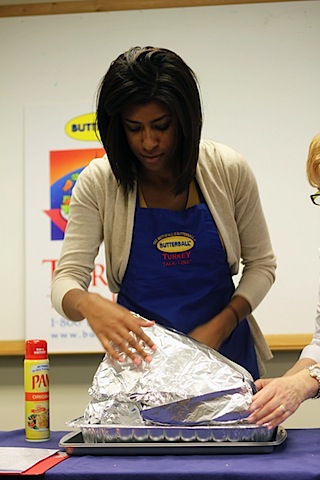 Into the ovens our turkeys went. Yes, Butterball has a kitchen filled with ovens.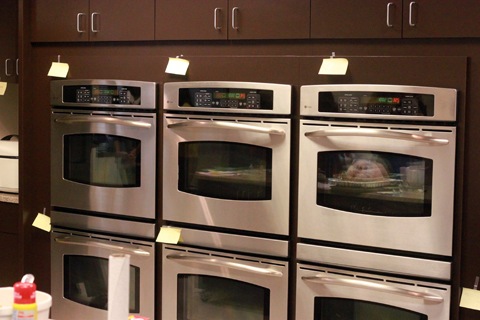 And we were all assigned our very own.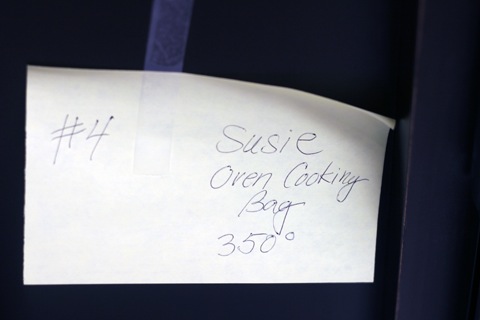 Labeled with the proper temperature and everything.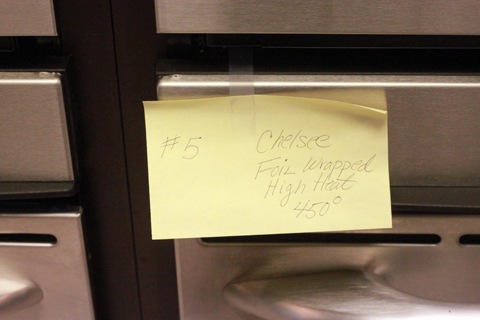 While everyone's turkeys were in the ovens, roasters, microwaves (yes, someone microwaved their turkey!), etc. we sat back down and learned about even more turkey cooking methods. This time, we heard all about turkey grilling, frying, and more. We also heard about all kinds of different meat thermometers… Something else I had no idea there were so many options for.
Marty demonstrated some alternatives to roasting racks.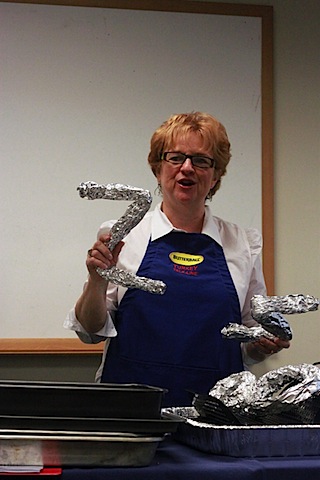 Then it was back to the kitchen to check on our turkeys! My turkey went in at 350 degrees and it took 2 hours and 15 minutes to come to the right temperature. Isn't that super quick?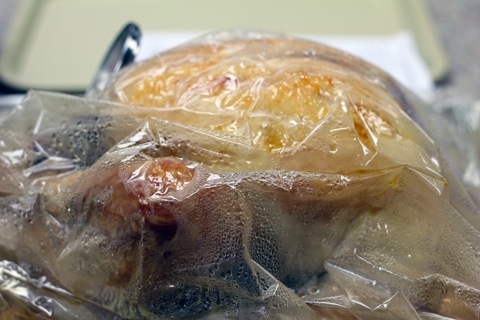 Seeing how quickly my turkey roasted, I can see why lots of people like the oven bag method. When it's Thanksgiving day and you have about a million different dishes vying for the attention of the oven, having your turkey cook so quickly is a great thing.
However, I wasn't a huge fan of the coloring of my turkey. It wasn't nearly as golden as many of the others!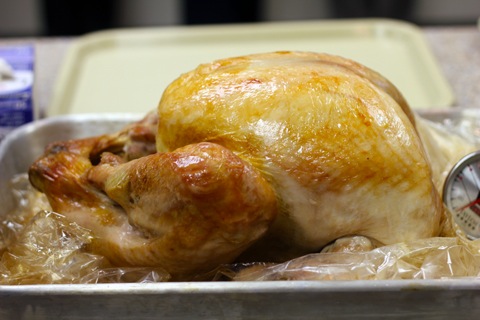 Chels's turkey took even less time in the foil. She was cooking hers at 450 degrees, which is a super high temperature for roasting a turkey. But look at how beautifully golden hers is!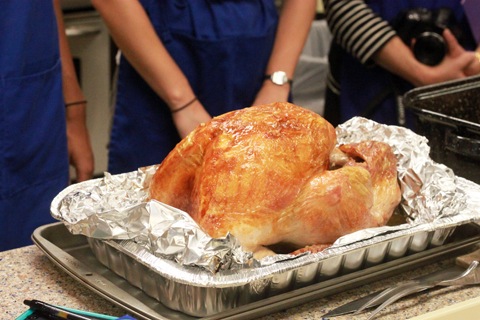 One of our very favorite parts of Butterball University is seeing the whole turkey lineup: everyone's just cooked turkeys fresh out of the oven!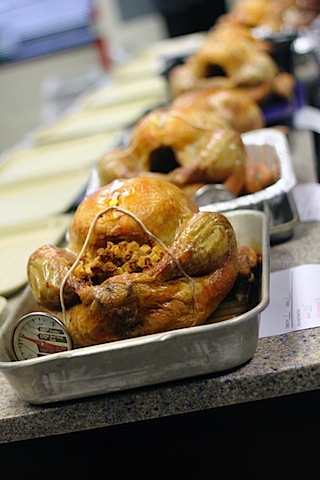 And all of the lovely ladies who made them.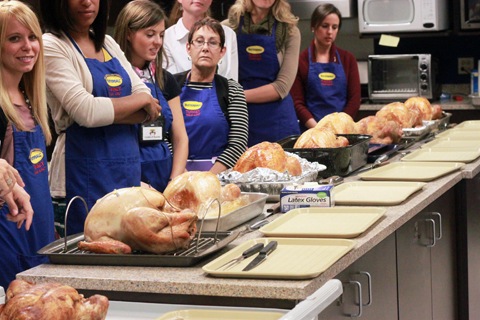 We went through the lineup and everyone talked about their method, how long their turkey took to cook, and how it looked right out of the oven.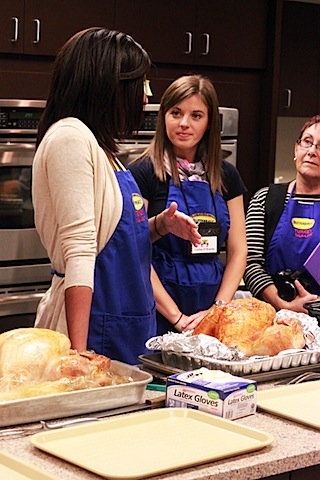 It was really interesting to hear everyone's different experiences with their turkey. We're at Butterball University to learn ALL about cooking turkey. So, even though we each had our own method, we still made sure to pay super close attention to what everyone else was doing, too.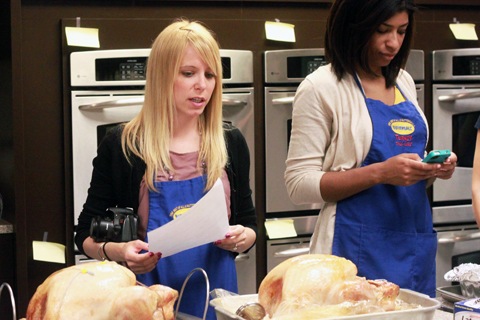 But even when the turkeys were cooked, our jobs were not yet complete. We still have to carve those turkeys up! Carving is definitely not my favorite thing about turkey training, but it's obviously pretty essential if you want to make the most of the turkey and have it looking pretty.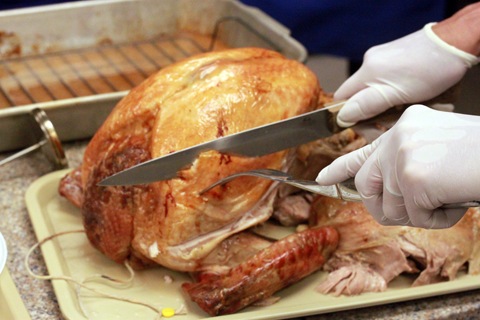 After we all carved our turkeys, it was time to sample the various methods and discuss which ones we liked best.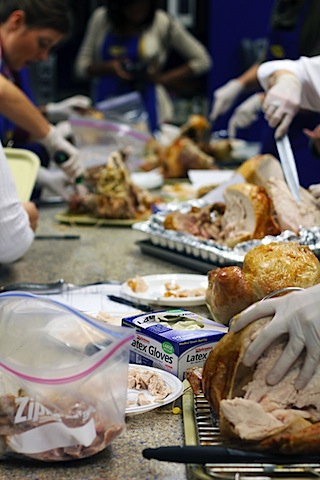 Time for the great turkey tasting! As usual, I really loved the open pan cooked turkey, but I thought Chels's foil wrapped was incredibly moist and flavorful for being cooked so quickly. I was also actually very pleasantly surprised by the microwaved turkey. It was strangely flavorful and not dry at all! It's so crazy to actually taste how different each turkey cooked with a different method tastes.
Then it was back to the airport and home to Boston! Butterball University went by way too quickly this year, but I can't even tell you how happy we were to be back! It's always so nice to see everyone and learn from such passionate people. Although we did miss the smiling face of Heather (hi, Heather!), the Brand Manager for Butterball, who wasn't able to come this year due to other work obligations!
Next up? Chels and I are planning to cook our own Butterball turkey in the coming weeks utilizing everything we've learned at Butterball U. What method will we use? Will we stuff the turkey or not? You'll have to wait and see 🙂
In the meantime, you should know that the Butterball Turkey Talk Line opens on November 1 and starting then, you can call 1-800-Butterball with all your questions. In the meantime, you can visit Butterball.com for TONS of great information that will help you make your Thanksgiving (or any turkey dinner) a fabulous success.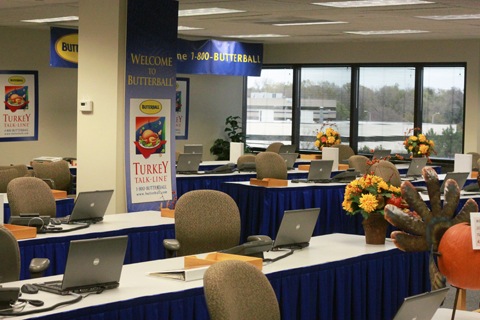 Thank you again to everyone at Butterball and Edelman for inviting us to Butterball University and teaching us everything you know. We feel SO lucky! And we cannot wait for Thanksgiving!
[Sues]
Full Disclosure: We were hired to attend Butterball University and are being paid to write on the Butterball Blog. However, all of our opinions are our own and we're under absolutely no obligation to write any rave reviews of our experiences. We really do feel incredibly lucky and have a great respect for the Butterball brand.