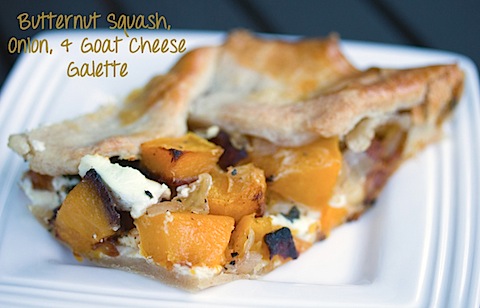 As a person who often prefers pies over cakes, tarts are basically my dream come true. Pie crust!! For dinner!! Or an appetizer!! Why save it for dessert? Well, when you add super sweet autumn vegetables, it may as well be a dessert. But the kind that's totally socially acceptable to eat before a meal. Plus, goat cheese. Enough said.
If you've been reading this blog for some time now, you've probably noticed my family enjoys cooking together. We also enjoy going out to eat together for special occasions. But oftentimes when our parents are celebrating a birthday, anniversary, Mother's/Father's Day, etc. my sister and I will get together to plan a dinner and cook together. Last month was my mom's birthday and my sister and I planned a fall-inspired meal. We made an apple cider salmon, kale salad, and an apple cake. To start we decided to do a Butternut Squash, Onion, and Goat Cheese Galette after we found some inspiration from Smitten Kitchen (I'm pretty sure my sister has made 75% of all of Smitten Kitchen's recipes and 98% of her cakes). My mom is known for her Caramelized Onion Goat Cheese Dip and we thought this would be a nice take on it.
Butternut Squash, Caramelized Onion, and Goat Cheese Galette (serves 8 as an appetizer):
Adapted from Smitten Kitchen
Print this recipe!
Crust:
2 C all-purpose flour
½ C whole wheat flour
½ t salt
1 C (2 sticks) unsalted butter
½ C sour cream
1 T fresh lemon juice
⅓ C ice water
Filling:
1 large butternut squash (about two lbs.); peeled, sliced, and diced into ½ inch pieces
3 T olive oil
2 t salt
Freshly ground black pepper
2 T butter
2 onions, halved and thinly sliced in half-moons
¼ t sugar
¼ t cayenne, or to taste
1 C goat cheese, crumbled
2 t chopped fresh sage leaves
1 egg, beaten (for egg wash)
pre-heat oven to 400 degrees.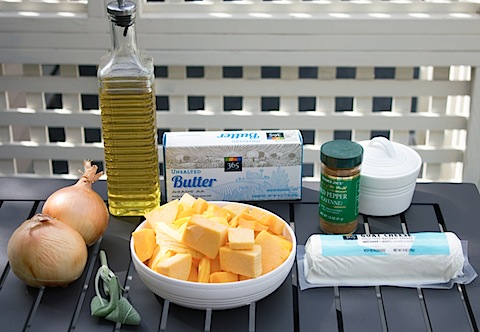 Start by prepping your galette dough. Combine flour in salt in a large bowl. Add the butter into the flour mixture and using a pastry blender, cut it in until the mixture resembles coarse meal. Make another well in the center. In a small bowl, whisk together the sour cream, lemon juice and water and add it to the flour mixture. Stir with a wooden spoon until dough forms (you can knead on the counter a couple times if needed). Cover dough with plastic wrap and refrigerate for one hour or up to two days.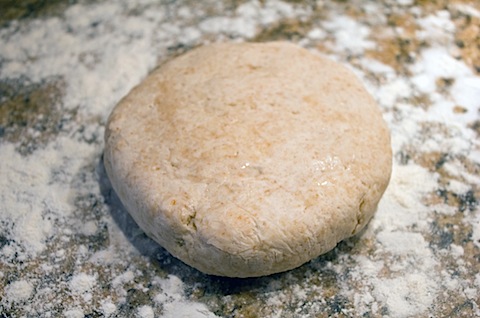 Toss pieces of squash with olive oil and a 1 teaspoon of the salt and place on foil lined baking sheet. Bake at 400 degrees for 30 minutes or until squash is tender. Let cool a bit. Leave oven on.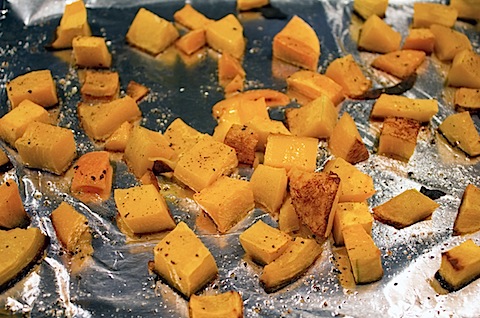 For onions: Melt butter in a skillet and cook onion slices over low heat. Add in remaining 1 t salt and sugar, stirring occasionally, until the onions are softened and beginning to turn golden brown, about 20 minutes. Stir in cayenne.
In a medium bowl, mix together squash, caramelized onions, goat cheese and sage leaves together.
On a floured surface, roll dough out into a 16- or 17-inch round. Place dough round on an parchment-lined baking sheet and spread the squash mixture on the top of the dough with a 1 ½ inch border.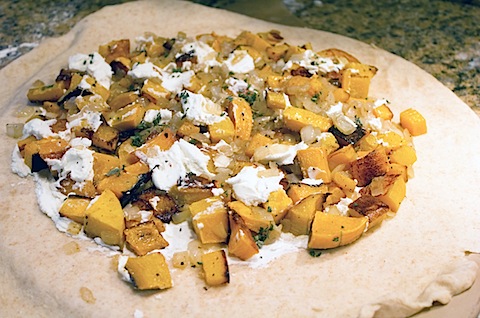 Fold this border over the squash mixture, pleating edges nicely, leaving the center of the tart open. Lightly brush the dough with the egg wash.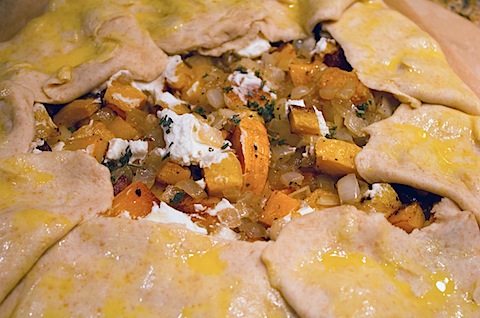 Bake at 400 degrees until golden brown, 30 to 40 minutes. Remove from the oven and let rest on baking sheet for 5 minutes before sliding the galette onto a serving plate. Cut into wedges for serving. You can serve the galette at basically any temperature you want... hot, warm, or room temperature. I might even eat it right out of the fridge.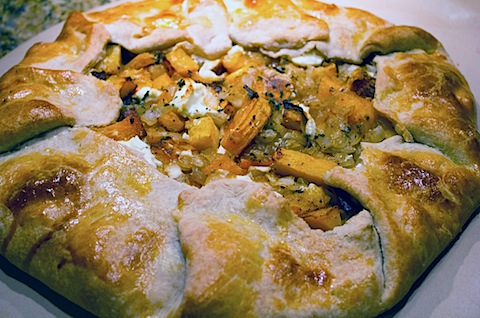 This was just the appetizer to our dinner, but I legit could have eaten it for a meal. And it would basically be an ideal meal for me. There's something about buttery carbohydrates and fall vegetables that make me feel all warm and cozy inside.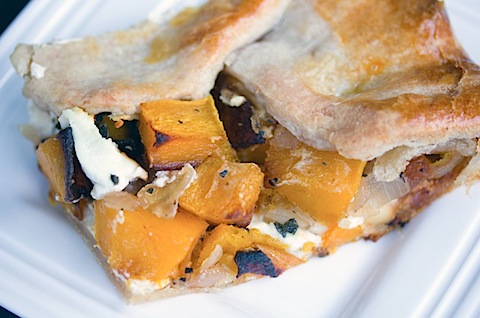 And goat cheese. I think Smitten made this one with fontina, which I'm sure is also fabulous. But for me, there's nothing quite like goat cheese in the fall.
I think next time we should add bacon. But really, that's the only change I'd make. Why bacon? I dunno. I just feel like it belongs.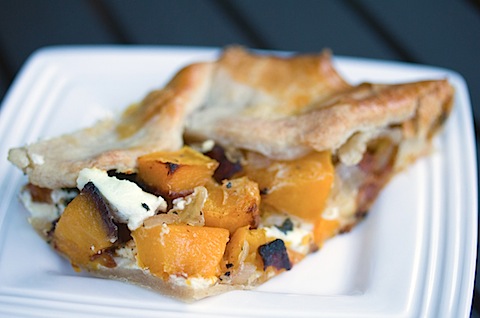 Oh, and this Smitten Kitchen Roasted Apple Spice Cake was for dessert. I told you my sister makes all of Smitten's cakes. And this one was just awesome. Will definitely be making again.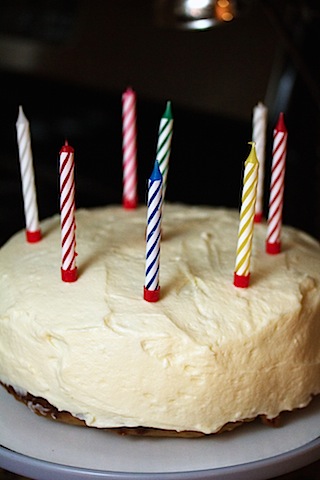 Love love love spending the day cooking with my sister and am so happy I live just 5 minutes away from her. I know it probably won't be forever as Chris and I will hopefully buy a house some time soonish, but we definitely won't go far. And I'm sure we'll be cooking together for a longgg time to come.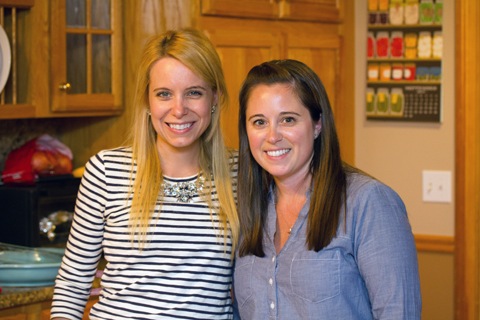 And since Chris has promised me my dream kitchen when we do move, we'll be doing lots of cooking at home, too (hint hint, honey...).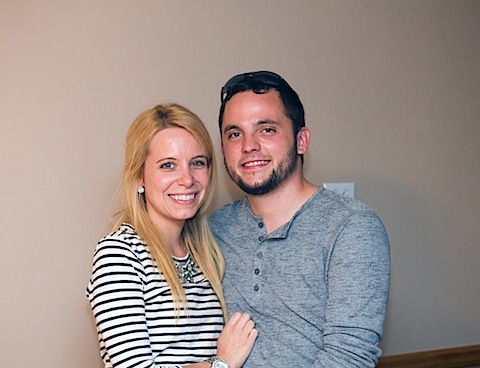 I hope my mom had the most fabulous birthday! This upcoming weekend will be another fun family-filled one as my mother-in-law is in town, along with my mom's sister. This weekend will also include a class at Stonewall Kitchen, which I absolutely can't wait for!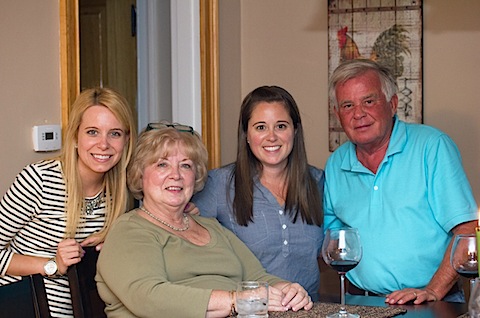 And now this short, but still kind of longish feeling, week is almost over. Phew! Bring on the wine, please.
Could a tart or galette make a meal for you?
[Sues]