Do you ever fear you're going to turn orange from eating too many orange foods? It happened to my sister when she was a baby. And it could be happening to me as we speak. And to be honest, it wouldn't really be the worst thing in the world. It's getting to be that point in the year where I'm losing my shimmery glow from the summer. I'm actually looking quite appropriate for this time of year– You know, like a ghost. I could use a little orange to my skin. But please, no "Snooki orange." Please.
Since I've come to terms with turning orange , I've been happily loading up on pumpkin, sweet potato, squash, and carrots. Not really strange for me during this time of year, but I think I've been putting it in overload in 2010. And I have to warn you; there are LOTS of orange recipes to come. So get ready, get excited, and get fist pumping. If I look like Snooki the next time you see me, don't be surprised.
Though my orange of choice is generally pumpkin and sweet potato this time of year, I've been seeing carrot soups everywhere lately and couldn't turn one down. Of course, I added ginger (ginger makes everything better) and a little curry powder for some kick. Plus, you know, it added some more orange to the soup.
Carrot Ginger Soup with Mint Yogurt:
• 3 T olive oil
• 1 onion, chopped
• 2 cloves garlic, minced
• 1/3 C  ginger root, peeled and chopped
• 6 C vegetable stock
• 1 1/2 lb. carrots, peeled and cut into 1/2 in. chunks
• 1 t curry powder
•  Greek yogurt, for topping
•  Fresh mint, for topping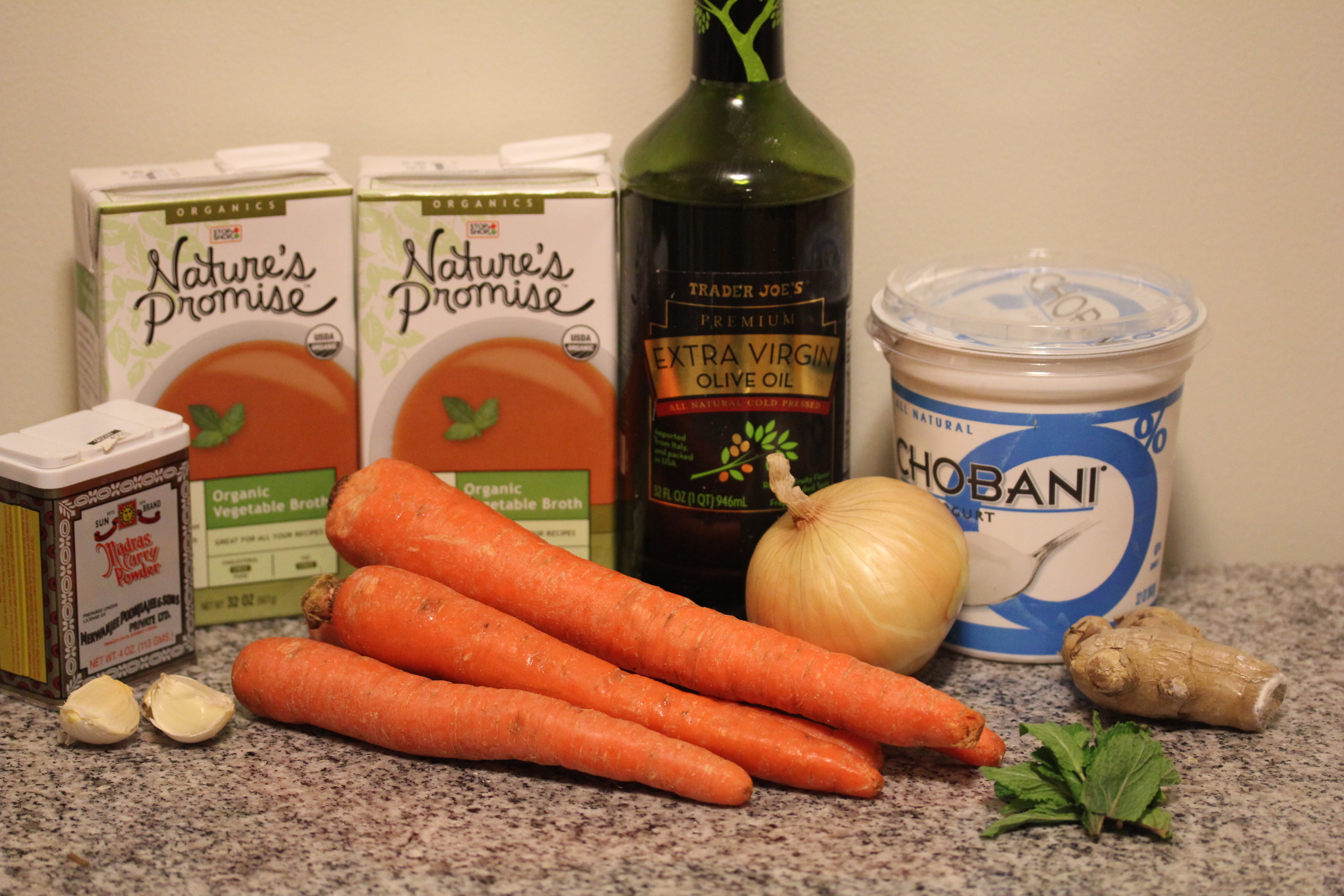 Get your vegetables all chopped up- the carrots, onions, garlic, and ginger root.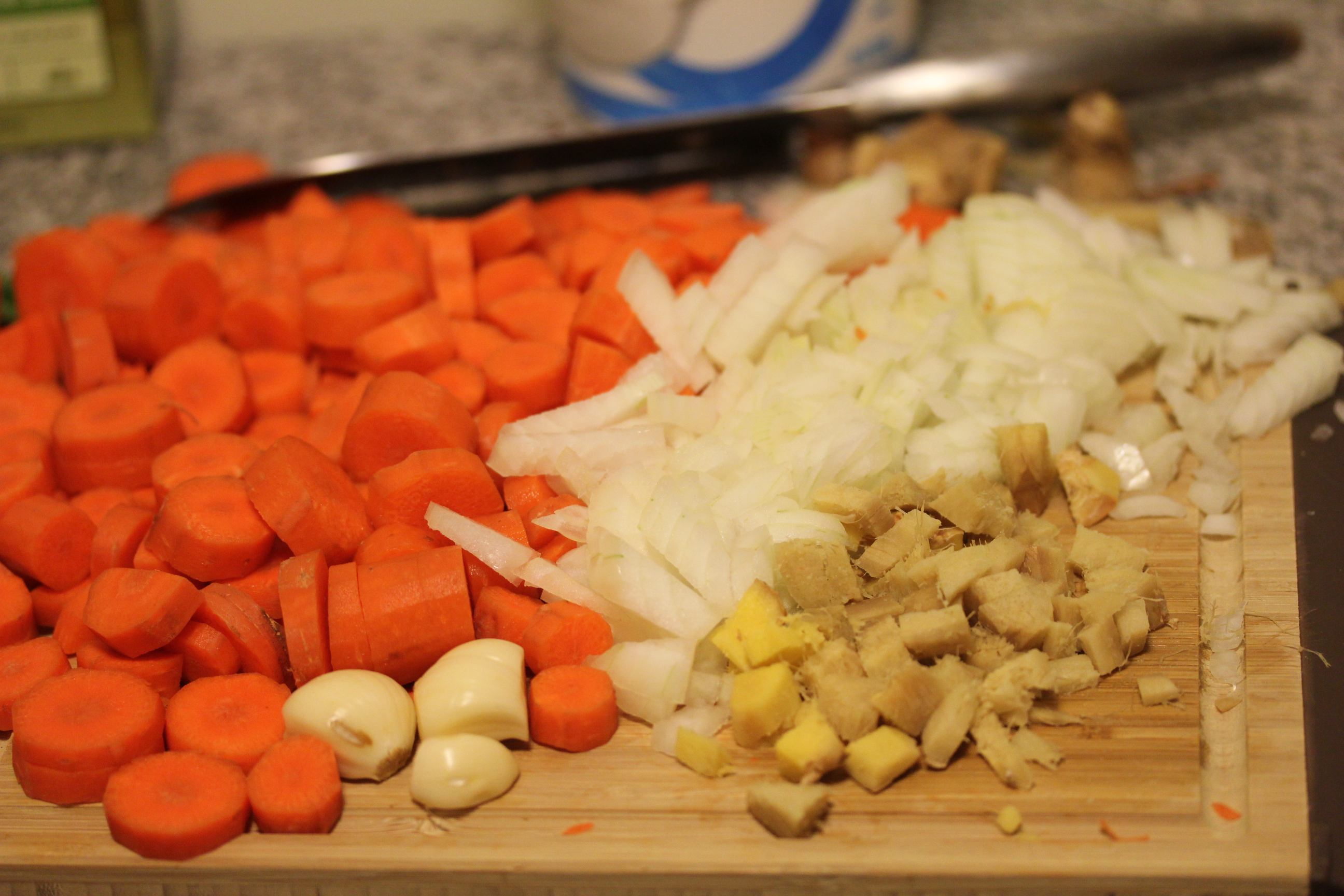 Heat olive oil in a large pot over medium heat. Add the onion, garlic, and ginger and saute for about 10 minutes, stirring from time to time.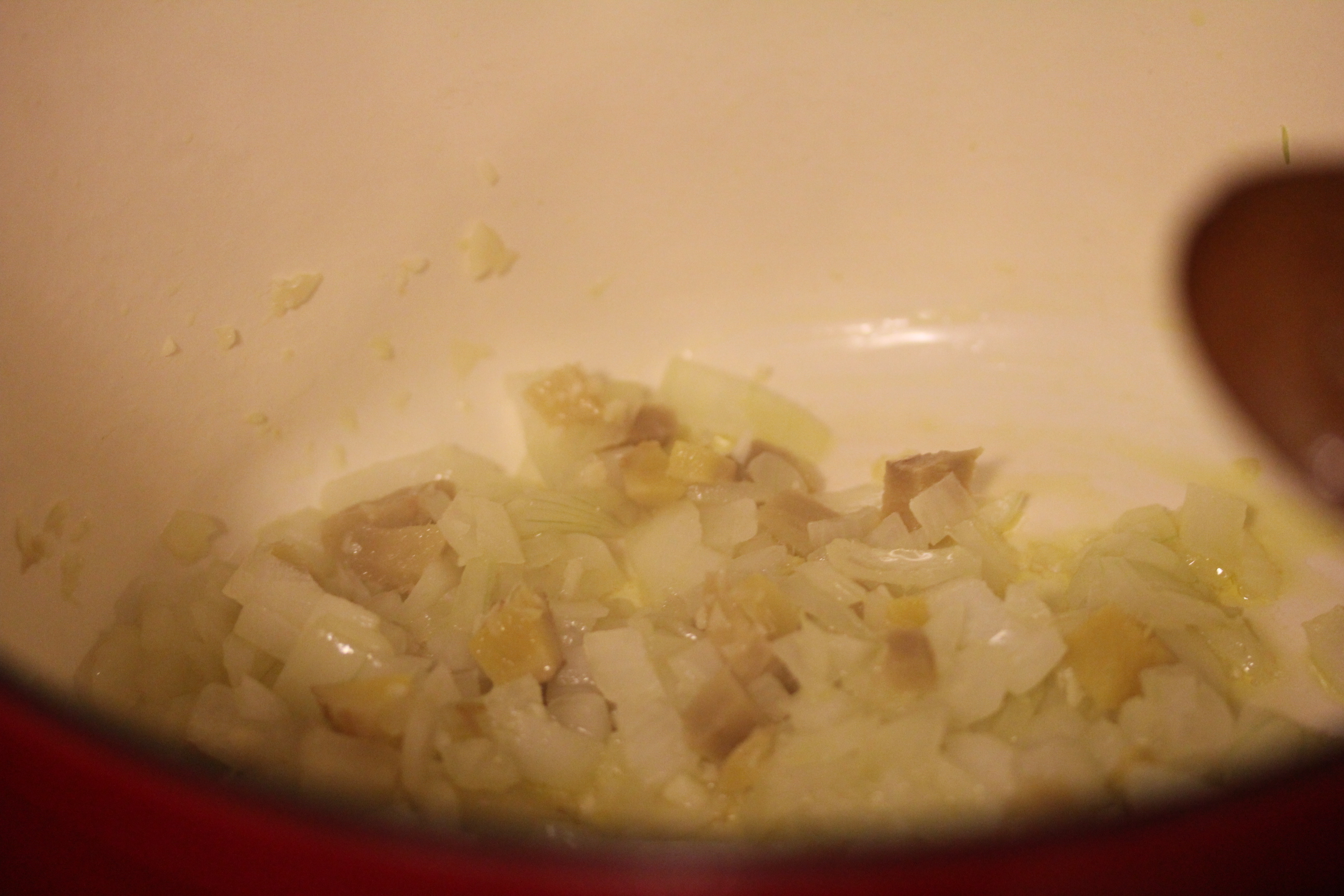 Add the vegetable stock and carrots to the pot.
Bring to a boil. Then reduce the heat and simmer over medium heat for about 30 minutes, until the carrots are tender. Don't cover the pot.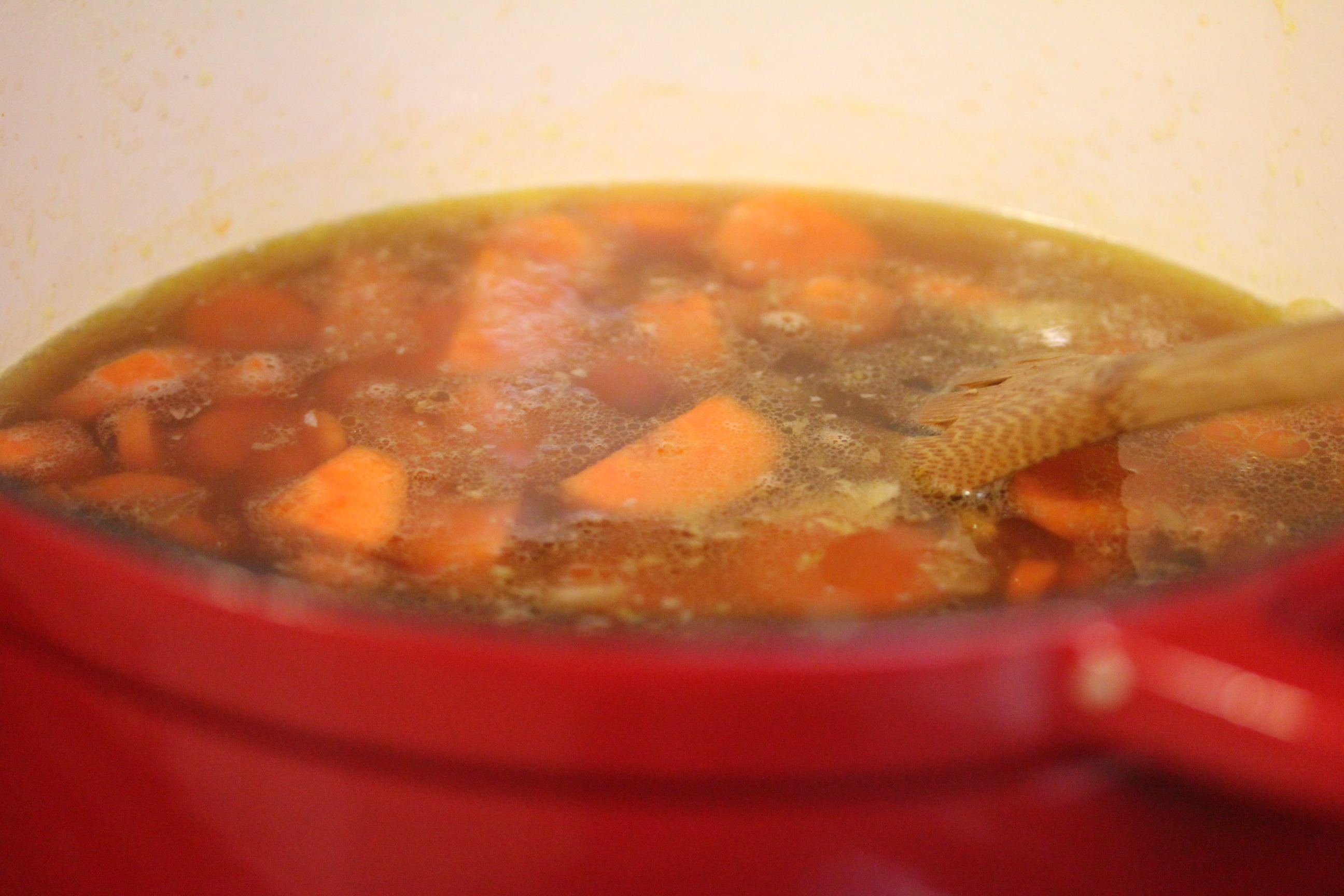 Put the soup mixture in a food processor or blender.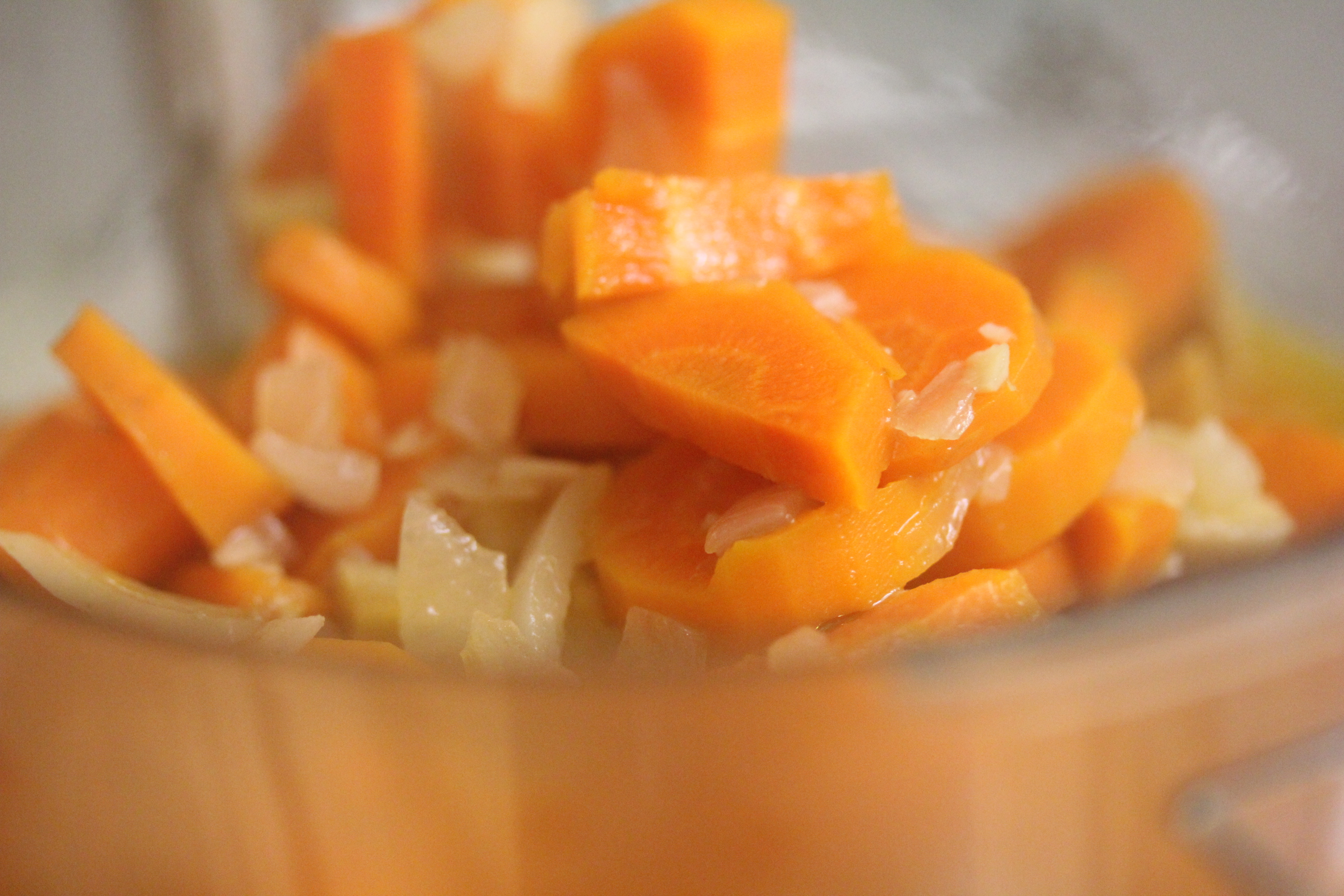 And puree away!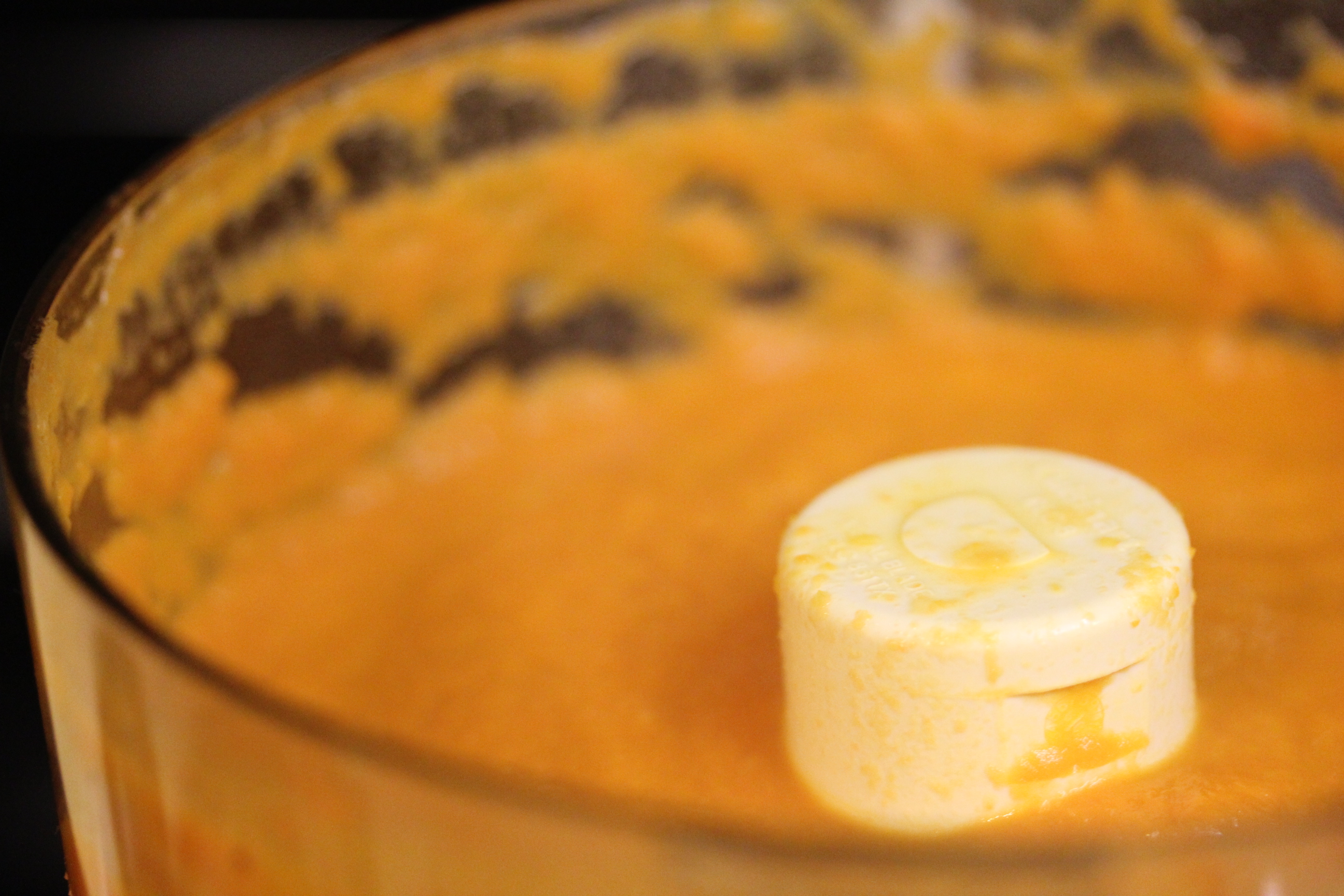 Add the curry powder. Then top with a dollop of Greek yogurt and some fresh mint.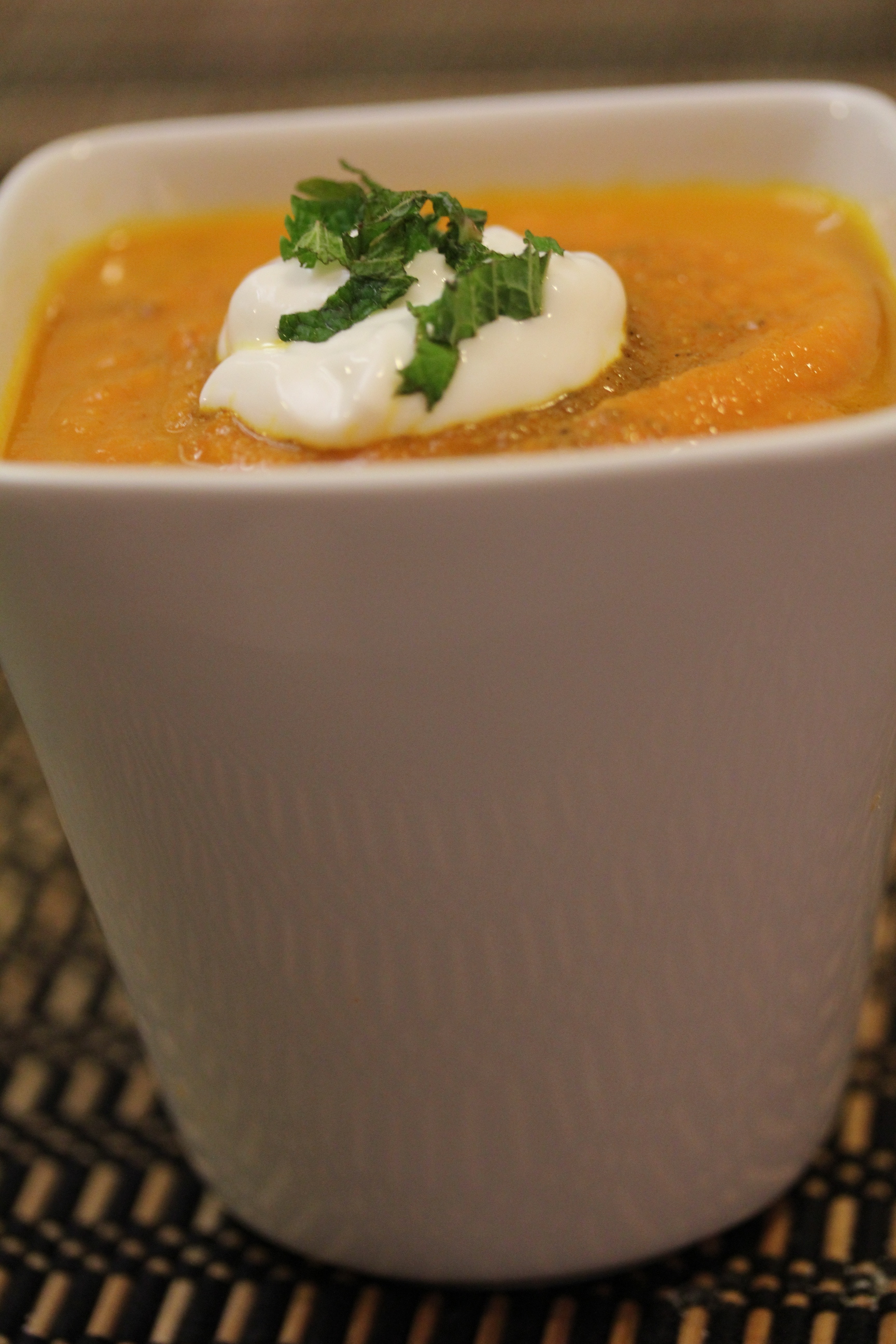 Now, wasn't that the easiest thing you ever did? It was one of the easiest things I've done in quite a while. Especially considering it yielded fabulous results.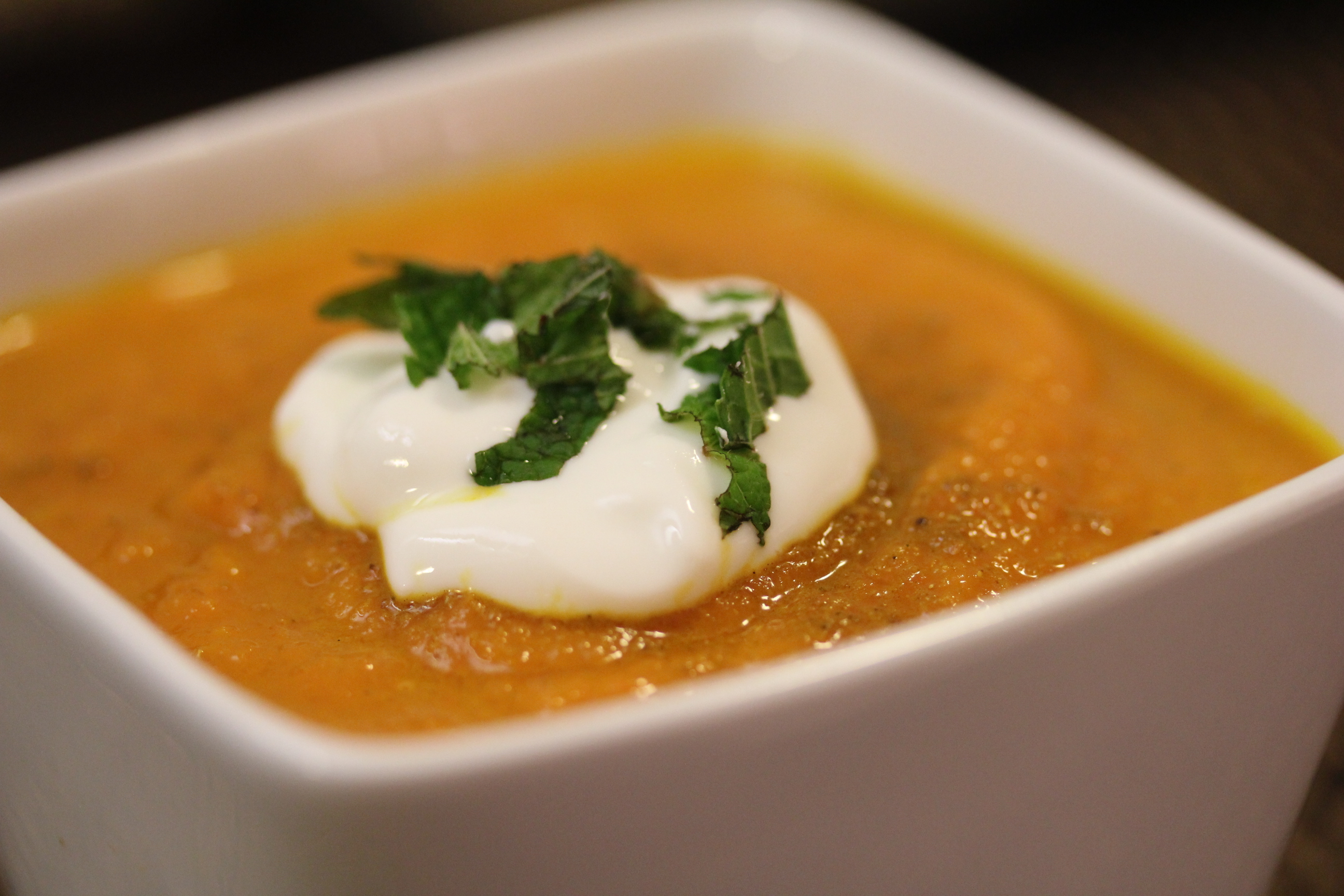 Seriously, this is one of the best soups I've ever had. The plethora of ginger I used gave it a very distinct gingery flavor (and made my kitchen smell wonderful!), so if you're a fan of that, use 1/3 cup. If you're not as big of a fan, use less. Sometimes you might just want the ginger to be a background flavor.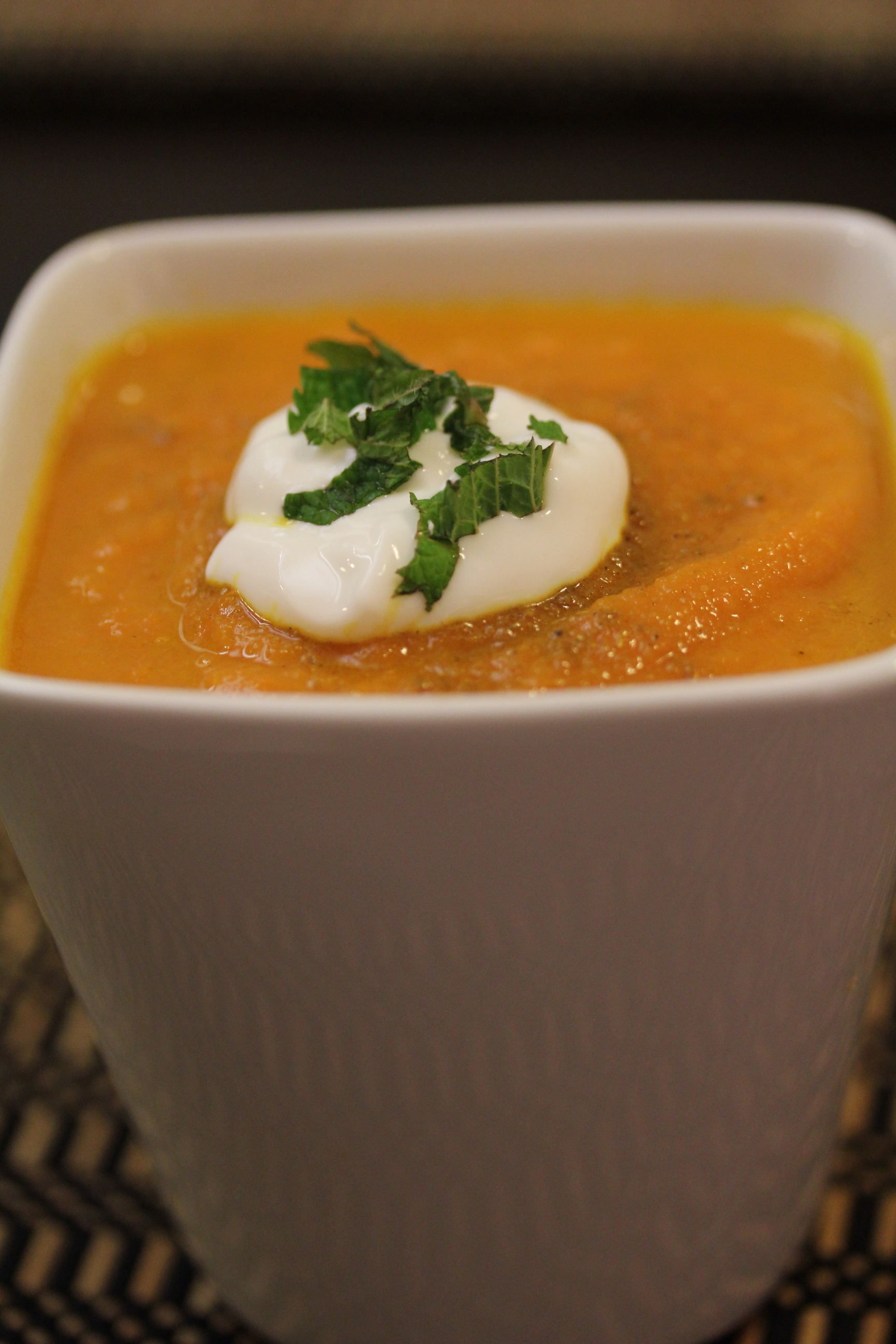 I thought the curry powder made an absolutely awesome touch and definitely jazzed the soup up. I sprinkled some more on as I was eating it. And, of course, the greek yogurt gave a nice contrast to the hot, slightly spicy soup. The mint was the perfect complement to the carrots.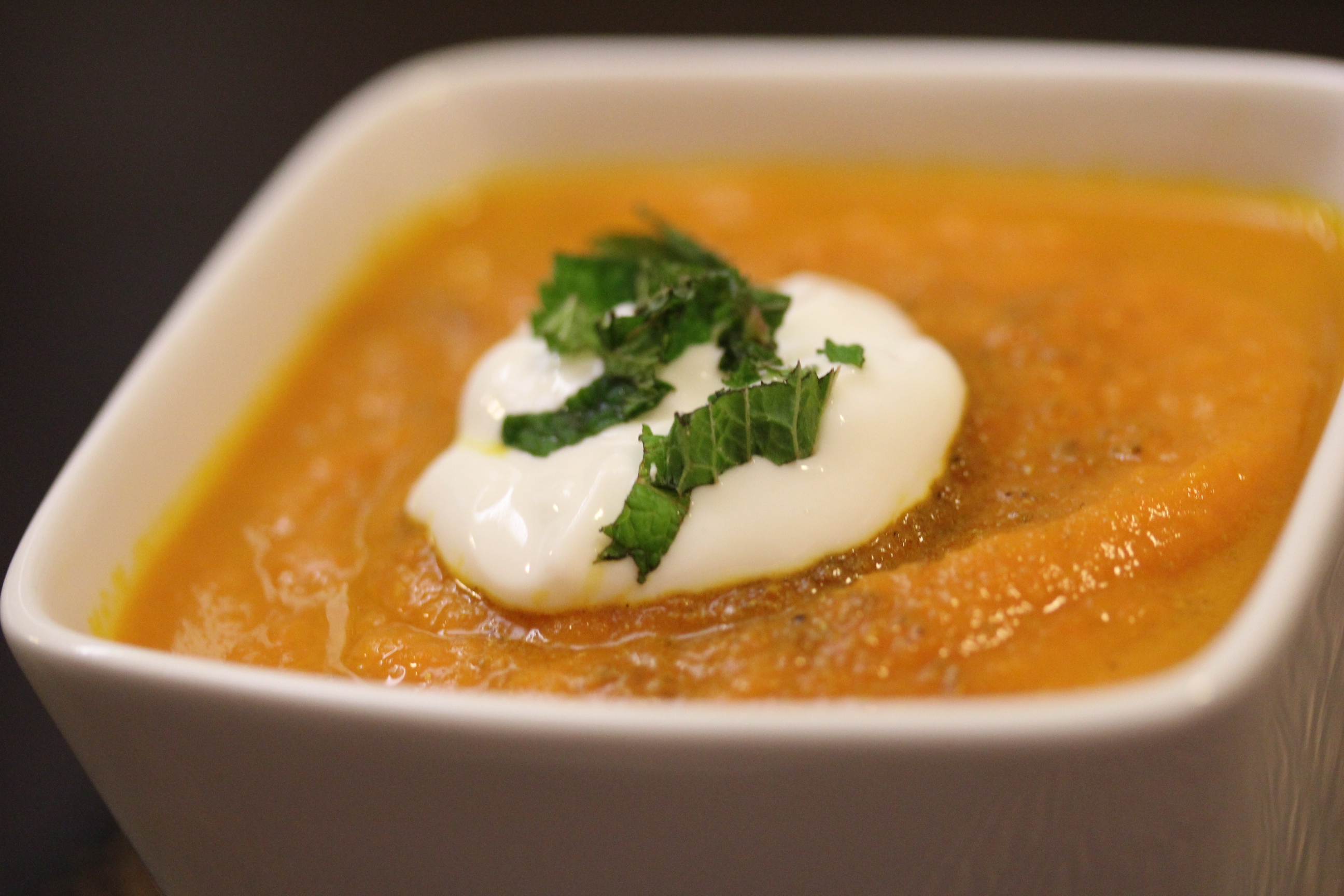 So, now you see why I'm looking on the bright side of being orange. It means enjoying foods like this. And I don't care what anyone says about soup not being filling. Because this soup was so filling. I was planning on toasting up some crusty bread to enjoy with it, but then I forgot. And felt completely satisfied when I was done with a bowl of this.
Turning Snooki orange is totally worth it.
Do you have orange food problems, too?
[Sues]