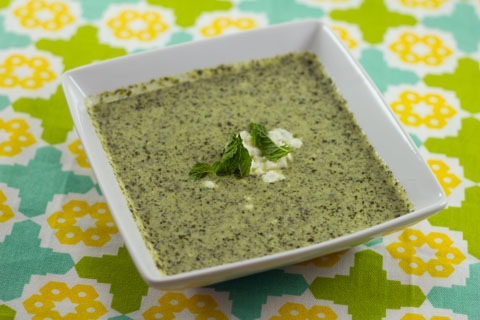 Moving often means digging through your fridge and determining what exactly you can use before you need to either throw it away or attempt to pack it in a cooler to move with you when the big day comes. But for me, it has to be really worth it to bring it along. After packing approximately 9420 big brown boxes, packing up semi-fresh food from my fridge is the last thing I want to do. Compounding matters was the fact that Chris and I joined a CSA with Beth and Adam this year. I've been absolutely loving it, but I have to admit, it adds a little bit of pressure to my life. I hate to waste and I especially hate to waste fresh produce. With tons of leafy greens in last week's CSA, I knew I had to take desperate measures before my fridge turned into a wilty mess.
I had a wintry soup tagged in an issue of Bon Appetit and, though it's been quite warm in Boston, it had many of the elements I was craving and I happened to have many of the ingredients in my kitchen, just begging to be used. I used the recipe as a base, but ended up with a whole different beast- this one using the recommended Swiss chard, along with some super fresh arugula for a little extra bite. Feta and Greek yogurt mellow the soup out and give it, what I think is a summery touch.
Chard, Arugula, and Feta Soup (serves 2):
Print this recipe!
2 T olive oil
1 C chopped onion
2 cloves garlic, minced
5 C swiss chard leaves (ribs and stems removed)
3 C arugula leaves (ribs and stems removed)
2 C vegetable or chicken broth
1 C coarsely chopped parsley
1/4 C chopped mint leaves
2 T fresh lemon juice
Kosher salt and freshly ground pepper
1/3 C plain Greek yogurt
2-3 oz. feta, crumbled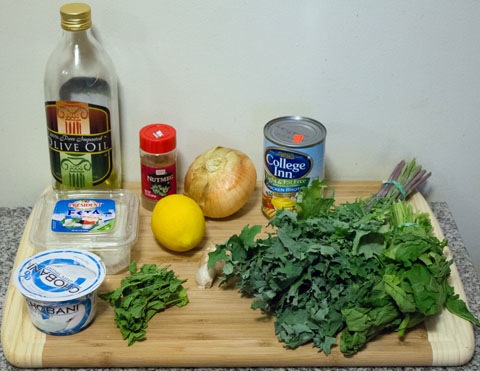 I think soups, and especially blended soups, are often thought of as being time-intensive and tough to make. But this one was incredibly easy and quick.
The toughest part was probably chopping the onion and garlic. And for me, that's really like second nature now.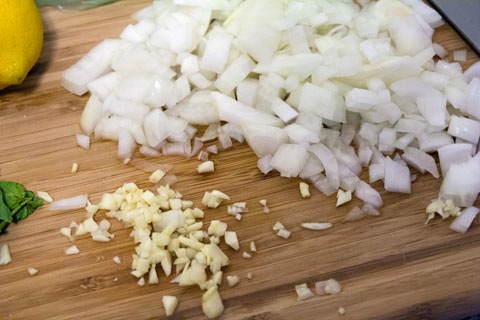 Start by pouring the olive oil into a large saucepan over medium heat. Add your onion and garlic in and cook for about 7-8 minutes, until soft and translucent.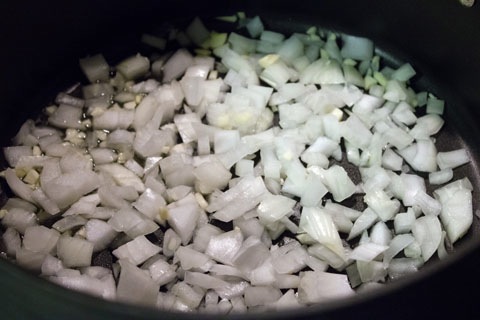 Now, add chard, arugula, broth, parsley, mint. You'll notice I have nutmeg in the photo above as it was in the Bon Appetit recipe. But as I was cooking, I realized nutmeg would add way too much of a wintry feel, so I left it out.
Bring this mixture to a boil and then reduce heat and simmer for about 10 minutes, until the greens are tender. Stir in the lemon juice and salt and pepper.
Puree the soup. You can either puree in batches in a blender and then return it to the pot or you can use an immersion blender right in the pot.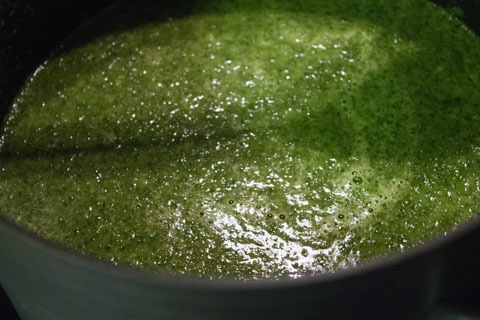 I'm sure the soup would be delicious like this, but you really love a soup to be nice and creamy, right? But without adding cream, of course. You'll want to take about 1/3 of your Greek yogurt and put it in a separate bowl. Now, add about 1/4 C warm soup to it and whisk until smooth. Repeat this twice with the rest of the yogurt and another 1/2 C soup.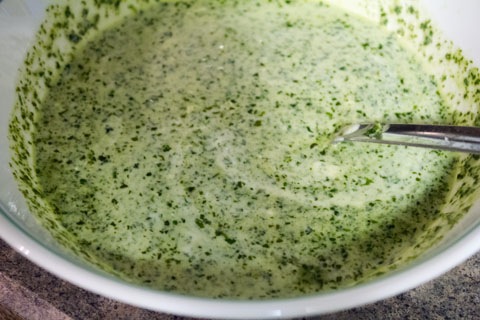 And then return the yogurt and soup mixture to the soup pot. Stir almost all of the feta into the soup, saving a little for garnish.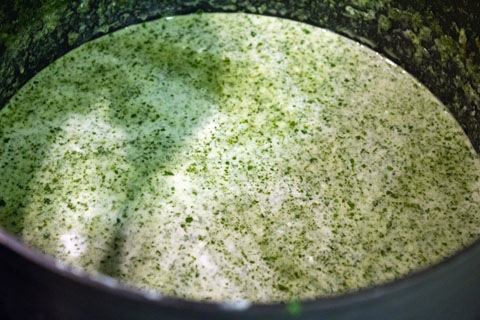 Top the soup with some more feta and fresh mint.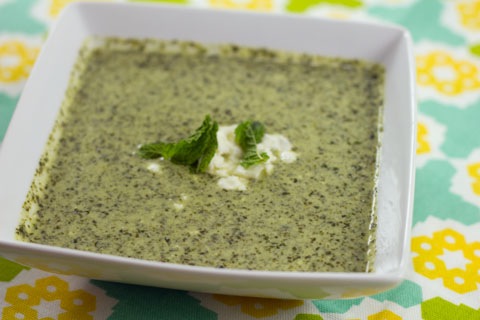 Crank up your AC and dinner is served. You're "supposed" to eat this soup hot, but I actually enjoyed some leftovers chilled and don't see why this can't be the ultimate summer soup.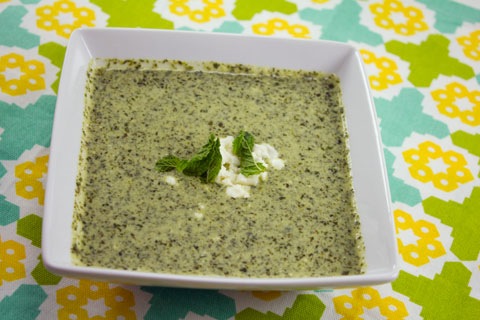 I thought I would be dining on this alone since Chris is generally skeptical of my "let's use up all the leafy greens in the house!" ideas, but he said he wanted to try it. And he ended up licking his bowl clean. So, I mean, I was left feeling like this was a pretty huge success.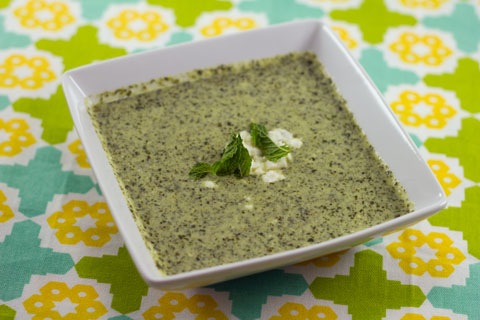 Then again, there was plenty of feta packed in there, so even non-leafy green lovers will at least want to try. I personally loved the flavors of the greens and the extra little bite from the arugula. The yogurt and feta definitely mellow things out a bit and, in my opinion, make it more acceptable to serve chilled.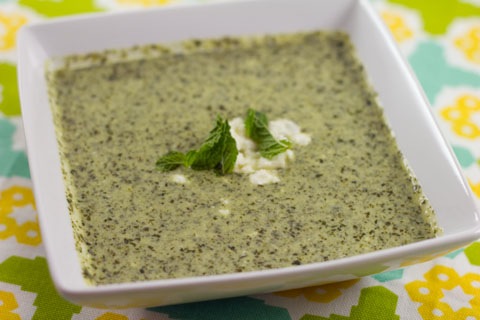 I think this could work just as well with any leafy green you happen to have a surplus of. I know I'll be making different variations of it again. And now you know what to do when your CSA overloads you with too much chard, arugula, etc. Never a bad problem to have!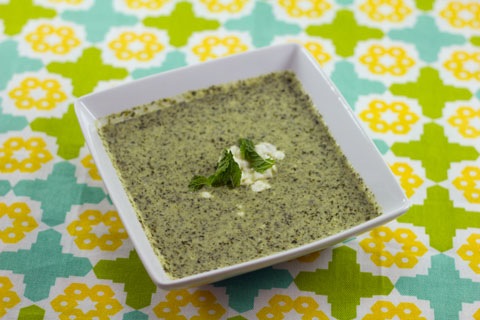 All in all, I think the CSA will be good for me because it will force me to think outside the box and to stop over-planning everything. I get panicky if I go to the grocery store without a well thought-out list, but now I'm going to learn to use what I have to quickly create something amazing!
What's your favorite recipe for using up leafy greens?
[Sues]