The Chef
As I've mentioned before, one of my most favorite places to hang out and enjoy a great meal and a phenomenal roof deck is the Rattlesnake on Boylston Street in Boston. Hands down, Chef Brian Poe makes the best nachos in the city. Hands down, he is one of my favorite chefs, period. Not only did he change the menu at Rattlesnake, but with his positive energy and optimistic outlook, he changed the vibe of it and made a ton of people believe in his restaurant.
This past Saturday night, Chef Poe came to my apartment in the pouring rain and cooked a 7 course meal... in my kitchen... for, get this, me and ten of my closest friends.. if you can do basic math you will see that he cooked for 11 people. I honestly wasn't quite sure how he was going to pull this off (now I say, "silly me, the man can do anything!"). I really love my kitchen, it is, after-all, what motivated me to start cooking, but it's not exactly the largest space. He came around 8pm with tubs of cookware, utensils, plates, and all sorts of ingredients. He set up shop, quickly organized himself, cranked out delicious dish after delicious dish, and didn't stop the entire night. I also now deem him the King-of- Multitasking because not only was he cooking while we were all conversing, he was hoping in conversations and telling stories about his life and travels. He even cleaned my kitchen when he was all done. Yes... he cooks and cleans... which automatically equals perfection.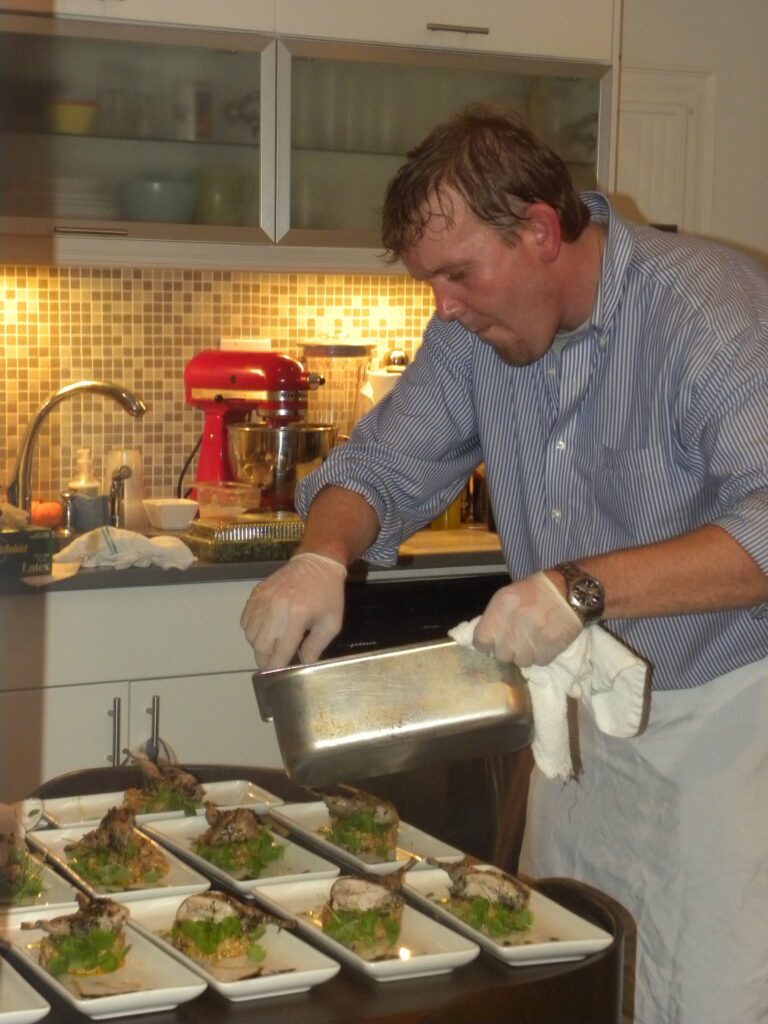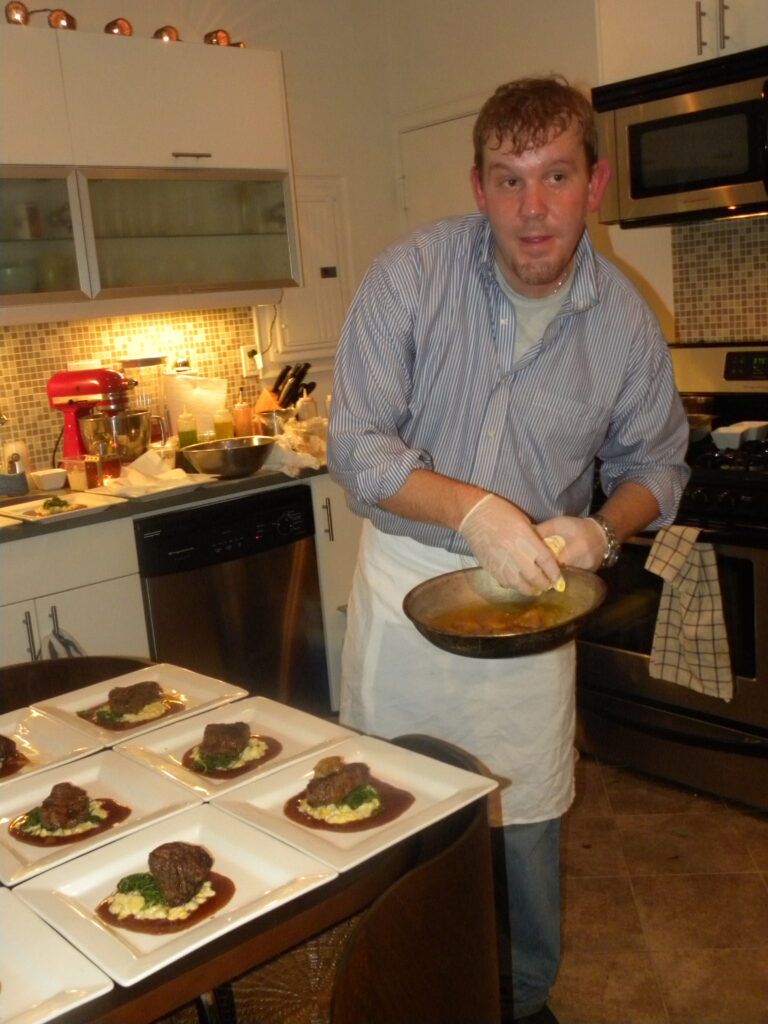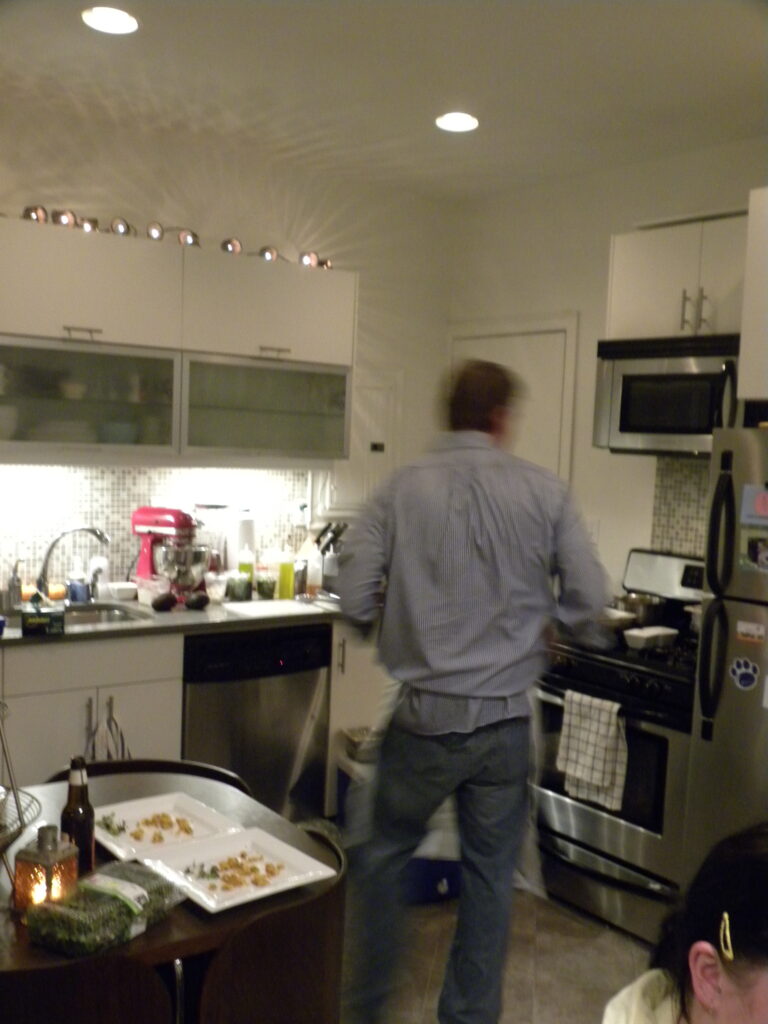 The Menu (and decor)
Early Saturday afternoon my parents, so lovingly, lugged a large folding table and chairs up four flights into my apartment to create some extra seating for the dinner. I, of course, took it upon myself to decorate it. I went to Whole Foods that afternoon, bought some flowers, and used champagne flutes as vases. I have these little mini terra-cotta pots with tea-lights in them (that I got one year in Florida at Simple Gestures) and arranged them on the table as well. My dad also brought me a large box filled with paper towels, toilet paper, napkins, kitchen wipes for the counters, and extra tablecloths in case there was any "spillage"... always a sweet deal!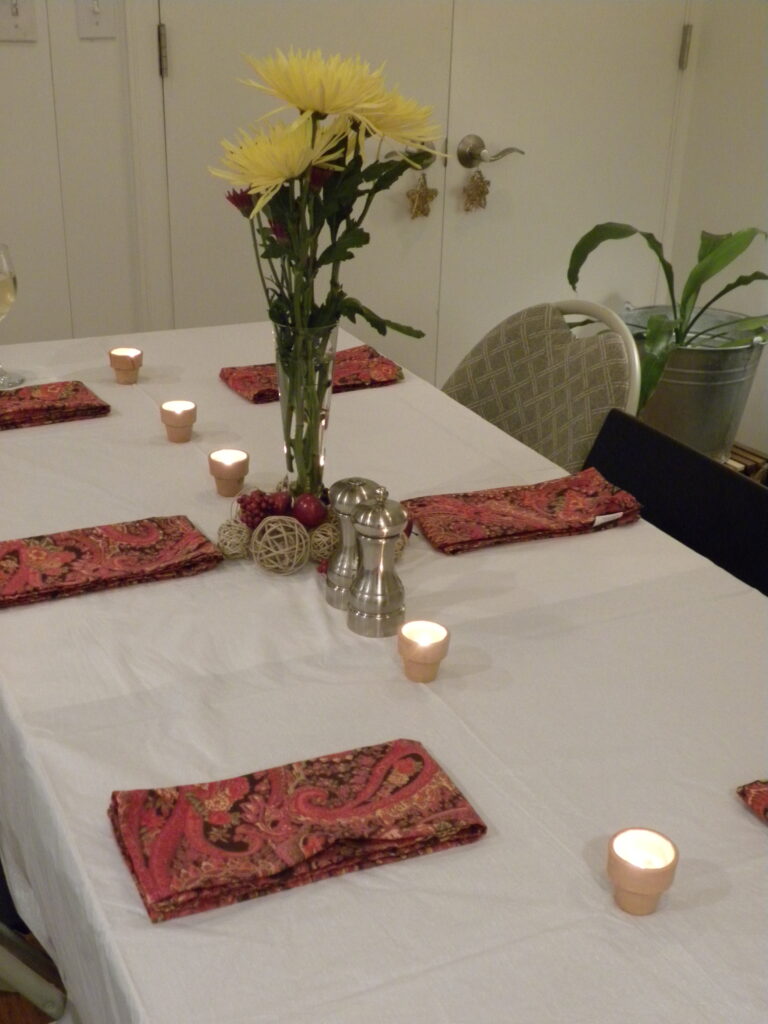 Now for the food. First up were Spoonfuls of Avocado and Lobster in Black Pepper Lavender Crème. The lavender in this knocked my socks off. It was such a great combination with the lobster and the little spoonful was the perfect amount to start the night off!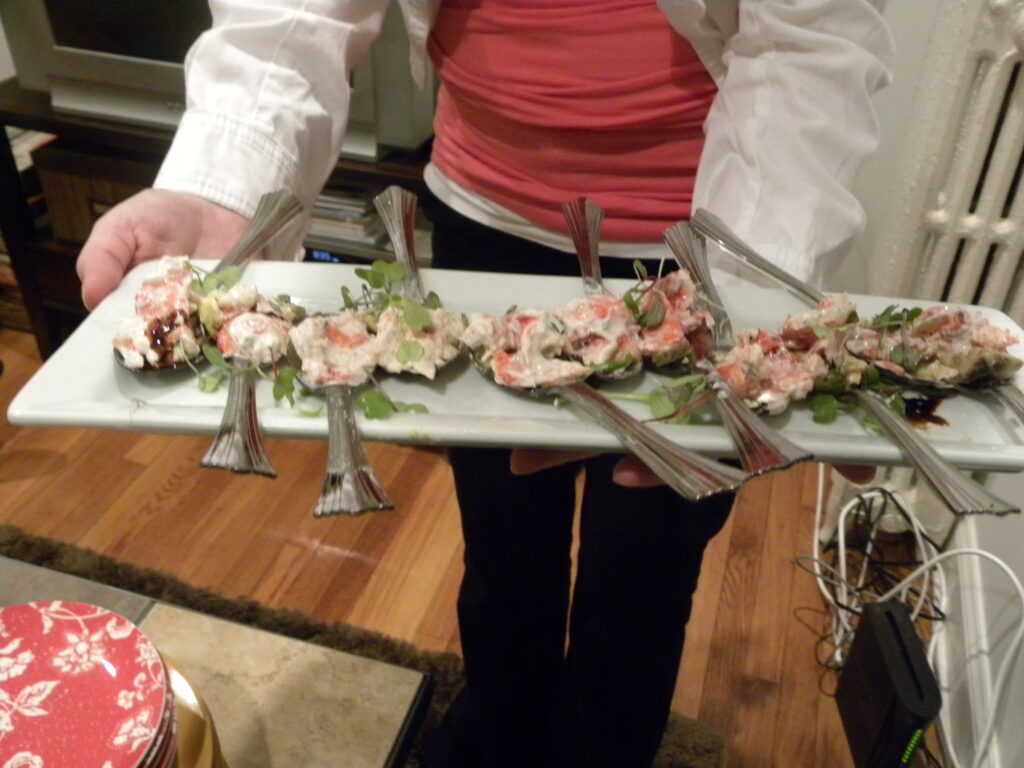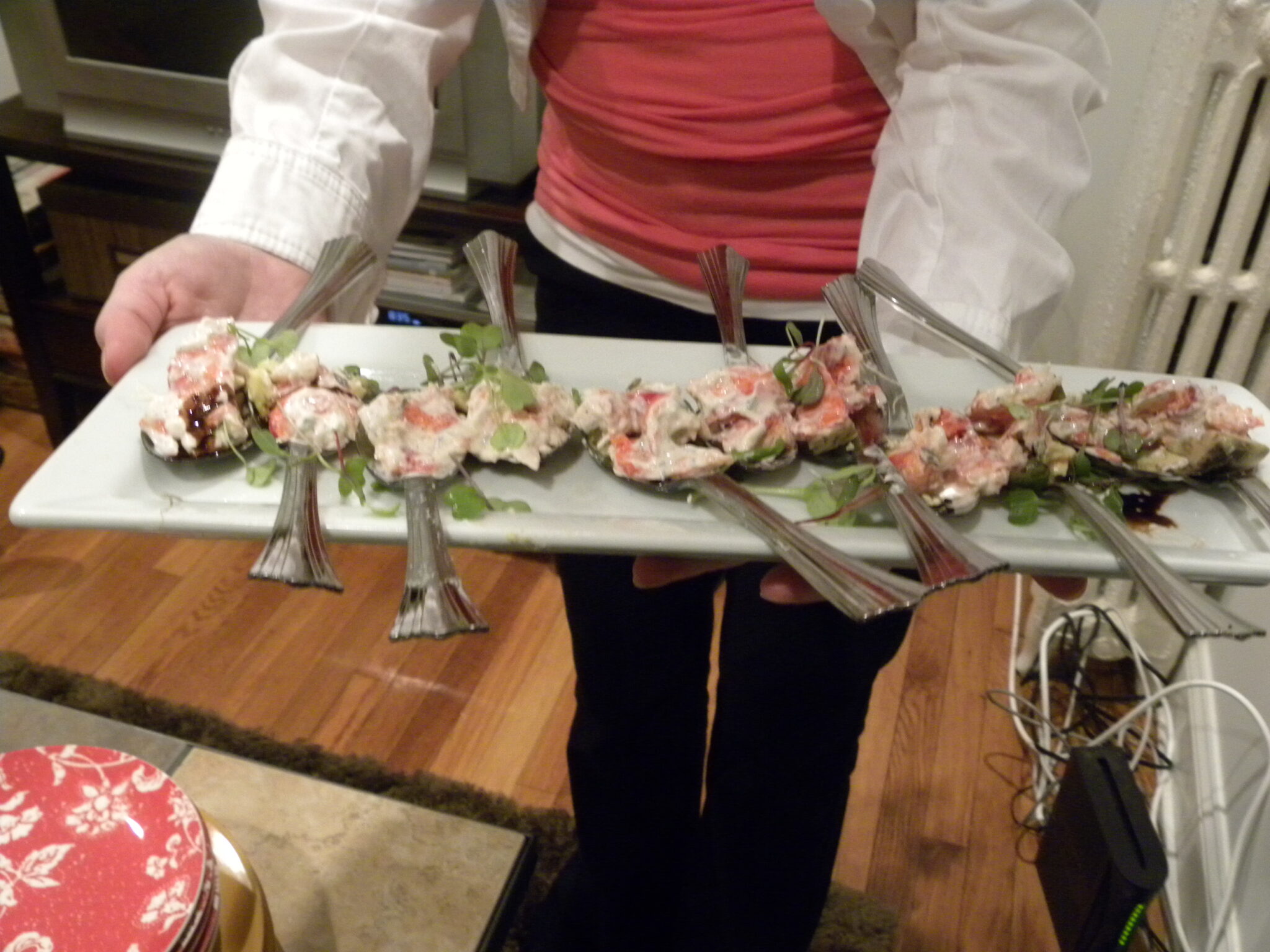 Next up was Prosciutto and Basil Wrapped Fontina Cheese with Cilantro Pesto. Everyone just about freaked their freak when they ate this one (not even sure what that means, but Ellen Degeneres says it, so I'm going to assume it must be a good thing). It was absolutely delicious and I think I want this every year on my birthday instead of a cake. Not even lying.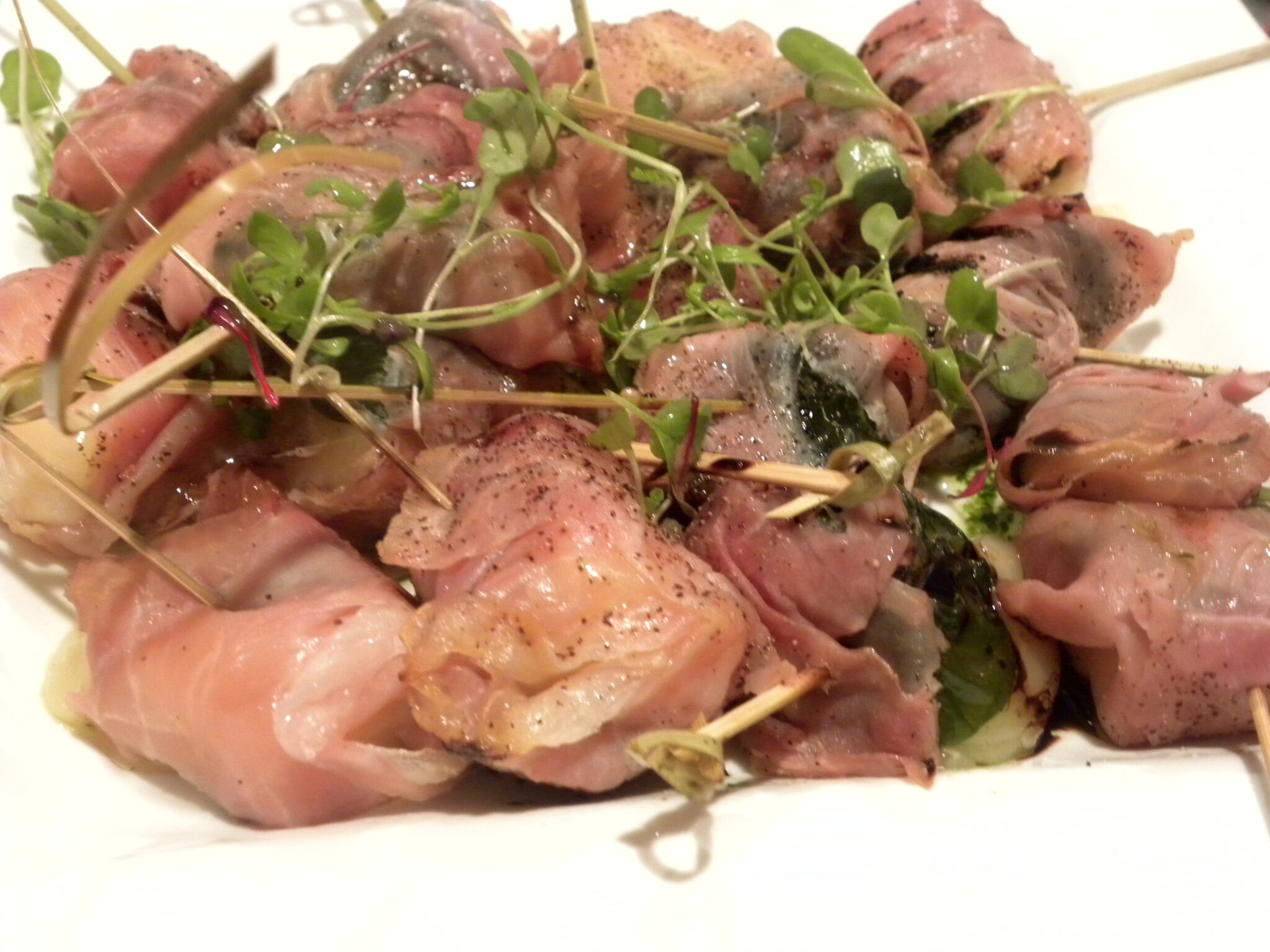 Following the bite size pieces of heaven was Grilled Green Chile Corn Bread with Guadalajara Butter and Oaxaca Cheese. This cornbread was actually what got me going to Rattlesnake in the first place earlier this year. One of my old co-workers went on a lunch break there one day and came back to the office ranting and raving about the cornbread until we all agreed to go with her; probably one of the best decisions I've made in 2009 🙂 Note to self: Putting pieces of corn in cornbread and melting cheese on top... is always going to wind up being a win win.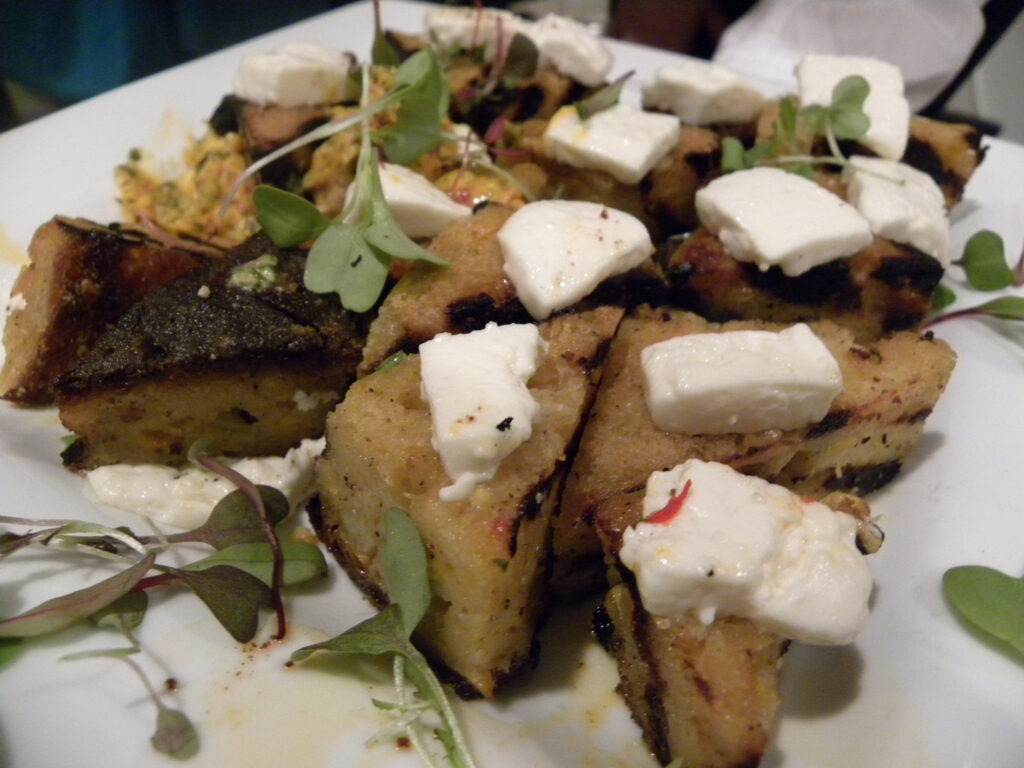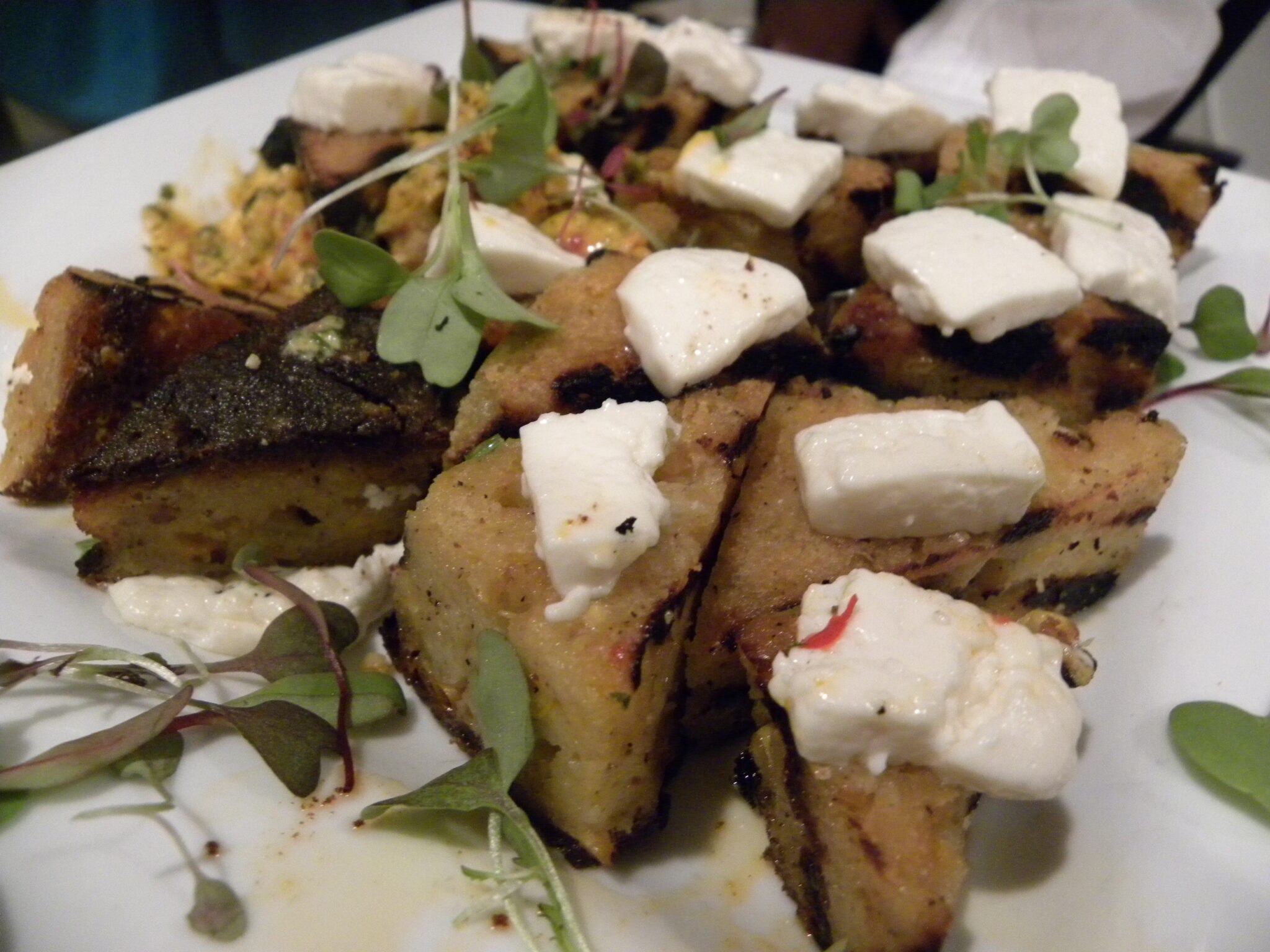 After the appetizers were served we started getting into the main courses. First up we had Roasted Quail: Vermont Quail, Black Truffle Risotto, Pumpkin Salsa, and Maple Jus. I love quail and the addition of the Pumpkin Salsa made this extra tasty! Chef Poe actually gave me the leftover risotto, I had some for lunch yesterday and I'm going to be quite sad once I eat it all... it was that good.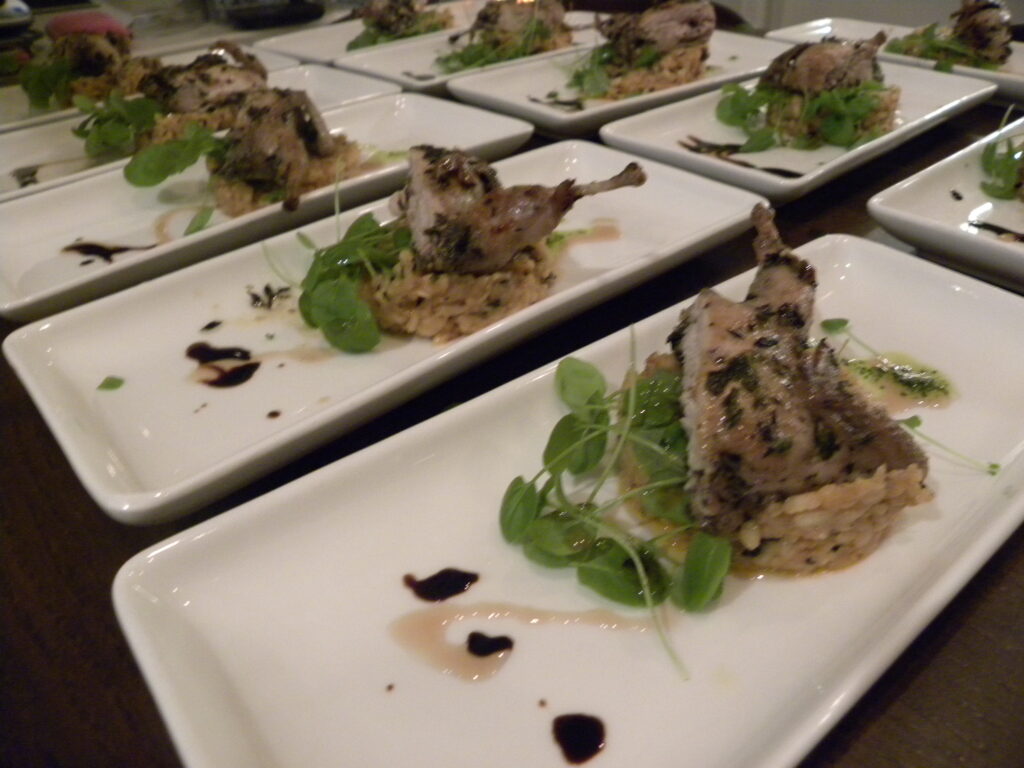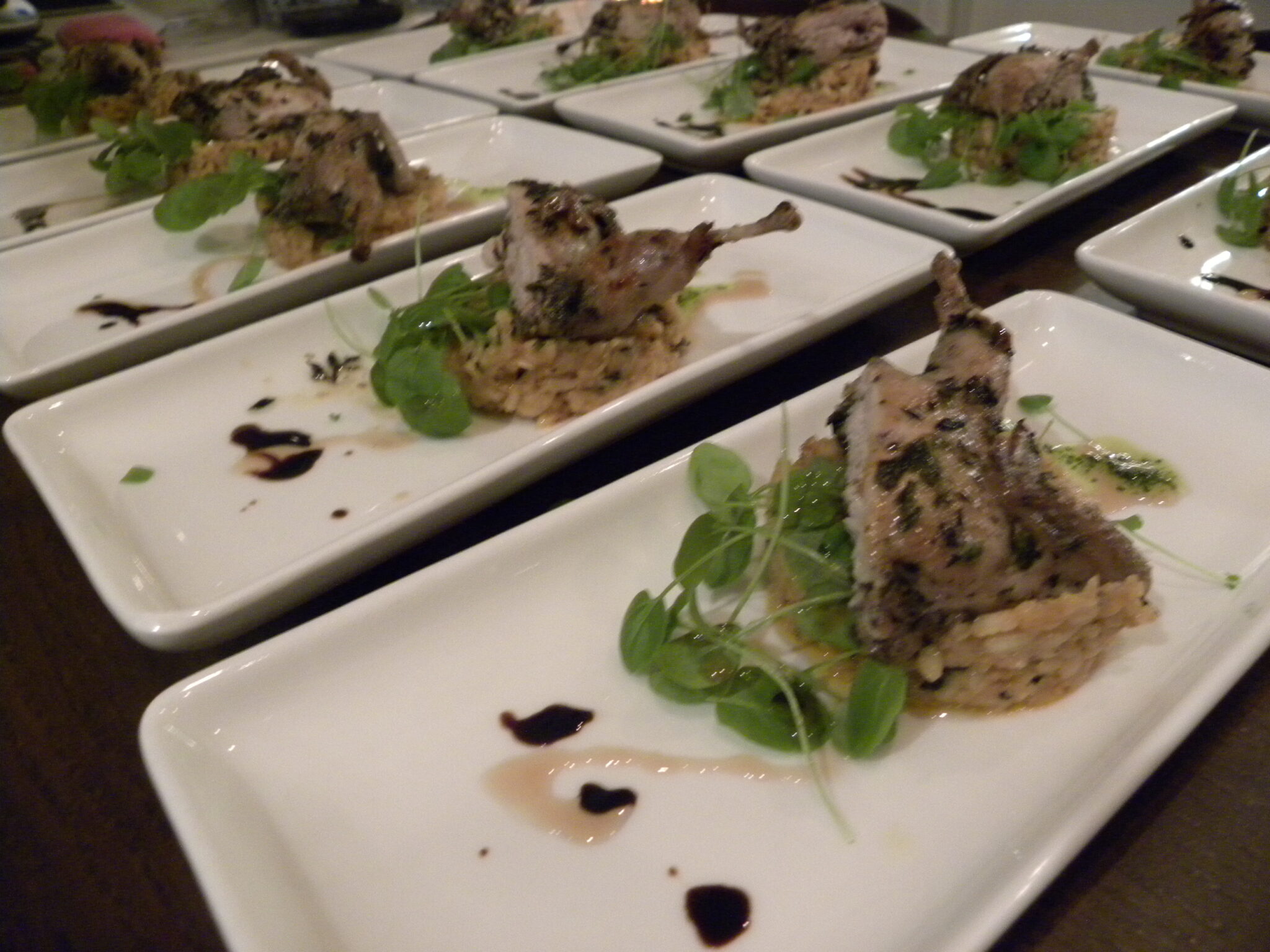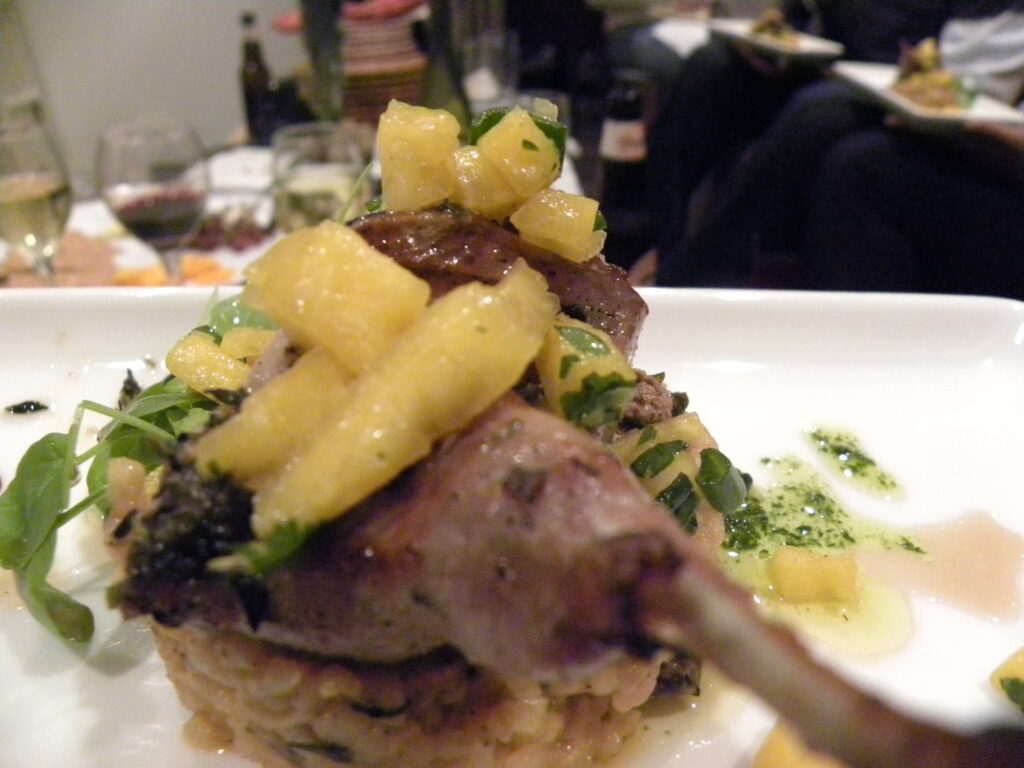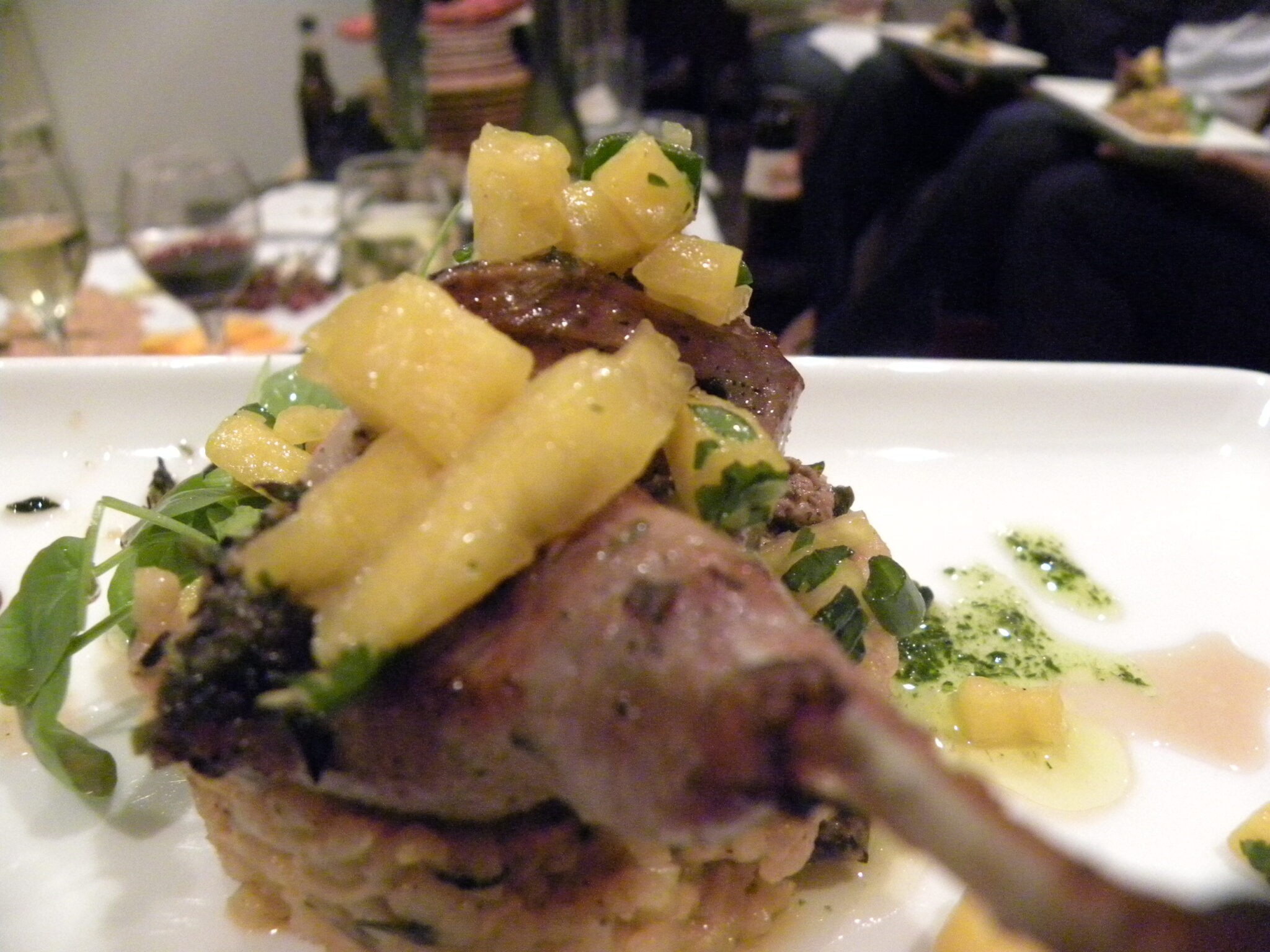 After the quail was served we had a wonderful Chef's Salad with Whisky Bacon (!!!!!!), Black Radish, Egg, Spanish Onion, Virginia Ham, Boston Lettuce, Sage and Barley Vinaigrette which all sat in a Manchego Tuille, which is basically a little "basket" or "wafer" made of the cheese... did someone say brilliant? Some of us (ahem, the men) chose to eat it with their bare hands, while us ladies used our forks, since we're dainty like that 😉 Regardless, of how we ate it, we all agreed it was lovely and one of the more creative chef's salads we'd seen!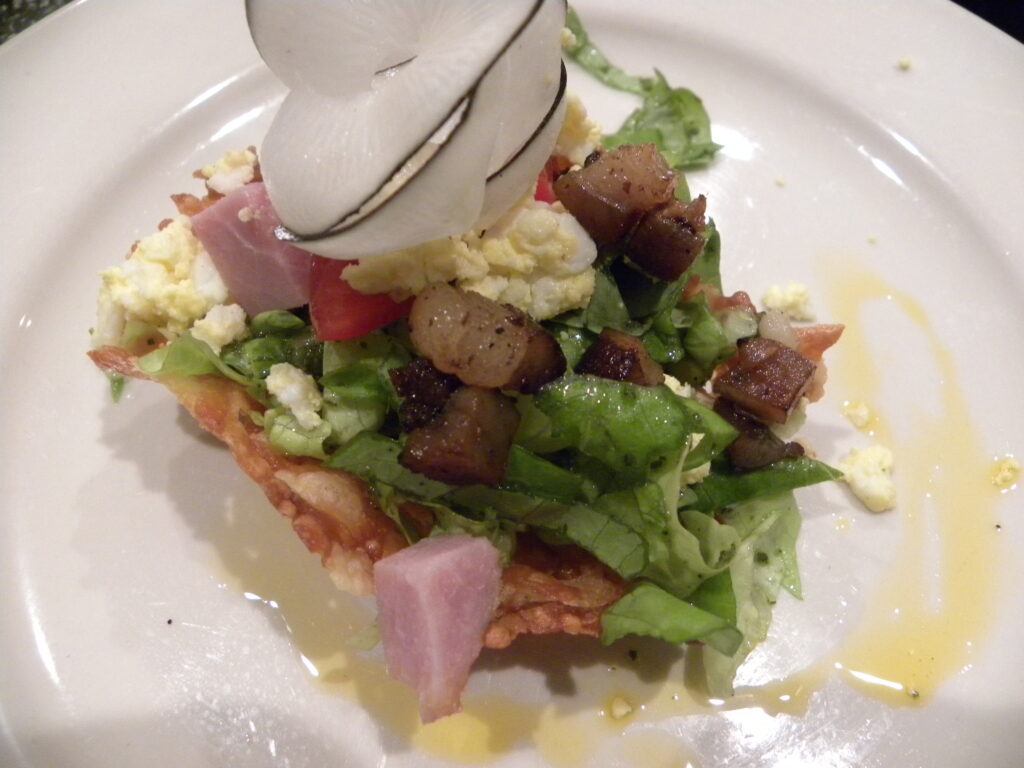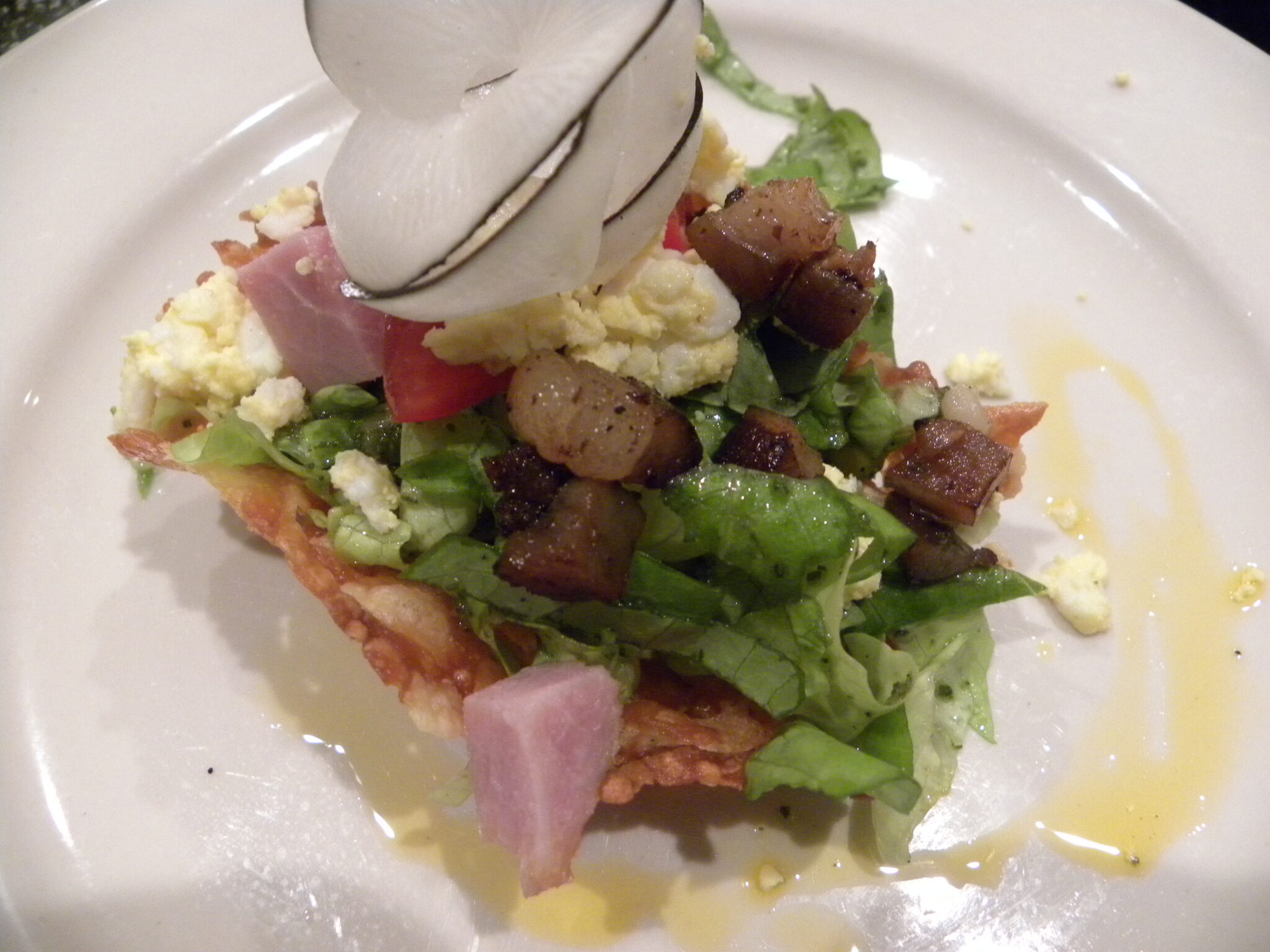 At this time in the meal, some decided it was necessary to sit at the actual table since a fork and knife were going to be involved! Since I've mastered the art of eating on my couch and coffee table, I remained seated there.
The final course before dessert was Tenderloin of Beef and Pumpkin Dusted Foie Gras: Filet, Rubbed with Ancho Chile and Peppercorns, Acorn Squash, Date and Jalapeno Salsa, Corn Infused Potatoes, Pumpkin Powder Dusted Foi Gras, with a Veal Stock Reduction. I think this was also the point where, in my head, I asked myself if this was really happening. This dish was so comforting with the acorn squash, salsa, and tastes of pumpkin, that it wound up being the perfect seasonal dish to wrap up the main courses. slurp!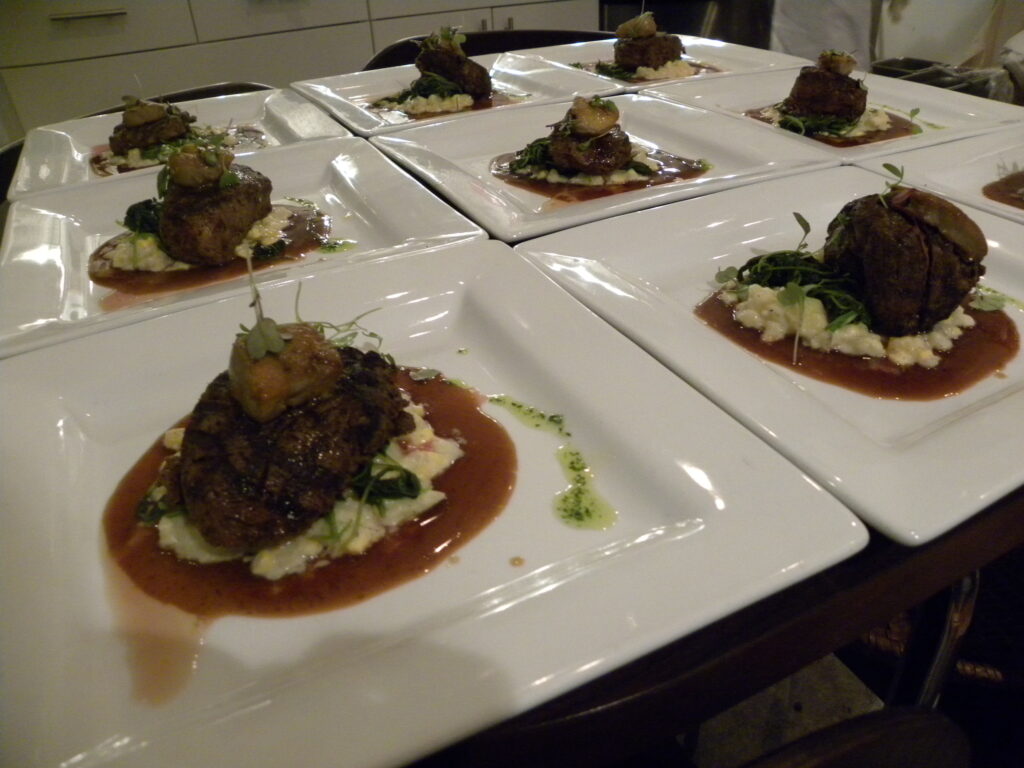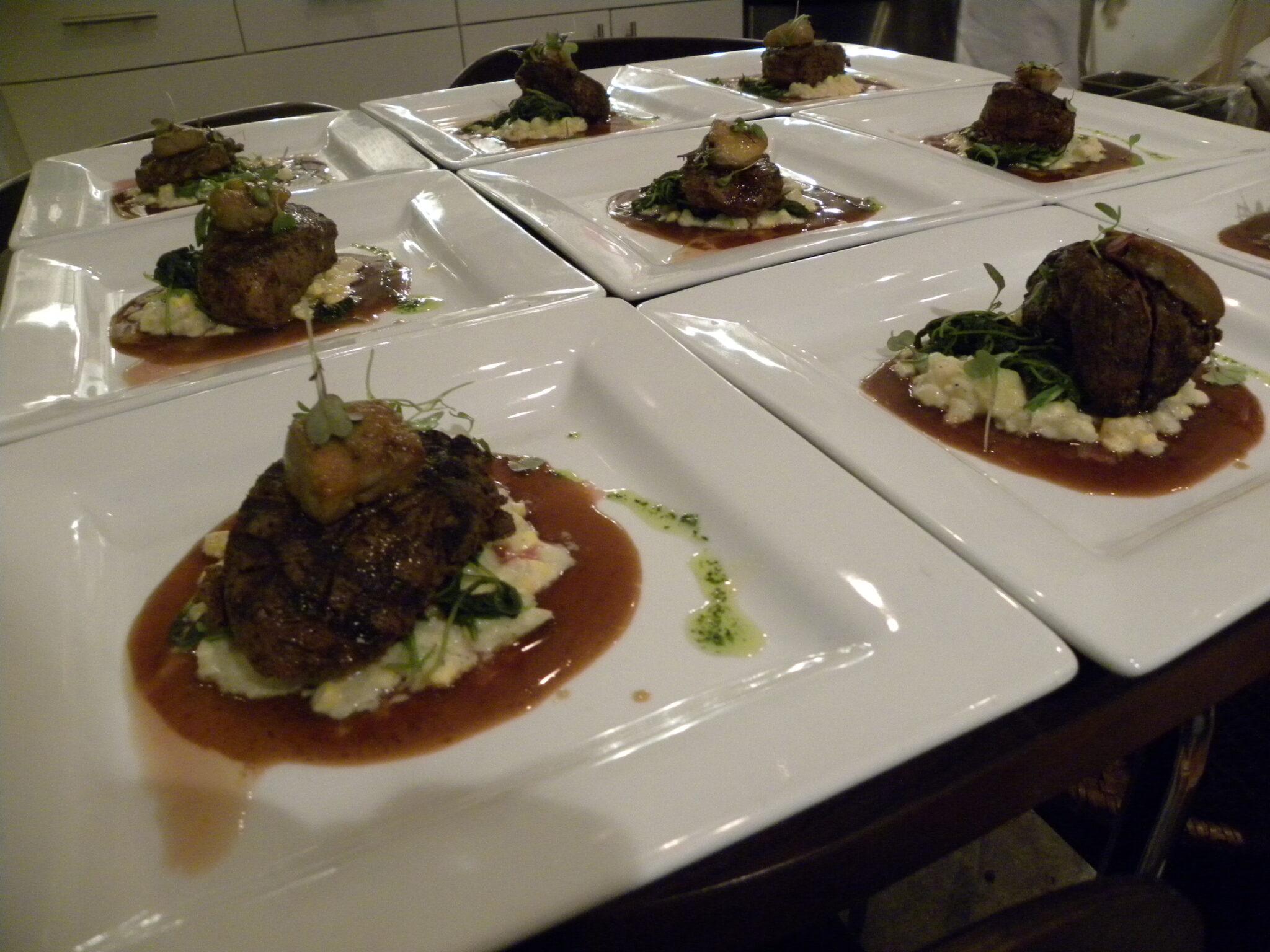 I loved dessert! Chef Poe served Candied Crab Apples filled with Ginger Custard, Dipped in Cognac Caramel and Apple Whipped Cream. Not only were these adorable looking and beautifully plated, but they were so much fun to eat... I couldn't think of a better way to end such a fantastic meal!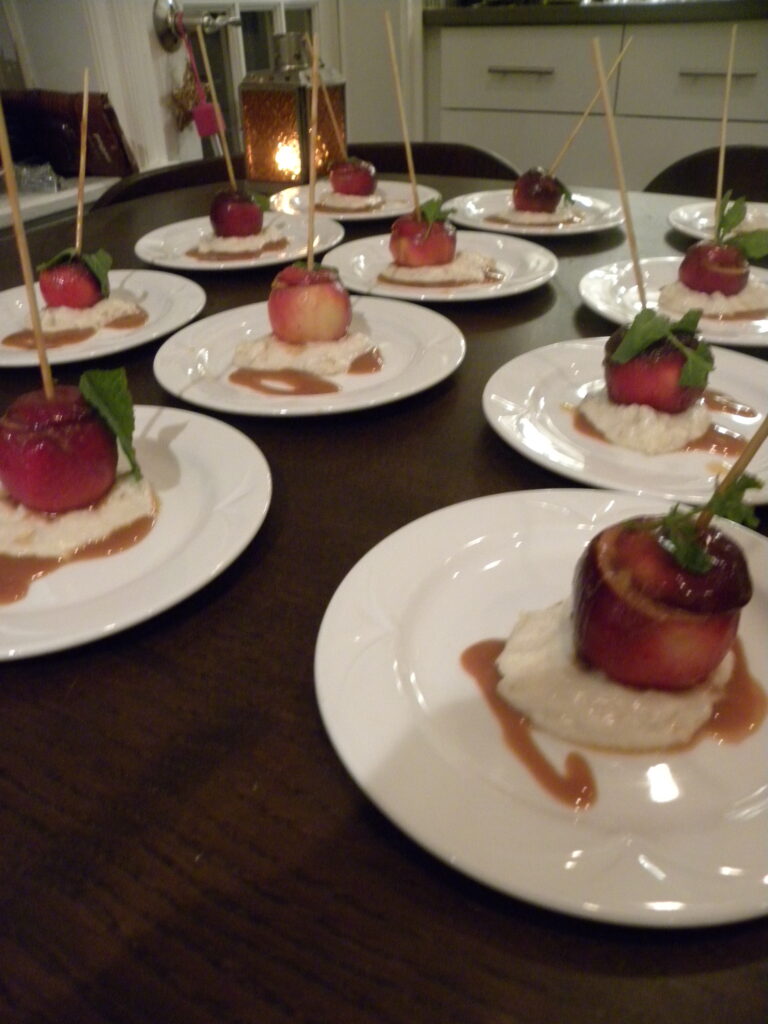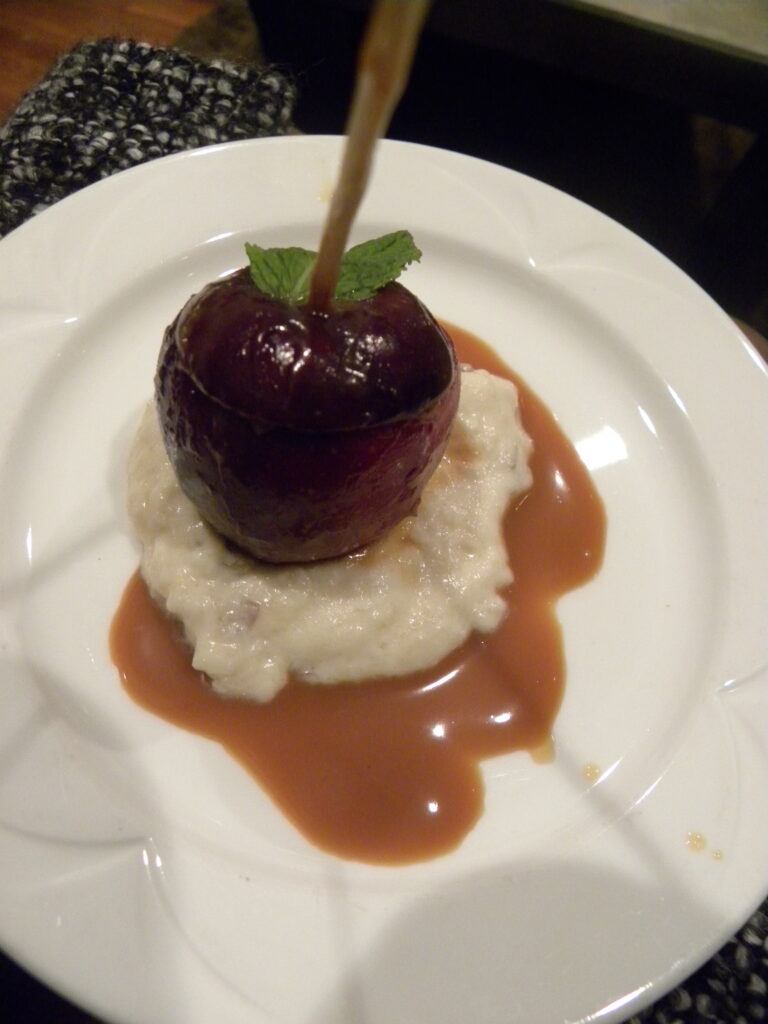 The Company
I think, besides great food, the only other thing that matters at gatherings like this, is even better company. With Chef Poe in my kitchen, and some of my most favorite people on the globe in my living room, Saturday night was unreal and completely unforgettable. Lots of love and full bellies!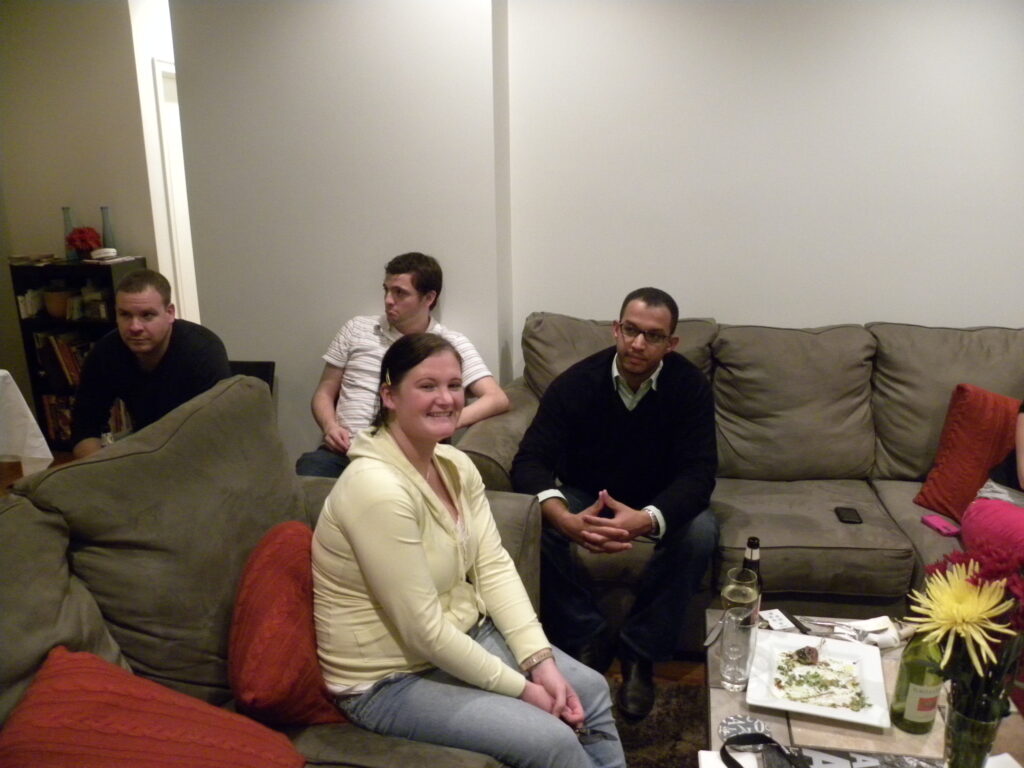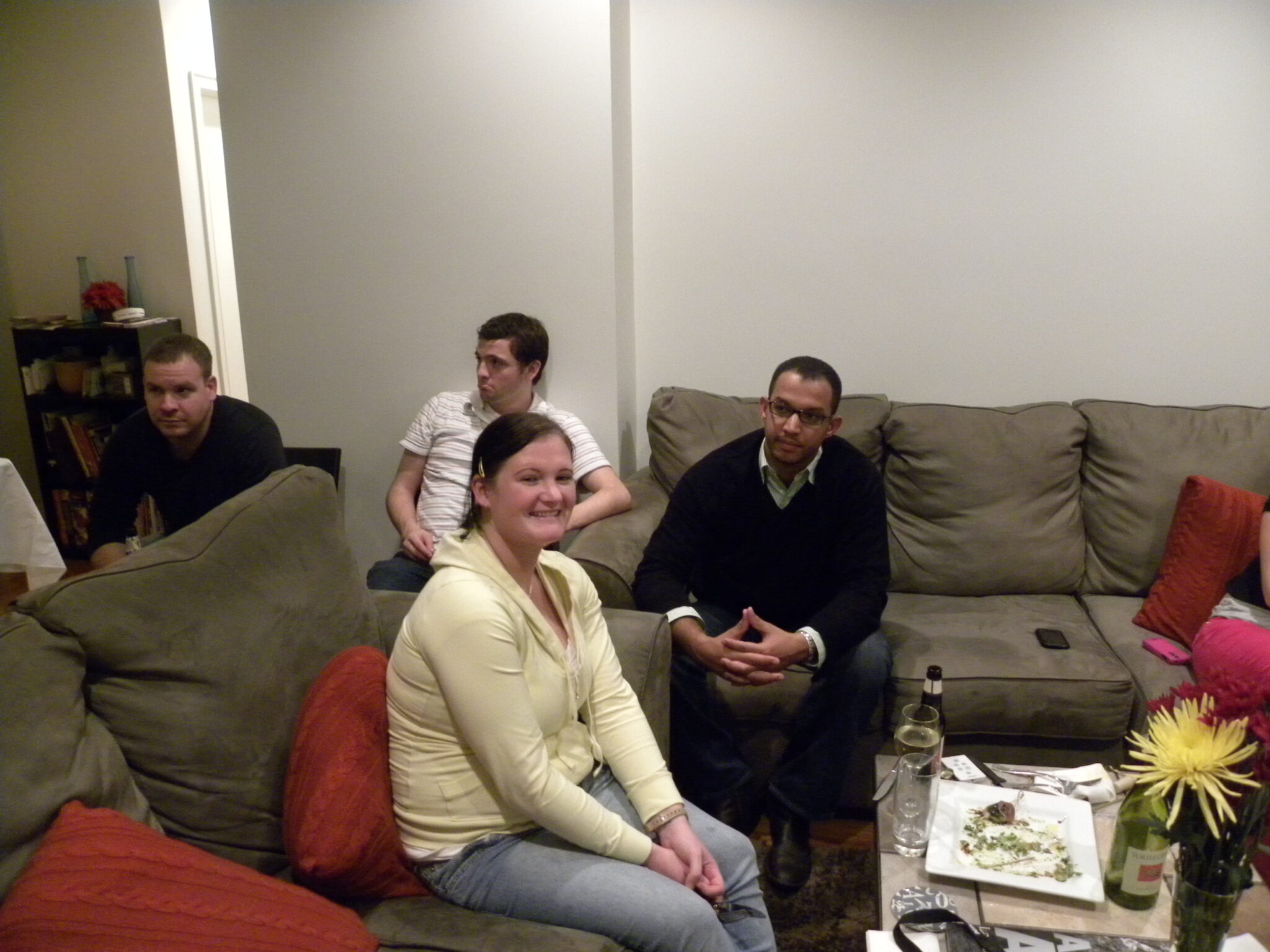 (Melis smiling away after enjoying the Quail!)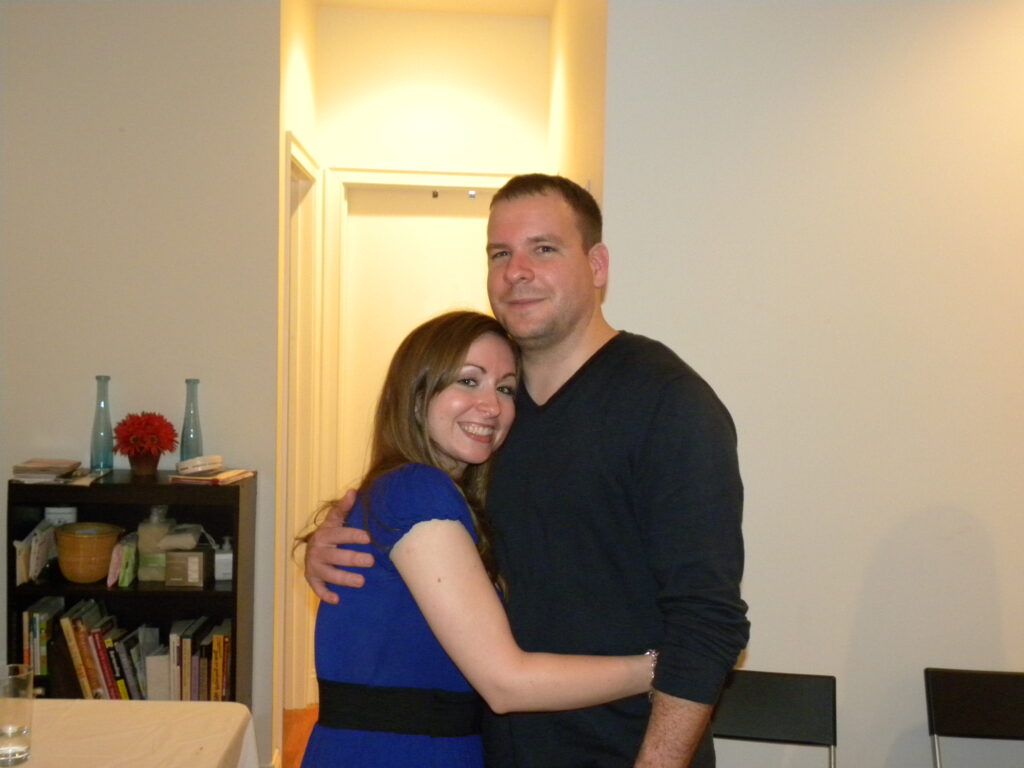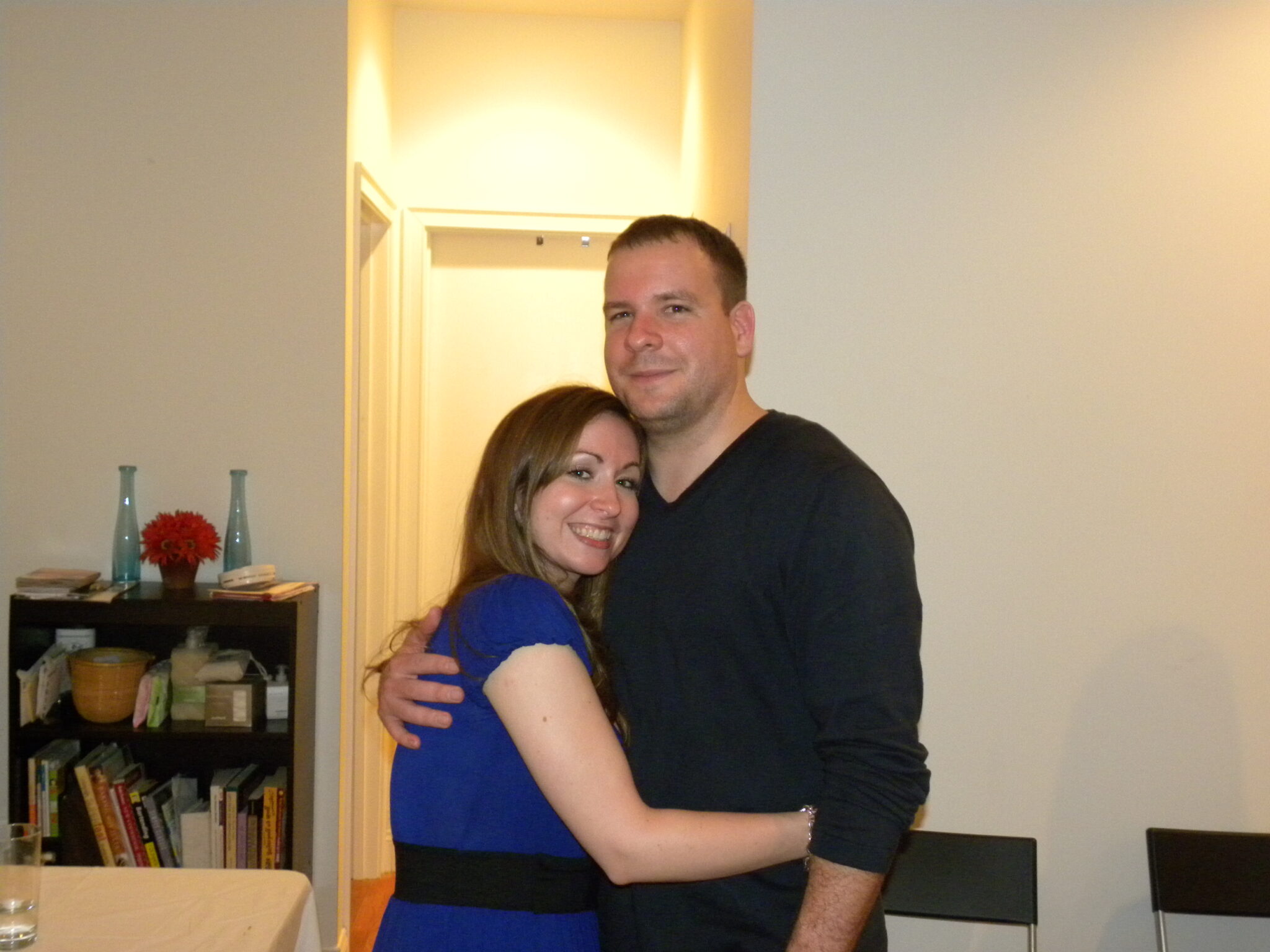 (Kate and Paul!)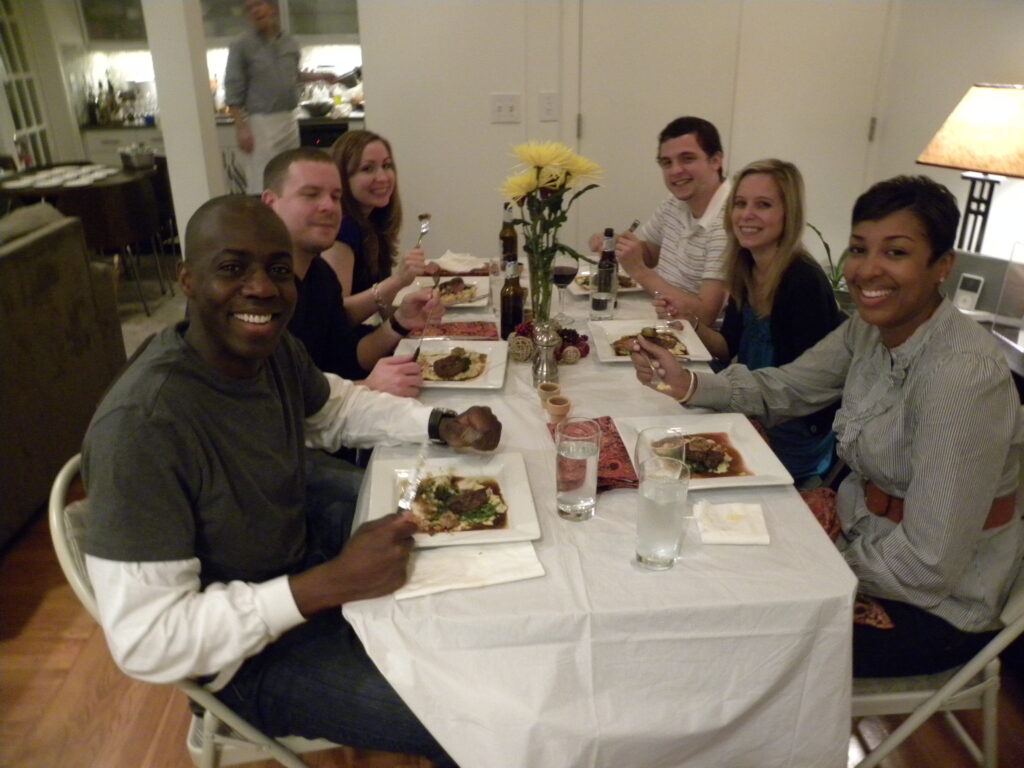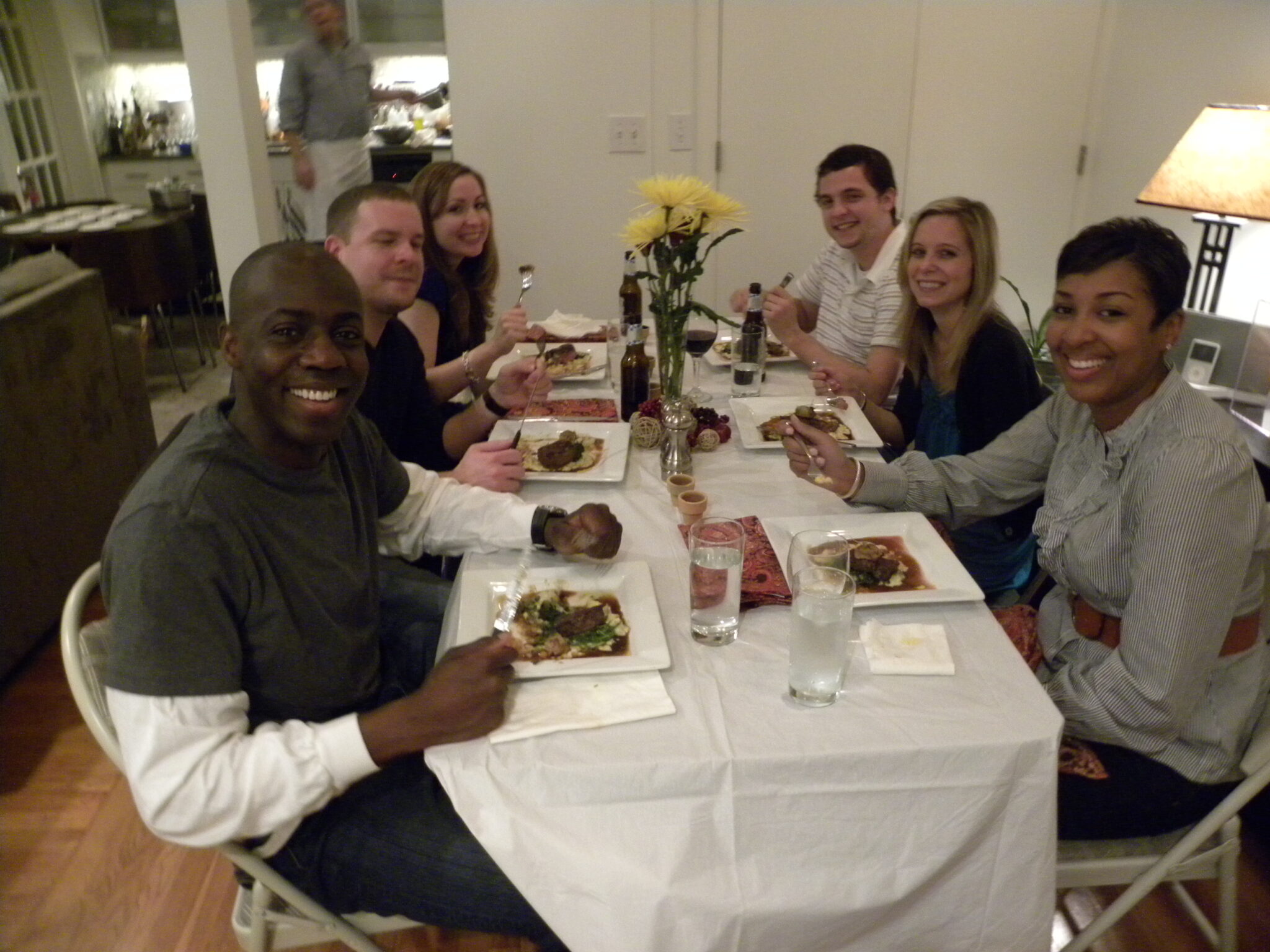 (Just a table filled with some favorites. The brother-in-law, Paul, Kate, Chris, Sues!!!, and my sister, Des!)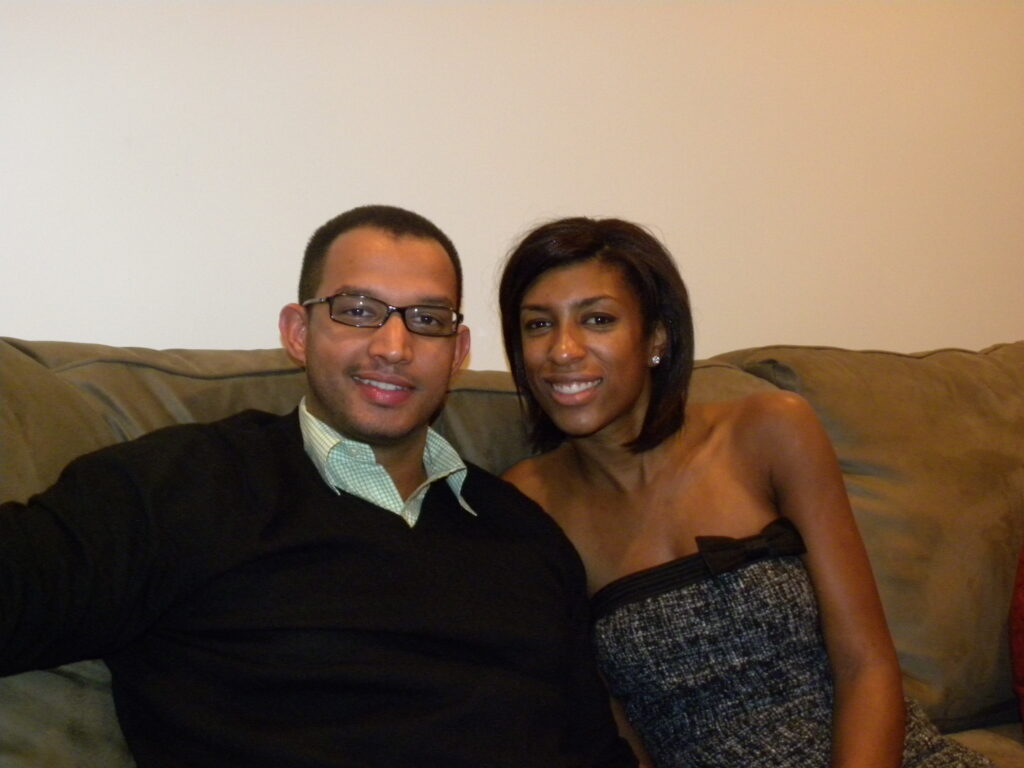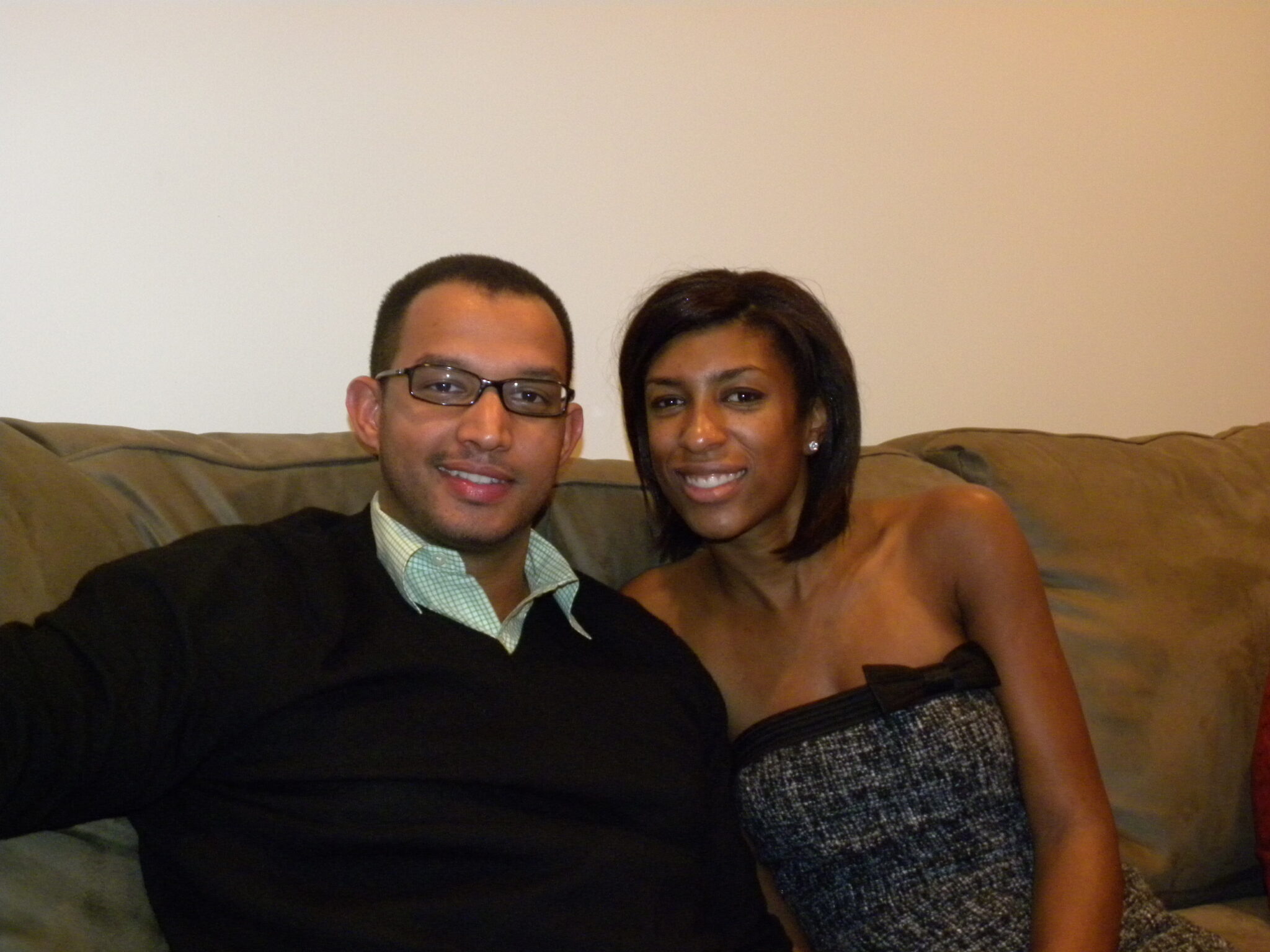 (Justo and mah-self!)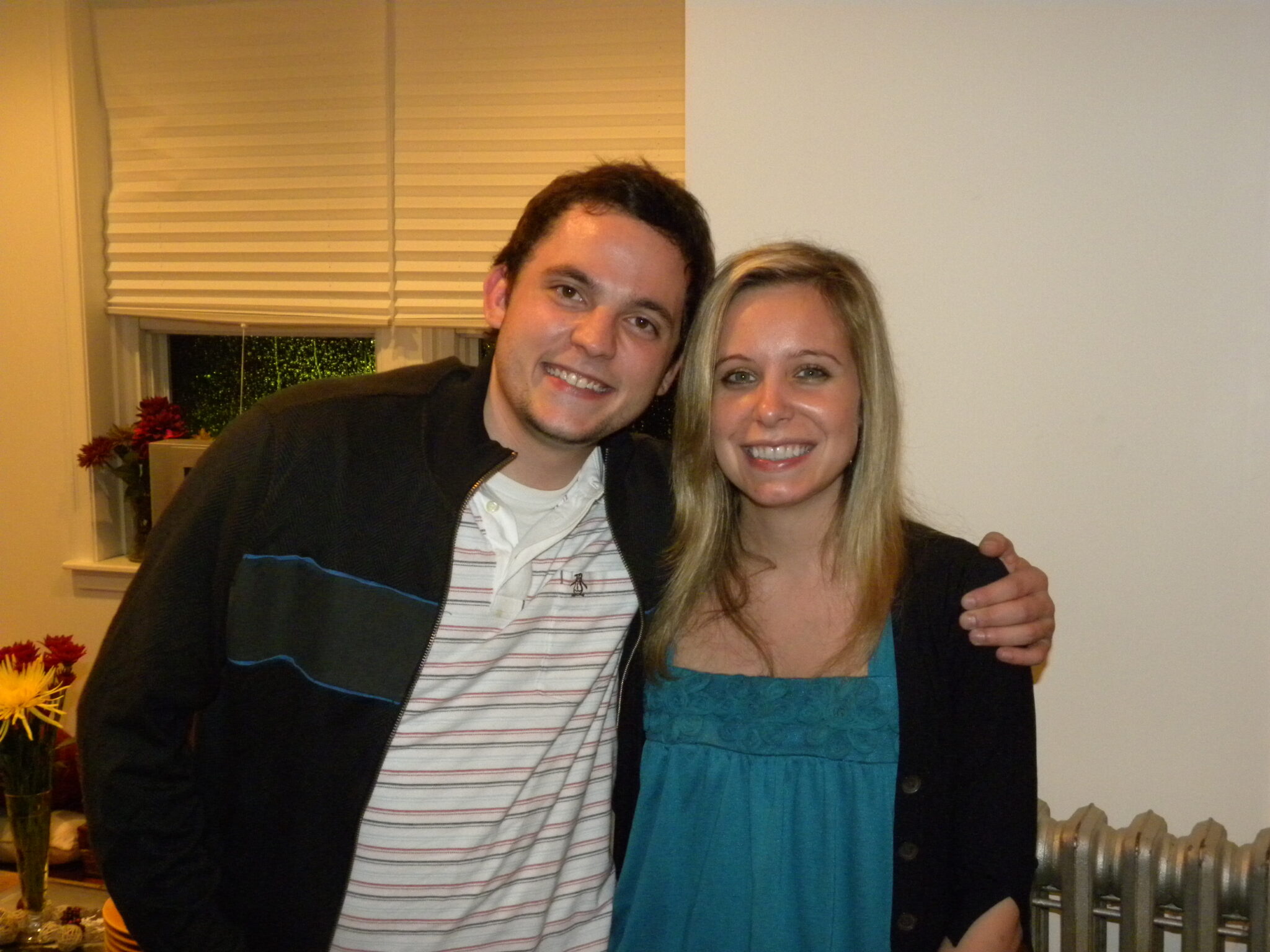 (Chris and Sues!)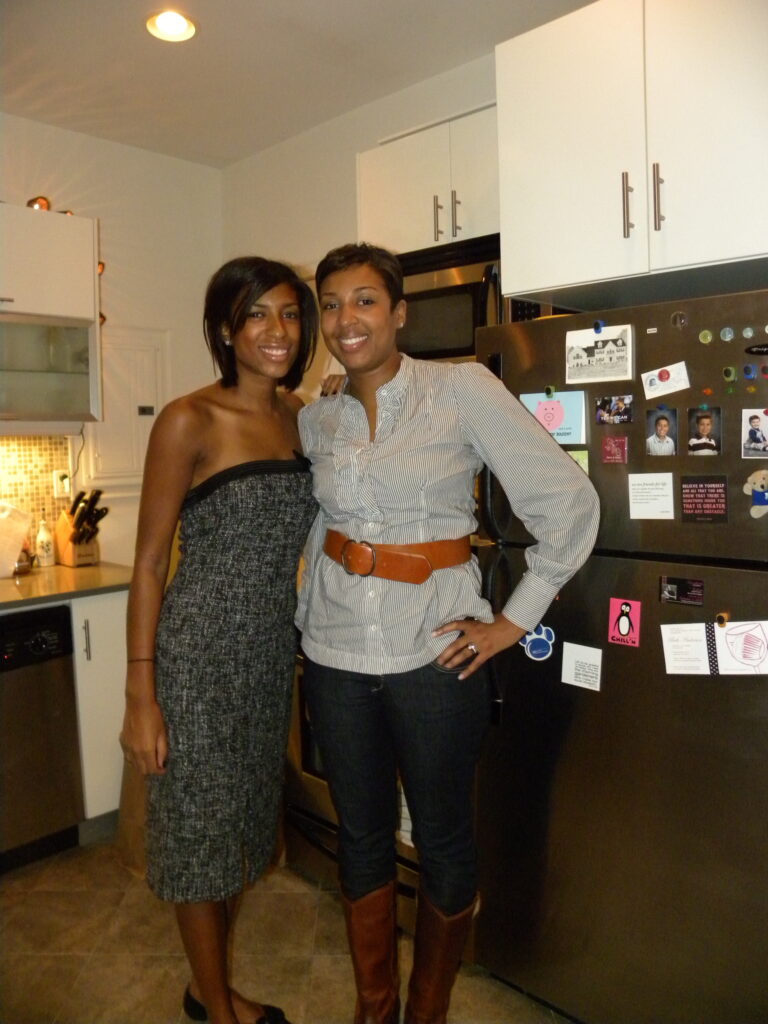 (Sisters! This was roughly the 10,271st attempt at a decent photo of the two of us that night!)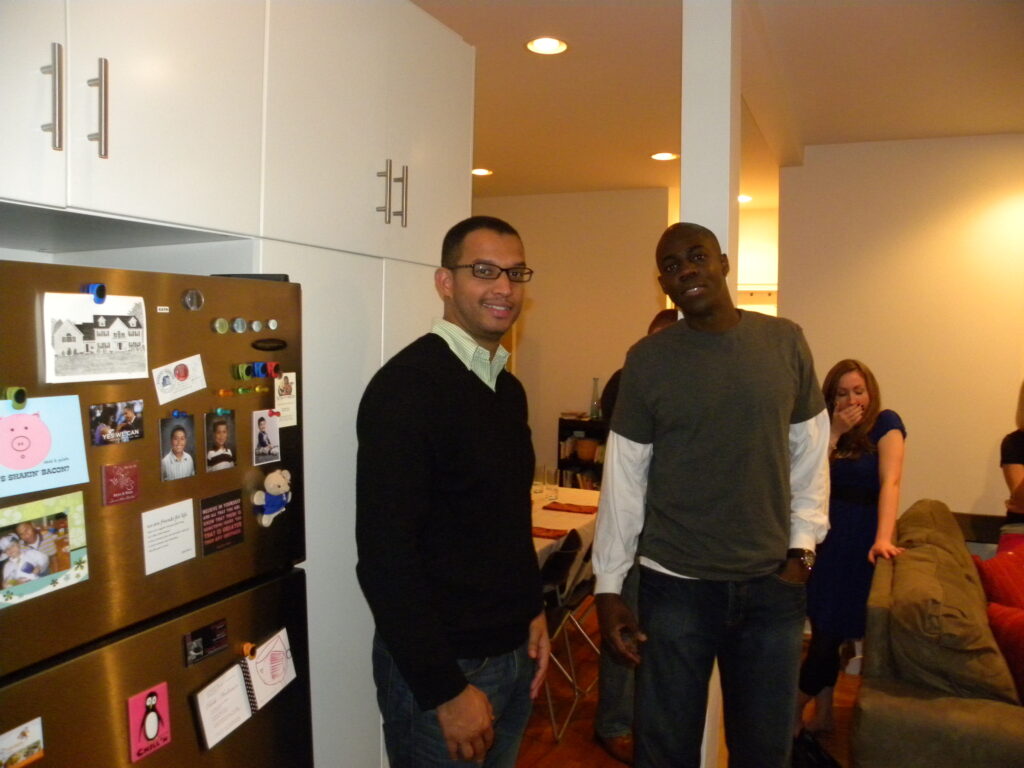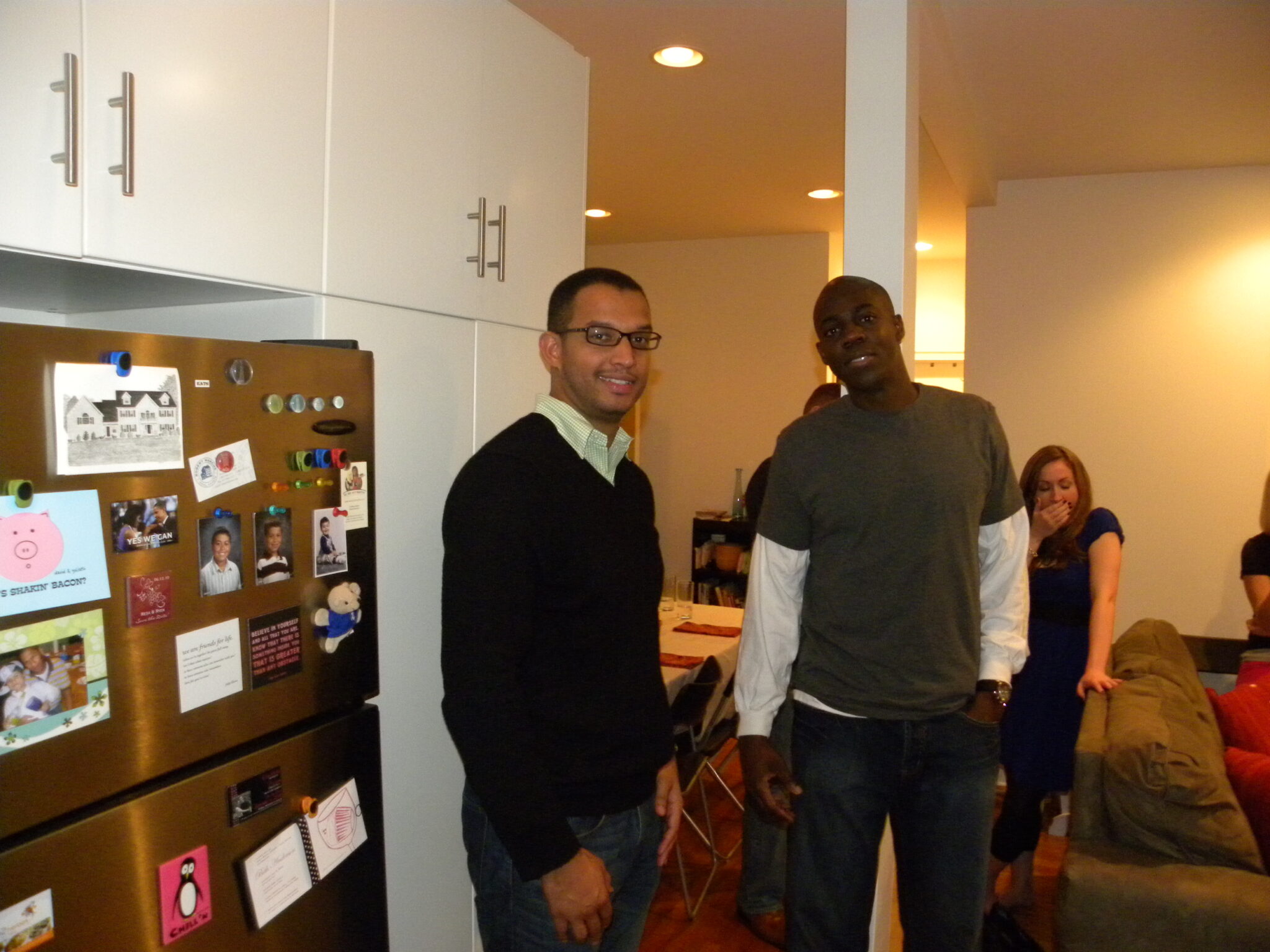 (Justo and the brother-in-law... I think Kate is getting tired, hehe ;))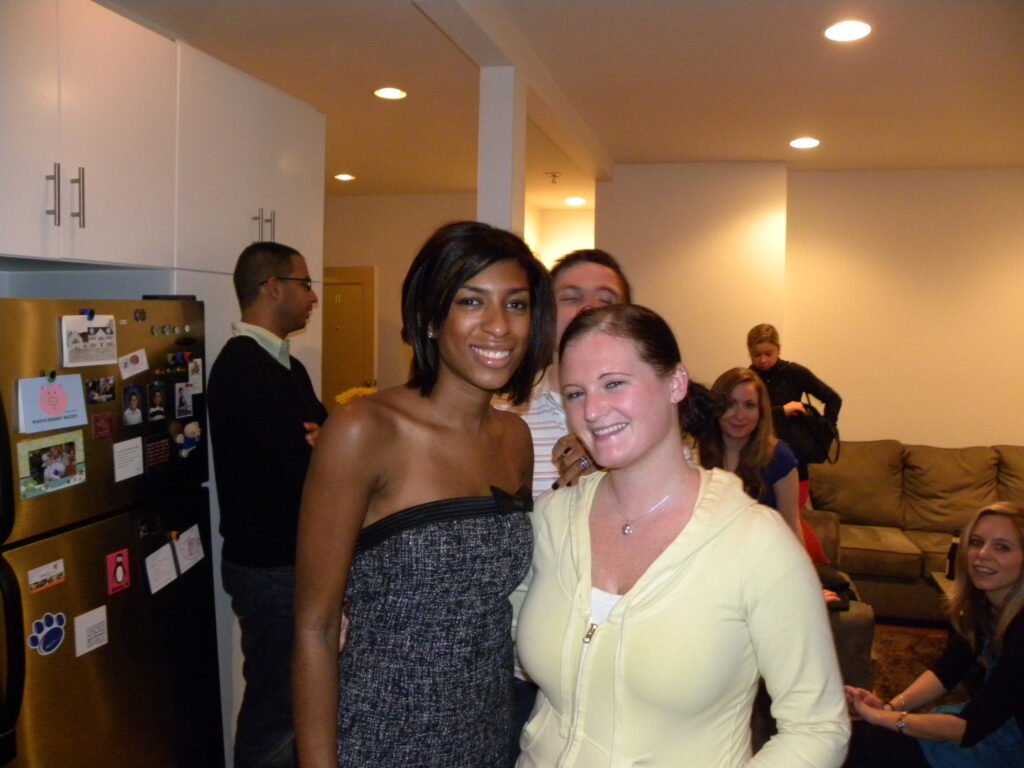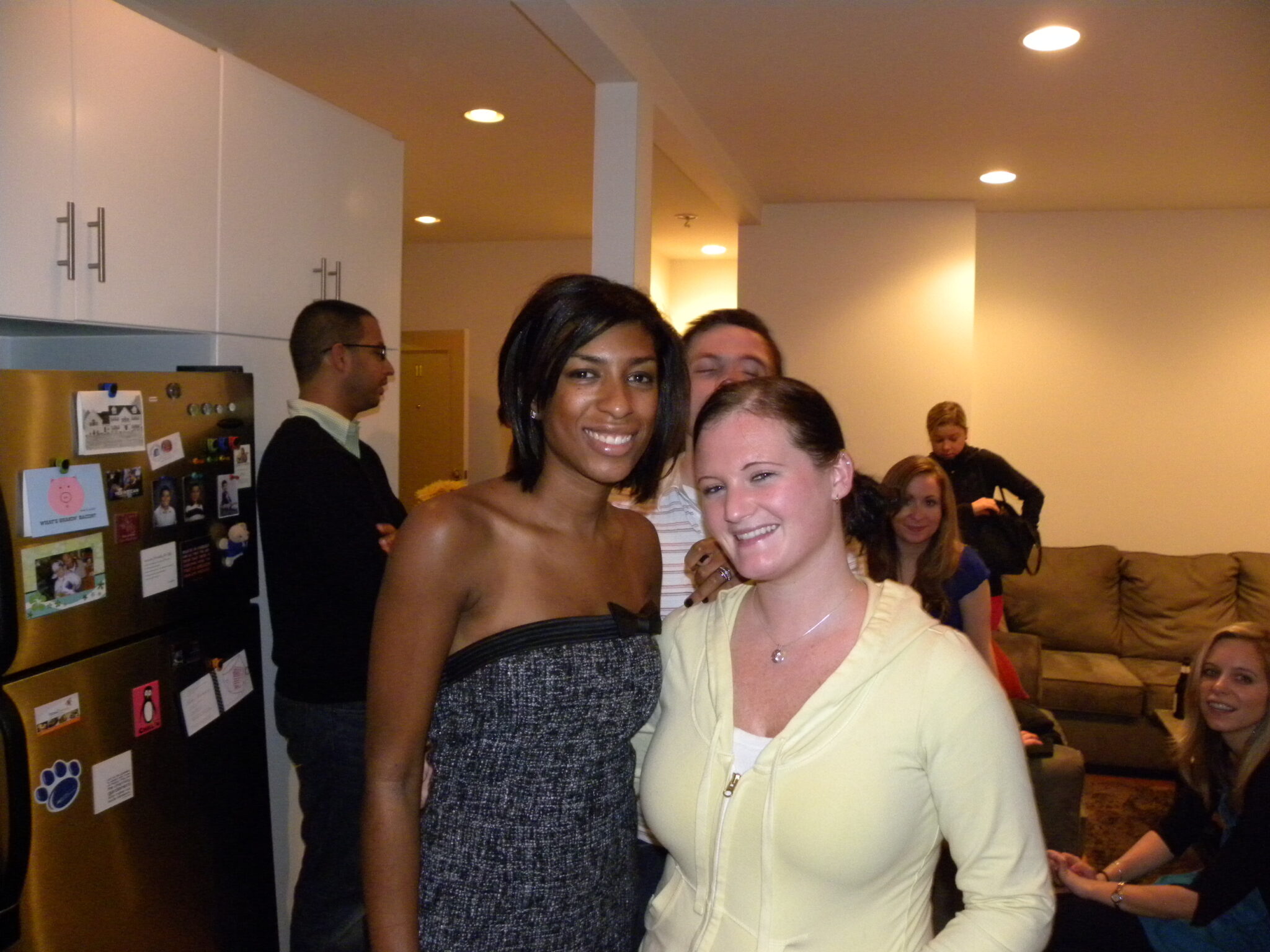 (Me and Melis... and Chris peeking in the background!)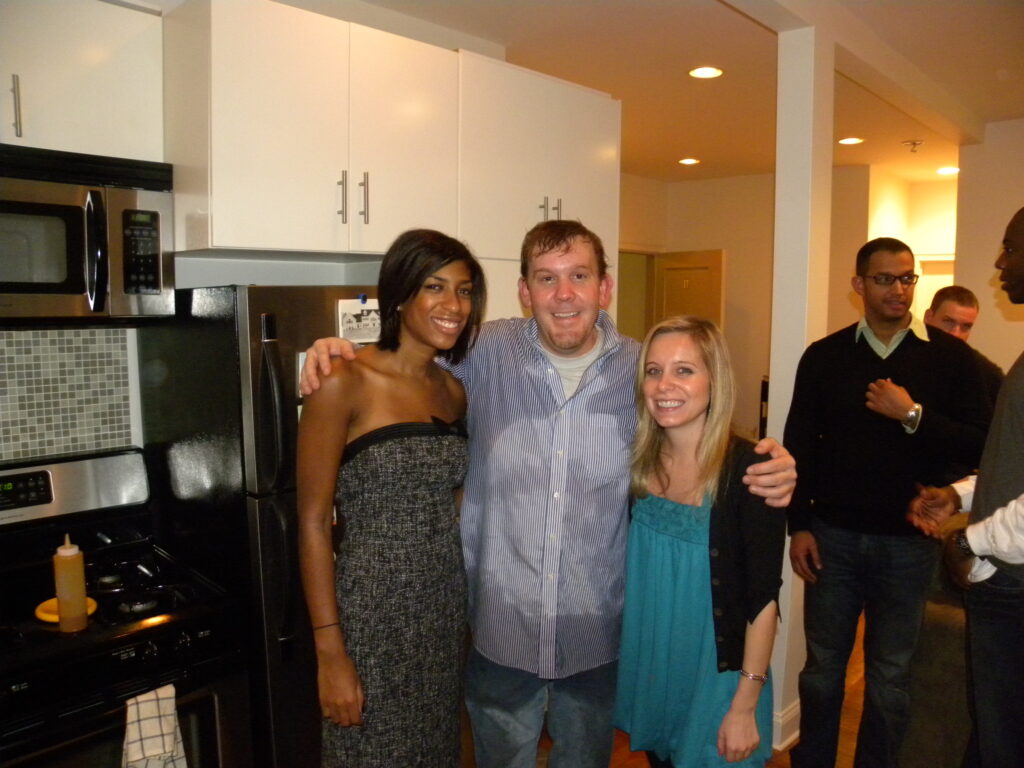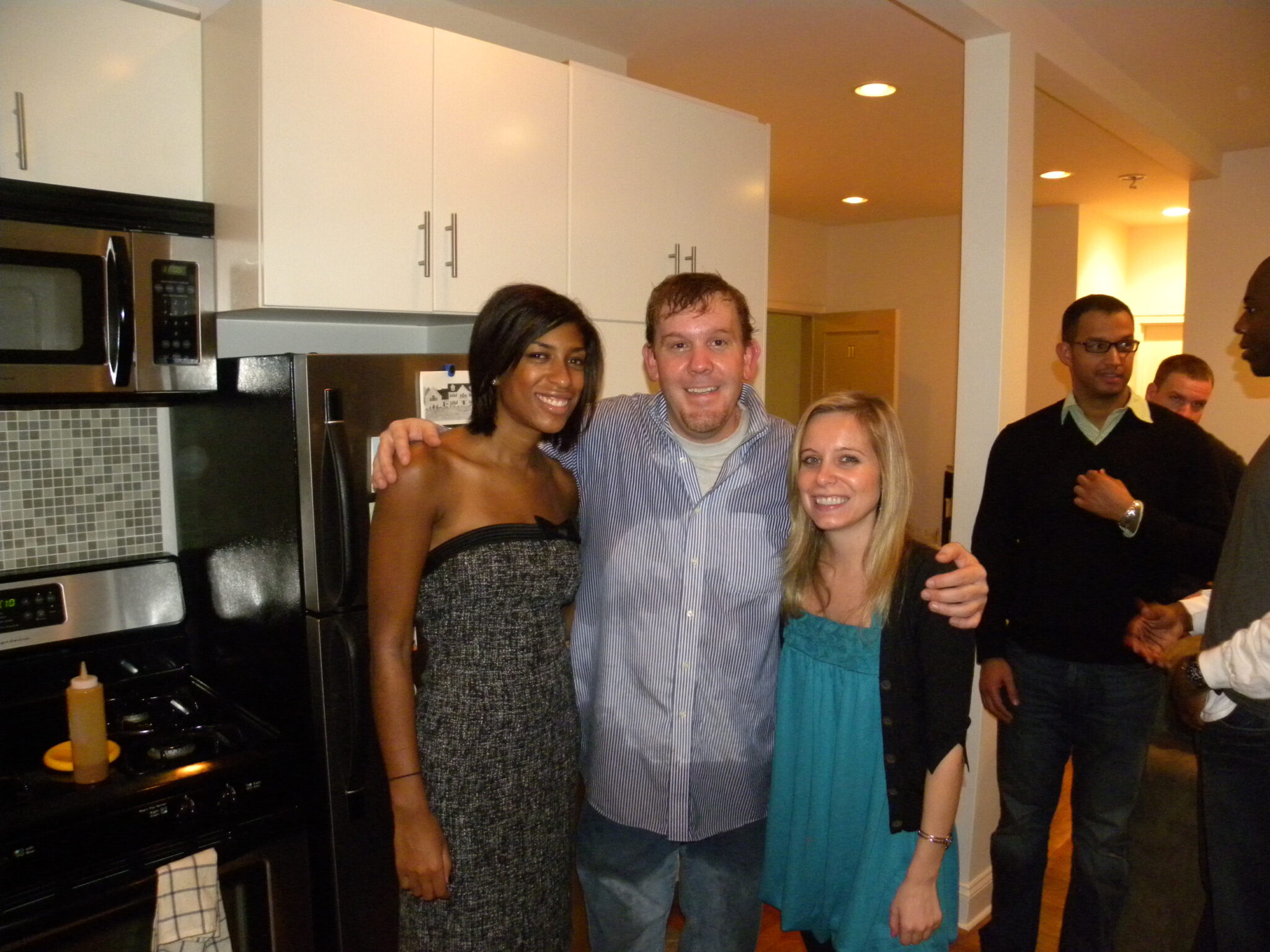 (We are not Martha with the one and only Chef Brian Poe... who came back upstairs in the pouring rain which explains his shirt; he was working hard but not that hard, hehe! )
I can't imagine a better way to spend a chilly, rainy, Fall evening in New England than with my favorite chef and my out-of-this-world friends and family 🙂 I could undoubtedly get used to this happening all the time. Can't say thank you enough to Chef Poe for a wonderfully fantastic evening! We really appreciate your creativity and passion for not only food, but for life! 🙂
And a big, huge thanks to Sara and Leighann of Yelp Boston (the company that never disappoints us) for the ultimate hookup!
Question for you: If you could have your favorite chef cook in your kitchen, who would it be? And who would you invite?
[Chels]