Healthworks Blogger Bash #2
Healthworks knows how to treat the lady bloggers… and keep our behinds in shape 😉 Last night we, along with some of our favorite local bloggers, met up at the Back Bay location for a 30-minute bosu class followed by a Whole Foods sponsored dinner on Copley Square.
The bosu class was no joke. I honestly thought since it was only 30-minutes that we'd zoom right through pain free, but clearly I forgot how intense the Healthworks instructors can be. eeek. The bosu is a great tool for balance training. I remember when I was doing physical therapy for my knees I used the bosu a ton, but I do not recall sweating like I did yesterday! You definitely have to be 110% present, aware, and focused in the class which equals no slacking! My favorite part of the class was when we did this "speed skating" move and had to touch the bulls-eye of the bosu on our way down. I definitely felt like Apolo Ohno 😉
After the workout we utilized the spa-like Healthworks locker room to change and freshen up for our picnic dinner. We reconvened in the lobby of the club, picked up our reusable lunch bags stuffed with delicious and healthy food from Whole Foods, and were off to Copley Square…
The lovely ladies, Melissa and Lynay, of Whole Foods shared some information about the company and their healthy food initiatives:
For dinner we enjoyed sandwiches, an orange and cranberry quinoa salad (which was GOOD!) and a fruit salad.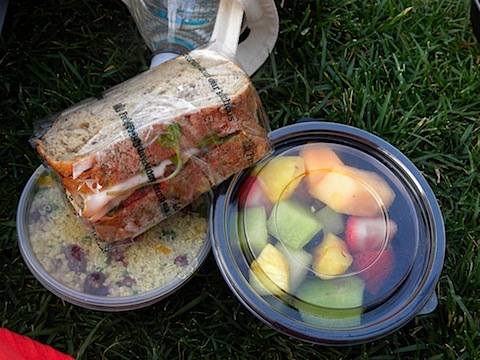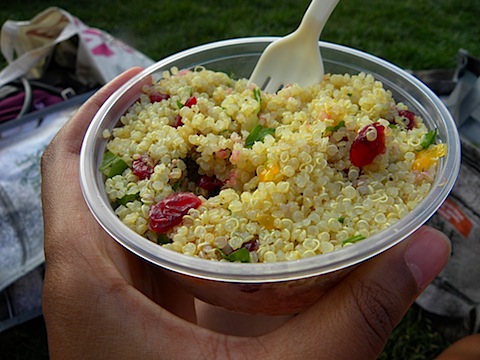 Lauri Meizler, the CJO (Chief Joos Officer) of Joos organic beverages spoke briefly about her product.
And then, because after everyone sweats their faces off at the gym all we really want is a cupcake, the one and only Kelly of MIx Bakery spoke about her very famous cupcakes!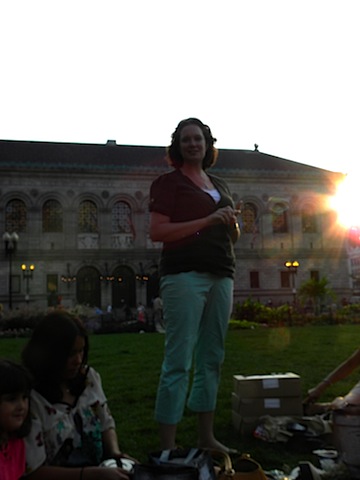 She brought an insane amount of Carrot Cake with Cream Cheese Frosting and Peanut Butter Cup cupcakes. The best thing about Kelly (besides her knack for making outstanding baked goods) is that she's so passionate about what she does… and has a wonderful sense of humor! She's a sweet sweet lady, it's probably from all the frosting she makes 🙂 I somehow managed to leave with some leftover cupcakes and ended up giving one to a random guy on the train who was eyeing the box of baked goods. He was obviously waiting for me to offer him one because he did not hesitate at all when I asked haha!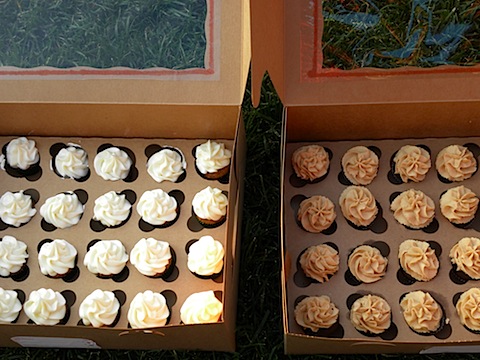 If three boxes of mini cupcakes doesn't make a food blogger get up from their seat, cameras in hand, nothing will.
My favorite part of the picnic was when I'd already devoured 3 cupcakes and Elina told me that 4 mini cupcakes=1 full sized cupcake. So naturally I ate another. Because only crazy people eat 3/4 of a cupcake.
My other favorite part was this view:
Boston this time of year possesses some serious beauty. Having a blogger picnic out on Copley was a brilliant idea, Healthworks!
I talk about Healthworks all zeeee time, so if you're interested in trying one of the clubs We are not Martha readers can get a FREE 3-day pass here!
Steaz Iced Tea
The other afternoon Sues and I were at Whole Foods on a mission to buy exactly what we needed on our lists. Let the two of us loose in a grocery store and things will get ugly. Whole Foods was having some great buy 5/$5 sales, 2/$6 sales etc. And by "great" I mean, "great" in our opinions.. we both get really excited when we can buy more food for less money. So we, of course, convinced ourselves to buy almost everything that was on sale. Which obviously isn't smart shopping but some of the things we bought had a) pretty packaging, which we're both suckers for and b) had some really unique descriptions on the packaging. A package could say the product will give me "wrinkle-free skin while simultaneously saving the world" and my reaction would be "ooooh, ahhh". I'm the girl who spent more money on a gallon of paint for Sues because it was Martha Stewart brand. And she 100% appreciated it where most people would tell me I'm loco. As my dad once told me, I'm a marketers dream come true. Sues is as well. Which is most likely why we're friends 😉
I'm definitely drifting off topic. SO while we were in Whole Foods we saw a display for steaz iced teaz. They were 5/$5, had nice packaging, came in some really delicious-sounding flavors like lime pomegranate and blackberry, pomegranate and acai. Most importantly they were 100% natural, organic, and fair trade. Good for me, good for the world. Sold. We ended up each only buying 2 cans to test them out. I'll most definitely be back to buy some more asap because with each cold sip I felt more refreshed. I'm a tea lover and now I'm a steaz lover! And yes, I drink my iced tea out of a wine glass… it makes me feel fancy. It's the little things and I recommend you do the same, friends.
Kettle Fully Loaded Baked Potato Chips
Another Whole Foods purchase we both made, the new Fully Loaded Baked Potato chips by Kettle. WHAT THE WHAT?! If I could have majored in "Fully Loaded Baked Potatoes" in college I would have. But as much as I love a potato with bacon, sour cream, chives and whatever else is tossed on them, I was slightly skeptical to see it in a chip form. We stood in front of the display for a good couple minutes wondering if they'd actually be good since we figured it could go either way. Being the food risk-taker that I am I purchased them anyway. But really I do these things in the name of research so I can report back to all of you 😉 Needless to say, Kettle meant serious business creating these chips. Dare I say they'll become one of their best-sellers? And if you'll allow me to make a quick confession: I kind of wanted to dip the chip in some sour cream. 😉
—————–
The winner of the BIG NeatReceipts Scanner giveaway, valued at $199.95 is:
Michelle, who said:
Hi,
It's my first time here and voila I see that gadget you will be giving out which could be very useful for organizing and tracking out our family's expenses. I tried to record our expenses in an excel sheet for 2 years now but to no avail.
And I used to keep all the receipts in an envelope but after a month or so, the information fades away so I ended throwing them in the garbage bin. So this NeatReceipt scanner wil be the solution to track all our expenses smoothly. Please pick me up…
Congratulations Michelle! We'll be in touch with you shortly 🙂
—————–
What are you loving this week?

[Chels]