Hello, friends. Yes! I'm still alive. I saw my aunt today and she asked if I was still doing the blog. Guess it's been that long since I've posted, eeek! I apologize for my lack of posting! Sometimes blogging + life don't always mix, though. The past few weeks have been packed to the brim with invitation deadlines for clients on top working my regular multiple jobs, so needless to say I haven't been spending much time in the blog world as of late! When I'm at work, I'm away from the computer, and when I'm at home, I've been designing and assembling invitation orders like a mad woman. All of my creativity has been put into making sure people have pretty invites, which is so much fun, but exhausting! And I think I'm due for a massage and a visit to the chiropractor from hovering over my desk and laptop. Yes, please!
While I've been busy, busy, it doesn't mean I haven't had the time to find new things to fall in love with! Check out some of my most recent favorite things!
Neon Socks + a Wardrobe Facelift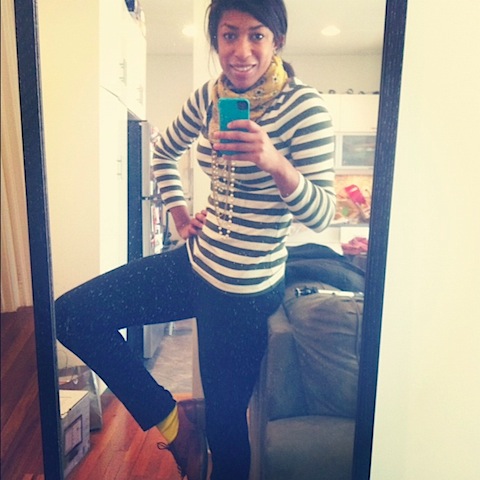 I recently wore a pair of black skinny pants, an olive green sweater, and my brown leather oxfords. Sounds kind of hideous now that I type it out but I swear it looked cute! I loved the outfit but whenever I looked down at my feet and saw boring socks, I decided I needed to purchase some fun socks. I dig unexpected pops of color and little surprises in any outfit, so when I got home that day, I ordered a pair of neon yellow socks and neon pink socks, from We Love Colors, one of my favorite sites for fun tights and socks. I sort of always struggled deciding which socks, if any, to wear with my oxfords since I normally wear them with skinny jeans. And because I'm so tall almost all of my skinny pants sit pretty high up on my ankle. I think wearing bright socks and playing up the fact that my skinny pants can be a bit shorter, is the best solution! Yay, fun!
Speaking of clothes, I clearly own a lot of them and it's rather ridiculous, in my opinion. I often wonder how and why I have so.much.stuff. But I I've figured it out. When I was in my early 20s I thought having a lot of clothes was key to having a successful wardrobe. But the older I've gotten, the more I've realized how absolutely untrue that is. A successful wardrobe shouldn't be a mess and it shouldn't stress you out. It should be easy to mix and match and it should encourage you to create new and interesting looks from what you already own.
My sister understands my style more than anyone, so I invited her over on Saturday, after our pedicures at MiniLuxe, to raid my closet and help me get rid of things. Sometimes situations just get to the point where you've had enough and you have to try something new. Needless to say, I now have seven (yes, SEVEN) large trash bags filled with clothes to donate sitting in my front hallway.
I definitely struggle with what I should give away, so having my sister there was so helpful. I pulled every item out of all of my drawers and closet one-by-one, held it up so my sister could comment, and whatever she said (for the most part), I did. Whether it was "keep", "trash", "donate", or place in "future bin". Comments from her like, "YOU'RE ALMOST 30… GET RID OF IT", definitely helped, too! That's what sisters are good for! 😉 I think the issue is I tend to associate some articles of clothing with memories which makes it difficult to get rid of things at times. "I wore that dress to this event", "I wore that sweater on this vacation", etc. But having someone there to force you to get rid of clothes is beyond necessary if you struggle the way I do! The older I get I definitely realize that it's not quantity, it's quality. Going through my entire wardrobe in a couple hours (speedy!) really made me notice which pieces held up over the years, and those were the things I kept.
Oh, and about this "Future Bin". There were a handful of items I came across that no longer fit or that I don't use that I'm just not ready to part with, so I came up with this idea to put these items in a bin that I'll keep in my storage unit of my building. I have a handful of old Lacoste shirts, cute dresses from Anthro, and my first Coach purse that I bought in my late teens. You know, the important things in life 😉 But one of my favorite things growing up was when my mom would randomly show us or give us accessories or clothes she wore when she was younger. If one day I ever have kids, nieces/nephews, I want to be able to do the same thing. One of my favorite belts I own now (of course it's yellow) was one that my mom gave me that she had from the 70s. I think it's just a nice excuse to hold onto classics to share in the future 🙂
So, the moral of this story is, if you struggle with a wardrobe filled with clothes you're not wearing, invite the most honest person in your life over to help you get rid of things and you will see success!
Birchbox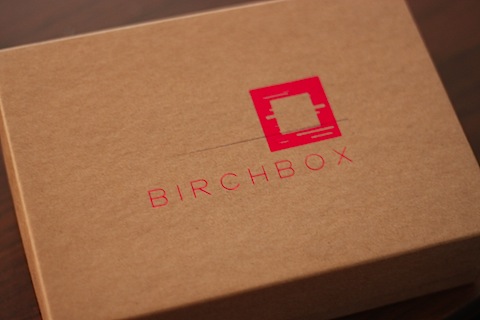 If you're a female blogger, you've probably already heard of Birchbox. It's the latest craze on the internet and I'm now a member! Hooray! Basically, you sign up (or add your name to the wait list, since it's that popular now) and every month you get a new box of sample-sized beauty products delivered to your door. It's like Christmas every month! You just fill out a quick profile about your skin type and lifestyle and select which membership you'd like. You can pay up front for the year or pay $10/month. You can do gift options, which is fantastic for all the women in your life.
In this month's box, I got Benta Berry G-1 Moisturizing Face Cream, Eye Rock Eye Liner, Juicy Couture Viva La Juicy perfume (which smells delightful!), Juice Beauty Blemish Clearing Serum, and a Spicy Maya ChocoPod chocolate treat from Chuao Chocolatier. The best part is if you wind up falling in love with one of the samples, you can purchase the full-size product right from Birchbox's website. They make it so easy for you.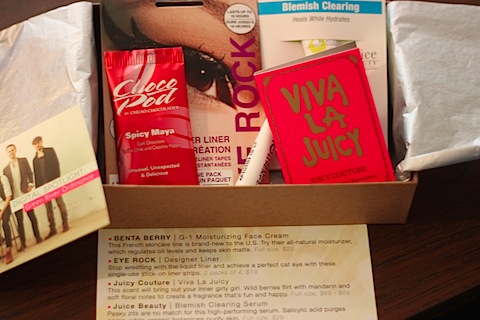 I got my first Birchbox delivered to me the day before Valentine's Day and this month's note from the company started off with this:
"Hi there,
Despite what greeting card companies would have you believe, February is a great time to focus on yourself. This month's samples are designed to highlight your awesomeness – and maybe attract a little attention." Hello, it's almost like the girls behind Birchbox know me! Or something like that 😉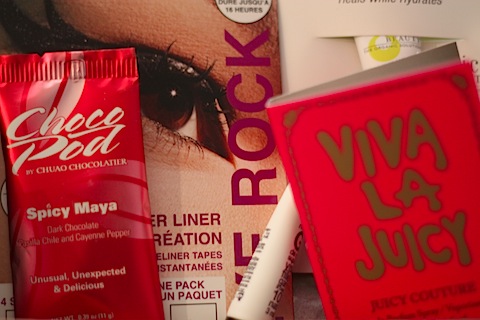 Knowing I have fun gifts just for me arriving monthly kind of makes me want this year to fly by so I can see what other fun things I'll get 😉
Silhouette Cameo, Electronic Cutting Tool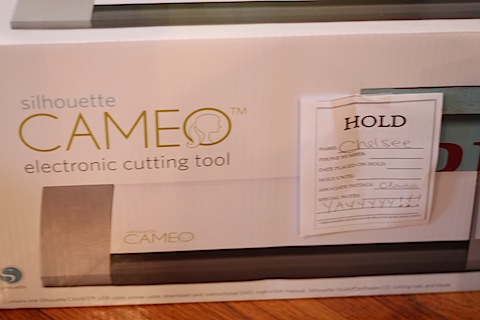 Okay, this one will only apply to crafty design geeks like myself. But we got the new Silhouette Cameo ($299) machine in at Paper Source. You see, we've sold the older version of it since forever, but Silhouette recently updated the design of the machine and added on some nice new bells and whistles. So, between gift cards I had from the holidays and my employee discount, it only made sense for me to buy it. Duh 😉
Basically, the machine works by installing the software onto your computer, you design a vector-based image or type something using any font on your computer, hitting print, and the machine will print your image or text on vinyl, paper, or fabric. HELLO, CRAFTY IDEAS FLOWING NON-STOP THROUGH MY BRAIN.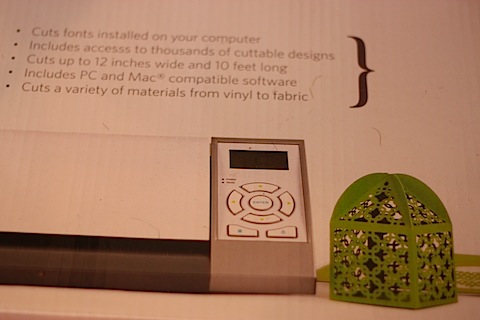 Place Setting Necklace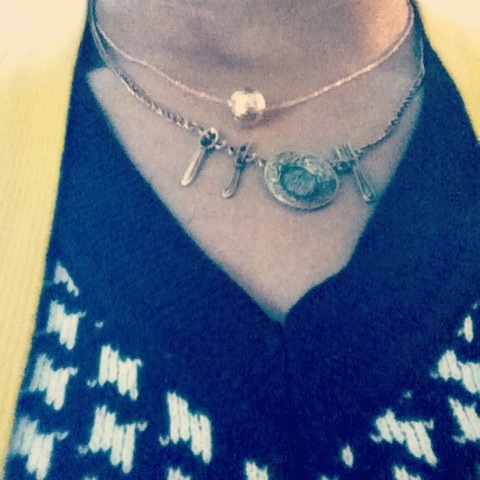 Found this little gem of a necklace a few weeks ago at a jewelry store out by my sister's house. Couldn't be more fitting. 🙂
What have you been loving recently?
[Chels]