Sheesh, I've been stockpiling the favorite things over here so let's get right to it, shall we?
Banana Republic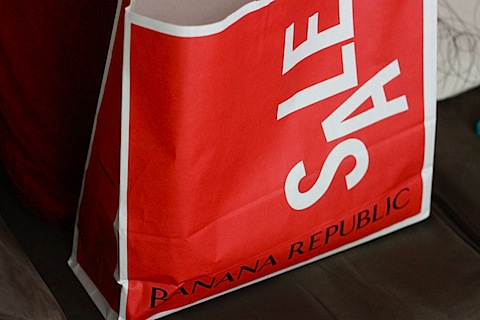 I've always been a huge fan of the Gap, Inc. brand, mostly the Gap and Banana Republic, and that's mainly because of their phenomenal sales. They're not afraid to mark clothes down again and again… and again. Until they're nearly giving things away for free. I almost never buy things full price at either store because I know they'll get marked down a ton.
I happened to stop into Banana last week just to check out the sale section. I tried a bunch of things on and ended up putting them on hold because I forgot my birthday coupon at home. The horror! I happen to have a lil' "connection" at Banana who told me to keep the items on hold for an additional day because they were doing a quick sale Friday afternoon for an additional 40% off of sale until 1pm. Yes. An extra 40% off of what was already marked down. Weeeeeeeeee!
I ended up rushing back the day of the sale on my lunch break to pick up what I had on hold plus a few more things.
I did damage. But not to my wallet.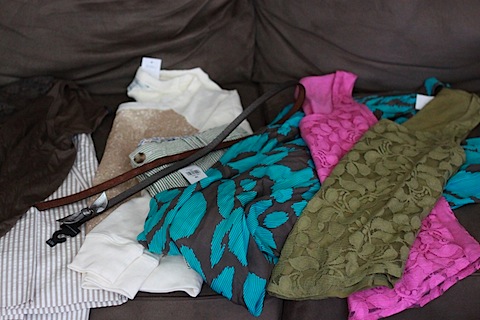 Here's what I purchased:
• Lace overlay tanks. One in geranium pink and the other in willow olive.
• Zip back tank in navy/white stripes.
• Sequin Sweatshirt, in Cocoon. I don't typically buy things with sequins or that are difficult to wash, but I absolutely adored this and had to have it in my wardrobe!
• Sloan Fit Crop, in Navy. LOOOOVE the fit of these.
• Seersucker short, in Fatigue. Mandatory for New England summers.
• Seersucker high-waisted skirt, in khaki. (not pictured on website).
• The turquoise and gray item you see is the longest maxi dress I've ever owned. I love a maxi dress but being 5'10" I do sometimes have some trouble finding styles that are long enough, believe it or not! This dress was heavenly. My sister actually owns it too so we might end up being twins one day 😉
• The taupe colored t-shirt with lace sleeves, to the far left, was so dainty and light that it demanded I purchase it!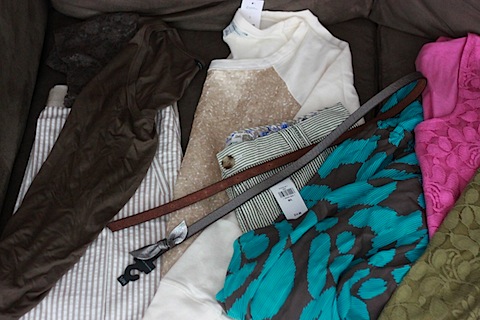 • I also bought a skinny metallic belt to wear around my waist. It has a little bow on it so, naturally, I needed it. It's a little big but it was only about $8 so I will gladly make another hole in it so it fits!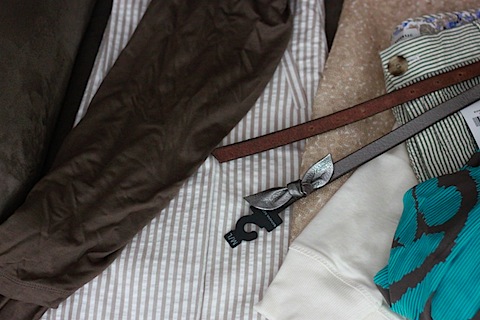 I haven't gone shopping like this in a while and when I do, I always make sure the bulk of what I buy translates well into the next season and will last a while. I try to stay away from overly trendy items that will wind up in the back of my closet after a couple of wears. The overlay tanks, below, will look stunning under a simple cardigan when the weather gets chilly. The sequins sweatshirt is about the "trendiest" item in the bunch, but can be worn with shorts in the summer or with skinny jeans in the Fall (with cute heels!). And seersucker. Well, that can be worn for years and years, in my book.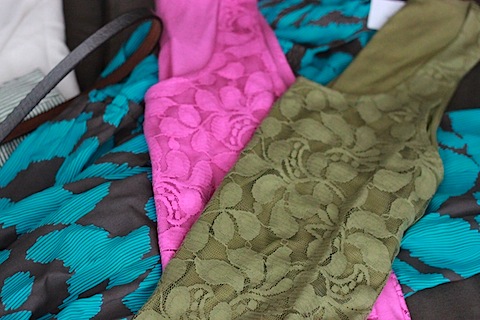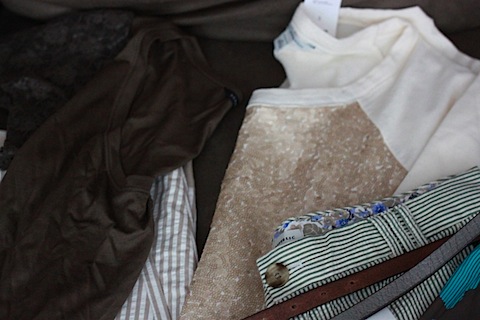 A lot of the items I purchased aren't showing up in the sale section on Banana's site so if you're interested I'd suggest going into a store and checking out the sale section there. I feel like sometimes the prices on the website don't reflect what's in store 🙂
Chanel's 2011 Fall Polish Collection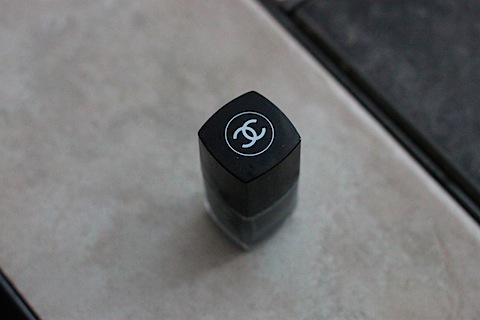 Drool.
A couple weeks ago one of my customers at Paper Source walked by me and complimented me on my toenail polish. I then complimented her on her fingernail polish. Then we spent about 15-minutes talking about polish. Such ladies.
She told me she hers was called Graphite (529) from the new Chanel line and sold me. It's stunning. And depending on what you wear the color comes across differently. Which might sound sort of holographic and weird, but it's actually quite lovely. If I wear grays and blacks the polish looks more gray/silver and with other outfits it appears to be slightly greenish. Either way, perfect for this Fall. Or the early part of August 😉 It's definitely expensive for nail polish (you can get it on Amazon for $29.99, at the counter it's over $30) but as a single lady, I think it's absolutely necessary to treat yourself every once in a while. And if a bottle of nail polish will make you happy, I do suggest you purchase it. Just my opinion and how I get by in life 😉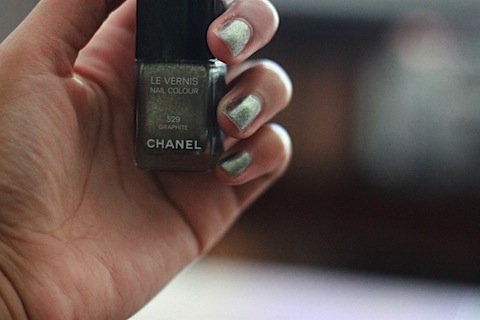 CANDY!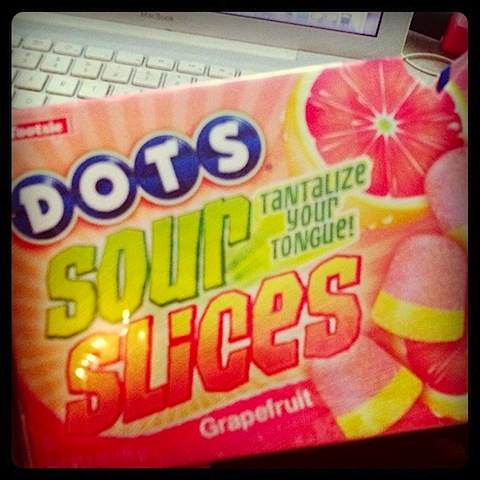 Well, Dots Sour Slices to be specific. I'm not a big candy person but we started selling these at Paper Source at our cash wrap and everyone who works there is now officially addicted. My favorite is grapefruit but they come in watermelon and peach, too. I've convinced myself that they quench my thirst. They're covered in sugar (haaaay, dentist!) and so juicy once the sugar dissolves. What's not to love?! Besides cavities?
My hair?!
I actually feel very weird putting "my hair" on a list of my favorite things. Mostly because in all of my life I don't think I've ever met a single soul who "likes" their own hair. Everyone has some sort of complaint about their own. So, let me say, that at age 27 (almost 28!) I've finally found some fun things to do with my hair and am fully confident to rock it. Obviously being a brown girl my hair has a bit of, how should we say it, character maybe? And growing up in a town that was not the most diverse place in the world, I always wanted my hair to be straight or pulled back because what 12 year old wants to be different? I never ever wore it out. The older I get the less I want to be like everyone else, though. I absolutely love curls and think it's important to be confident and embrace what you have. As Gaga's mama told her "There's nothing wrong with loving who you are". Amen. And hopping off my soapbox I go.
My sister's hair salon is right down the street from my apartment so whenever she has an appointment, if I'm free, I'll go hang out with her there. At her most recent appointment, one of the stylists had the hottest hair. She said it was her "sexy hair" and I was intrigued. She told me all she did was wash and deep condition her hair, put about 9 braids in, left them in for a day or two, and when she took them out she had crazy curly hair. FUN! I was all "Awww, I love it. Want it. Need to have it." and she was all "Come sit in my chair and I'll braid your hair for you!".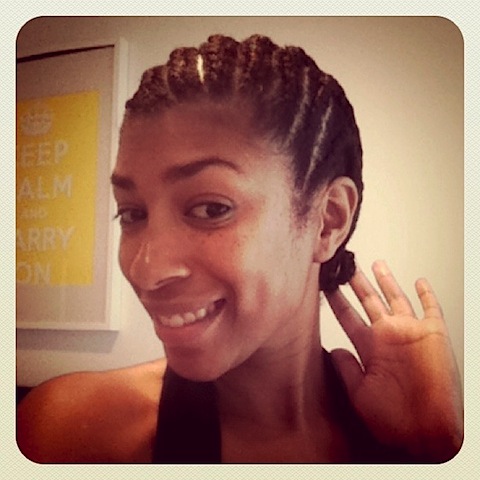 So she did. And a couple days later I took the braids out and vavoom. In stinkin' love.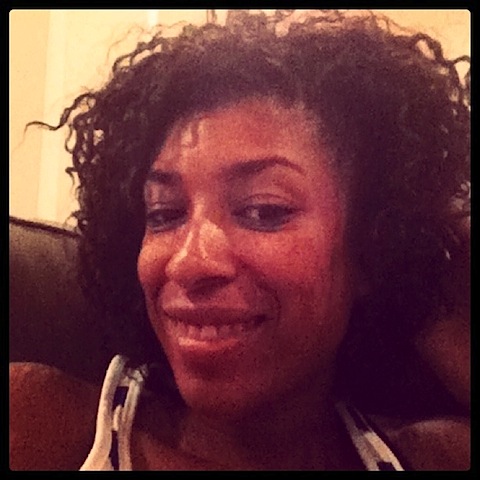 I usually take the summer off from any blow drying or straightening so this is such a great alternative solution to easy and quick summer hair. Plus, my hair felt about 1 million times healthier than it does after using all that heat. Who knew nine braids could create such a curly head of hair 😉
What have YOU been loving the past couple weeks?
[Chels]