I've been ALL over the place the last few months so I wanted to do a Favorite Things, round-up post of sorts, to sum it all up since I've been loving a lot lately! Let's jump right into it!
GelShine At-Home Gel Colour System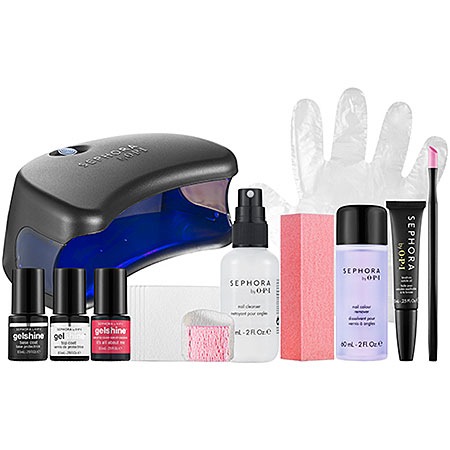 While I was in Texas in August I discovered one of the most fabulous things ever. Let me just preface this by saying, I have the most basic makeup/getting-ready routine so stores like Sephora typically stress me out. I don't like having tons of options (hello, 24-page menus!?) and I almost always wear the same makeup, so I'll just let you imagine how I would twitch when I walked into such a huge beauty store. AND, I'll also say, I'm definitely the kind of person when I see something, like a new polish, eyeshadow, or hair treatment, I convince myself that I need it. So I buy it. Then I use it once. So, for my wallet's sake, I tried avoiding Sephora at all costs.
Now that being said, while I was in Texas with my sister and Kate, I for some reason had the strongest desire to buy red lipstick. And since there are roughly 12 million shades of red lipstick, I decided to head to Sephora since they carry so many brands. I walked in the store, asked for help, and the lovely salesgirl pretty much handed me a tube of Nars Red Lizard lipstick and said it would look great on me. I tried it on, loved it, and was heading to pay when I heard my sister having a slight panic attack at one of the in-store displays. As I walked over, I noticed she was standing in front of the Gelshine At-Home Gel Colour System.
I think at first I tried talking her out of the purchase but after we started looking at the kit, we realized that it was actually pretty snazzy. Not only does it come with everything you need to do your own gel manicures in about 15 minutes but we quickly realized how much money it would save you. Not having to drive to the salon to get your nails done, not having to chit-chat with your manicurist (not that there's anything wrong with it… it just takes time!), not having to tip, not having to sit around and wait for your nails to dry.
We left Sephora without the machine. When we got back to my sister's house we were all still talking about it because it just looked that awesome and then we started reading really good reviews about it online. My brother-in-law ended up chiming in and pointed out that my sister does get her nails done a lot and for $159 we all soon realized that after a few uses, this at-home kit would pay for itself. Before we headed out to dinner that night my brother-in-law ended up driving us all back to the mall so my sister could buy the machine, HA! Good man 😉
The following day was the moment of truth. My sister and I tested the machine out and, I'm not even kidding, we gushed the entire time. If someone had been videotaping us we could have made an infomercial and sold millions of these for an easy payment plan of $29.99/month.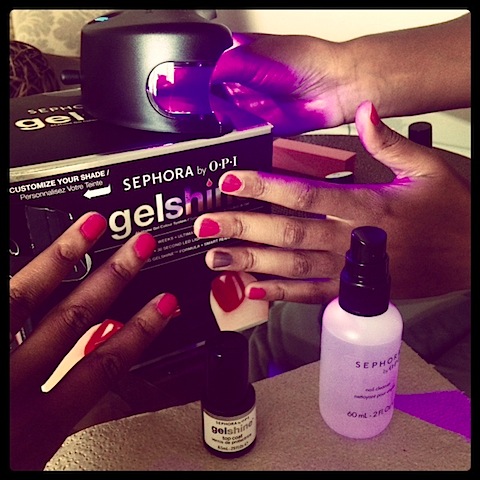 The step-by-step instructions are so simple, too! I finished my own mani in 15 minutes! No drying time or anything extra.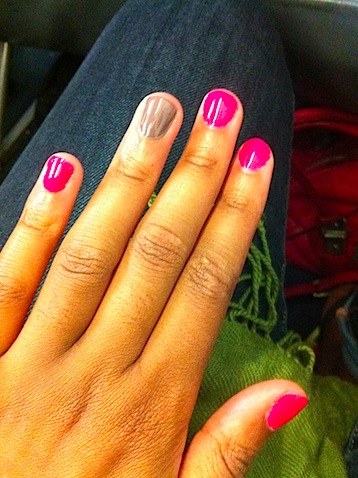 I ended up wearing my polish for about 2 weeks without any chips! And I must admit, my most favorite part about the machine is that it uses an LED light instead of UV, which makes it safer on your hands and skin. When the polish was ready to come off, it actually peeled nicely so I didn't even have to soak my nails in acetone, which is a huge plus. This is definitely something I will be asking Santa for this year! OBSESSED.
Boxing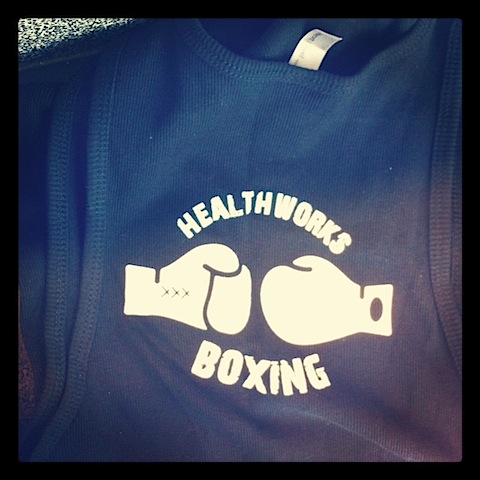 That's right. I've been boxing! Every week I, along with two of my most favorite co-workers from Healthworks, Zoe and Sarah, box with one of the trainers. I mean, I'm by no means the next Laila Ali, even though that's what my dad insists on calling me, but this is such an amazingly sweaty workout. I do enjoy nice arms and boxing has definitely helped keep mine nice and toned. Plus, nothing gets your heart pumping like jump roping and nothing gets your frustration out like punching the heck out of something 😉
Strip T's
Earlier this month I went to dinner at Strip T's in Watertown for my friend Becca's birthday. Dinner was spectacular but peep what we got for dessert. Fried brioche donut with blueberry pastry cream and lemon frosting.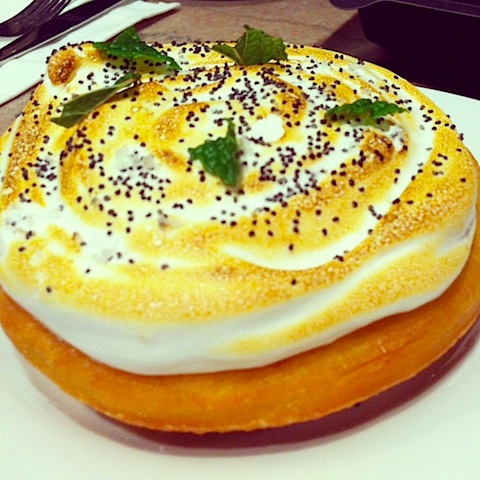 I wept when I cut into this masterpiece. I think a few of us split it? To be completely honest, I can't even remember because I was blacked out due to excessive happiness. I very well could have eaten the entire thing on my own without even realizing it. Pure joy. As I was eating this I promised myself that if anyone comes to visit me that I would take them to Strip T's to experience all of their deliciousness.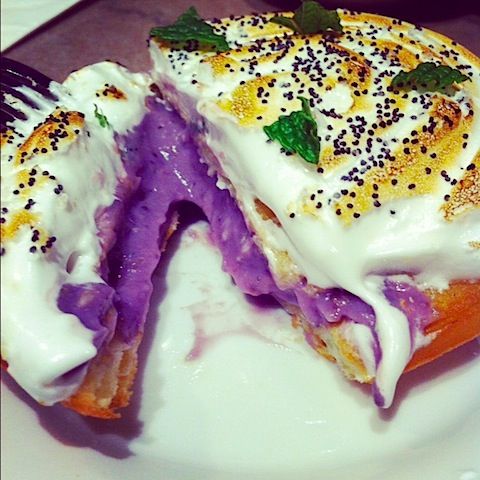 Little Men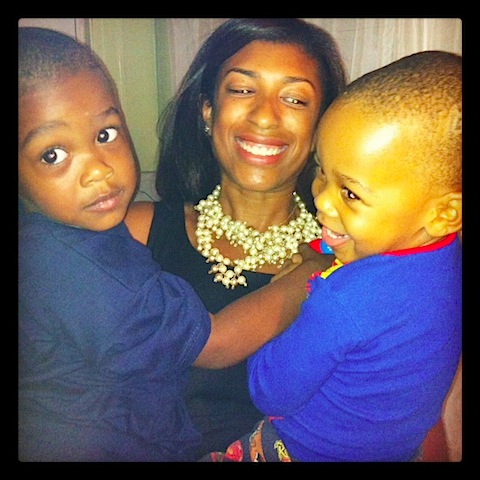 I got to see my cousin's sons last month who are the most precious gems I've ever been around. While my dad and I were in NYC for a sad reason, it was amazing to be reminded of all of this happiness by getting hugs from these two muffins.
Andy Cohen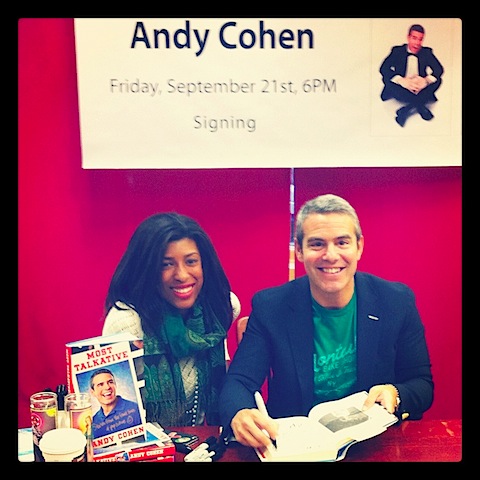 Have I ever told you that I am madly in love with Andy Cohen? Welp, I am. And when I found out he was coming to Boston (he went to college at BU!) I cleared my calendar so I could get his book, Most Talkative, autographed. The book is hilarious. There were times I would be on the phone with Kate and read her excerpts that had me dying laughing. But not only is it funny, it's inspiring. His story is fantastic and it gave me the chills how he came full-circle. And If I'm ever a grouch in the morning it's likely because I stayed up too late to watch his show Watch What Happens Live. I'm slightly obsessed with all Bravo TV programming and it's mainly because this man is behind it.
I'm always a bit weary to meet celebrities in real life because I don't want to be disappointed. Some people seem fantastic on TV then you meet them in real life and they're huge duds or worse, so rude! But I was happy to see that Andy was just as peppy and fun in person as he is on TV. He even said he "loved my sass"!
Pumpkin/Fall
Living in New England it's kind of a given that you're obsessed with all things pumpkin and fall. I love summer the most and I'm still in denial that it's over, but fall is cozy and you get to wear cute clothes and lots of layers. A couple weeks ago I was invited to my friend Sara's Hipster party. Yes, I dressed up like a hipster and I kind of loved it!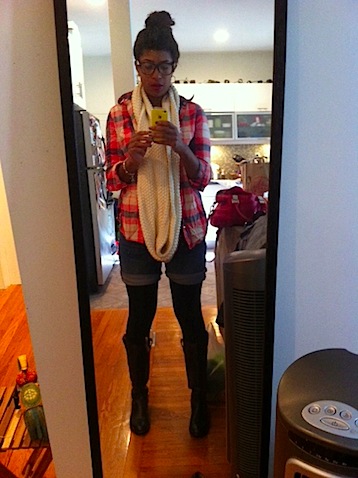 I made a Pumpkin Dip, courtesy of Closet Cooking that was a huge hit. We had it out with the appetizers but it definitely could be a dessert dip, too. I brought some sliced green apples and gingersnaps for dipping purposes. Oh, yum.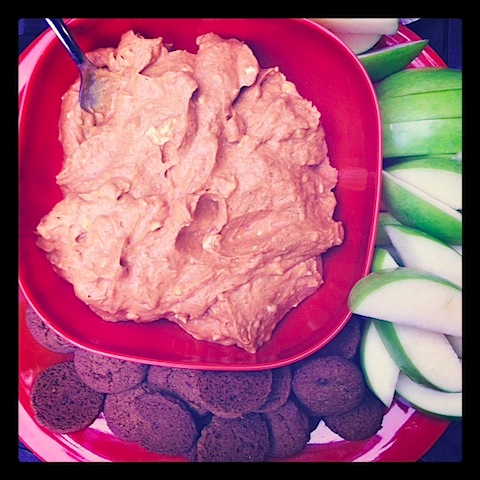 Someone even made a pumpkin keg, which was about the most genius things I've seen in all of 2012.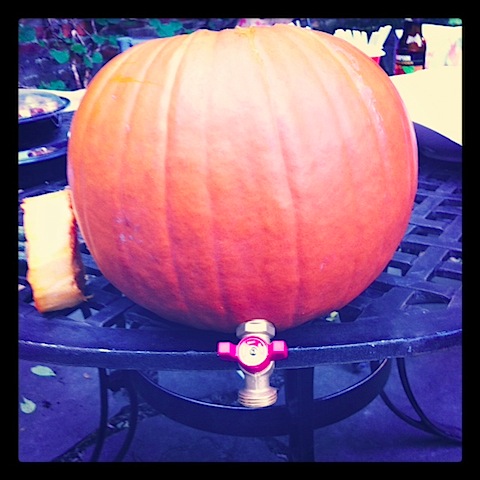 Best snack of all time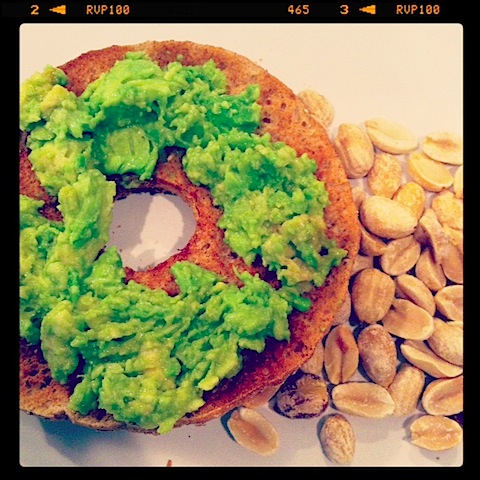 Something I absolutely love about social media is I get some of the best food ideas. A few days ago the lovely Eat Well With Janel posted a photo on Instagram of a whole wheat bagel with mashed avocados with hot sauce. Ever since I saw her picture, I've been craving this, so I went to the grocery store to buy some bagel thins. While this is just so simple, I probably wouldn't have ever thought it up on my own, haha. It was so satisfying for lunch yesterday! And as Janel pointed out it also makes a great breakfast. Janel is a Registered Dietitian so if you're looking for more tasty but healthy meal ideas you should definitely take a look at her blog and follow her on Twitter!
What are some of the things you've been loving lately? Do share!
And don't forget to enter our Martha Stewart Planner Giveaway. It ends tonight at 11:50 EST!!

[Chels]