I've said this before, but I'm pretty sure the whole cupcake craze has come to Boston about 5 years after the fact. I'm certainly not complaining because I'll always love cupcakes, but I just think it's funny that so many shops are popping up in the area now. Soon we will be able to conduct a Boston Cupcake Crawl, just like the ones we did in Chicago a couple years ago 🙂
New cupcake shops are doing a good job at spreading out and one place that was in need of a shop was the Brighton area. Now? It's here! Cherry Bomb Bakery opened last week and I took the 20 minute trek to check it out today. Right now I'm pretty obsessed with Mix Bakery (with a special place always in my heart for Party Favors), but of course I try every single new spot that comes my way.
Cherry Bomb Bakery is in Brighton Center, an area I don't go to very often. But not because it's not close; I can easily walk there– there's just not a whole lot for me to do there. But now that there's cupcake bakery, I might stop by the area more often, when a craving hits.
The shop is cute and I love their logo!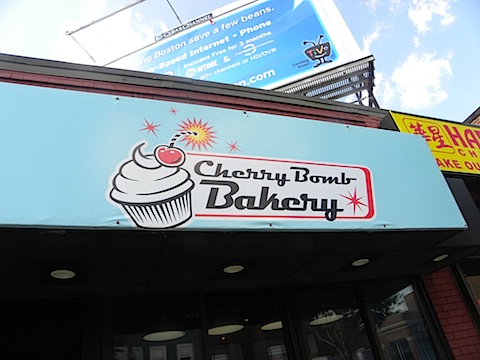 The inside was nice and spacious. They have free wifi and lots of tables, making it an ideal spot to hang out and do some work. They also have tons of coffees, so it's not like you'll have to sit there eating cupcakes all day! Which wouldn't really be a bad thing.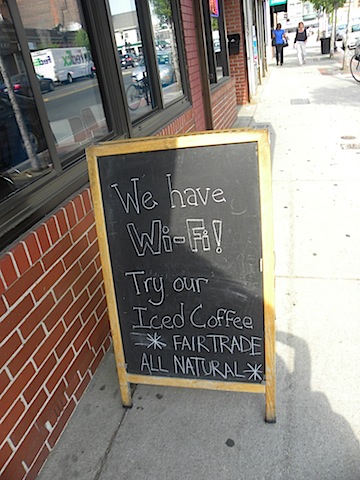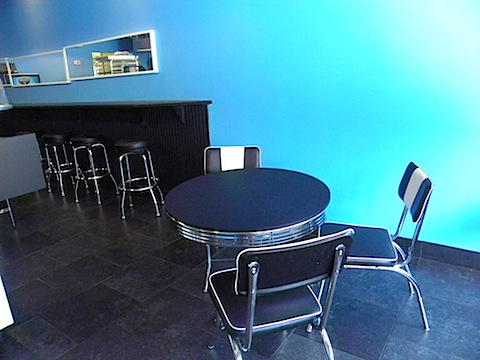 I mean, check out their coffee menu: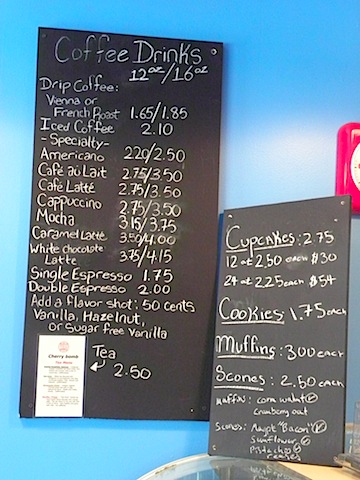 But more importantly, of course, check out their cupcake menu: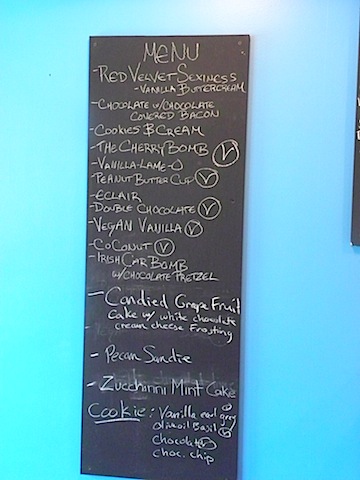 Before I went to Cherry Bomb, I checked out their cupcake menu online and was thrilled to see the huge variety of fun flavors.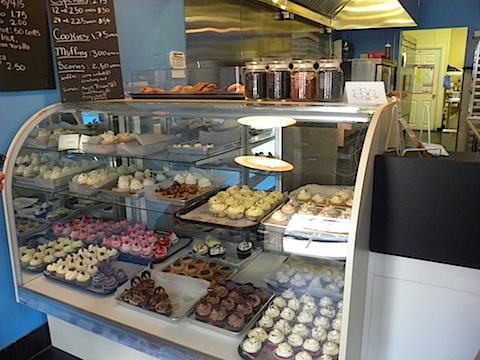 There were so many choices, it was really, really hard to decide. I really felt that I needed to try every single one.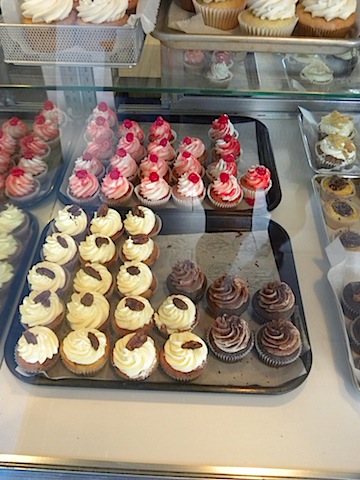 But I only chose 5 (only!!). I did notice that Cherry Bomb doesn't have labels on their boxes, which I definitely think they should change. I'm a huge fan of branding, and customized boxes can take your business so far. They also didn't have bags, which meant I had to walk 20 minutes home in 90 degree weather carrying the big box, praying the cupcakes wouldn't melt (and that nobody would attack me and steal them)!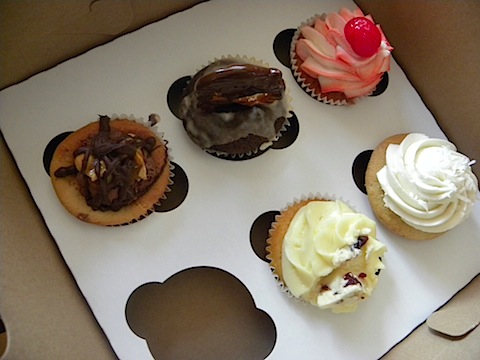 After dinner and some American Idol watching (what did you think of the results???), Chris and I dug in.
The Cherry Bomb Signature. This is basically a vanilla cupcake with cherries baked in with cherry frosting. I have to say right now, Cherry Bombs cupcakes were some of the moistest cupcakes I've had in a very long time. Each and every one of them was perfectly moist and there was NO hint of dryness anywhere. I loved this cupcake and while the frosting was delicious, it was a little too sweet for me (the older I get, the less I can handle overly-sweet. Gah, I feel old!).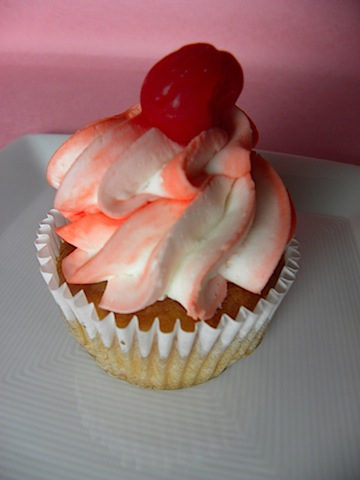 The Irish Car Bomb. Again, a really moist cupcake, but I wasn't a huge fan of the flavor. I mean, there was nothing wrong with it, but Chris made the point that my Guinness cupcakes were much better (and I'm 99.9% sure he wasn't just saying that). I thought the pretzel was a nice little touch, but the icing was quite boring.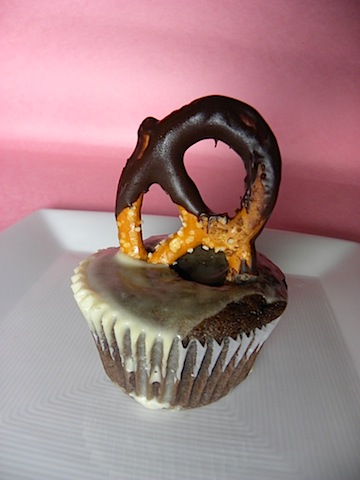 Candied grapefruit. This is one of the most unique cupcakes I've ever had! I am a HUGE fan of grapefruit, so I was super excited to try this. And I loved it! I'm not the biggest fan of cream cheese frosting (weird, I know), but if you love it, I really think this frosting will taste absolutely amazing to you. This is one cupcake I would totally eat for breakfast.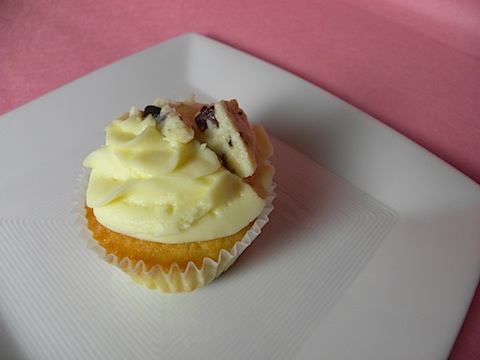 Coconut. The girl behind the counter at Cherry Bomb recommended the coconut to me and being a sucker for all things coconut, I couldn't turn it down. And it was definitely a fave! I just loved that it had tons of real coconut in it and didn't taste artificial at all.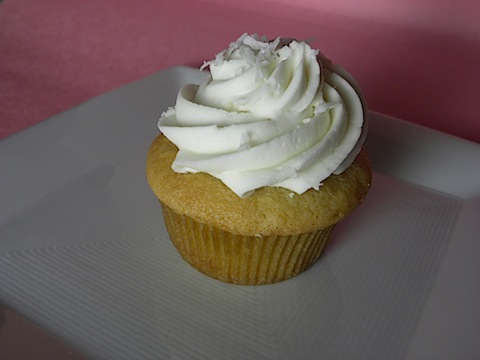 Peanut Butter. I liked this one too, mainly because it had some type of delicious chocolate fluffy frosting in it. The concoction in the middle is pretty, but it was kind of hard and probably not needed. Just the peanut butter cupcake with the chocolate would have been perfectly fine!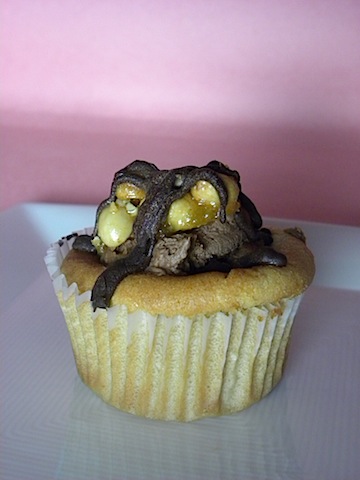 Overall, I think Cherry Bomb Bakery has tons of potential and is a much-needed addition to the Brighton Center area. The cupcake flavors are fun and always-changing, the shop is spacious , and the coffee flowing. Next time I definitely want to try some of their scones, especially the pesto prosciutto scone!
I hope that Cherry Bomb becomes a little more active on Twitter and works to get everyone excited with some marketing/PR. There's nothing like showing potential customers how excited you are about the cupcakes you make.
I don't think I'll be able to resist trying all the other fun flavors, so I'll most definitely be back! (hello, I'm already wondering how I missed the zucchini mint cake!?).
What's your all-time favorite cupcake shop? And why is it your fave?
Cherry Bomb Bakery
379 Washington St.
Brighton Center 02135@CBBakery
[Sues]