You might remember the first Chicago Cupcake Crawl that took place in February(and if you don't, read it here!). Well, it seems that we missed a few cupcake shops and that some new ones opened up since Sues was last in Chicago. The only solution to that? Go back to Chicago and participate in Cupcake Crawl Part 2. And this time bring Chels along for the sugary ride. Sues's sister, Beth, did her research and had the crawl planned out by the time we arrived in the city.
More Cupcakes
First stop on our tour was the newly-opened More. We were pretty excited about More because we heard that they have cupcakes involving bacon. This also scared us just a bit. But we love cupcakes and we love bacon, so score huge, right?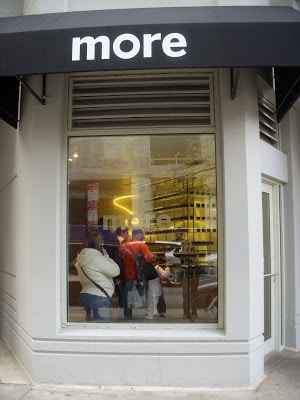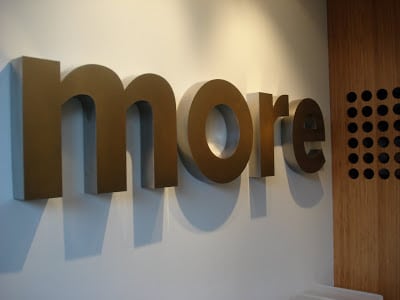 More is a really sleek, minimalist store, with basically just cupcakes. There's no seating, but that's okay because we weren't quite ready to eat our cupcakes yet. We got them to go.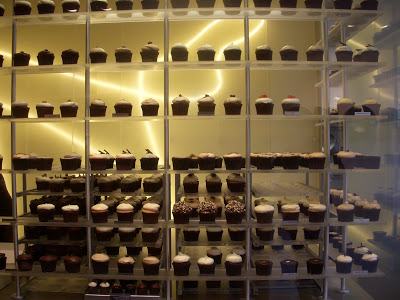 More also gives you the option of getting a "flight" of mini cupcakes.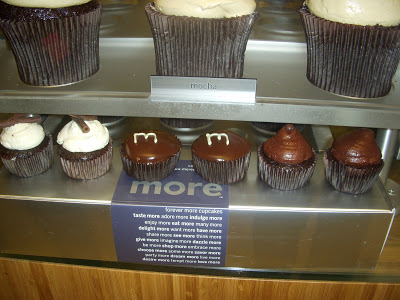 We loved the packaging and branding.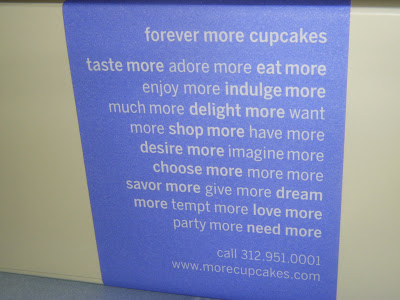 We chose to get 2 of their savory cupcakes: the Maple Bacon and the BLT (Whaaat. I know). We also got 2 sweet: Chocolate with Vanilla frosting and the Black and White.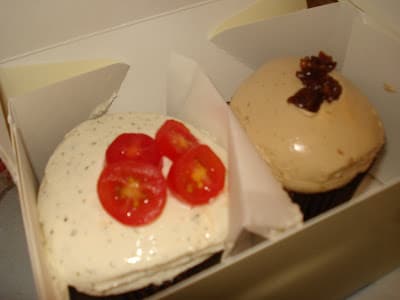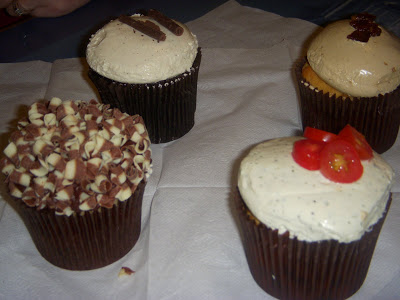 We got our cupcakes and wandered around Navy Pier for a bit, working up our appetites. When we were ready to indulge, we found a spot in one of Navy Pier's food courts. We also found a lot of stares as we were eating cupcakes in a cupcake-less food court (cupcakes with bacon nonetheless!) and taking pictures of them.
We started (nervously) with the maple bacon. And, it was...interesting. Sues honestly thinks the whole thing would have been pretty fabulous if it wasn't called a cupcake. Maybe a biscuit instead? And didn't have the frosting. It was a little disconcerting. But the cake part was actually quite good and a lot heavier than a typical cupcake.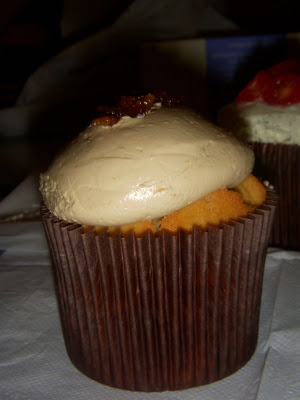 Now on to the scariest one of all. The BLT cupcake. This is just so wrong on so many levels. But also so fabulous on so many levels. But in the end, a BLT just shouldn't be a cupcake. The cake wasn't as good as the maple bacon and the frosting? Honestly, I think it made all of us gag a bit. All we could think of was giant globs of mayonnaise. But really, the frosting tasted like tangy ranch dressing. And on a cupcake? Not so hot.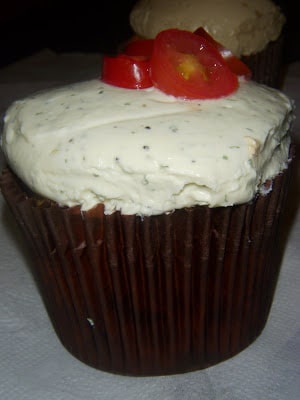 On to the sweet! A welcome change. The cake on this chocolate cupcake was so rich and decadent and completely melted in our mouths. Amazing. The frosting was a bit too light and not quite sweet enough, but kind of made a nice contrast to the cake.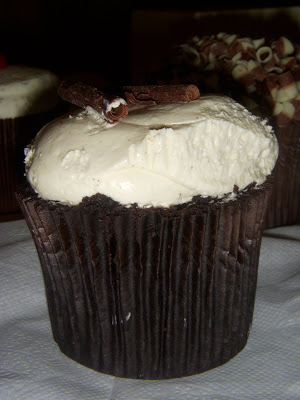 The black and white was the best of our More cupcakes. Again, the cake totally melted in our mouths and the chocolate shavings were much better than simple frosting...and it was quite attractive too! We'd definitely go back to More for "more" black and white cupcakes (hehe).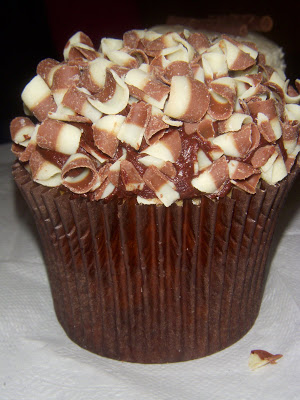 Overall, Sues says More is a completely awesome place even though we weren't in love with the bacon cupcakes. Chels is glad the bacon cupcakes didn't turn her off from bacon forever...which probably would never happen. It was an interesting experience and one you can't get too many places. We're glad we tried them even if we wouldn't order them again.

We were excited to try Sweet Mandy B's because we already knew it was Beth and Adam's favorite cupcake spots. We grabbed Jessi and went on our way. And once we got there, we could totally see why they love it so much.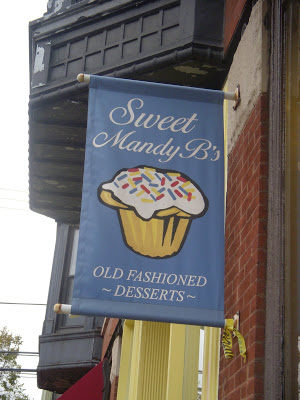 We loved seeing the actual cupcake making process.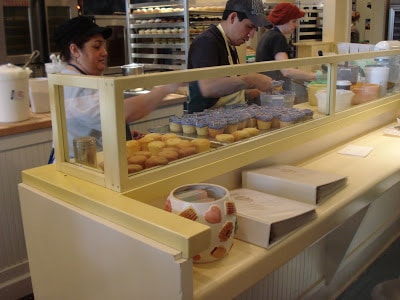 The cupcakes are very pretty-looking, but simple (and Halloween festive) but are so, so good. We got a Orange Creamsicle, Chocolate Chocolate, Chocolate Vanilla, and Vanilla Vanilla. We all agreed that these were the best cupcakes of the crawl and Beth and Adam kept all their credibility points as cupcake connoisseurs. We're not sure the orange creamsicle completely beat out
Cupcake Charlie's
, but it was still amazing and you should definitely try it at Sweet Mandy B's. And even those of us who don't prefer chocolate cupcakes thought Sweet Mandy B's chocolate cake and frosting was absolutely delicious.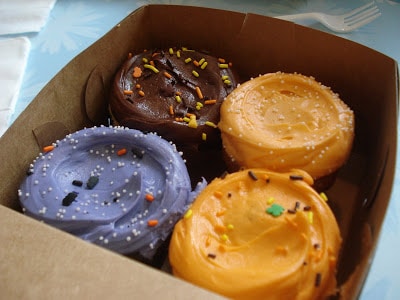 Sweet Mandy B's was super crowded on this Sunday, and we kept hearing how good everything is there; not just the cupcakes (they had lots of drool-worthy peanut butter treats!).

Three happy cupcake crawlers enjoying the deliciousness: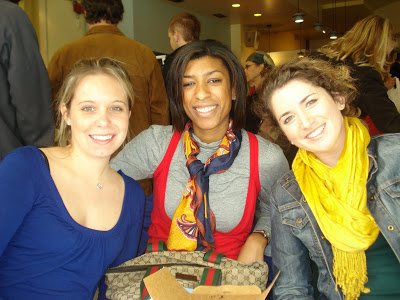 Sweet Mandy B's

1208 W Webster Ave
Chicago, IL 60614


(773) 244-1174
Call it luck. As we were approaching Chaos Theory Cakes, we noticed a dj inside. And lots and lots of people. We walked into a party! Complete with a dj playing jams, gift bags, free food, and free gin drinks. Oh, and free cupcakes!
The Chaos Theory storefront is totally adorable and definitely our favorite storefront of any cupcake shop, anywhere.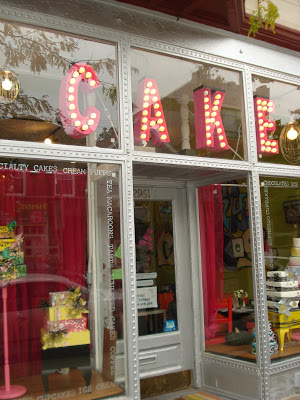 And the walls in Chaos Theory make the store so much fun. And yes, Sues contemplated where she could get someone to decorate her apartment walls with images of cupcakes.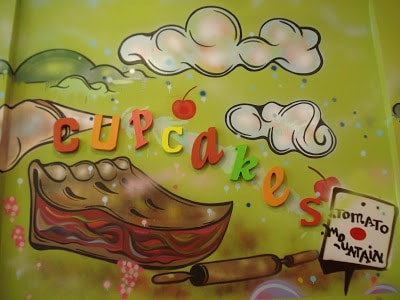 Anyway, the party was a green wedding event, which was somewhat appropriate since Beth and Adam are planning their wedding for next fall. So, we chatted with a few of the vendors, but were much more concerned with eating cupcakes. The huge variety was displayed on the counter in cute little leopard print papers.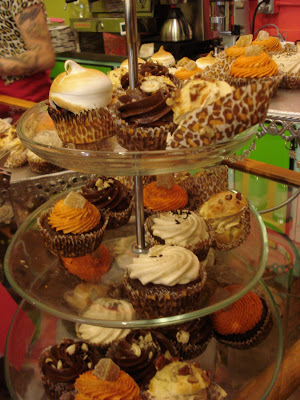 The cupcake flavors at Chaos Theory are extremely unique and awesome (unfortunately Chels couldn't participate in the Chaos Theory cupcake tasting as most of them involved nuts. Sad! However, she did try their chocolate-covered bacon). Sues and Jessi were pretty obsessed with the Thanksgiving Mousse cupcake. As in, Thanksgiving dinner on a cupcake. As in, heaven. This cupcake included cranberry gelee, pecan cake, sweet potato mousse, and marshmallow fluff.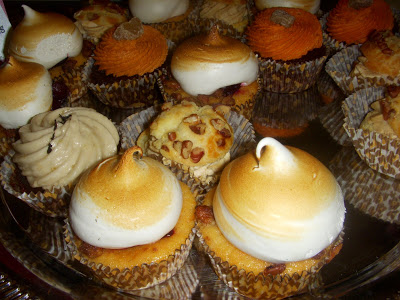 Below is the Symphony Cake, the cupcakes that the lovely ladies of Chaos Theory had just finished packaging up for Madonna and her crew by special request (Madonna was in Chicago that weekend). The cupcake was hazelnut dacquoise, caramelized hazelnuts, caramel, caramel mousse, and mocha buttercream. And incredibly rich and decadent. Yes, we could see why Madonna is also in love.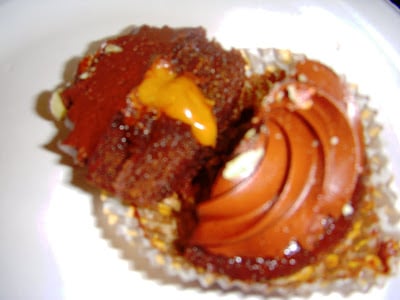 Chaos Theory

2961 N. Lincoln Avenue
Chicago, IL
773.281.2353
BomBon Americano is a nice cozy and cute shop with tons of baked goods, sandwiches, coffees and more. Would definitely be the perfect place to spend a chilly afternoon.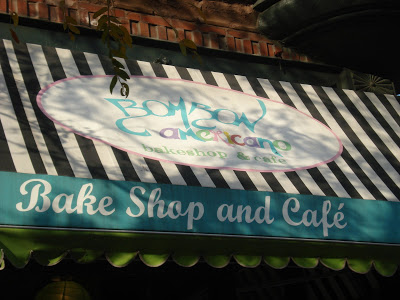 The shop was all decked out for Halloween and everything in the bakery case looked delicious.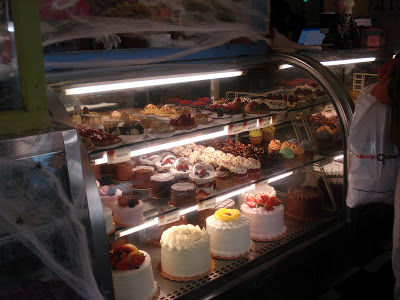 They also had some fabulous cupcake flavor choices, so we picked up a Blueberry, Chocolate Chip, and Oreo.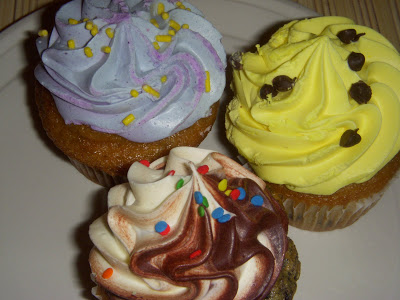 We love the prettiness of the BomBon cupcakes, but we weren't overly impressed with them in the end. The cake wasn't too bad, but the frosting? It had a strong taste of Crisco and not nearly enough sugar. We weren't fans of it. Also, the Oreo cupcakes, which we were pretty excited about, tasted nothing like Oreo.
BomBon Americano
1000 N. Clark St.
Chicago, IL 60610
312.787.7717
Thank you to Chicago for your sooo much better than Boston cupcake selection. Please continue opening these wonderful shops, so we can keep returning and cupcake crawling. And to our Chicagoan readers, let us know what we missed and what your favorite cupcake spots are. And for now? We're taking a little bit of a cupcake break!
[Sues and Chels]