I want to do all our Chicago readers a service and let you know that your city has some of the best cupcakes in the country. I should know. On my last trip to Chicago, I ate a lot of cupcakes. Just for you guys. Because I wanted to tell you what was the best. Aren't I nice? Awww, I know; you can thank me later.
Beth, Adam, and I created a cupcake crawl, hitting on what we think are the hottest spots to get the best cupcakes in the city. If you live in Chicago, you must do this cupcake crawl. Or at least read through it and go to our fave spots. If you don't live in Chicago, I'll try to do a Boston cupcake crawl soon and possibly a New York City one. Or feel free to create your own and let us know the results!
Our first stop was Sensational Bites (located at 3751 N. Southport Ave), and yes, it actually was sensational. The cupcakes at SB (yeah, we're on that kind of basis) were my second favorite in all of Chicago. The shop was super cute and perfect for the freezing cold (um, it was 0 degrees) snowy weather. SB had a huge selection of all kinds of baked goods, including tons of cookies and cupcakes. Beth and I sat in the shop for a while, eating cupcakes, sipping on coffee, and warming up. The cupcakes were perfectly sweet and the presentation was beautiful. Amazing start to our crawl.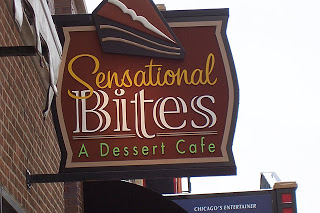 Sensational Bites on Southport.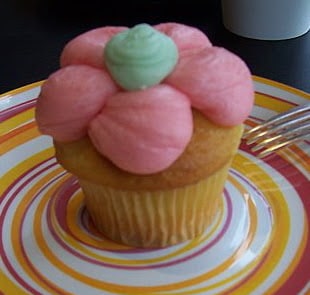 Vanilla cupcake with vanilla buttercream frosting $1.65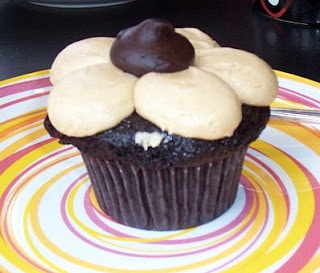 Chocolate peanut butter cupcake $1.75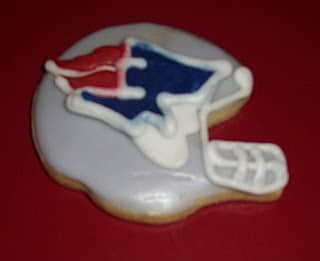 And they get extra points for having Patriots cookies
Our next stop was Southport Grocery (located at 3552 N. Southport Ave.), an adorable little gourmet store/cafe/bakery. We spent a while just browsing the store, which is filled with gourmet food, books, and prepared foods. The cafe looked like a great place to lunch, but we only had cupcakes on our mind. So we picked up two and brought them home for later. They only had vanilla and chocolate, so if you are in the market for variety, Southport Grocery probably isn't the cupcake place for you. Also, they're not fancy-looking; just your basic cupcake. They tasted good, but weren't our faves; the cake tasted a bit too much like corn bread and the frosting was super sweet.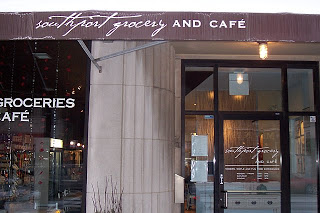 Southport Grocery and Cafe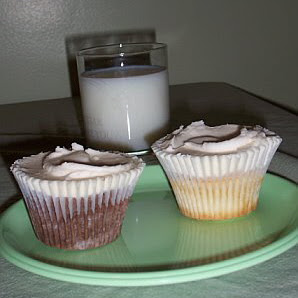 Chocolate and vanilla cupcakes with buttercream frosting $2.00
Saturday was a new day and we had renewed appetites for cupcakes. Our first stop was Swirlz (located at 705 W. Belden). This shop is tiny and has a huge case just filled with all kinds of cupcakes. I love the fact that the cupcakes say "happy" on them. Swirlz also has lots of cupcake merchandise and I snagged an over-sized coffee mug that says, "Cupcakes make people happy." Yes, they do. I'm still mad at myself for not getting a t-shirt, too. Again, the cake part of the cupcake was a little too much like cornbread, but I would definitely go back to Swirlz. They have a huge selection, including a daily "surprise" cupcake. We tried the mint grasshopper and it was delicious.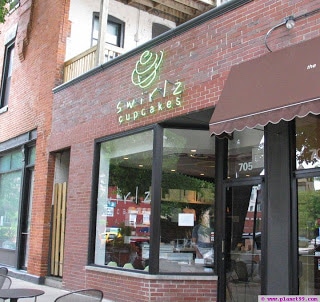 Image from Planet99
Swirlz Cupcakes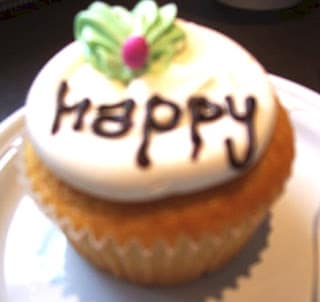 Vanilla with vanilla buttercream frosting $3.00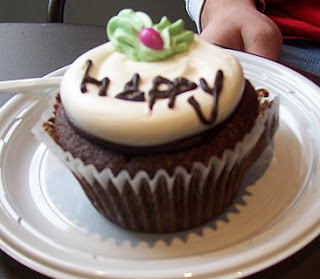 Chocolate with vanilla buttercream frosting $3.00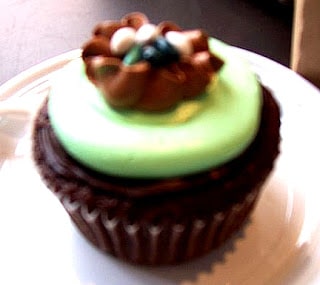 Mint grasshopper surprise cupcake $3.00
While en route from one cupcake place to the next, I happened to see a giant blue and orange sign out of the corner of my eye. "Cupcakes...cupcakes...." I started stuttering. "Why isn't that on our list??" Adam swerved the car over, parked (much easier to do in Chicago than in Boston) and thus we found my favorite cupcake place in Chicago. Molly's Cupcakes (located at 2536 North Clark St.) has a fun, youthful atmosphere. It's a pretty big shop and has vintage toys decorating the walls and retro board games for you to play while you eat your cupcakes off of grandma's mismatched china with real silverware. There's a bar area where you can sit on giant wooden swings. And there's even an area where you can add toppings and decoration to your cupcakes. The cupcakes were the PERFECT amount of sweet and the frosting just melted in my mouth. The kind of cupcake that just makes you smile with every bite. They definitely weren't the prettiest of cupcakes, but maybe we could have remedied that if we added more decorations on our own.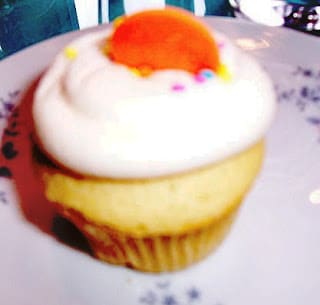 Vanilla with vanilla buttercream frosting $2.00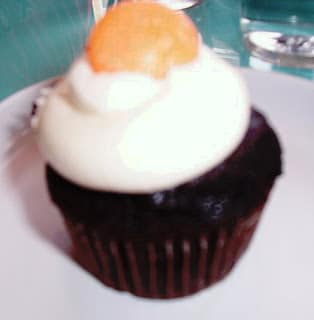 Chocolate with vanilla buttercream frosting $2.00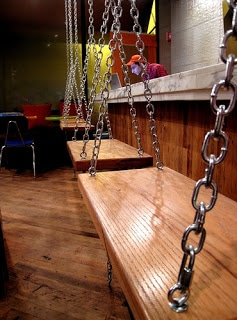 Image from Yelp

Swing Seats at Molly's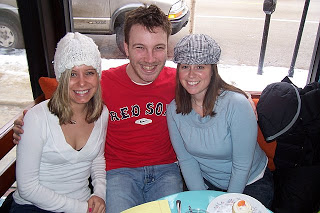 Your cupcake crawlers loving Molly's
If you type in "cupcakes" on Google, the website for
Cupcakes
(located at 613 W. Briar Place) in Chicago is the #1 search result. So naturally I was extremely excited for the last stop on our crawl. Unfortunately I was disappointed (and not just because I was so full from cupcakes, I didn't even want any more). The shop was tiny and only had a place for 2 to sit. And the selection was sparse. So, we picked up a few and brought them home. As we ate them later, we weren't very impressed. Maybe it was because we had just come from Molly's, but while these cupcakes are really pretty, they just tasted pretty blah with a much too sweet frosting. The chocolate cake with pumpkin frosting was a unique idea and much tastier than the vanilla cupcake. Also, Cupcakes has dog cupcakes, which is a fabulous idea.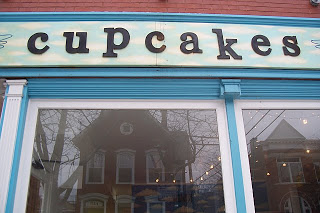 Cupcakes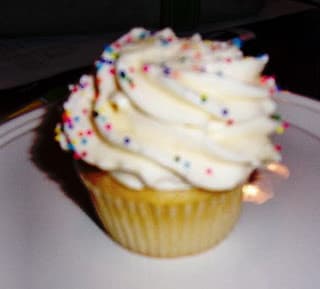 Vanilla with vanilla buttercream frosting $2.50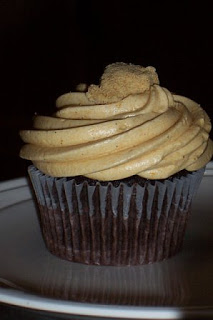 Chocolate with pumpkin frosting $3.00
That ends our cupcake crawl, but I'm really disappointed and sorry that I did not get to visit Sweet Mandy B's (located at 1208 W. Webster Ave.) on this cupcake crawl. And you really, really should add it to yours. I think out of all the cupcake stops on our tour, Beth still claims Sweet Mandy B's is the best. So you know that must mean something.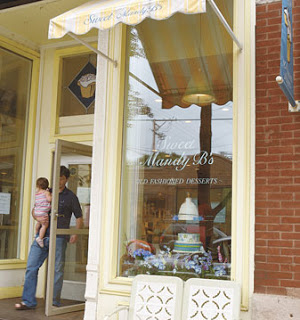 Image from Cookie magazine
Warning: after completing our cupcake crawl, I didn't even want to think about cupcakes for a month straight, so be prepared. It was so worth it, though. And I think I'm finally ready to gear up for the Boston cupcake crawl (as soon as Beth and Adam get here). Boston, get your cupcakes ready for us.
[Sues]